2018 Ford Expedition Max Platinum Review: Supersize SUV Succeeds
2018 | ford | ford expedition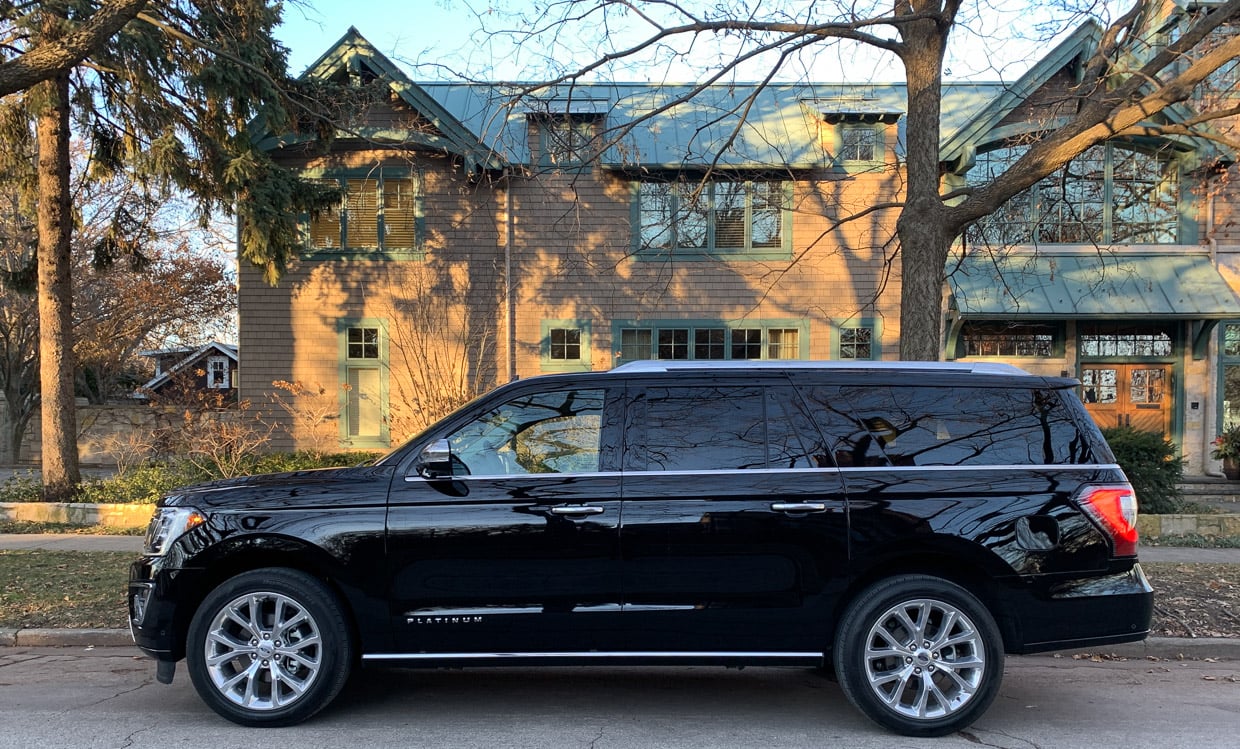 2018 Ford Expedition Max Platinum

Engine: 3.5L EcoBoost turbocharged V6
Horsepower: 400
Torque (lb-ft.): 480
Transmission: 10-speed automatic
Drive Configuration: RWD or 4WD
City/Hwy/Combined MPG: 17/22/18 (RWD) / 16/21/18 (4WD)
Curb Weight (lb): 5534(RWD) / 5793 (4WD)
Wheelbase (in): 131.6
Total Length (in): 221.9
Width (in): 83.6 (mirrors folded) / 93.4 (mirrors out)
Ground Clearance (in): 9.7
Base Price (USD): $78,865
Price as Tested (USD): $84,505
Reviewing a 2018 vehicle in the closing hours of the year might seem odd, but the newly redesigned 2018 and 2019 Ford Expedition are basically identical, so I figured my thoughts might still prove useful for those SUV shopping for the new year.
For 2018, the Expedition and its super-sized Max variant have seen major changes, including a move to the aluminum-intensive architecture that helped the Ford F-150 pickup lose substantial weight. The latest Expedition Max is somewhere around 300 pounds lighter than its predecessor, which has a positive impact not just in fuel economy, but in driving characteristics.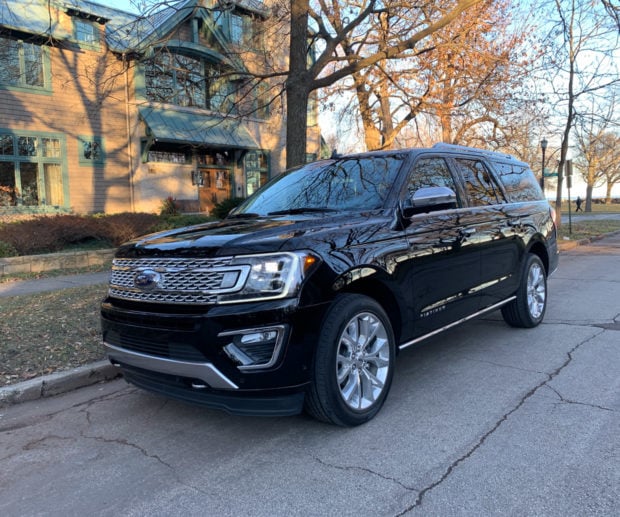 Measuring in at a whopping 221.9 inches long, and riding on a wheelbase that's 9-inches longer than the standard Expedition, this big guy can seat up to eight passengers, and still has room for luggage behind the 3rd row. This makes it a great vehicle for big families heading out on road trips, as well as for drivers who make a profession out of shuttling people and their gear about, and want to do it in style and comfort.
Powered by a brawny 3.5-liter turbocharged V6 engine, the Expedition Max Platinum pushes out a substantial 400 horsepower and 480 lb-ft. of torque – 25 horsepower and 10 lb-ft. of torque more than the non-Platinum models. In combination with a new 10-speed automatic transmission, it's shockingly quick to get going for a vehicle of its size. I didn't get to put a timer on it, but others have clocked 0-to-60 times just north of 6 seconds. And thanks to the efficiency of its EcoBoost engine, you can expect an average of around 18 mpg, which frankly isn't bad for something this enormous.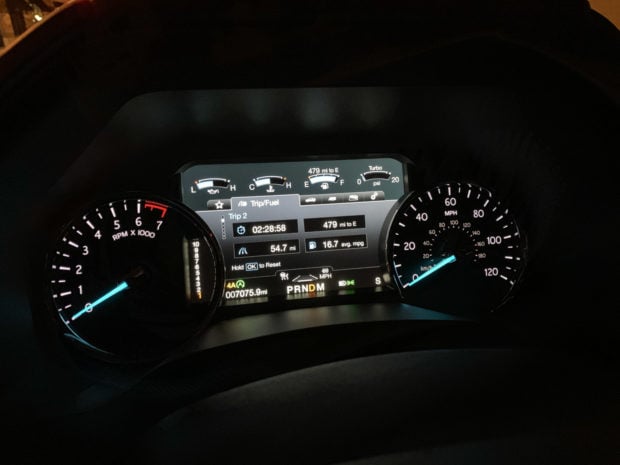 Its vim and vigor off the line is just one part of what makes the new Expedition so impressive. Thanks to some very good chassis and suspension engineering, this full-size behemoth feels more like a mid-size SUV or a crossover in the handling department. Honestly, after about 15 minutes behind the wheel, I had to remind myself that I was driving one of the biggest passenger vehicles out there. The last time a vehicle shrunk down around the driver's seat this much the Mazda CX-9, so kudos to Ford for this accomplishment.
In Platinum guise, the Expedition and Expedition Max ride on ginormous 22″ polished aluminum rims, but that seem appropriately proportioned here. I wouldn't want to take them off-road, but for more civilized driving, they look damned good. Speaking of off-road capability, the Expedition is offered in a proper 4×4 configuration, and even has a terrain management system for tackling a variety of surfaces. While it's theoretically possible to take one of these off the tarmac, its length could spell trouble on all but the widest and flattest trails. It's good to know the capability is there, but chances are you'll never use it. The Platinum model's low front spoiler is also there to remind you that you'll want to stick to paved roads anyhow.
On-road, the four wheel-drive system will still come in handy for wet or snowy roads, and the fuel economy trade-off for the added weight of the system is minimal. Thanks to its powerful drivetrain and truck-based underpinnings, the Expedition is also quite the towing machine, with the Max edition capable of trailering up to 9,000 pounds when equipped with the Heavy-Duty tow package. This gives the SUV a trailer brake controller, a heavy-duty radiator, a 3.73 ratio electronic limited-slip diff, and Ford's Pro Trailer Backup Assist, which makes reversing with a trailer as easy as turning a dial. Without this package, you can still tow up to 6,000 pounds.
The interior of the Expedition Max is most upscale in Platinum trim, with real leather surfaces on the dashboard, console trim, and seats, and there's real wood on the center console as well. The interior still has a rather utilitarian feel to it, but for the most part it does a good job balancing pragmatism and premium materials. With prices starting in the upper $70k range for the Platinum models, I think I'd want to comparison shop an entry-level Lincoln Navigator, if only because Lincoln interiors have a tendency to be more upscale and cohesive, and the Navigator gets a power bump to 450hp. That said, the Navigator isn't available in the Expedition's extended Max length.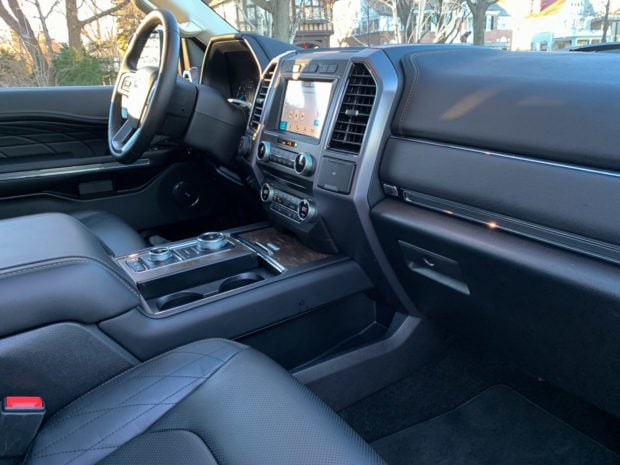 Ergonomically, the center stack is a little busy, but I still prefer hard buttons and knobs to touch-heavy interfaces, so I'm willing to accept that trade-off. However, I didn't care for the proximity and similar size of the gearshift and the drive mode knobs. On more than one occasion, I reached for the drive mode instead of the gearshift when I was in the middle of parallel parking. I'm sure it's something I'd get used to with time, but it's still less than ideal.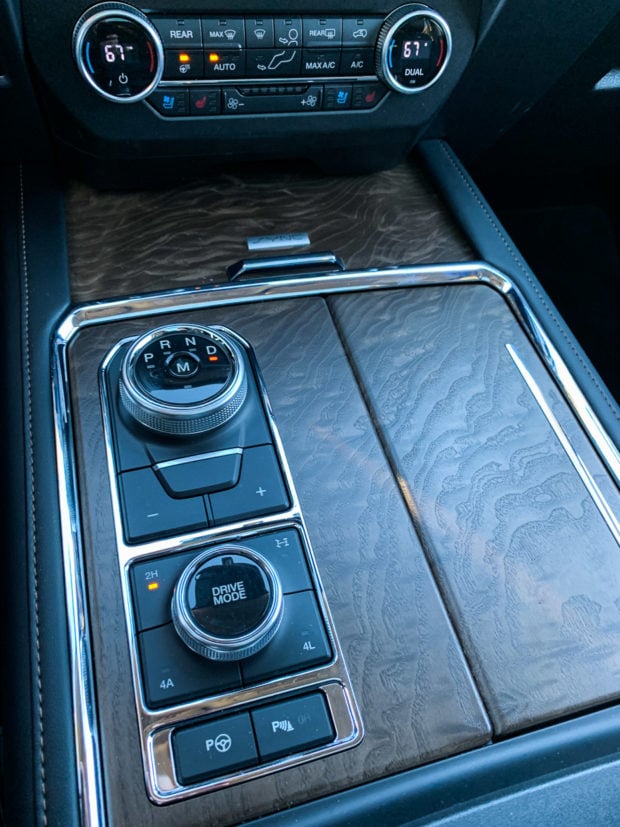 Of course, the main reason that anyone buys a full-size SUV like this is to have room for passengers and cargo, and the Expedition Max excels in this department, with seating for either seven or eight passengers, and plenty of versatility for various combinations of people and payloads.
All three rows offer enough legroom for adults, though the 2nd row offers the most comfort, thanks the ability for its seats to slide back and forth. My review loaner was equipped with two seats here instead of the three-seat configuration. If you only need seating for seven, I'd recommend this, as it makes it easier to enter and exit the back row, and provides greater comfort for those second-row passengers.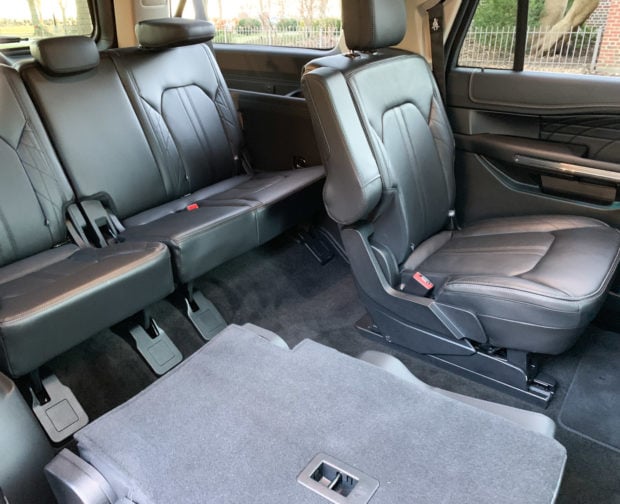 Cargo space in the Expedition Max is impressive – even with all three rows in use, there's 36 cubic feet of storage in the back. That expands to 79.6 cubic feet with the third row folded, and a cavernous 121.5 cubic feet with both rows folded flat. I kept thinking I should put an air mattress back here and take a nap. It's also easy to fold the seats down. There are buttons in the cargo area which allow you to flatten both rows in just a couple of seconds. This push-button operation can be reversed for the third row, though you'll have to manually lift up the second row. Still, it's an easy process, and takes just a couple of seconds.
There are lots of added creature comforts in the fully tricked-out Expedition, including heated and cooled front seats with massage and contour controls, heated second-row seats, a heated steering wheel, power-adjustable pedals, automatically-deploying side steps, and a two-panel panoramic roof overhead.
Technology and safety features are also plentiful, including the latest version of Ford Sync 3 with Apple CarPlay and Android Auto. There's also a premium B&O Play audio system. The adaptive cruise control system works very well, there are blind-spot monitors in the mirrors, and a 360º camera with a very useful top-down view that makes maneuvering such a large vehicle in parking lots much more palatable.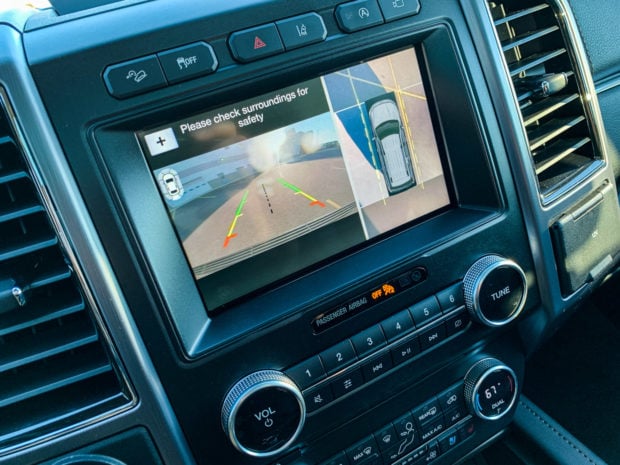 Overall, the Ford Expedition Max Platinum achieves what it sets out to do – offering a capacious interior with comfortable seating and cargo space for days, accelerating and handling well, and being relatively sensible with its fuel economy. It's a very big vehicle though, so you'll want to check that your parking space or garage can handle it before considering a purchase.