2020 Toyota Supra Gets Official: Specs, Price, and Details
2020 | sports cars | toyota | toyota supra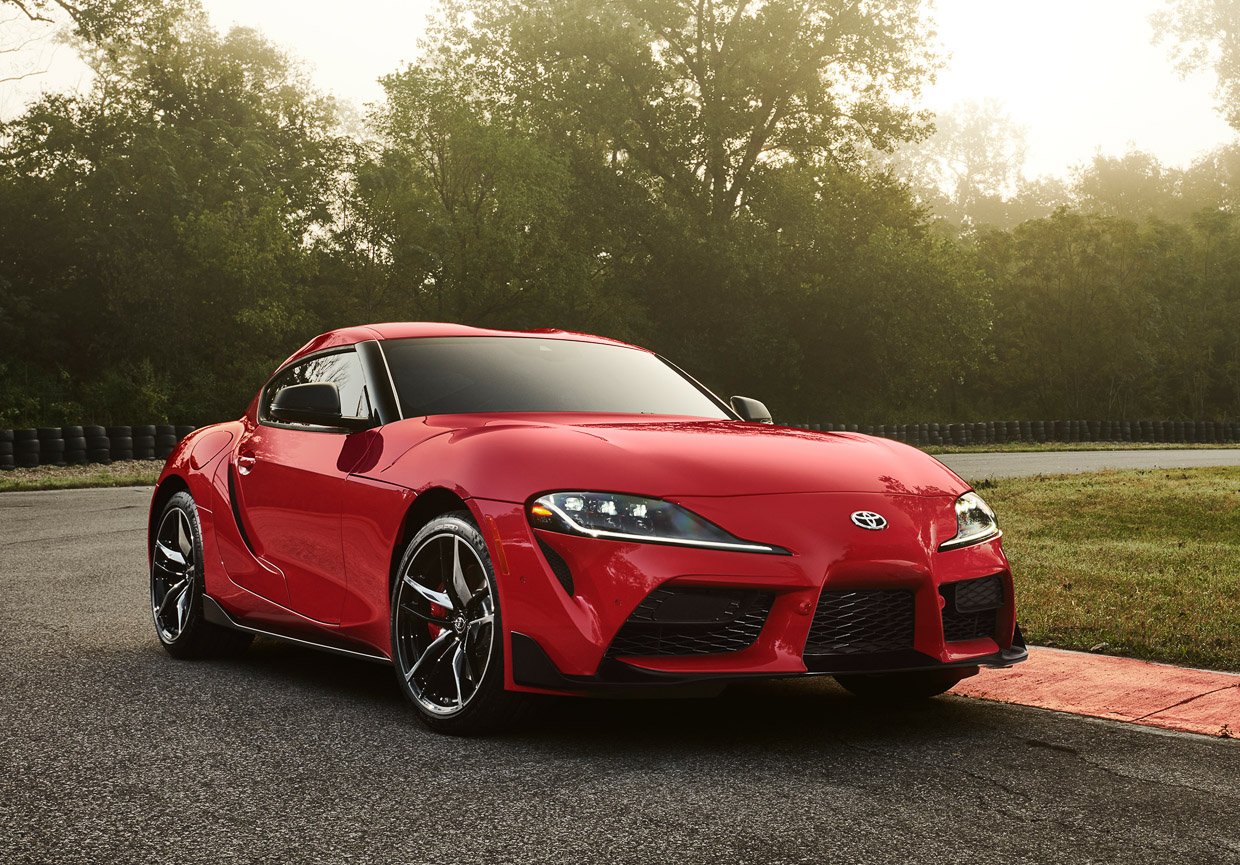 2020 Toyota Supra - Preliminary Specs

Engine: 3.0L turbocharged I4
Horsepower: 335
Torque (lb-ft.): 365
Transmission: 8-speed automatic w/paddles
Drive Configuration: RWD
0-to-60 Time (secs): 4.1
Curb Weight (lb): 3,397
Wheelbase (in): 92.7
Total Length (in): 172.5
Width (in): 73.0
Base Price (USD): $49,900
It's been five years since Toyota and its Calty Design studio showed off its stunning FT-1 concept, and now we finally have the production car it inspired. And while the new 2020 Supra doesn't have the mid-engine design of the concept, it actually retained quite a bit of its styling when you compare them side by side.
Developed in collaboration with BMW, the 2020 Supra shares more than a few of the underpinnings of its German brother, but Toyota has applied their own aesthetic to the car's exterior and interior, along with specialized performance tuning throughout.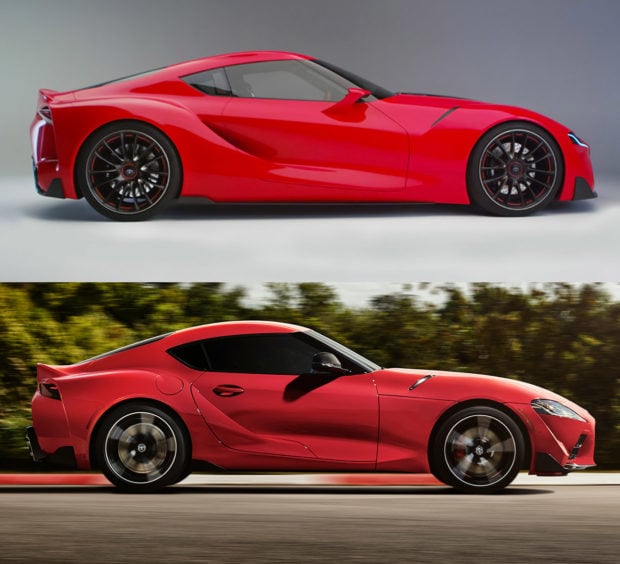 The new Supra looks great in profile, with a shape inspired by the classic Toyota 2000GT – though I can't help seeing a bit of Z4 when I squint. The body sculpting and flared rear fenders are ripped straight from the FT-1, but the toned-down interpretation of the race-car inspired front end isn't quite as appealing to me as it was in the concept car.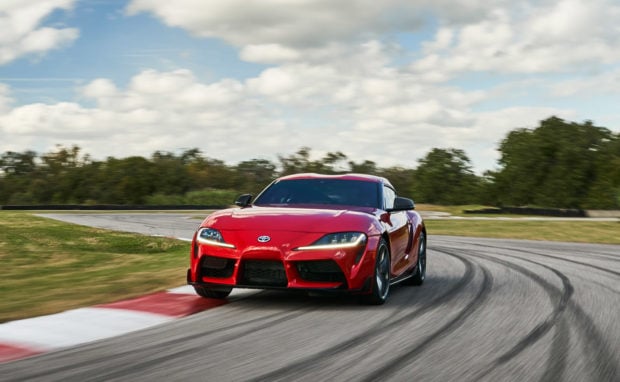 Around back, the integral spoiler is a definite nod to the 4th-generation Supra, which was made from 1993 to 2002. I'd prefer a retractable spoiler like the one shown on the concept, but building it into the decklid like this means one less mechanism that could break over time, and a lower price tag, I'm sure.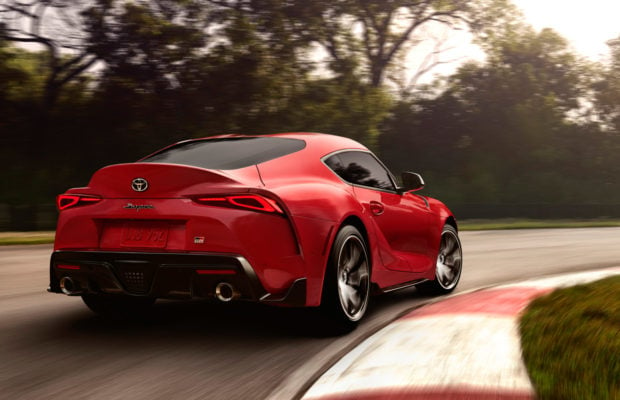 Under the hood of the 2020 Supra is a twin-scroll turbocharged inline-six engine that makes 335 horsepower and an substantive 365 lb-ft. of torque. All that power heads to the rear wheels via a quick-shifting 8-speed automatic transmission. Purists may be disappointed that a manual isn't an option here, but the auto with paddles will certainly result in faster shifting than any human could pull off with a three-pedal setup. With the car's launch control mode, it should do 0 to 60 mph in 4.1 seconds, on its way towards an electronically-limited 155 mph top speed.
Every Supra rides on 19″ staggered-width alloy wheels, and gets a multi-link rear suspension, adaptive damping, and an active rear differential which can dynamically distribute torque between the rear wheels for precise cornering. The car is said to achieve a perfect 50:50 weight balance, and is light by today's standards at just 3,397 pounds – which should offer a better power-to-weight ratio than just about anything Toyota has ever produced.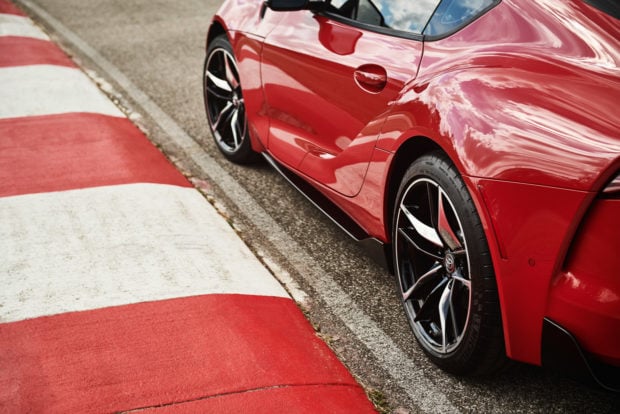 I'm thrilled that Toyota didn't try and cram in a tiny back row as so many sports coupes are known to do, and instead focused on providing an immersive experience for just the driver and a single passenger. Every Supra gets sport seats with side bolstering, which should keep you in your seat under hard cornering, and the base model even gets Alcantara seating surfaces.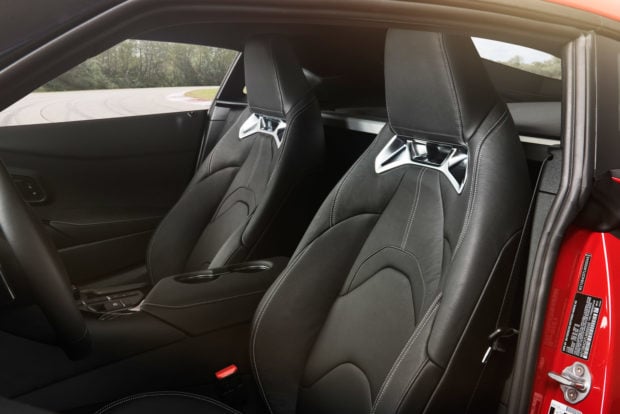 The Supra will initially come in two main variants – the 3.0, 3.0 Premium. The big difference between the 3.0 and 3.0 Premium is the upgraded 8.8″ touchscreen display with navigation and Apple CarPlay, a 12-speaker JBL audio system, Qi wireless charging, a color heads-up display, and heated, leather-trimmed seats. There are no drivetrain or performance differences between the trim levels.
The first 1500 Supra buyers will have to go for the Launch Edition, based on the 3.0 Premium, but decked out with special colors, trim, and numbered badging on the dash.
Launch Edition cars will come painted in Absolute Zero White, Nocturnal Black, or Renaissance Red 2.0, each with red mirror caps, and racing-inspired seats with red leather, and a red center console with carbon-fiber accents. I really love the two-tone look with the red mirror caps, and I'm hoping that Toyota offers this as an option down the road for other Supra buyers. It would be cool to offer them in a variety of colors to accent neutral base paint colors.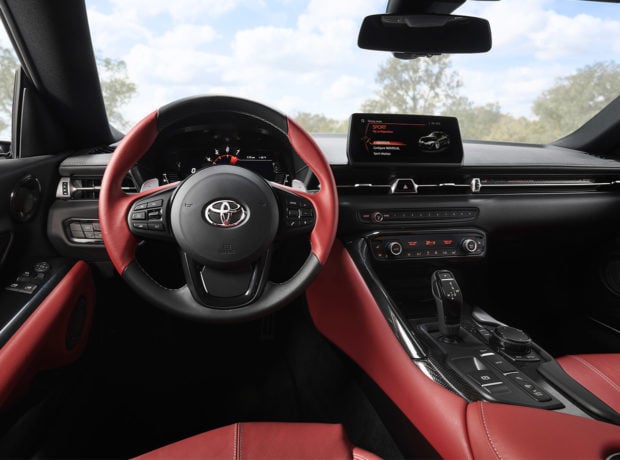 Standard Supra colors include Renaissance Red 2.0, Nitro Yellow, Downshift Blue, Absolute Zero White, Tungsten Silver, Turbulence Gray, Nocturnal Black, and a sweet Phantom Matte Grey will also be available for an as yet unspecified upcharge. I'm looking forward to seeing this bad boy in person.
The 2020 Supra 3.0 will sell for $49,900, the 3.0 Premium is priced at $53,990, and the Launch Edition goes for $55,250. The only option currently listed is an $1,195 Driver Assist Package, which adds full-speed adaptive cruise control, blind spot monitor, rear cross-traffic alert, parking sonar, and rear collision warning tech. It's too bad these aren't included, as some of these features are included with Toyota Safety Sense, which comes with standard with even the least expensive Corollas and Priuses.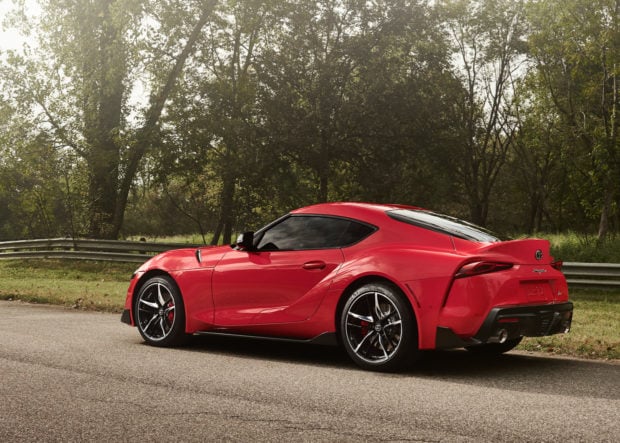 So yes, the new Supra isn't the inexpensive little sports car many had hoped for. I never really expected it to be, given its performance and the driving technologies it packs. Regardless of price, I have it on good authority from someone who drove a recent prototype that it drives extremely well, and with all that power under the hood and a relatively low curb weight, it's going to be a fast and fun to drive car no matter how you slice it. I, for one, can't wait to get behind the wheel.