2019 Cadillac Escalade Review: For Fat Cats with Deep Pockets
2019 | cadillac | Cadillac Escalade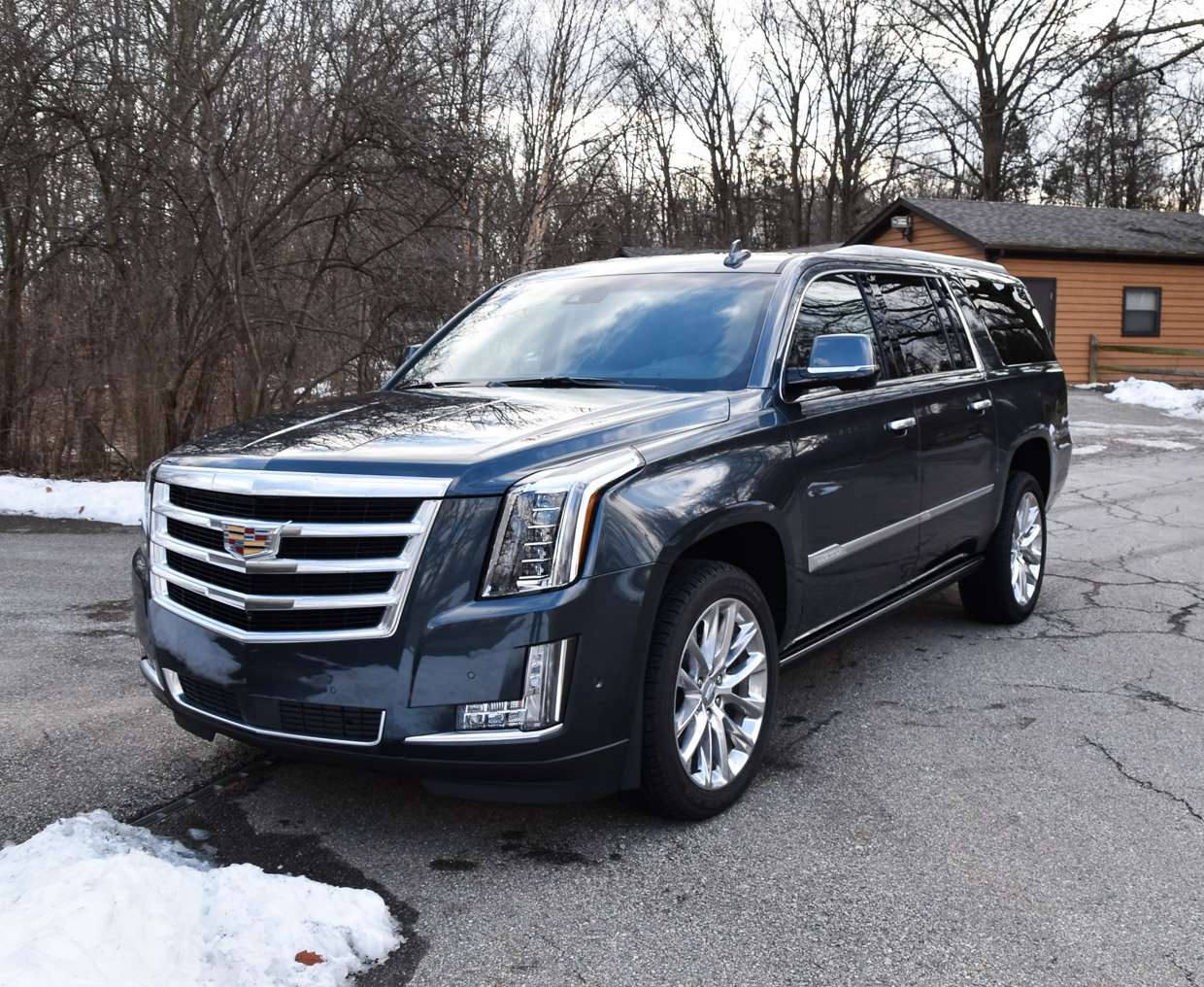 2019 Cadillac Escalade ESV Premium

Engine: 6.2-liter V8
Horsepower: 420
Torque (lb-ft.): 460
Transmission: 10-speed automatic
Top Speed (mph): 125
City/Hwy/Combined MPG: 14/21
Curb Weight (lb): 5856
Wheelbase (in): 130
Total Length (in): 203.9
Width (in): 80.5
Base Price (USD): $91,195
Price as Tested (USD): $97,465
For the people in my neighborhood who don't really know me or know what I do for a living, they're already suspicious. This week, I'm sure the talk of Walter White or being some kind of drug dealer was whispered. Having a different vehicle in my driveway every week does raise the curiosity level. But when the vehicle in the driveway is the lavish and bold Cadillac Escalade, the level rises. To be clear, no, I'm not a meth dealer! But the Escalade does raise eyebrows.
There's probably no bigger status-symbol vehicle out there than an Escalade. Nobody "needs" an Escalade. It's certainly a want. And after my week in this big SUV, I definitely want one. Now who has $100,000 I can have?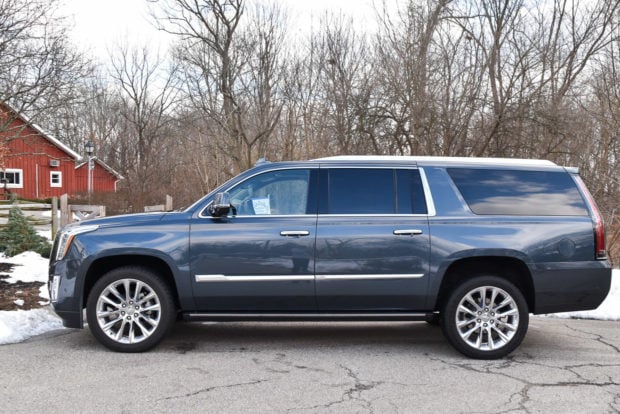 Nothing has changed on the 2019 Escalade from the prior year, so it maintains the same air of elegance and luxury. Its front end is big, bold, and distinctive with boomerang-shaped LED headlights and daytime running lights. The front is the most attractive side of the Escalade as the back side's styling is a bit more conservative, although, admittedly, it's more timeless than the front end. Long, skinny tail lights look sleek at night, but have less sex appeal than the flashy headlights and big Caddy logo up front.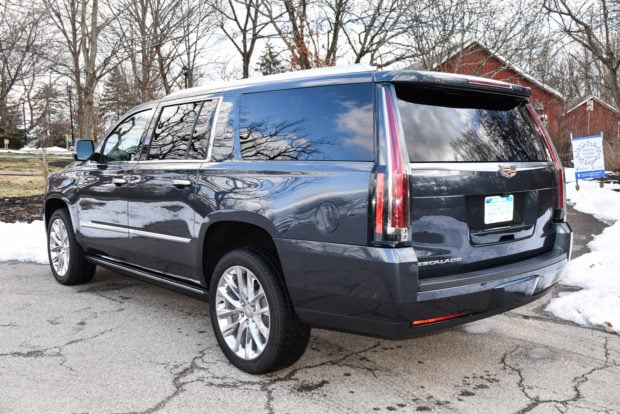 A vehicle as big and imposing as the Escalade needs an engine that is equally bold. The 6.2-liter V8 is up for that task. It puts out 420 horses and 460 lb-ft of torque. That may seem like a lot, but when you're talking about moving a vehicle that weighs more than 5,600 pounds, you need a lot of power. As such, the Escalade's performance is smooth and refined. It's quick enough off the line, but doesn't feel overpowered either. The 10-speed automatic transmission is magnificent. With four-wheel drive, the handling is outstanding too. While a beast to park in garages and parking lots, the Escalade is surprisingly agile with an impressive turning radius for its size. It's also capable in the towing department with a maximum towing capability of 8,100 pounds. My tester came with a special trailering package. So, it's both refined, but ready for recreational work too.
For being such a hulking SUV, the Escalade had better-than-expected fuel economy. It has an EPA rating of 14 mpg/city and 21 mpg/city. I averaged just over 17 mpg in a week's worth of "normal" driving. That's better fuel economy that I got on the Escalade I drove a year ago.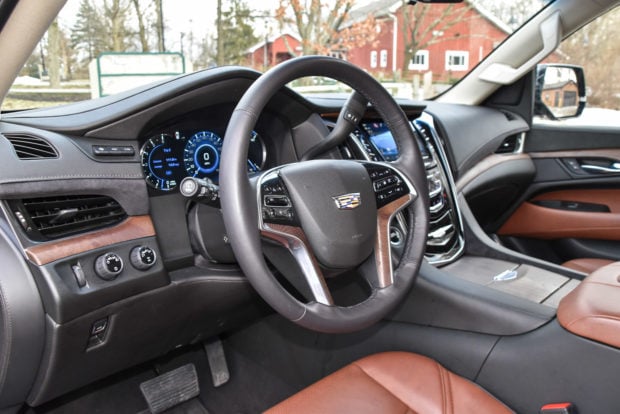 The three-row SUV does not disappoint with the interior amenities. It's hard to justify the high-end price tag of the Escalade, but when you see the supple seats and quality touch points it starts to make sense. The wood details look like they were designed by an HGTV expert, when combined with the leather seats. All-in-all, the interior accents are classy and differentiate this SUV from even a high-end GMC Yukon. The Escalade stands alone when it comes to over-the-top luxury touches. The eight-inch touchscreen is part of a well-planned center stack that is driven by the CUE infotainment. The CUE system is one of my favorite infotainment systems these days. There's a small learning curve with it, but once you get the hang of it, you appreciate all it offers and how capable it is. It also offers Apple CarPlay and Android Auto compatibility.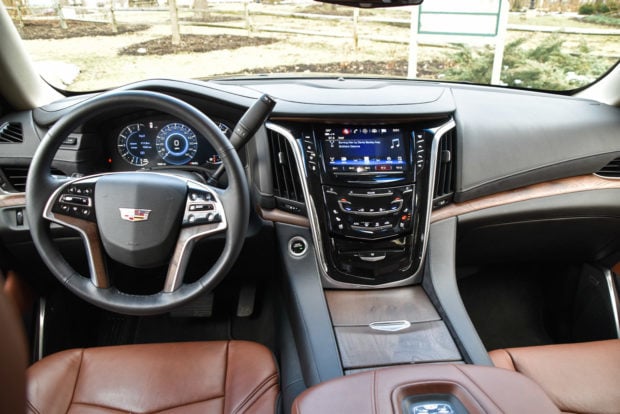 My tester had rear seat entertainment along with a slew of sensor-based safety features like collision alert, adaptive cruise control and advanced braking. Getting into the Escalade is easy with retractable running boards that slide out. Second row seating is vast with ample leg and head room. Even the third row has comfort for adults.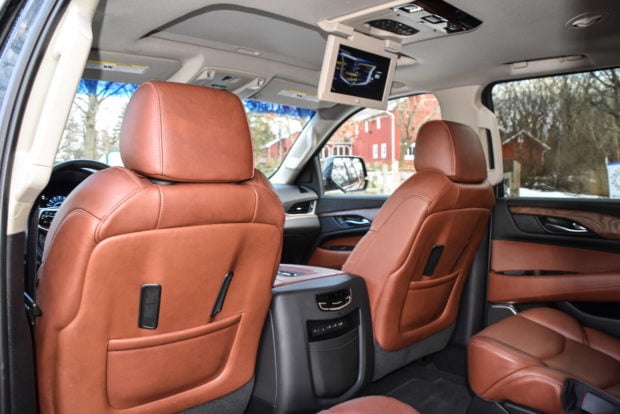 For all of its comforts for passengers, the Escalade is also an impressive cargo hauler. Fold the third row flat and there's 51.6 cubic feet of space. With second and third row seats folded, that cargo area increases to a cavernous 94.2 cubic feet.
My tester was the top-of-the-line Premium trim with 4WD. Standard price for this trim is $91,195. With options like the Kona Brown leather seats, power assist steps, and 22-inch 12-spoke wheels, my tester had a final MSRP of $97,465. Yowza!
I'm fortunate to be able to get behind the wheel of all of these great vehicles. Some weeks I'm luckier than others. This week spent with the Escalade gave me a hint at how the other half might live.