7 Excellent Excuses for Buying a Lexus LC 500 (As If You Needed Any)
2018 | carbon fiber | exotic cars | lexus | Lexus LC500 | Performance Package | sports car | sports coupe | Titanium | V8 | June 18, 2019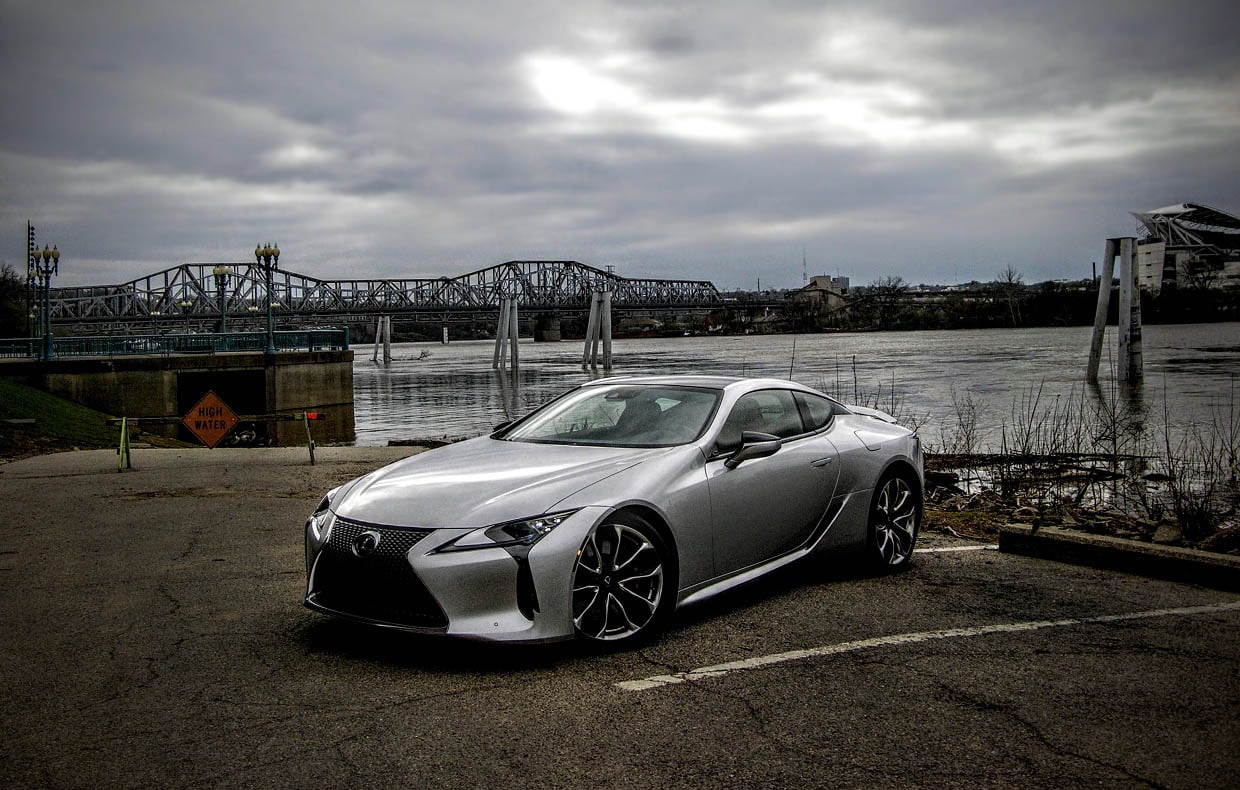 When first presented with the option of driving the Lexus LC 500 for a week, I damn near broke out in song. In recent years, Japanese luxury automaker Lexus has gone to great lengths in order to distance itself from the longstanding impression that it only makes boring automobiles. Nowhere is this more apparent than within its line of performance "F" automobiles. Voracious 5.0-liter V8 engines at the ready, and tricky torque vectoring controls sending power to the rear tires, the brand's duo of RC F and GS F options have left us equally impressed in the past, both in regard to luxury refinements and performance perks.
However, distancing oneself from an unemotional brand image is no easy feat, especially when decades of marketing dollars have been sunk into instilling a notion that Lexus driving involves stately sedans and unassuming SUV options. Buyer perception eventually did begin to come around though, and with critics applauding the brand for its newfound devotion to creating performance automobiles and sports coupes, the stage seemed set for something truly special.
Enter the Lexus LC 500. A 471-horsepower luxury sports coupe that seems more akin to a jacked-up grand tourer than a track monster, complete with a performance package, Mark Levinson audio upgrades, and hips wide enough to make Jennifer Lopez blush. Rolled together it becomes a $105,000 sex machine that grabs attention everywhere it goes, all while still embodying many of the capabilities deemed necessary for daily driving. Which leads us to today's topic. We've come up with 7 excellent excuses for buying an LC 500, along with a handful of choice photos illustrating my time with the vehicle. Lexus sports car perfection can be personified in a multitude of ways,  it's just nice to find them all in one amazing automobile.
1. Carbon Fiber is Your Friend
Lightweight, durable, instantly recognizable, and oh-so pricey, carbon fiber is the material of tomorrow, and it's here today. For buyers who opt for the $5,960 Performance Package upgrade on the LC 500, carbon fiber goes from being an accent to a center attraction, adding both visual appeal and lighter materials to the low-slung Lexus sports car.
Sure, there are plenty of other kick-ass options that come in the Performance Package (active rear steering anyone?), but for the money that gorgeous carbon fiber roof and those broad door sill plates made from the same material are impossible to ignore and add a lot of appeal.
2. Light it Up and Listen
Getting on the throttle isn't the only "driving force" behind why the LC500 is a top-tier sports car contender. Just by looking and listening, you will find that there is much to admire within the way this machine makes its own magic. From the triangulated LED lights up front and the mirrored infinity tails out back, to the clever welcome lamps and LED piping within the cabin, the brilliance found within the LC500 is equal parts aesthetically captivating and completely practical.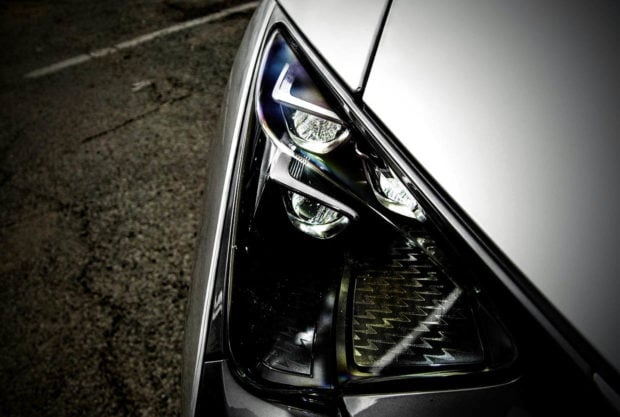 What's more is the way in which that 13-speaker Mark Levinson audio system projects all 915-watts of channeled power, and how good that exhaust sounds under throttle, as well as upon start-up. So flip on those headlamps, turn-up the tunes, and hit the highway, because Lexus refinement has never looked nor sounded so good.
3. Supple Materials for 
Sensualists
"Alcantara All the Things" should be the Lexus slogan for this surprisingly obtainable exotic car. Stow all the talk about performance, looks, and sounds for a moment and just feel your way around the cabin and you'll see exactly what I mean. Everything from the headliner and seats, to the steering wheel and door inserts are wrapped in supple materials, and you'll find yourself inadvertently going out of your way to "stroke" these pieces while inside just because they feel that damn good.
Even the pillars and visor above the digital gauge cluster have been wrapped in the same stuff, a subtle touch that does a splendid job of breaking up the materials spread across the dash while remaining easy to clean.
4. Dope 
Door Handles

 and Deployable Aero

Both of the items listed in this section make this particular Lexus sports car that much more special. When locked or in motion, both door handles sit recessed within the outer panels themselves, adding a more streamlined look to the vehicle, and pop open with the push of a button or by applying force to one side of the handle itself. It's a simple, yet entirely effective approach to turning a crucial component in any automobile into an animated piece of art, with the only thing that could possibly surpass it being the deployable wing across the back of the vehicle.
While most exotic cars keep a bevy of adaptive aero on deck, the Lexus LC500 features a singular, mildly sculpted rear wing, which in Performance Package terms means that it emerges when certain speeds are reached, or manually from the cockpit, for when one wishes for it to be in play. It's a finely crafted piece of aerodynamic engineering that is neither overstated nor out of place, and adds nothing but value to the Performance Package.
5. V8 Vengeance Under Complete Sports Car Control
A respectable 471-horsepower and 398 pound-feet of torque are what this Lexus sports car kicks out via its naturally-aspirated 5.0-liter V8. But all that line launching power and top-end performance wouldn't be worth a hoot if it weren't for all the super clever stuff it comes attached to, and the ways in which they all work in tandem. A couple of key components that really help make this machine sing are its snappish 10-speed automatic gearbox (complete with magnesium paddle shifters) and the optional limited-slip differential out back for increased traction under heavy throttle.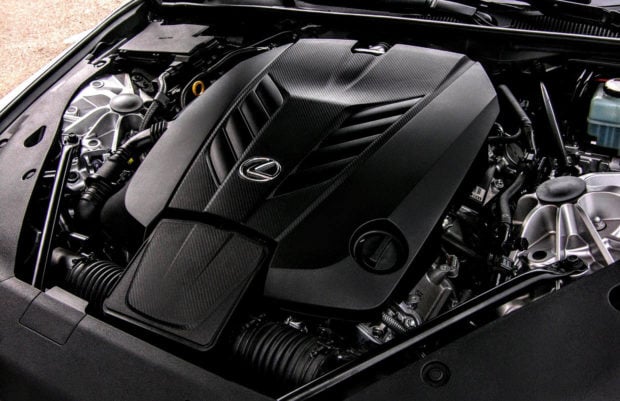 All together this adds up to one extremely vibrant driving experience, regardless of whether you prefer manual shift launches from a dead stop or are merely trying to pass a tractor trailer on the interstate. Toss in the fact that the Performance Package also includes active rear steering for tighter turns, and that Lexus' Variable Gear Ratio Steering (VGRS) continues to impress in any driving mode, and you've got one hell of a winning driving experience.
6. Digital Displays for Days
At this point in automotive history, digital read-outs and LED/LCD gauge displays are about as commonplace as staff resignations within the White House. Even the most base level vehicle has some form of electronic read-out, and so in order to position itself on a different level, Lexus has taken its flagship sports car and given it even more electronic attitude.
For LC 500 buyers this means you get to enjoy things like a brilliantly illustrated 10.25-inch center stack screen, complete with all manner of aesthetically engaging content, and electroluminescent driver gauges, which in true Lexus fashion are visually captivating, adjustable, and easy to read.
7. It's Like Nothing Else Out There, Including Other Lexus Sports Cars
Perhaps the thing that most sets the LC 500 apart from everything else in the Lexus portfolio and the rest of the sports car pack, is that it truly is its own entity. Lexus went with its gut feeling and remained as imaginative as possible with this one, and unlike the RC F and GS F, turned the vehicle pictured here into a living, breathing representation of the concept car. It's a conceptualized design that has been brought roaring to life, and unlike countless other exotic cars, actually holds a candle to what the design team originally teased us with all those years ago.
Low, wide, luxurious, unique, comfortable, easy to drive, loud enough to be noticed but not obnoxious, and fast enough for most, it's a 6-figure slab of brilliance that deserves almost every sports car accolade imaginable. Although it may not be the ideal machine for every high-end car buyer, the LC 500 certainly offers enough of the right stuff to make it a praise-worthy topic of conversation at cars and coffee on the weekend.