Retro-Future Mobility: The Sinclair C5 Electric Trike
1985 | retro | sinclair | tricycles | July 8, 2019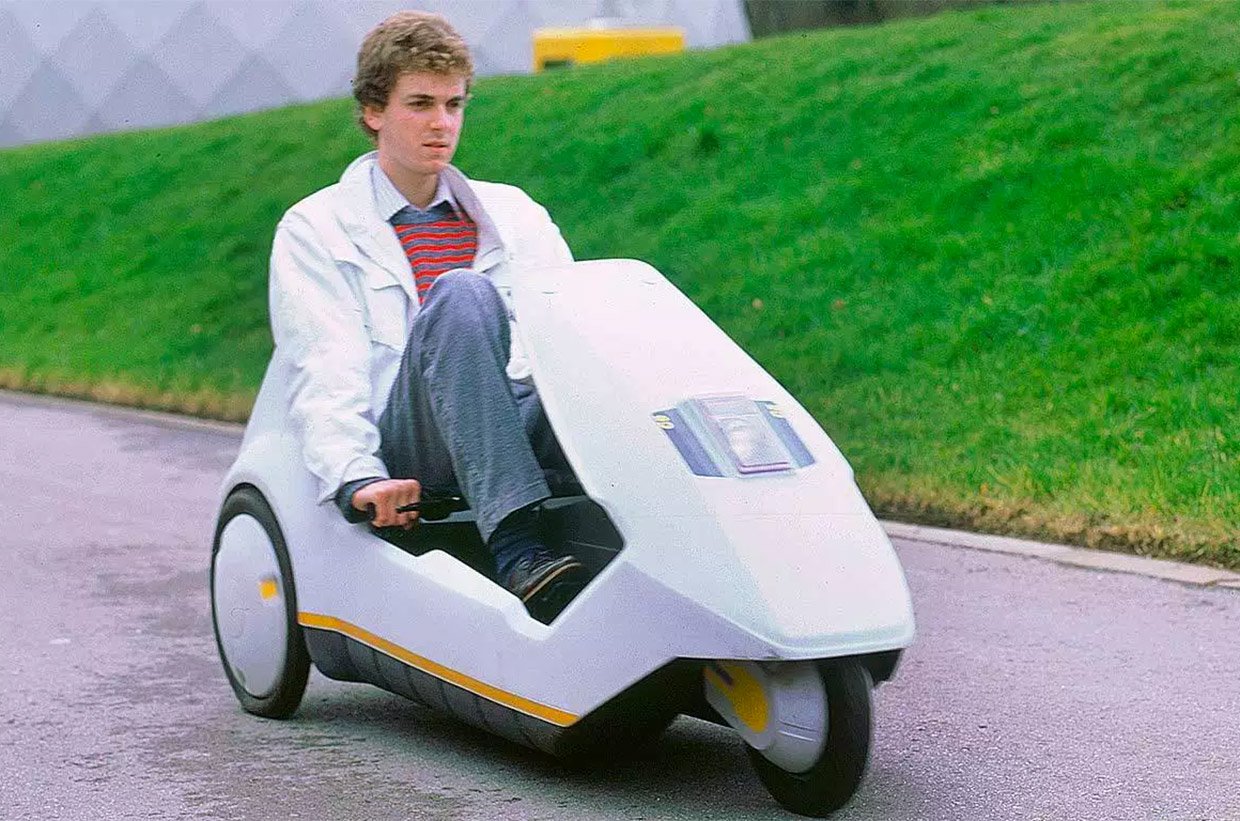 These days, two of the biggest buzzwords in the auto industry are "electric" and "mobility." As the demand for better fuel economy increases and millennials' less than enthusiastic interest in cars, we're seeing smaller and more efficient methods of transportation – especially in congested urban areas, and especially in Europe and Asia. But nearly 35 years ago, inventor Sir Clive Sinclair was working on a vehicle that would be right at home in today's mobility movement.
The Sinclair C5 was a single-seat, pedal-assisted electric vehicle that was designed for city commutes. The diminutive car was designed to go up to 20 miles on a charge (though real world numbers were closer to 10 miles). Top speed was just 15 mph, but that was enough for crowded city streets, and would fit right in with all the bicycles, mopeds, and scooters we see today. Plus, it cost just £399 (~$500 USD) – or $1200 in 2019 dollars.
The promotional video below offers a great look at the C5's features, and also serves as a wonderful 1980s time capsule:
Controlling the C5 worked like riding a moped, if the moped's handlebar was mounted under your legs. It had hand-operated throttle and braking controls, along with pedals, which you would almost certainly have to contribute some sweat to should as you quickly sopped up all of the vehicle's battery power climbing the slightest incline.
The C5 didn't have a ton of space, but it did have a small storage compartment behind the driver's seat, providing room for grocery bags or other small cargo. Of course, one big issue with the C5 was that its open-topped design wasn't ideal for rainy days. Sinclair's solution? A waterproof fabric cover and windbreaker combo that worked sort of like a poncho.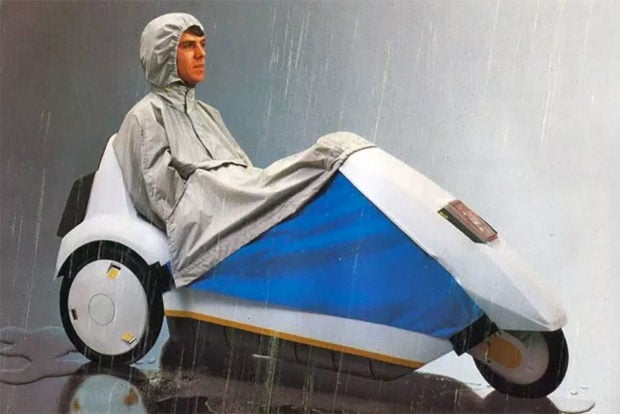 The three-wheeler was designed to be street-legal for drivers over the age of 14, with or without a driver's license – at least in the UK. And since there were no road taxes for EVs in Britain at the time, it was even more economical to own. Roughly 14,000 C5s would make it into homes back in 1985, but it never really took hold after initial demand, and was swiftly killed off when buyers realized it didn't live up to its range promises, and felt like a very unsafe place to be among automotive traffic.