2020 Hyundai Palisade First Drive Review: An Upscale SUV Delight
2020 | hyundai | hyundai palisade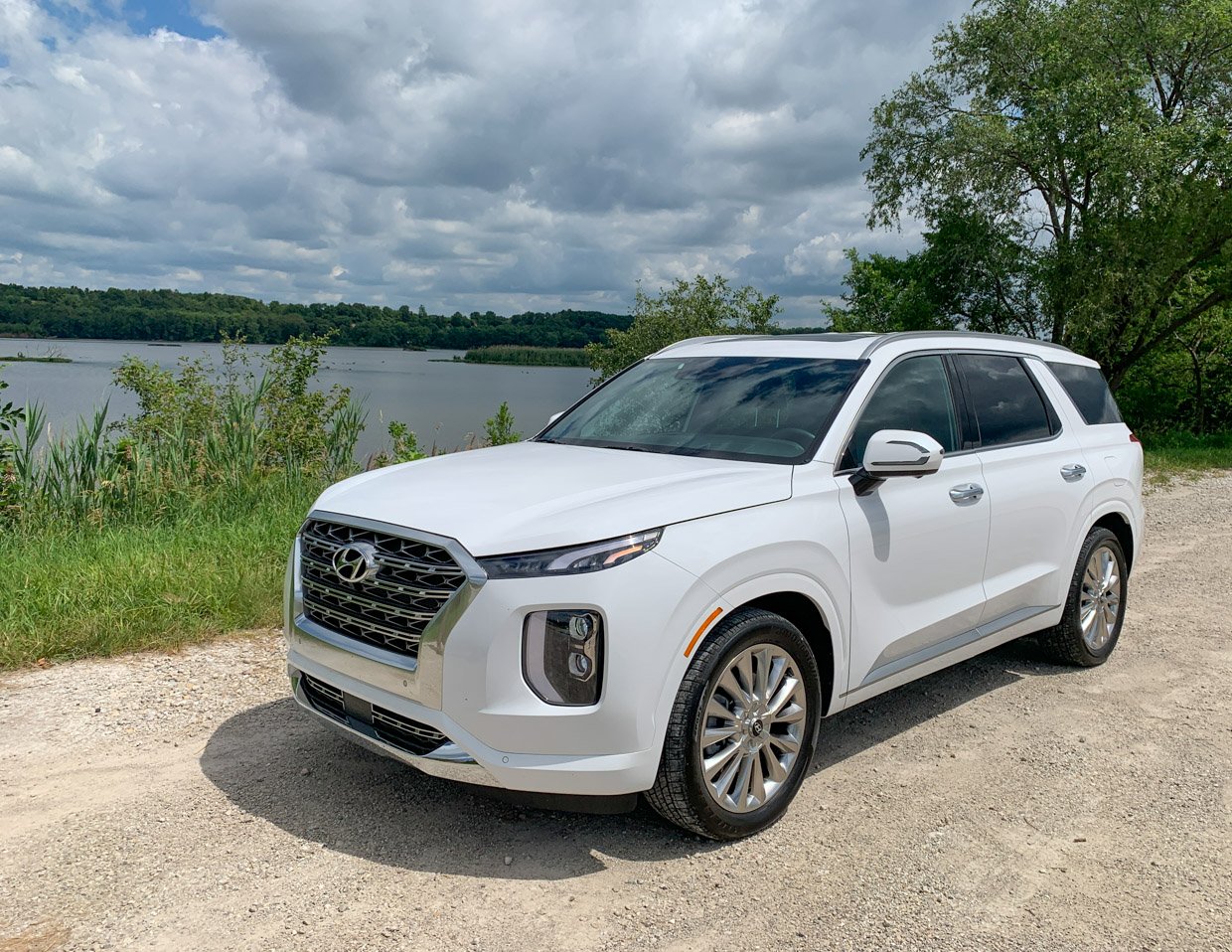 2020 Hyundai Palisade Limited AWD

Engine: 3.8L direct-injection V6
Horsepower: 291
Torque (lb-ft.): 262
Transmission: 8-speed automatic
Drive Configuration: AWD
City/Hwy/Combined MPG: 19/24/21
Curb Weight (lb): 4,387
Wheelbase (in): 114.2
Total Length (in): 196.1
Width (in): 77.8 (w/o mirrors)
Ground Clearance (in): 7.9
Base Price (USD): $46,400
Price as Tested (USD): $47,605
It was only a couple of weeks back that I got to spend sometime behind the wheel of the Kia Telluride, and I thought it was a very good vehicle indeed. Now that I've driven its Hyundai cousin, the Palisade, it's clear the Koreans have a winning platform on their hands. In the most fundamental ways, the two vehicles are quite similar, but I'm giving the edge to the Palisade, as it offers a handful of available features not found on the Telluride, and its top-of-the-line interior styling feels even more luxurious. The good news is that whichever one you choose, you can't really go wrong.
The Palisade's exterior is distinctive, with a large, angular grille flanked by sleek and slim lights along its hood line. Stealing a design trick from the Kona, those top lights are primarily used as an accent, and the Bi-LED headlights are mounted below. I really dig the way the accent lights wind their way from the top section to the bottom. This gives the Palisade a really modern look and visually elongates the height of its hood, making it look even more imposing in the rear-view mirror.
In side profile and from the rear, the sense of height continues, and the wraparound look for windows behind the C-pillar is a sophisticated touch. Everything about the exterior of the Palisade exudes substance, and I appreciate the cleanliness and smooth sculpting of its design.
Hit the start button on the Palisade, and its 3.8-liter V6 offers up plenty of power. I didn't encounter anything but smooth shifts from Hyundai's updated 8-speed automatic either. Like the Telluride, the overall ride dynamics of the Palisade make it feel like a much smaller vehicle than it actually is. Despite offering enough room for 7 or 8 passengers, it handles much like a crossover or a mid-size sedan, instilling confidence and a sense of control, while still being comfortable and easy to drive.
Modern construction techniques mean a very stiff chassis, and even with a dual-panel moonroof in place, they were able to maintain virtually all of that rigidity through smartly-engineered roof reinforcements. While the Palisade can be purchased as a front-wheel drive, the SUV I drove featured Hyundai's HTRAC all-wheel drive system, which can dynamically adjust torque distribution based on more than 50 different inputs – not just wheel slip, but things like whether or not the wipers are on and the outside temperature. These more sophisticated AWD systems allow for more predictive, rather than reactive traction control.
The interior of the Limited trim model that I drove is exquisite, on par with or better than the materials and aesthetics of more expensive "luxury" SUV's I've recently driven. There are features like real Nappa leather seats with diamond quilting, and heated/ventilated seats for both front row and second row passengers. The cabin is also extremely quiet at highway speeds, and the use of ample amounts of insulation and vibration control help provide this serene environment.
One of the handful of advantages that the Palisade offers over the Telluride is its center console design. It's sleeker, more modern, and more pragmatic, thanks to the use of shift-by-wire pushbutton controls. This allows for a floating look with a large storage area beneath the console, perfect for purses or other small bags. They were also able to sneak in hidden 12VDC and USB charging ports under there.
The Palisade can be equipped with a ton of tech features, including full-speed adaptive cruise control, lane-keeping assist, Qi wireless charging, a heads-up display, surround-view cameras, a rear-seat intercom system which lets the driver speak to kids in the back without raising their voice, and more. The 10.25″ widescreen navigation/infotainment interface is well placed and intuitive, supports both Apple CarPlay and Android Auto, and actually lets you take advantage of its width by allowing you to display 2 or 3 applications on screen at once. Another thoughtful touch is the ability to have two Bluetooth devices connected at once – so one person can connect their phone, while another can play music.
One more upgrade offered in the Palisade that's not currently on Telluride is an optional 12.3″ full digital instrument cluster. Not only is this just a more modern and flexible way to display information, but it provides an advantage in the way that their innovative blind-view camera system is displayed, showing the left blind spot mirror on the left gauge area, and the right blind spot mirror on the right gauge area. Smart.
One quirk of the digital display not present on the analog gauge cluster is the oddly reversed tachometer. It appears the interface designers chose to let symmetry win out over familiarity here. But, hey, it's not like you're likely to be looking at it anyhow. It's just something that struck me as odd.
Of course, the main reason you buy a 3-row SUV is that you want space for people and their stuff, and the Palisade excels on these fronts. It can be equipped as either an 8-seat or 7-seat vehicle, with the second row getting either a bench seat or a pair of lush and comfortable captain's chairs. The Limited trim shown here gets the latter by default. It takes just the push of a button to slide the second row seats forward for easy access to the back row, though with the captain's chair's, there's enough of a gap between them that you can get to the back just by squeezing between the seats.
Both the second and third rows offer good space for adults, and since the 2nd row seats can slide, you can adjust the available legroom for both rows to your preference. The back row isn't exactly palatial, but is pleasant enough for adults to take a trip around town. Kids will be just fine back there, even on long road trips. Every seat has a USB charging port too, a must-have feature for today's always-on society.
Here's another Palisade advantage over Telluride – an option for power-folding and unfolding third row seats. That means even kids can open and close them with the push of a button.
There's ample cargo space, maxing out at a colossal 86.4 cubic feet should you fold both rows, 45.8 cubic feet with just the third row folded, and a respectable 18.0 cubic feet with all three rows in use. Hyundai tells us that's enough space for a 100 quart Coleman cooler to fit back there. There's also a secondary storage area underneath the cargo floor.  If that's not enough versatility for you, the Palisade can also tow. It's rated up to 5,000 pounds towing capacity, and can even be equipped with an auto-leveling rear suspension to keep the back end level when carrying large loads.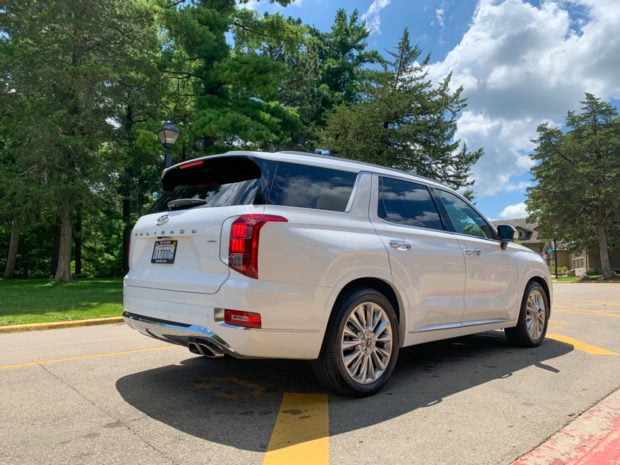 There are so many available bells and whistles on the Palisade that it's hard to cover every single one of them here. Suffice it to say, that with a fully tricked-out price tag of about $47,000, it represents a tremendous value. If your budget isn't that high, you can get into a base SE FWD Palisade for as little as $31,550 – and for that money, you still get all of the space, the same great styling, and the same drivetrain. Like all Hyundais, it comes with that impressive 10-year, 100,000 powertrain warranty, as well as a 5-year, 60,000 mile limited warranty, and 5-year roadside assistance.
The Palisade combines style, technology, comfort, utility, capability, and value all in one very appealing package. Kudos to both Hyundai and its fellow family members at Kia for continuing to push the envelope, and for helping to drive innovation and value in the entire industry.