2020 Cadillac XT6 First Drive Review: A 3-Row Sophisticate
2020 | cadillac | cadillac xt6 | August 4, 2019
---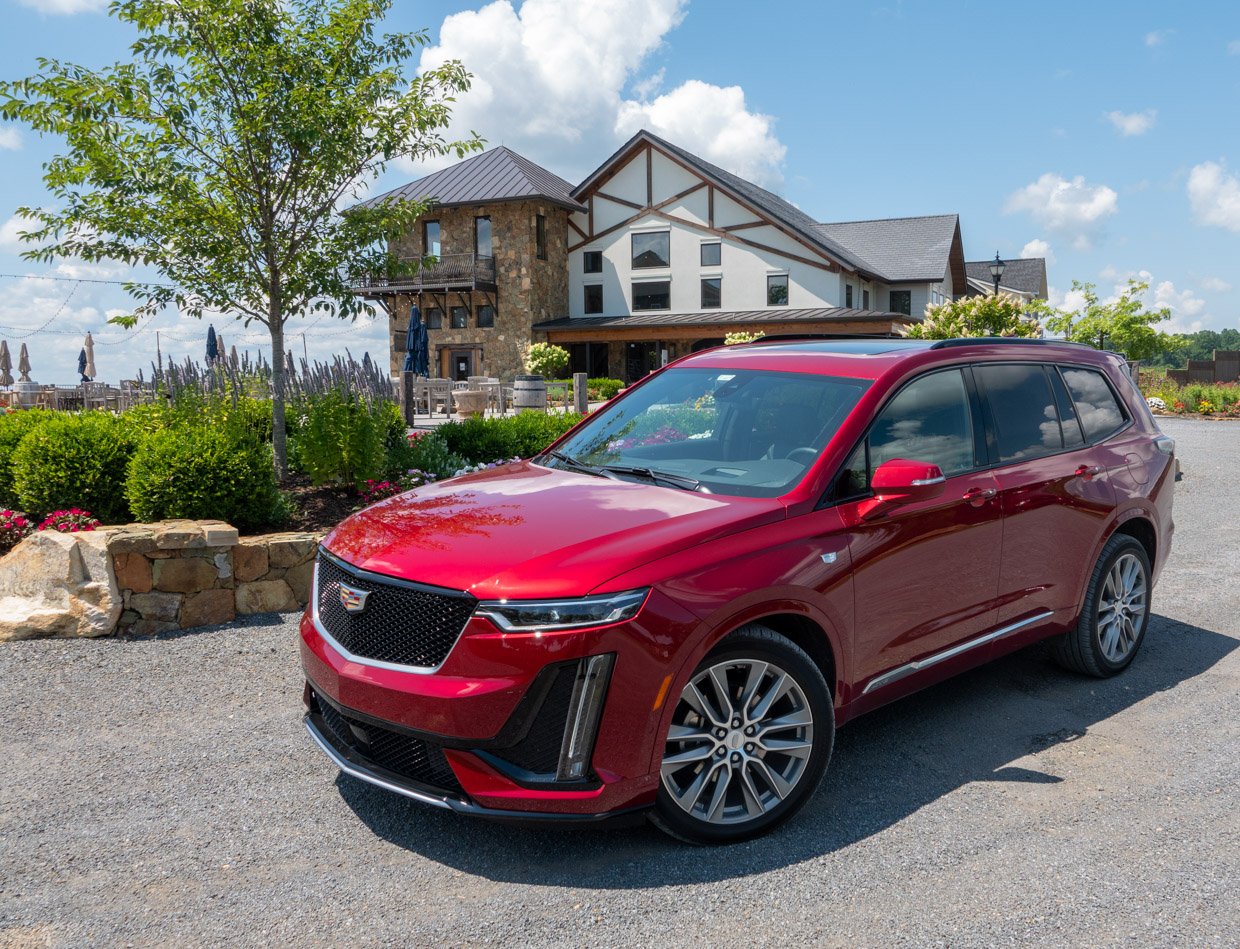 2020 Cadillac XT6 Sport AWD

Engine: 3.6L V6
Horsepower: 310
Torque (lb-ft.): 271
Transmission: 9-speed automatic
Drive Configuration: AWD
City/Hwy/Combined MPG: 17/24/20
Curb Weight (lb): 4690
Wheelbase (in): 112.7
Total Length (in): 198.8
Width (in): 77.3
Ground Clearance (in): 6.65
Base Price (USD): $57,095
Price as Tested (USD): $71,640
As momentum continues to shift more and more towards SUVs here in North America, it seems as if every major automaker wants to flesh out its lineup with an SUV at every size class. Last year, Cadillac took care of the compact crossover market with the release of the XT4, and now it's created a 3-Row model to serve as a bookend for the popular XT5. The XT6 is designed for the buyer looking for extra seating space but who doesn't want something as huge as the Escalade.
There are two main XT6 configurations available here in the States: Premium Luxury and Sport, both of which are available with an optional Platinum package, which upgrades the interior materials. The Premium Luxury model is focused more on comfort, while the Sport model is aesthetically bolder, has more responsive steering, sportier suspension, throttle and drivetrain tuning, active damping, and comes with AWD as standard.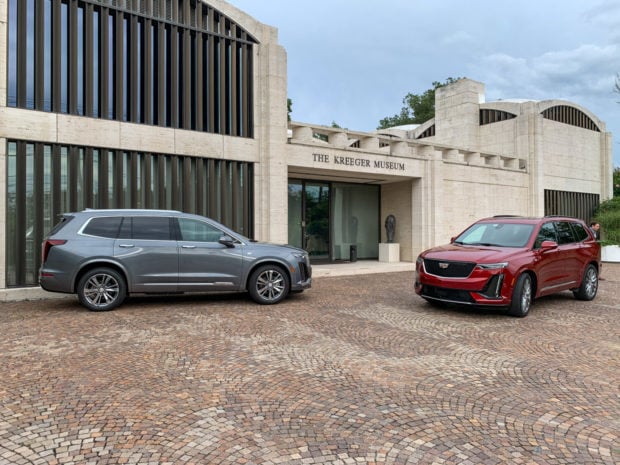 The XT6 fits squarely into Cadillac's current design language, with sharp, clean lines, and an angular grille that acts as a giant-sized outline of the iconic Caddy logo which sits proudly at its center. I think it's the most successful and appealing execution of the design yet. By moving to a horizontal headlight configuration and separating the vertical LED accent lights, it just feels more modern and widens its overall look compared to other models in the current lineup. We can expect a similar design for the front of the upcoming 2020 CT5 sedan.
Other views of the XT6 are what I'd call upscale but conservative. There's nothing particularly wrong with the way it looks from the side or rear, but it's not exactly distinctive or memorable about those angles either.
Moving under the hood of the XT6, there's a 3.6-liter, direct-injected V6 engine, which makes 310 horsepower and 271 lb-ft. of torque. Connected to GM's Hydra-Matic 9-speed automatic transmission, it accelerates smoothly and quickly for its size, and thanks to the naturally-aspirated power plant, there are no worries about turbo lag here. In addition, cylinder deactivation tech can drop the engine down to 4 cylinders when cruising, resulting in better than expected fuel economy numbers. The EPA says you can expect 17 mpg in the city, 24 mpg on the highway, and 20 mpg combined. However, in a days worth of mixed urban, highway, and twisty country driving, I averaged an impressive 23.6 mpg according to the XT6's instrument panel.
As you'd expect from a premium luxury SUV, the XT6 is smooth and quiet, and does a great job isolating the cabin from road noise and vibrations. It handles reasonably well for a 3-row as well, though there is still a bit more body roll when cornering than I've encountered in some recent competitors. The active damping on the Sport model I drove did a great job adjusting between a variety of road conditions, keeping the cabin well isolated from bumps, and providing just a bit of desirable feedback in Sport mode. The Sport Control AWD system can also send torque independently to either of the rear wheels, improving cornering response. That's in addition to the torque vectoring by braking system.
Cadillac did a nice job with the interior of the XT6. Whether you go with the Premium Luxury or Sport trims, it's a very upscale and sophisticated affair. Both styles offer a sleek and well organized dash, with high quality materials throughout. Every seat is comfortable, and the fronts offer plenty of power adjustments. Both heating and ventilation are available for front seat passengers, along with heat for the rear outboard seats. In recognition of today's mobile tech demands, there are six USB ports in the cabin, with four of them offering USB-C. There's also a smartly designed cubby in the center console for the driver's phone, which includes wireless charging.
The Premium Luxury model sees a large swath of real wood across its dashboard, while the Sport model gets an ample helping of real carbon fiber. All models get leather seating, but the Platinum package gives you Semi-Aniline leather seats, leather on the instrument panel, doors, and console, as well as a suede microfiber headliner, which feels really nice to the touch. The upgraded 14-speaker Bose Performance series audio system sounds crisp and punchy, and has premium stainless steel grilles.
There's also a panoramic sunroof, which includes both a fixed rear glass and a front section which can be opened. When it comes to space and utility, the XT6 performs reasonably well. By default, it offers seating for seven adults, but the 2nd row 60/40 split bench can be swapped to a pair of comfy bucket seats for $800, reducing capacity to six, but upgrading comfort and back seat access. Both the 2nd and 3rd rows offer plenty of legroom for adults, and headroom is very good even in the back. Since the 3rd row sits between rather large bump-outs for wheel wells, it only seats two. Each passenger gets their own HVAC vent, cupholder, and LED lighting. USB-C charging.
Accessing the 3rd row can be done by sliding the 2nd row buckets forward, but I found it much easier to just walk between the two seats to get into the back. With the 3rd row folded, there's a decent amount of cargo space in back – 43.1 cubic feet. Fold both rows, and you get an ample 78.7 cubic feet.
However, with all three rows in use, cargo room is a disappointing 12.6 cubic feet – that's less than the trunk space in a Toyota Corolla. Fortunately, you can fold each seat individually, which provides added flexibility, but if you expect to haul six or seven people and their stuff, you'll need to look elsewhere.
Cadillac equips the XT6 with lots of standard technology, including an 8″ touchscreen with Apple CarPlay and Android Auto, Intellibeam headlights, front and rear park assist, forward collision alert, rear cross-traffic alert, lane keep assist, automatic emergency braking, rear seat safety alert, and a rear view camera with a wash feature.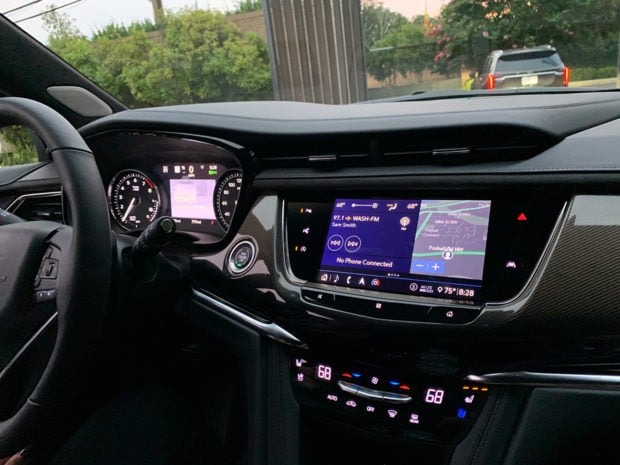 You'll need to drop $2350 on the Enhanced Visibility and Technology package if you want the 8″ digital information cluster, surround camera with recording, heads-up display, and automatic parking assist. Then toss in another $1300 for the Driver Assist package, which provides automatic seat belt tightening, enhanced automatic emergency braking, rear emergency braking, and adaptive cruise control – a feature which comes standard on much less expensive vehicles these days. One whiz-bang safety feature that's also available on the XT6 is a night vision camera which can highlight pedestrians and large animals on the instrument panel display. I found its location to be a bit distracting, but the ability to alert on the HUD and with an audible tone helps improve its utility.
Overall, the new XT6 makes for a promising addition to the Cadillac line-up, slotting in nicely between XT5 and Escalade. My biggest concern is its pricing. Yes, Cadillac is a luxury lifestyle brand, but you can get a top-of-the-line, better equipped Hyundai Palisade or Kia Telluride for nearly $25,000 less than the XT6 Sport AWD Platinum I drove. And while some might say they wouldn't cross-shop the Koreans against Cadillac, I certainly would these days. On the other hand, if you're a Cadillac brand loyalist, or deciding between an XT6 and an Audi Q7, the prices are more comparable. I'm hoping that down the road, Cadillac will consider making more of its features standard, so the price can be more competitive, and there's less need to upgrade with options.