2020 Toyota Camry TRD and Avalon TRD First Drive Review
2020 | toyota | toyota avalon | toyota camry | trd | September 20, 2019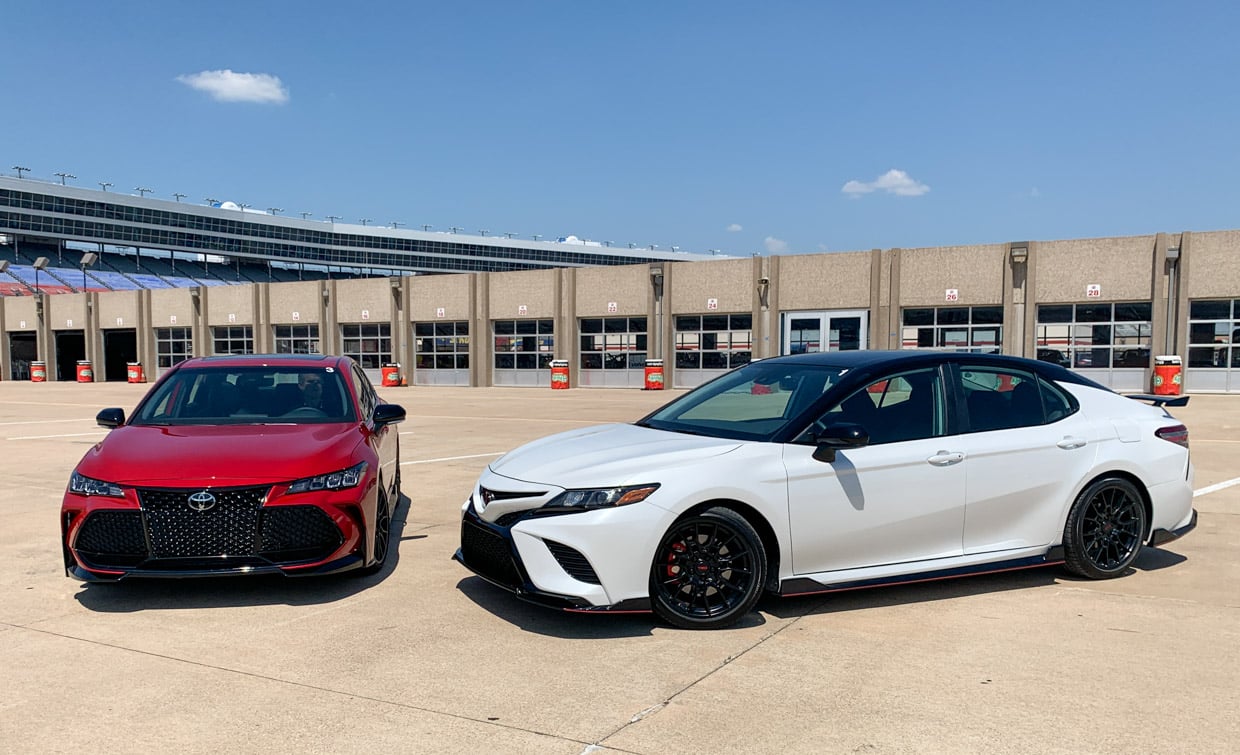 Toyota Racing Development (aka TRD) is charged with making the highest performance versions of Toyota's production vehicles, though in recent years, their focus has been on trucks and SUVs. So what exactly happens when you let TRD tinker with a couple of family sedans? I recently spent a little time behind the wheel of both the 2020 Camry TRD and Avalon TRD to find out.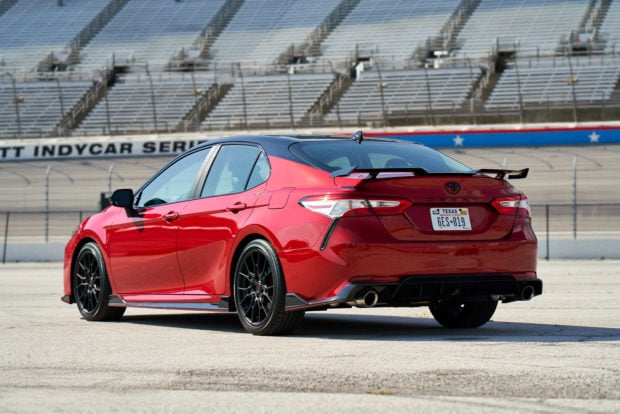 Both models share a number of attributes, such as a 301 horsepower V6 engine that makes 267 lb-ft. of torque, as well as an 8-speed automatic gearbox with paddle shifters. In TRD guise, they've been bestowed with a dual catback exhaust system that gives them a bit more audio than Toyota's other V6 sedans. There aren't any speed gains compared to the other Camry and Avalon V6 models, but a sub 6-second launch certainly isn't bad for a daily driver.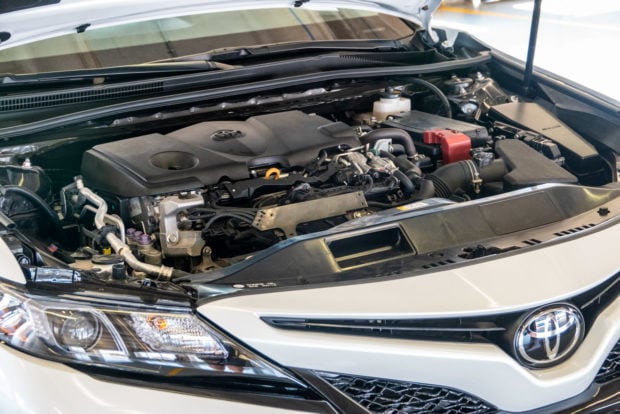 Where the Avalon TRD and Camry TRD get their biggest upgrades are in the aesthetic and handling departments. Just look at all the black trim and aero on these suckers. Each car gets a black front splitter, rear diffuser, and side aero skirts with a red pinstripe. I'm a big fan of the black roof that's been available on the Camry XSE, and it comes standard on TRD models now. The Camry's jagged trunk spoiler really sets it apart, while the all-black grille on the Avalon TRD is arguably the most successful version of this mouthy front end,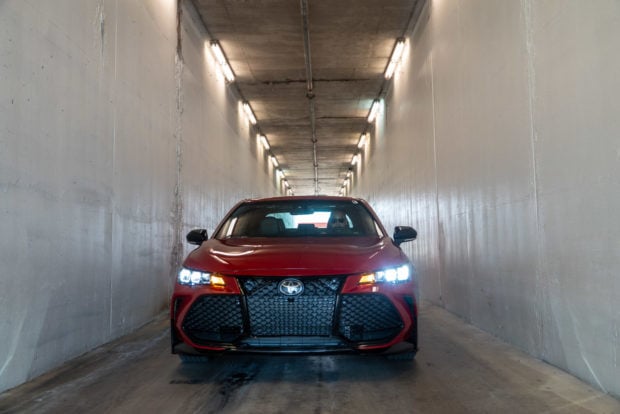 The TRD logo is done up in red, as well as the brake calipers. And you know what they say: painting brake calipers red makes them stop better. Okay, maybe not, but the front rotors got a bump up to 12.9″, along with dual-piston calipers. Along with tweaked pedal feedback, they felt a little firmer compared to the Camry XSE and Avalon Limited under hard braking. They also held up well after a day of journalists pounding on them on a twisty autocross course, though I'm not sure they'd do as well with the sort of aggressive high-speed stopping required for a road course.
The interiors of both cars are mostly unchanged from their less sporty counterparts, though they feel cleaner and sportier through the use of black SofTex materials, along with red accent stitching on the dash, seats, shift lever and steering wheel. The TRD embroidered headrests and red trimmed floormats are a nice touch too.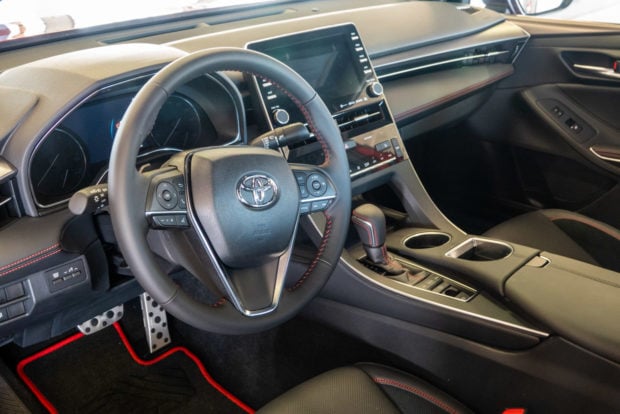 One big highlight for me is the matte black 19″ TRD rims. They look amazing. Frankly, I think they're some of the best looking factory wheels you can get on any car today. They weigh about 3 pounds less than Toyota's other 19″ wheels too, which translates to a more nimble overall feel. Between the two cars, I preferred the optional Bridgestone Potenza summer tires on the Camry TRD versus the all-season Michelin MXM4 Primacy rubber on the Avalon, as they gripped better when cornering aggressively. On the other hand, if you go with the summers, you'll need to invest in a set of of winter tires if you live anywhere the daytime temperature drops below about 40º.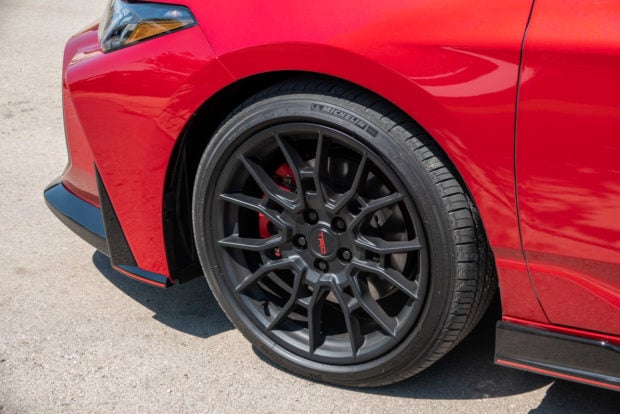 What's most notable about both cars is how much flatter they corner than their non-TRD counterparts. By lowering ride height by roughly 0.6″, stiffening up the springs and shocks, and installing heftier anti-roll bars, both the Avalon TRD and Camry TRD were better behaved and more predictable on the autocross. Toyota also equips the cars with "Active Cornering Assist," which is a fancy name for torque vectoring by braking. By applying a bit of braking to the inside wheel during cornering, understeer is noticeably reduced.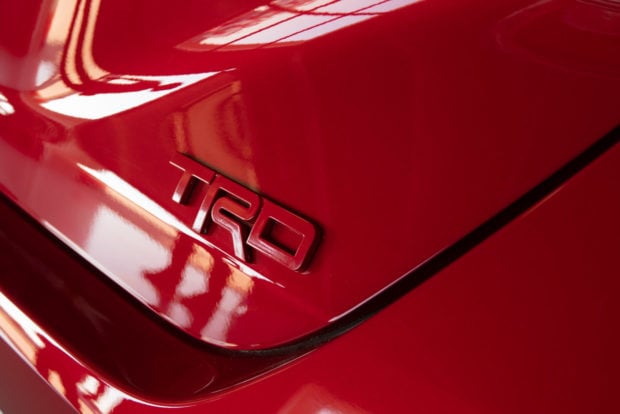 Extra underbody bracing helps keep the chassis on TRD models stiffer too. However, the Camry has a slight leg up over the Avalon here. Not only does it weigh about 66 pounds less, but it's got an additional brace behind the rear seats for added stiffness. Also, the lack of a sunroof helps with rigidity as well.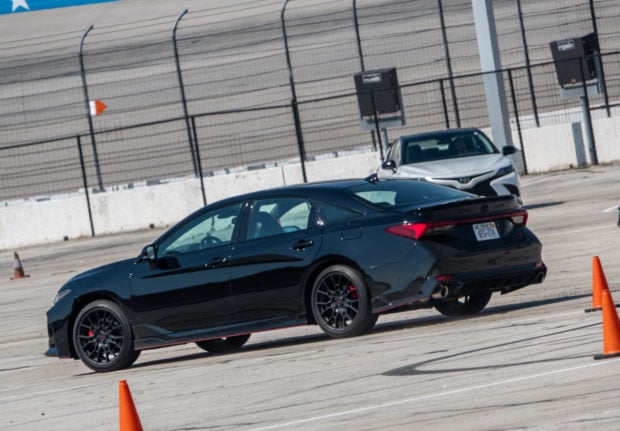 On the street, the handling differences were less noticeable than on the autocross. Other than the beefier exhaust sounds, and a slightly more direct sense of control and road feel, I couldn't tell much of a difference in this setting. For everyday driving, I'm not sure most people would notice a big difference from other Camry and Avalon V6 models, which are already quite good in their current generation. On the other hand, the styling upgrades here models are sure to appeal to those who prefer a sportier and more aggressive look for their cars. As an added bonus, the Camry TRD is the most economical way to get a V6 Camry, so what's not to like?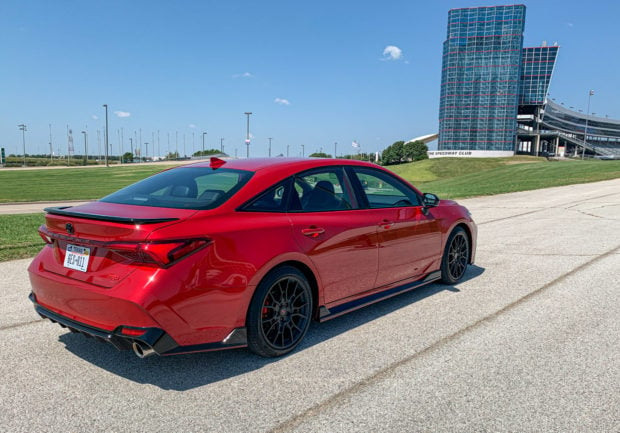 Both the Avalon TRD and Camry TRD are arguably the best looking variants of both cars – especially for performance enthusiasts like me. They don't gain anything in the speed department, but do both handle more nimbly than their non-TRD counterparts – especially when performing quick maneuvers. The Avalon TRD is definitely the more luxurious of the two, as well as quieter and more comfortable on road trips, but the Camry is more sporty overall, both in appearance and ride dynamics, so that would be my personal pick. The Avalon TRD sells for $42,300, while the Camry TRD starts at just $31,040, making it the bargain of the two.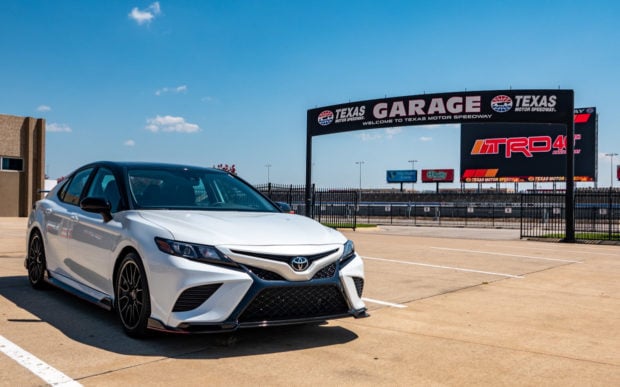 Kudos to Toyota for continuing to take Akio Toyoda's "no more boring cars" mandate to heart. With some great TRD trucks, the supremely fun GR Supra, 86 TRD, and now these TRD sedans, Toyotas continue to gain more personality each year, a welcome complement to their renowned reliability and value.