Brabus G V12 900: "One of Ten" Elite Benz Badasses
brabus | carbon fiber | custom | G-Wagen | Gelandewagen | limited edition | mercedes-benz | Twin-turbo | V12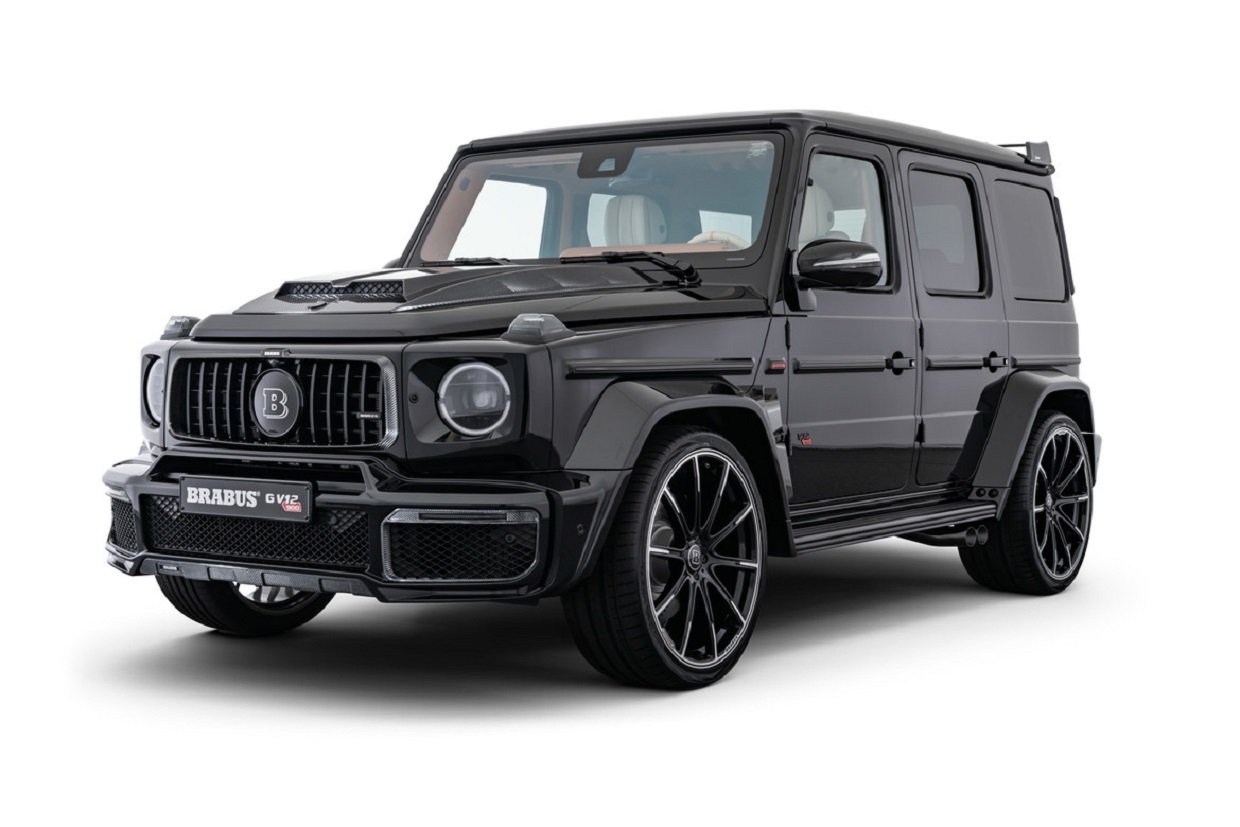 If opulent SUV exclusiveness is your thing, and you have $875,500 sitting in your bank account, we've got the perfect vehicle for you. We are speaking of the Brabus G V12 900 "ONE OF TEN." This twin-turbo, V12 equipped G-Wagen stole the spotlight in Frankfurt recently, fifteen years after the first version was revealed at the 2004 Geneva Motor Show.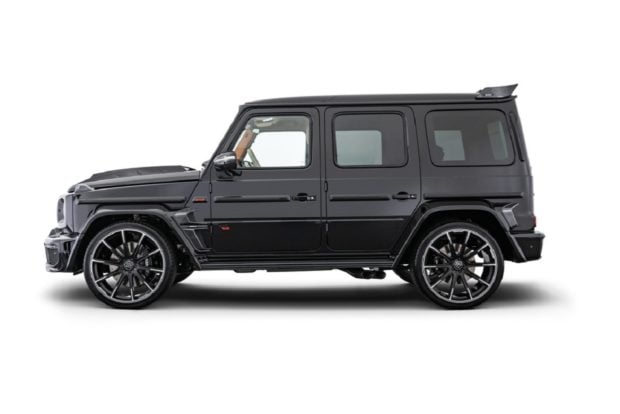 The twin-turbo V12 engine in this ultra limited Mercedes G-Class is a 6.3-liter that has seen its displacement increased by Brabus to the point where it can now generate 900-horsepower and 1,106 pound-feet of torque. Affixed to a 9-speed automatic gearbox, and rocking Mercedes-Benz all-wheel drive, this beast hits 60 mph in just under 3.8 seconds, and can obtain a top speed of 174 mph. Despite having over a thousand pounds of torque on tap at 4,200 rpm, Brabus admits that it electronically limits twist to 885 lb-ft, presumably for reliability's sake.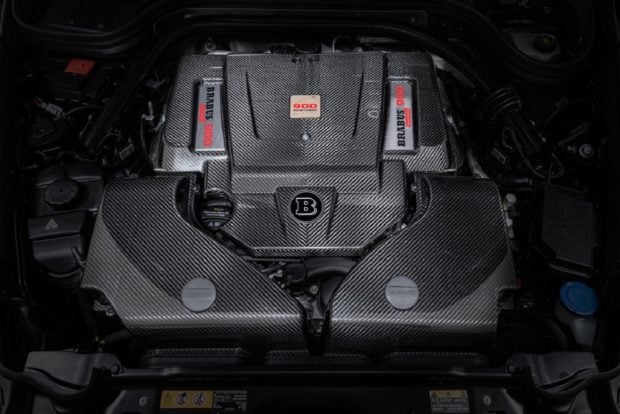 This motor typically propels the Mercedes S 600 L, which makes 523 whp. Brabus took this motor, overbored the block, and installed a custom billet crankshaft. By creating a longer stroke, and affixing forged pistons to the crankshaft via billet connecting rods, Brabus was able to bump the V12's compression from 6.0 to 6.3 liters.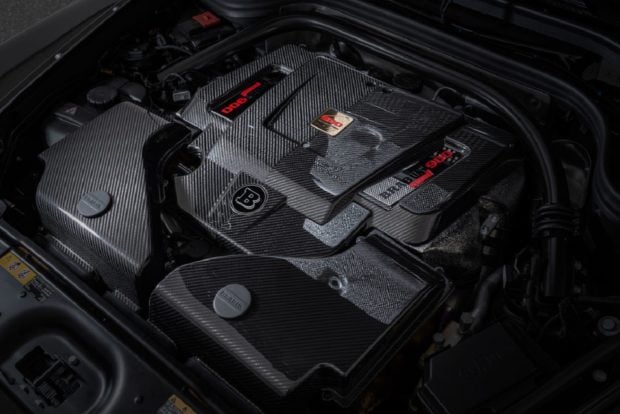 Larger turbo compressors, modified exhaust manifolds, free-flowing 3.1-inch downpipes, unrestricted catalytic converters,and a Brabus stainless high-performance exhaust with active cutouts assist with the majority of the SUV's heavy breathing. An exclusive, Brabus 900 intake manifold also makes its debut, which features a larger air filter box and nonrestrictive filters, along with reflective "sheathing" to lower intake temps. In order to keep everything in check, the SUV's ECU was reflashed with fresh mapping for fuel, ignition, and boost pressure. As with all Brabus builds, the G V12 also comes loaded with Motul lubricants spread throughout.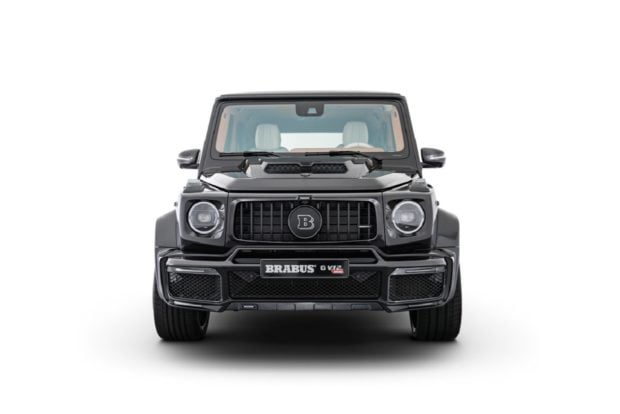 With a body that is a full 4-inches wider than stock, and either 23- or 24-inch wheels underneath, the G V12's staggered stance is imposing to say the least. Over-sized intakes and skid plates made from carbon are in abundance, along with carbon fiber side mirrors, hood "power bulges," and a naked-carbon roof wing.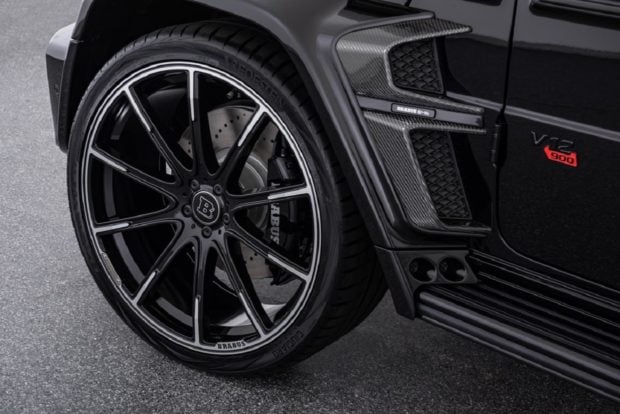 In order to handle the V12's additional weight, the G-Wagen's Ride Control coilover suspension's damping was re-calibrated and then reattached to the OEM Dynamic Select ride controller. This allows drivers to maintain the same suspension, powertrain, steering, and assistance controls, while tweaking ride height as well.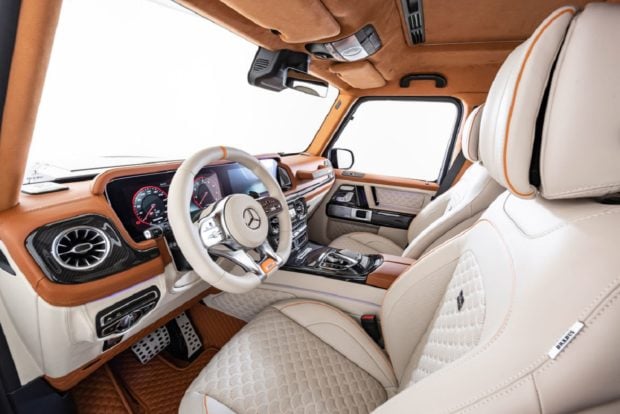 As for the cabin itself, each Brabus G V12 900 "ONE OF TEN" receives an all-leather interior approach, complete with plaques, porcelain, saddle brown leather, orange piping, aluminum, and black Alcantara. Brabus has also outfitted each one of these ultra rare specimens with a rear console, which features a trifecta of analog gauges for backseat passengers. This allows them to track speed, outside temps, and time at a glance. Carbon fiber accents can be found at every turn as well, with the SUV's custom perforated leather seats matching the race inspired steering wheel.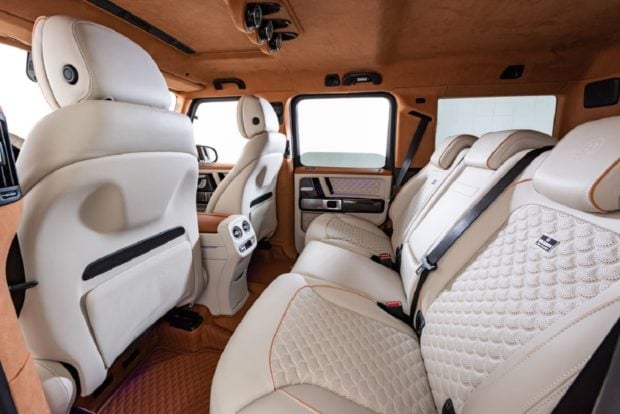 One final touch on these vehicles that is worth noting, is the that Brabus has taken the time, and modified the rear doors of the G-Wagen so that they can be opened almost a full 90 degrees. This practical feature allows taller passengers, easier access to the cabin of one of the most exclusive automobiles ever produced.