Lexus LF-30 Electrified Concept: This is What 2030 Looks Like
2019 tokyo motor show | lexus | lexus lf-30 | October 22, 2019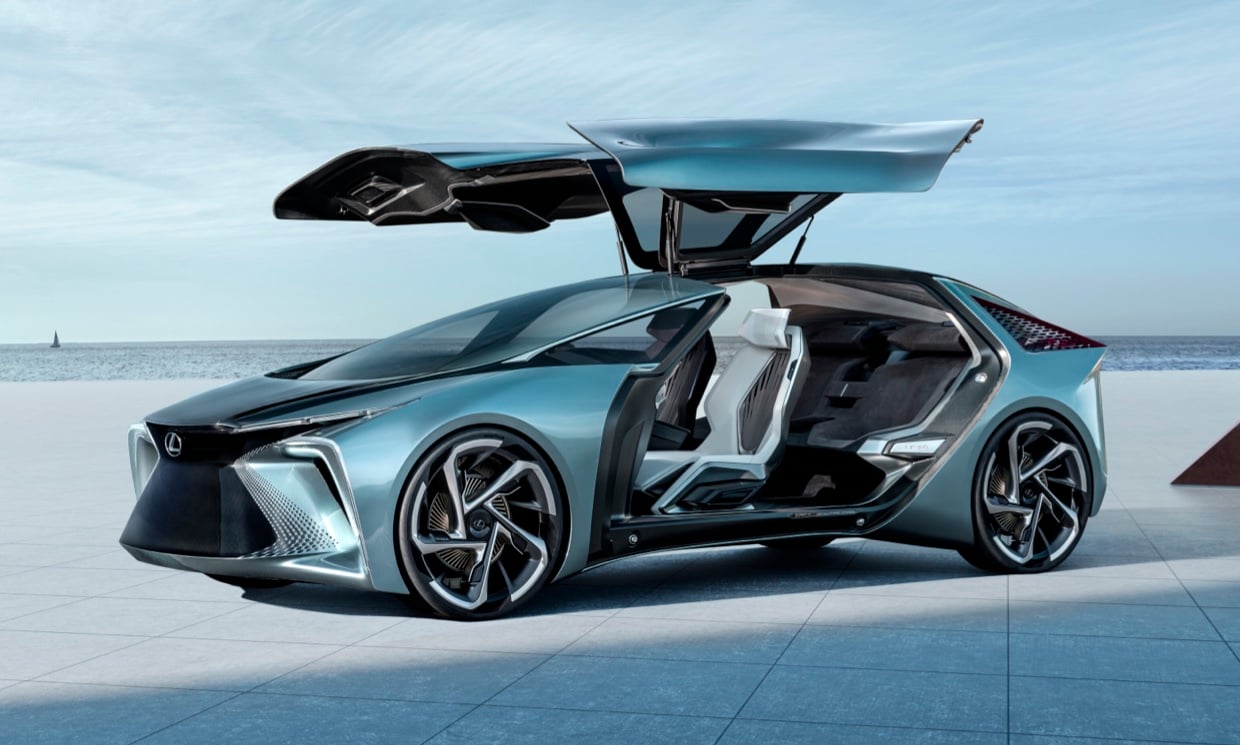 I'm here at the 2019 Tokyo Motor Show, meeting with Toyota and Lexus to see what sort of new vehicles they have in the works. A big focus of this year's show is on the future of mobility, so it's less about what cars you can buy in 2020, but where technology is headed in the years beyond.
Lexus is looking way ahead to 2030 with their LF-30 Electrified concept car. This pure-electric coupe packs innovative technologies which we could be seeing in the decades ahead.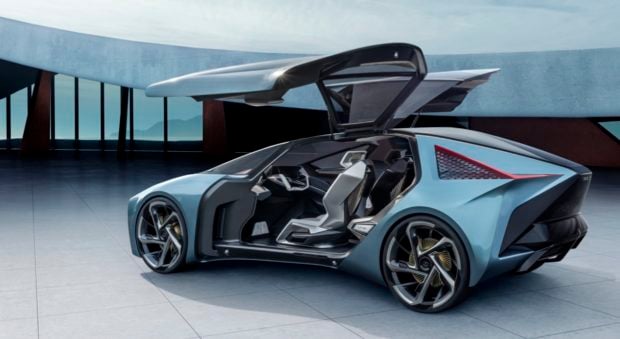 Clearly a car from the future, the LF-30 has a pretty wild design, expanding Lexus' trademark spindle design so it basically explodes out from the grille into the vehicle's numerous origami-like folds. Also notable are the gull-wing doors which provide access to both the front and rear seats. The front of the car features a luminescent face which can change patterns not just for aesthetic reasons, but to indicate whether the vehicle is operating in autonomous or normal driving modes.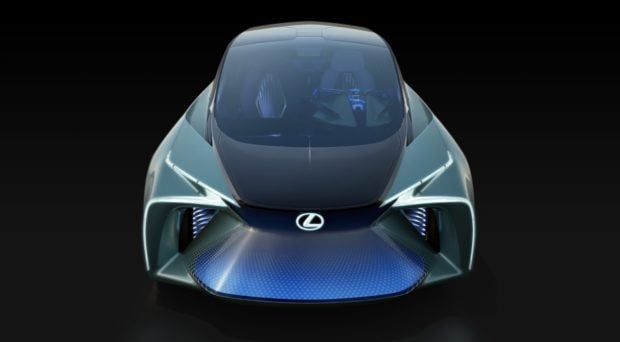 The LF-30 runs entirely on battery electric power, and has an all-wheel drive system that uses in-wheel motors to keep things compact and responsive. Each motor can be independently controlled for optimal handling, and keeps the cabin steady using something Lexus refers to as "Advanced Posture Control." A steer-by-wire system is also onboard, which allows for greater adjustability of vehicle dynamics depending on driving conditions.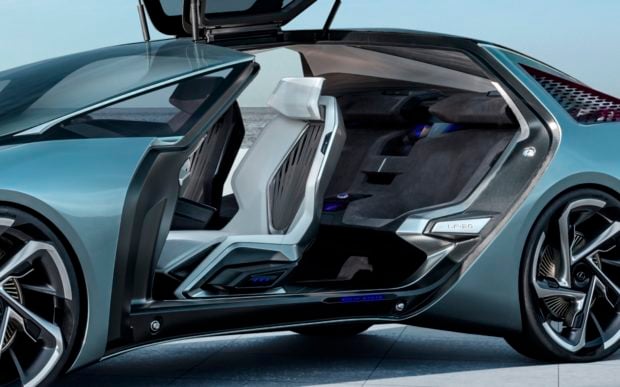 The car packs a 110 kWh battery pack which has the potential range of up to 500 km (~300 miles). Total system power is estimated at 400 kw – or about 536 horsepower, and 516 lb-ft. of torque. The car's 0 to 62 mph time is estimated at just 3.8 seconds, on its way towards a top speed of 124 mph.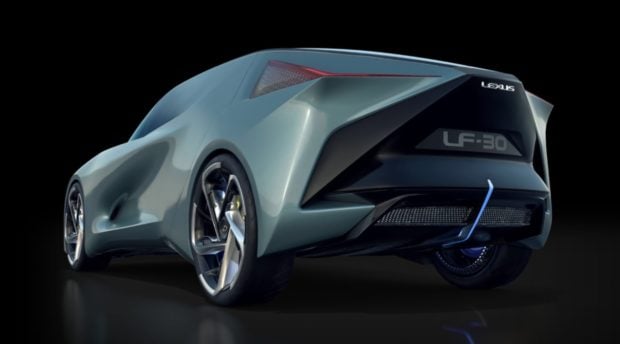 While it's designed to support autonomy, the LF-30 also embraces the connection between driver and car. Its controls are optimized for keeping the driver's eyes up on the road, and leverages technologies like augmented reality and gesture control. AI tech can track driver preferences and automatically adjust things like climate control, audio, drive routes, and vehicle performance settings based on the individual. In addition to the driver control pod, the front seat passenger gets their own interface for entertainment and other functions.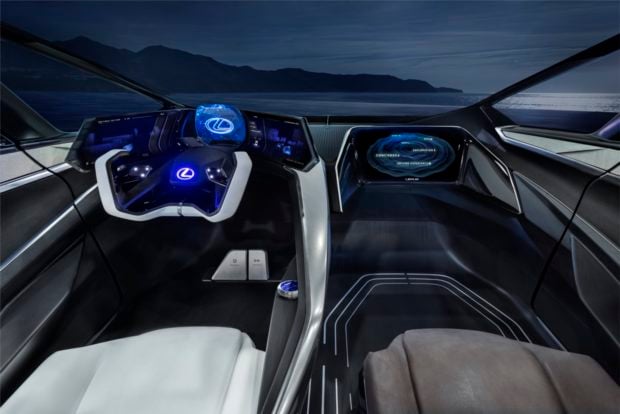 The cabin features unique windows with adjustable opacity, allowing for expansive views or privacy as desired. Floating over the rear seats is a touchscreen glass roof called "SkyGate," which can project information and imagery onto its augmented reality screen.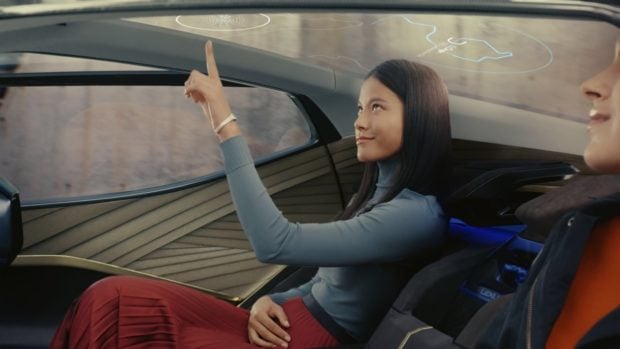 The interior of the LF-30 is designed to showcase sustainable materials, using charred cedar wood in its floor and steering controller, as well as recycled metal which has been woven into fibers for its door trim. One of the more futuristic technologies in the car are the rear seats, which use artificial muscle tech to mold themselves for a perfect fit for comfort and support.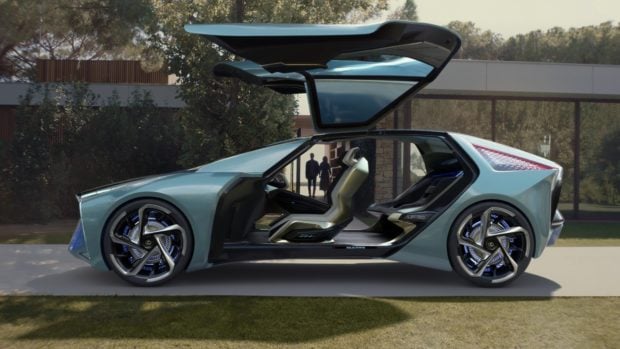 Lexus also says the LF-30 will feature a companion device called the "Lexus Airporter." Basically, it's a drone that could be used to transport baggage or other items from the car to your doorstep. When not in use, it stows in the rear of the vehicle.
While the cars of 2030 might not look or function exactly as Lexus envisions with the LF-30, the company is already focused on bringing electric power to its vehicles, with electric variants of all of its vehicles in the works by 2025.