The MX-30 Is Mazda's First Production EV, and It Looks Nifty
2020 | mazda | mazda mx-30 | October 23, 2019
If there's one consistent theme here at the 2019 Tokyo Motor Show, it's that electrification is a key part of almost every automaker's go-forward strategy. Among the companies showing off EVs was Mazda, a company who heretofore has stuck strictly with internal combustion engines.
The new Mazda MX-30 isn't just some far-off concept either – it's an actual vehicle which is headed for production in 2020. It's a compact crossover with an aggressively-sloped roofline. Shown initially in a two-tone design with aggressive black overfenders and a black roof, I can't help but be reminded of the Volvo XC40. Measuring in at 173″ long and 70.7″ wide, it falls between the size of the CX-3 and the CX-5.
Of particular note are the stubby suicide-style rear doors (which Mazda is calling "Freestyle" doors), reminiscent of the the ones on the old RX-8 and Toyota FJ Cruiser. While the design of the MX-30 is said to be part of the "Kodo" design ethos that permeates the entire Mazda line these days, it's the one vehicle in the lineup that looks pretty different to me. Most notable is the skinny grille up front, which is far less dramatic than the wide mouth seen on everything from the Miata to the CX-9.
The cabin is yet again more Swedish than Japanese, using materials like cork, casual modern textiles on the seats, and door trim made using recycled plastic fibers.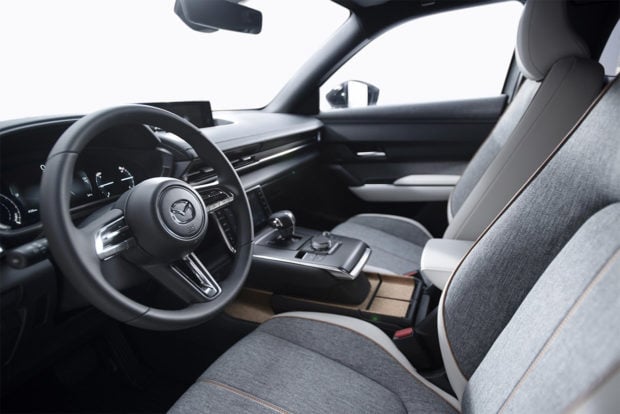 Mazda has yet to provide details on a North American version of the MX-30, but the European spec'd version will have a small 35.5 kWh battery pack, and a single motor that makes 140 horsepower and 195 lb-ft. of torque. That's not exactly Tesla Model X territory, but I'm guessing the MX-30 will be quite a bit cheaper than that vehicle. Range is estimated at 200 km (~124 miles) – which put it head to head with the Nissan LEAF more than anything else.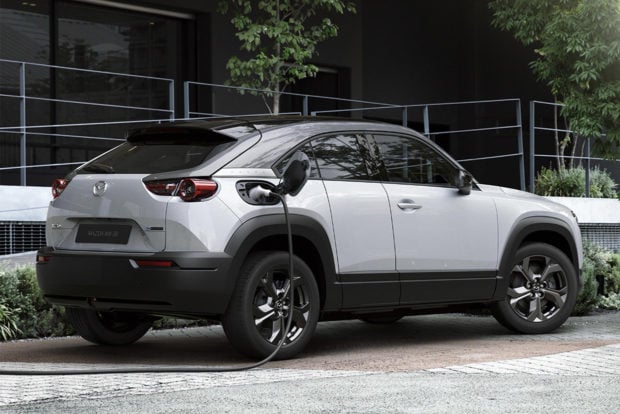 The initial version of the MX-30 will only be front-wheel drive, which limits its appeal in northern climates, and in much of America, so I'm guessing that Mazda will offer an AWD version at some point down the road.