2020 Kia Soul GT-Line 1.6 Turbo Review: Hamsters, Assemble!
2020 | gt-line | kia | kia soul | November 2, 2019
---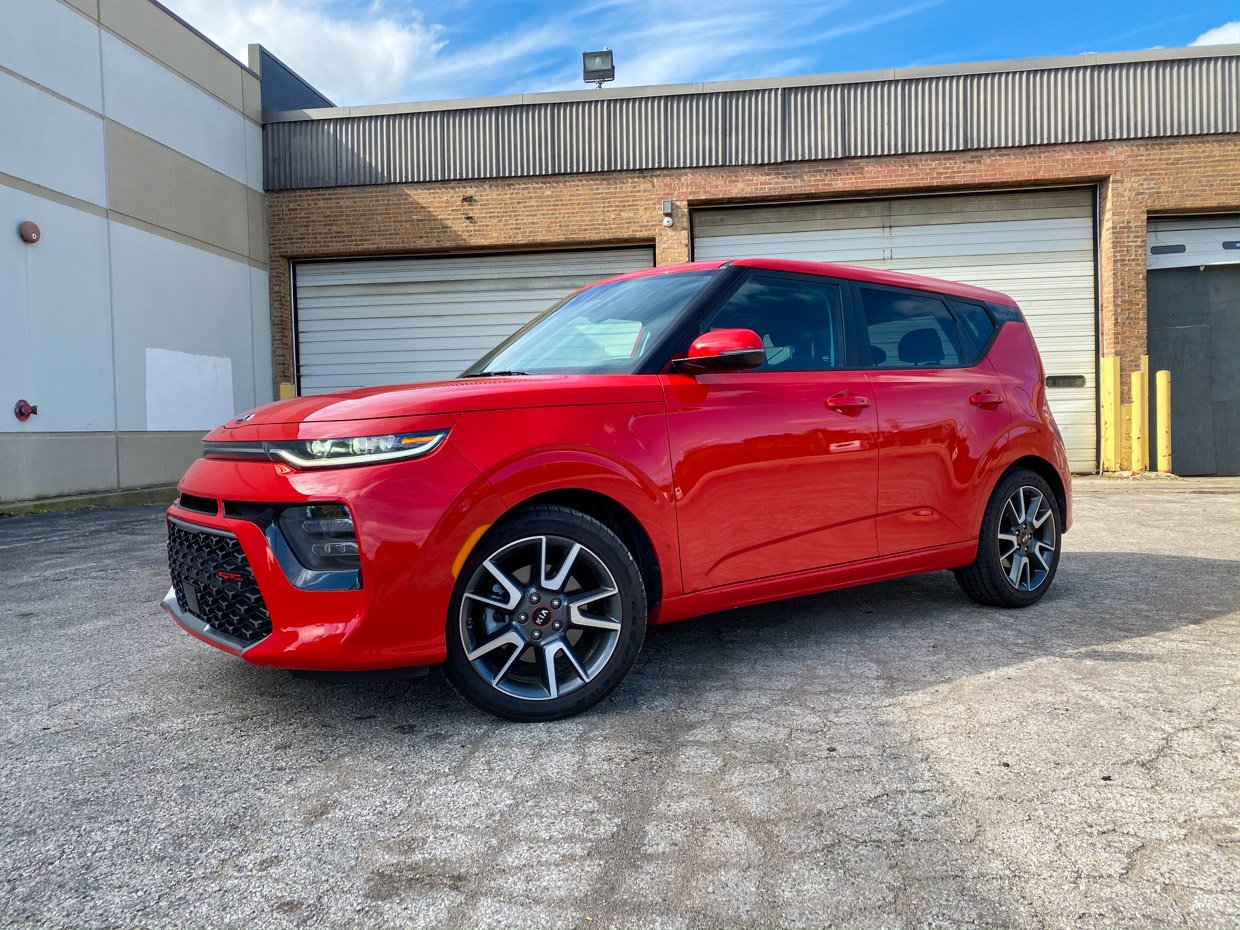 2020 Kia Soul GT-Line 1.6 Turbo

Engine: 1.6L Turbocharged Inline-4
Horsepower: 201
Torque (lb-ft.): 195
Transmission: 7-speed dual-clutch
Drive Configuration: FWD
0-to-60 Time (secs): 6.5 (est)
Top Speed (mph): 128
City/Hwy/Combined MPG: 27/32/29
Curb Weight (lb): 3036
Wheelbase (in): 102.4
Total Length (in): 165.2
Width (in): 70.9
Ground Clearance (in): 6.7
Base Price (USD): $27,490
Price as Tested (USD): $28,710
If there's one car on the road today that brings a smile to my face every time I see it, that would be the Kia Soul. It's unlike anything else out there, and I love that about this little guy. It's too big to be a hatchback, too small to be an SUV, and yet, in its own special way, it's simply perfect.
For the 2020 model year, Kia has revamped the Soul with a bold new style that preserves the proportions and sharp angles of the original, but modernizes things. Most notable is the redesigned front end, which has a new look with a skinny horizontal vent that connects to its wraparound LED headlamps. The lower grille section now extends nearly all the way to the ground, and looks most aggressive in GT-Line trim with shiny Y-shaped facets, surrounded by integrated LED fog lamps.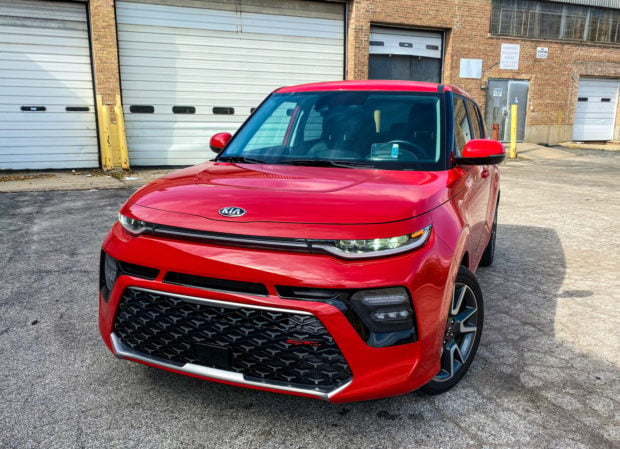 The sporty GT-Line's exterior benefits from black trim, chrome-tipped center dual exhaust, and 18-inch alloy rims with a unique design. I like the privacy tinted glass on the second row windows this year, but I'm not that crazy about the "floating roof" design atop the C pillar. I prefer the cleaner look of the prior model in this respect, but from every other perspective, the new exterior is an improvement.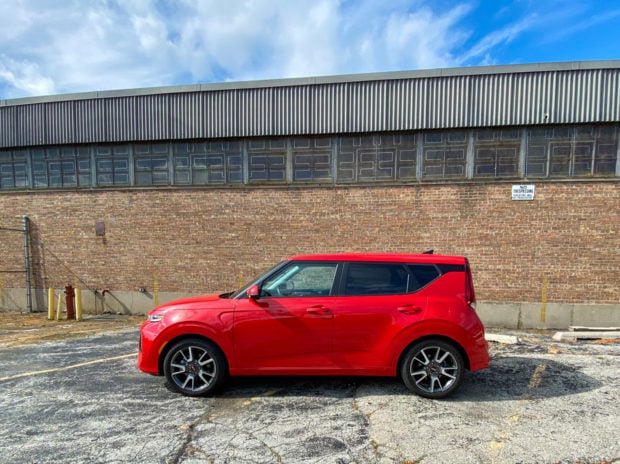 The interior of the Soul GT-Line looks great too, with a 10.25″ ultra-widescreen touchscreen taking center stage in the dashboard. Gone are the oddball cylindrical speakers that sat atop the air vents in the prior generation, replaced with small rectangular speakers that face into the cabin. The center air vents are also better integrated into the overall design than in past. I particularly like the sporty D-shaped steering wheel with its leather trim and red stitching, along with the colorful, scalloped door trim pieces.
What makes this Soul the best one I've driven yet is its drivetrain. It packs a 1.6-liter turbocharged inline-4 engine that produces 201 horsepower and 195 lb-ft. of torque. Weighing in at just over 3000 pounds, it feels supremely zippy, pulling away quickly from traffic lights, and offering up good passing power on the highway. Turbo lag is nowhere to be found, though there is just a bit of torque steer under heavy acceleration. A 7-speed dual-clutch transmission bangs out gear changes quickly, and a pair of paddle shifters let you get in on the action should you so choose. I'd heartily recommend this engine and transmission over the naturally-aspirated 2.0-liter with the CVT, which only makes 147 horses and 132 lb-ft. of torque.
With a stiff new chassis, overall ride dynamics are very enjoyable. I'm impressed with how good the suspension is too, soaking up speed bumps and potholes in the city nicely, while still providing good feedback thanks to the sport-tuned gas shock absorbers which come standard on the GT-Line Turbo. Steering is reasonably direct, and the electric power steering system can provide a heavier feel when switched into Sport mode. 12″ ventilated disc brakes in front and 11.2″ solid rear discs provide reassuring and firm stopping power.
Kia is well known for packing value into its vehicles, and the GT-Line Turbo comes fully loaded for about $28,000. Among its many features are a power sunroof, heated front seats and steering wheel, wireless phone charging, adaptive cruise control, lane-keeping assist, blind spot warning, driver attention warning, forward collision warning with pedestrian detection, a pop-up heads-up display, and more. Apple CarPlay and Android Auto support are included as well. There's also an excellent Harmon Kardon audio system that cranks out big volume, great dynamic range, and crisp, clean sound. In addition, there's a fun little feature called "Sound Mood Lamp," which lets you not only change the color of cabin lighting at night, but can vary the lighting to the beat of your music.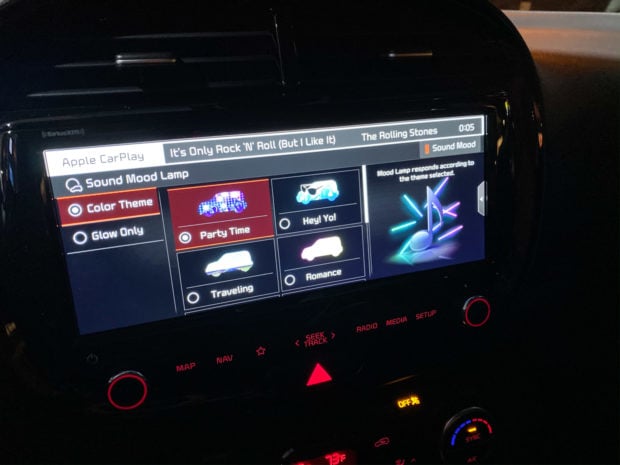 Front seat comfort is quite good, while the rear seat offers enough space for taller adults to sit comfortably for short trips around town. Cargo space behind the second row isn't huge, but still better than a car trunk, ranging from 18.7 cubic feet to 23.4 depending on if you have cargo floor in the upper or lower position. Widthwise, you'd be hard-pressed to fit a set of golf clubs, but the second row has a 60/40 split so you can just lay them down front-to-back if you have 3 or fewer people in the car. With the back row completely folded, cargo volume increases to a respectable 62.1 cubic feet, which actually beats bigger crossovers like the Range Rover Evoque and Mazda CX-5.
So there you have it. The 2020 Kia Soul GT-Line Turbo is a wonderful little vehicle. It's got personality for days, is quick as a jackrabbit, is packed with modern technology and conveniences, and represents an excellent value for everything you get. On top of that, Kia's 10-year/100,000 mile powertrain warranty is still the best in the business. If you're in the market for a crossover that's fun to drive, and don't need something huge, definitely give the Soul a test drive.