2021 Lexus LC 500 Convertible: The Beauty Drops Her Top
2021 | convertibles | lexus | lexus lc 500 | November 19, 2019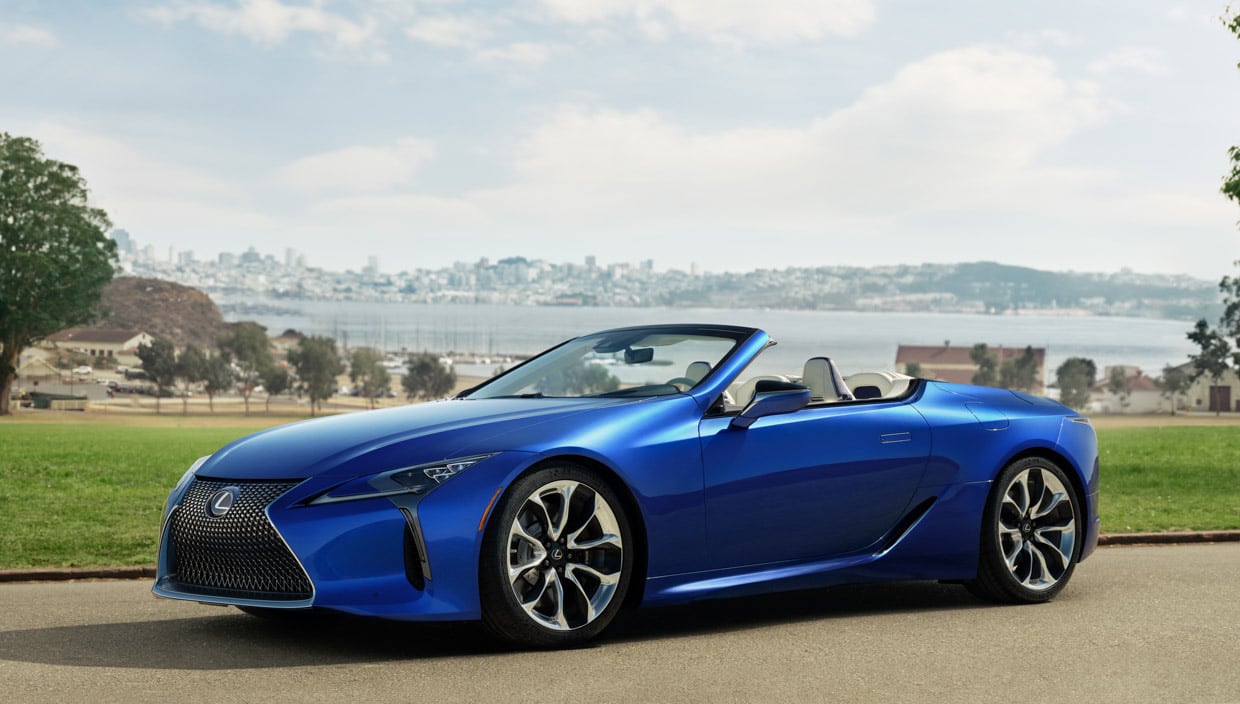 Among the many cars I've driven in the past decade, the Lexus LC 500 ranks among the top five for sure. It's got stunning looks, handles brilliantly, and has a wonderfully satisfying V8 engine that makes lots of power and some great sounds. But I'm a convertible guy, and I have been for the last couple of cars I've owned. I just really love being able to enjoy the outdoors, especially when touring through the countryside or on twisty mountain roads. After all, we can't always be on a race track.
So when Lexus teased us a few months back with an LC 500 Convertible Concept, I was pretty stoked. Now that the LA Auto Show is upon us, Lexus is showing off the production version of the LC 500 Convertible, and it looks great.
Like the Coupe version, the LC 500 Convertible packs a 5.0-liter, naturally-aspirated V8 engine up front, making 471 horsepower, and 398 lb-ft. of torque. Combined with a 10-speed automatic transmission, a rear-wheel drivetrain, and a stiff chassis, the regular LC 500 is a joy to drive, despite its hefty curb weight, and turns in a respectable 4.4 second 0-to-60 time. Lexus isn't talking about launch times for the LC 500 Convertible, but it tips the scales at 4,497 pounds, roughly 175 pounds more than the Coupe, so I'd expect to see a time that a tenth or two slower.
By changing the location of some structural braces, as well as retuning the suspension, Lexus engineers are aiming to make the Convertible version every bit as fun to drive as the Coupe, though it's definitely more of a touring car than a track car. It's also expected to be quite well balanced with a 52/48 front-to-rear weight balance.
With the push of a button, its motorized convertible top drops in roughly 15 seconds, and closes back up in 16. It'll operate at speeds up to 31 mph, so if an unexpected rainstorm comes along, you can close it quickly and without pulling over. To help keep occupants warm on chilly days, there are neck heaters built into the seats to complement the heated seats and heated steering wheel.
Lexus says it optimized the cabin to reduce wind noise, and there's an optional rear windscreen to reduce buffeting. A sound pipe channels the V8's rich and abundant exhaust note into the cabin to further amplify its rumble. Unlike many of today's performance cars, the exhaust note isn't electronically augmented either.
Limited to 100 units, the LC 500 Convertible Inspiration Series (pictured here), comes in a beautiful hue called "Structural Blue," along with a white semi-aniline leather interior, chrome/black 21″ wheels, and other elegant touches. The color combo has a sophisticated look that reminds me of riding in a luxurious yacht. I suppose that makes sense, given Lexus' recent entry into the yacht business.
The LC 500 Convertible will make its public debut at the 2019 LA Auto Show, and will go on sale in the summer of 2020. Lexus has yet to announce pricing, but with the LC 500 starting around $92,950, I'd expect a bit of a premium over that for the convertible version.