2019 Audi Q8 Review: A Refined and Modern SUV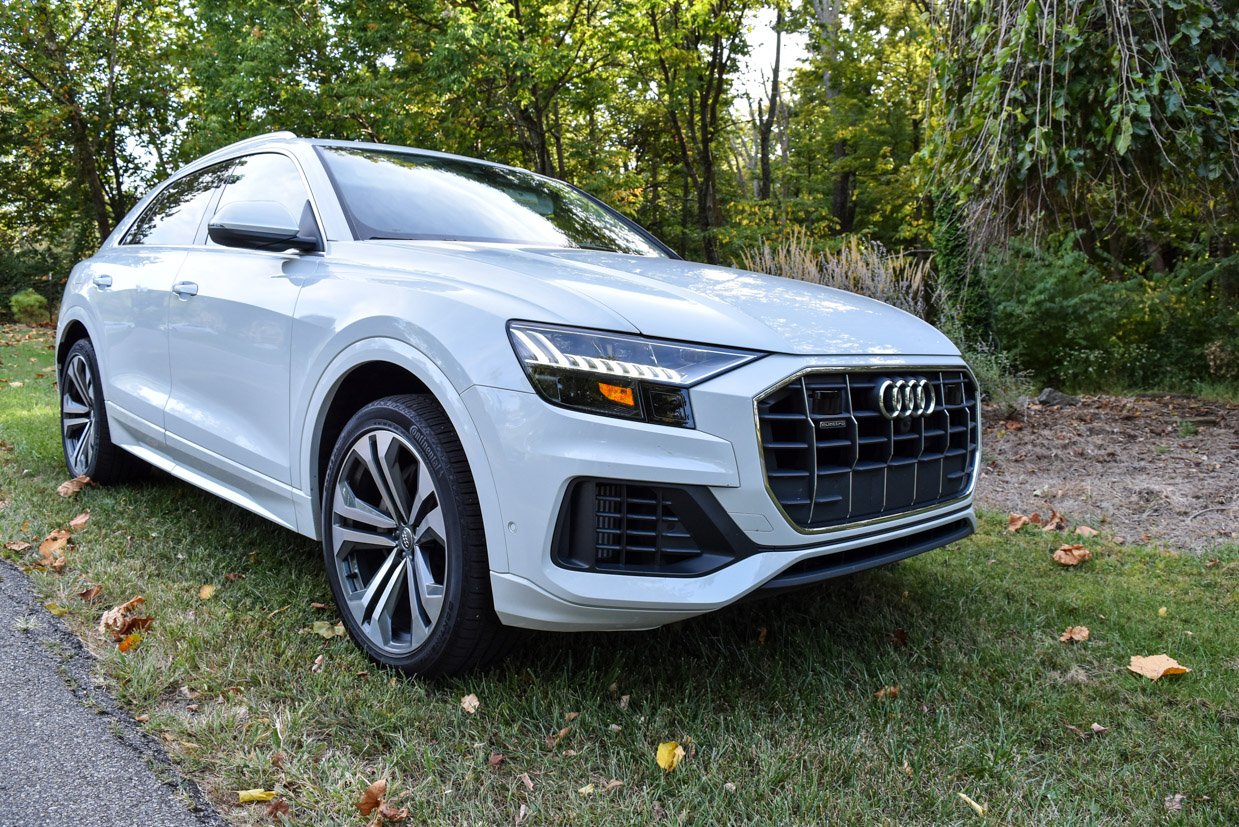 2019 Audi Q8

Engine: 3.0-liter turbocharged V6
Horsepower: 335
Torque (lb-ft.): 369
Transmission: 8-speed automatic
Drive Configuration: AWD
Top Speed (mph): 130
City/Hwy/Combined MPG: 17/22
Curb Weight (lb): 5,004
Wheelbase (in): 117.9
Total Length (in): 196.6
Width (in): 78.5
Base Price (USD): $67,400
Price as Tested (USD): $88,690
I'm the opposite of a trendsetter or even a trend-follower. Heck, I still wear flannel shirts as if Nirvana was about to top the charts again (if only). So, when I say that sporty SUVs and crossovers, are all the rage, you can rest assured that they still are in vogue.  To emphasize just how popular this segment is, Audi launched a new entry into the luxury midsize SUV segment.
The 2019 Audi Q8 slides into already crowded field and a crowded Audi SUV family. But with its attractive looks, overall quality, and performance, the Q8 shows fits right into the Audi product lineup as it's everything you've come to expect from this European luxury brand.
Savvy eyes might notice the Q8 has a slightly different appearance than other Audi SUVs. That's because the Q8 sports a new single-frame grille with six vertical bars. This gives the front end a bold, pronounced appearance. The Q8 has a bigger appearance than its dimensional numbers would indicate, and I'm sure this is by design. The profile has a dynamic look thanks to frameless doors. The difference might appear subtle, but when you open and shut the door, you really notice the contrast in how it feels. The back is just as attractive as the front with a light strip connecting the sexy LED taillights. At night, the Q8 has a distinctive, tell-tale signature. Chrome exhaust tips complete the look of this SUV.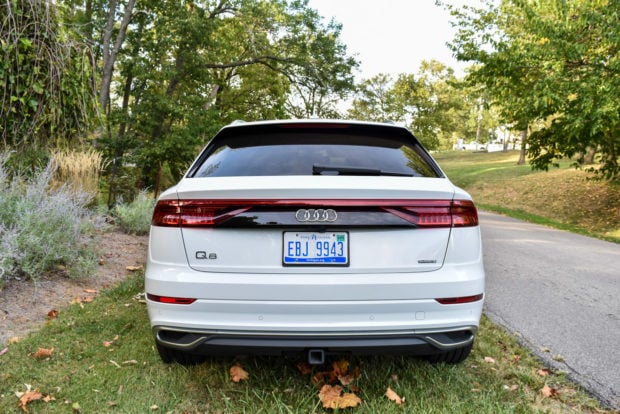 The Q8 is tabbed as a luxury SUV that can handle any kind of surface and road condition. While it may not rival a Land Rover for off-road capability, the Q8 seems more capable than others in this segment thanks to an adaptive air suspension system and adaptive chassis package which can increase the ground clearance up to 10 inches when off-road.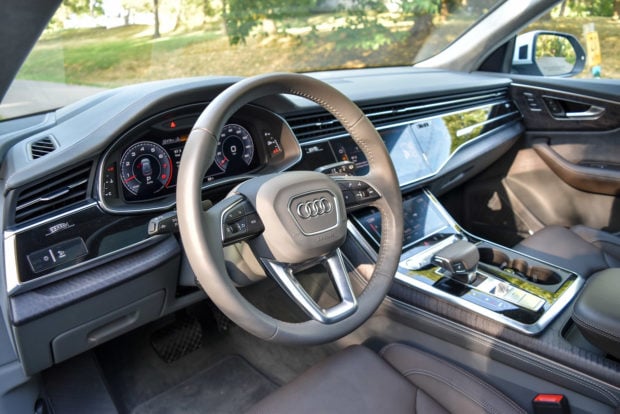 There's also a new turbocharged 3.0-liter V6 engine that generates 335 horsepower and 369 lb-ft. of torque. There's no noticeable turbo lag, and the eight-speed automatic transmission offers flawless shifting. This is one of my favorite transmissions of the entire 2019 production year. Acceleration feels a little tame, but that's due in part to the Q8's weight which exceeds 5,000 pounds. This is a hefty midsize SUV and while the power output seems adequate, it's just a little too refined for some who look toward Audi for higher performance. Fuel economy is EPA-rated at 17 mpg/city and 22 mpg/highway which is on the low side for this segment. I averaged just under 19 mpg in a week's worth of heavy-footed driving.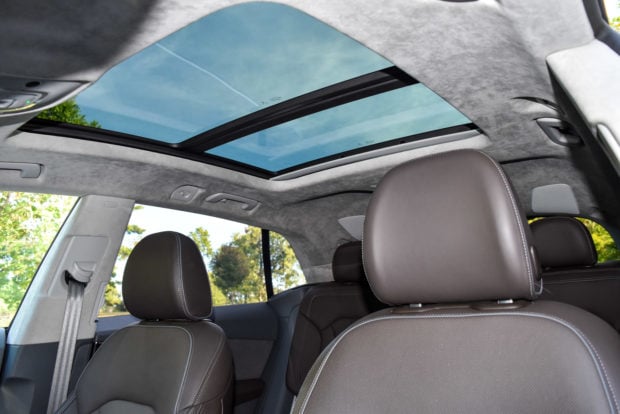 Audi is always at the forefront of technology and it's on full display in the Q8. There are a slew of driver-assistance features. Some of these sensor-based assist features include adaptive cruise control, Audi pre-sense which detects people and objects in front of the vehicle and will mitigate braking in an emergency. The neatest feature is the top-view camera system which provides a 360-degree view of the vehicle which is great for tight parking lots. Additionally there's rear cross-traffic assist and vehicle exit warning, which lets you know if a car is coming as you're about to swing open the doors to exit. Blind spot monitors are standard too.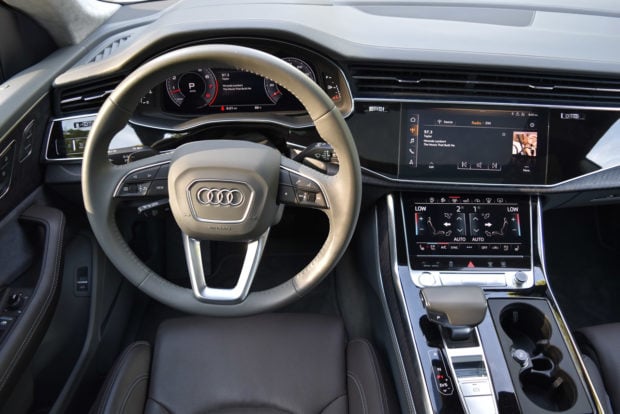 Some critics find Audi's infotainment system to be over-engineered. I will say that it is not as simple as other systems, but it absolutely wows you with all the features that come standard. While the MMI touchpad can be clunky, once you master it, you understand what the engineers were thinking with it. The Audi virtual cockpit is not only stunning, but helps keep vital information just below the driver's eyes near the speedometer. The Bang & Olufsen Sound System really delivers excellent sound quality, and integration with smartphones is easy with Apple CarPlay and Android Auto.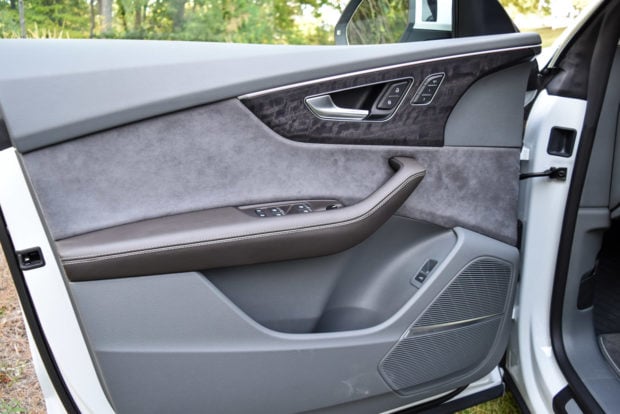 Audi interiors rarely disappoint, and the Q8 supposedly represents the new direction Audi is taking their SUV line. If that's the case, the future is bright as the Q8 is quiet, comfortable, and surrounded by tech. The leather seats are comfortable, and the touch points are outstanding. The driver's seat is absolutely perfect. Often, I struggle finding a comfortable position or there are weird angles for seeing over the dash and hood. But in the Q8, the driver seems to be the focus of the interior design (as it should be). All seats are heated, included the rear passenger seats. The steering wheel is also heated.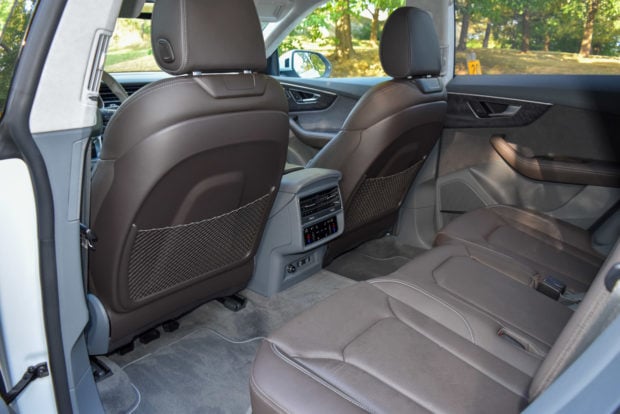 For a five-passenger midsize SUV, rear seat comfort is emphasized. There's 40.2 inches of rear legroom and 38.1 inches of rear headroom. That's good considering the slight sloping style of this SUV's exterior. A panoramic sunroof adds elegance to the cabin, and sunshades can be raised and lowered for the passengers. The Q8 has a rear cargo volume of 30.5 cubic feet with that number roughly doubling when the rear seats are folded flat.
Base price for the Q8 with all-wheel drive (Quattro) is $67,400. My tester had numerous packages and options including the Prestige Package (with 21-inch wheels and the aforementioned sound system), as well as the Luxury Package and the adaptive suspension and chassis. As tested, this Q8 had a price tag of $88,690.
Welcome to the Audi family, Q8. You already are making an impact and seem to be fitting right in. Just in time for Thanksgiving dinner, I suppose.