2020 Hyundai Sonata Hybrid Packs Features and Fuel Economy
2020 | hybrids | hyundai | hyundai sonata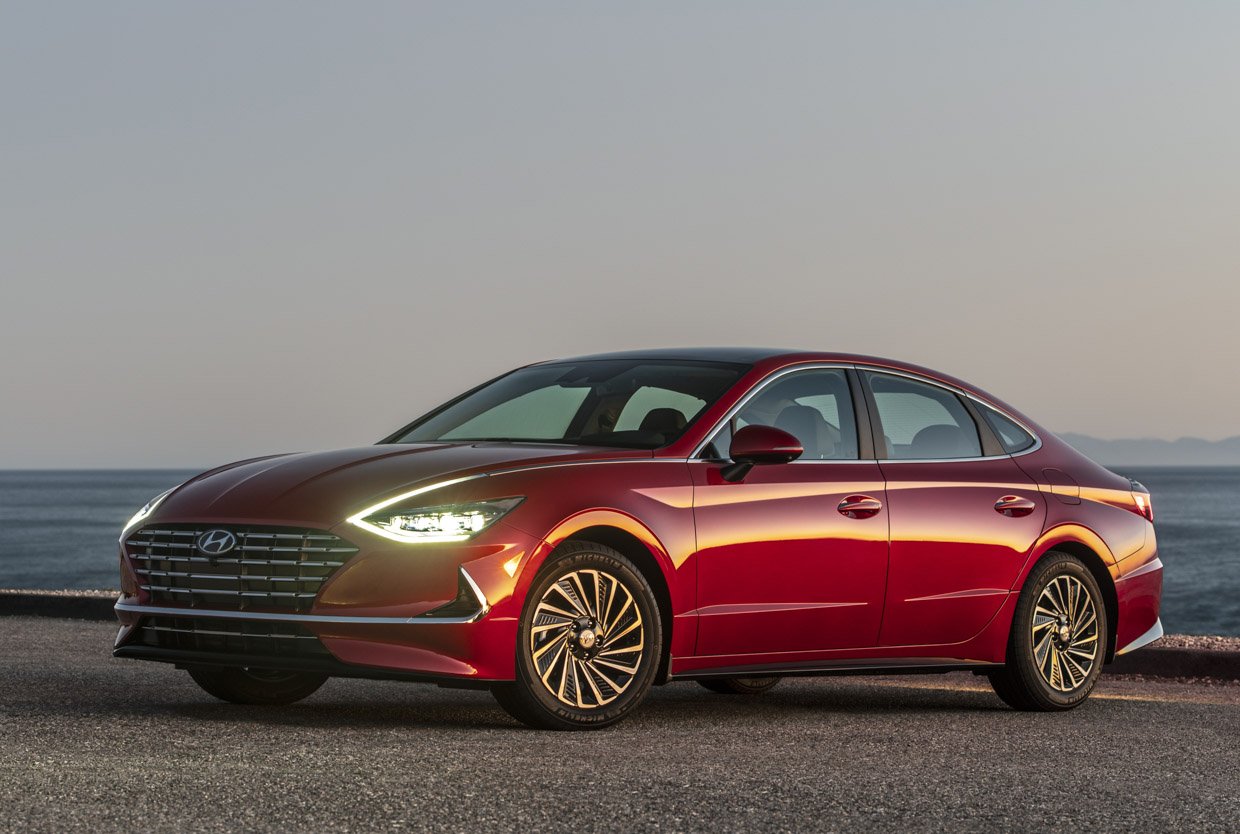 With the recent redesign of the Hyundai Sonata, the automaker fired a shot across the bow of its competition with striking, upscale new styling, which arguably make it the best looking of today's mid-size sedan segment. Now, Hyundai is taking aim at the hybrid market with a more fuel-efficient variant of new Sonata, carrying over the great new looks of the gas model.
In its lightest weight Blue trim, the 2020 Sonata Hybrid manages an impressive 52 mpg combined, with a driving range of  686 miles between fill ups. That's enough to get you from Chicago to Louisville, Kentucky and back on a single tank of gasoline.
The hybrid model distinguishes itself with a special "cascading" grille with active air flaps to improve overall aerodynamic efficiency. There's also a unique aerodynamic rear spoiler, and turbine-inspired aero wheels, which come in 16″ size for the Blue trim, and 17″ for the SEL/Limited trims.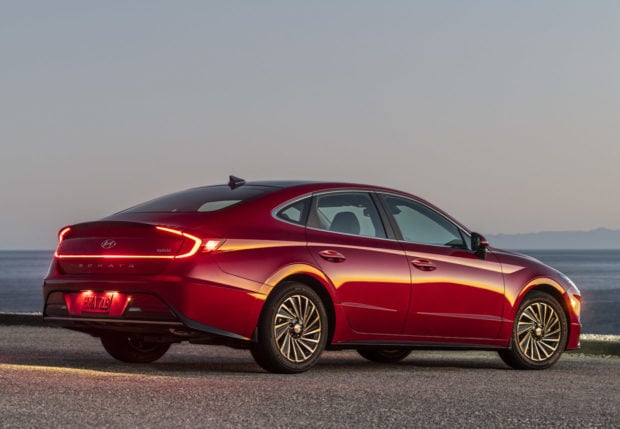 Under the hood, the Sonata Hybrid has a 2.0-liter inline 4-cylinder engine that makes 150 horsepower and 139 lb-ft. of torque. The electric motor adds another 51 horsepower, and combined they produce a net 192 horsepower. This is a little less than Camry and Accord hybrids, but the upside is slightly better mileage and range. The car also has something Hyundai calls "Active Shift Control" which introduces electric motor torque into the transmission driveline to smooth out and speed up shifts from the car's 6-speed automatic gearbox.
For this year's model, Hyundai has moved the hybrid battery under the rear seat, which increases trunk capacity by 2.5 cubic feet without negatively impacting cabin space. Moving the battery forward should also help a bit with balance and vehicle stability. The car comes standard with lots of safety technology as well, including lane-keep assist, smart cruise control with stop/start, forward collision avoidance with pedestrian detection, daytime running lights, high-beam assist, blind spot collision avoidance assist, and rear cross-traffic collision avoidance assist.
Those who opt for the SEL or Limited trims will get a leather-wrapped steering wheel, a rear seat USB charging port, power front seats with heat, a 12-speaker premium Bose audio system, and a few other upgrades. The Limited also gets leather seats with ventilation up front, and a sleek widescreen 10.25″ color touchscreen nav system. It also has a solar panel roof, which can help to reduce battery drain using the infotainment or HVAC systems, and also adds about 2 miles of driving range per day. It's also just a cool looking feature that shows off the eco-conscious nature of the car. The trade-off for the added features is that the SEL and Limited drop to 47 mpg combined.
The 2020 Sonata Hybrid should be landing in dealers later this Spring. Prices have yet to be announced, but the outgoing model started just under $26,000, so I'd imagine the new model will be priced similarly.