What's New in FCA's UConnect 5?
FCa | infotainment | technology | uconnect
Every car manufacturer these days has its own high-tech infotainment system. One of my favorites has been Fiat Chrysler Automobiles' UConnect system. In recent years, it's been considered one of the most reliable and intuitive systems on the market, making its way into vehicles from Dodge, Jeep, Ram, Fiat, and Chrysler. Now, FCA is readying a new version of UConnect that aims to build on the success of the current system, while improving its speed, usability, and flexibility.
UConnect 5 runs on the Android operating system, and its hardware runs as much as five times faster than the current system. In addition, its display offers three times the resolution, and the system can now support multiple displays, which should mean greater integration between the center console screen and the driver information display behind the steering wheel, and the potential for other displays in the cabin in the future. It also has 4G connectivity built in, and will support over-the-air software updates.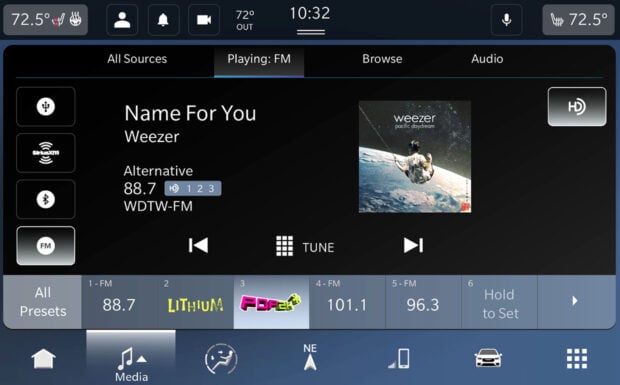 The new UConnect 5 interface doesn't look dramatically different, and that's intentional, making it easier for current customers to adapt to the new design. However, there are some subtle, but meaningful tweaks, like larger button targets and more negative space between them, making it easier to touch the right spot quickly on screen. There's also a new custom typeface that enhances legibility. The system also has the ability to access climate controls right from the top status bar without having to dig into a deeper screen like the current system.
One of the biggest upgrades coming in UConnect 5 is its personalization capability. Drivers can now create their own custom screens by selecting and arranging widgets, providing quick access to commonly used functions and information. Depending on the screen size, up to four widgets can be placed on each pane, and drivers can set up to five different screens they can swipe between. The top status bar is also customizable.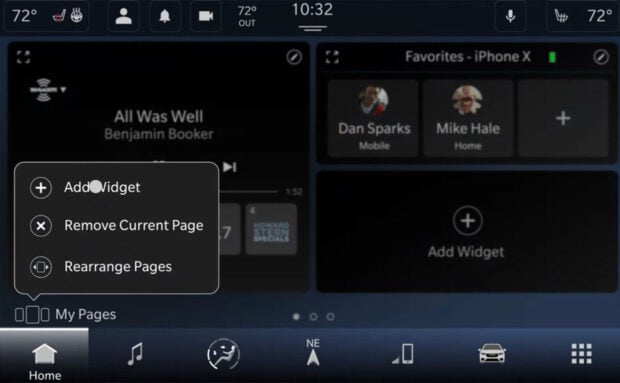 The system now supports user profiles for up to five driver plus a valet. Each of these profiles can save its own layouts, and remembers things like the last radio station you were listening to, seat position, and last climate setting, among other things. Profiles are great for any vehicle that's shared among multiple drivers.
UConnect 5 will support wireless versions of both Android Auto and Apple CarPlay, and also has Amazon Alexa integration. Since the system is powered by Android, additional 3rd-party apps can be installed, and there's also a new navigation system powered by TomTom, along with enhanced text prediction when searching for locations.
Worldwide, the first vehicle to get UConnect 5 is the Europe-bound Fiat 500 battery electric, while the updated Chrysler Pacifica will be the first here in the U.S., with other FCA models to gradually get the new system as well.