2020 Nissan Frontier PRO-4X Review: It's All About the Drivetrain
2020 | nissan | Nissan Frontier
2020 Nissan Frontier PRO-4X Crew Cab 4x4

Engine: 3.8L DOHC V6
Horsepower: 310
Torque (lb-ft.): 281
Transmission: 9-speed automatic
Drive Configuration: 4WD
0-to-60 Time (secs): 7.5
Wheelbase (in): 125.9
Total Length (in): 205.5
Ground Clearance (in): 10.1
Base Price (USD): $37,490
Let's face it. The Nissan Frontier isn't exactly a modern truck. The current model been largely the same since it first came out all the way back in 2005. Nissan has indicated that a complete redesign is in the works for 2021, but the 2020 model does have a big difference that previews the new truck, and that's its engine and transmission.
Until the 2019 model year, the Frontier was available with two different engines, a 2.5-liter inline-4 that made a paltry 152 hp and 171 lb-ft. of torque, and a 4.0-liter V6 that cranked out a more respectable 261 hp and 281 lb-ft. of torque. But for 2020, we've only got one engine, and it's far better than either of its predecessors. The new 3.8-liter DOHC V6 makes 310 hp and the same 281 lb-ft. of torque as the outgoing V6. But the new engine represents a major improvement, with smoother overall acceleration, significantly less noise, and roughly a half-second improvement in 0-to-60 time.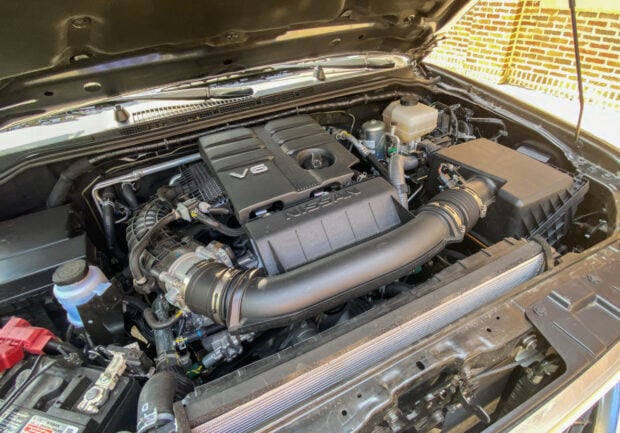 Also gone is the dated 5-speed automatic, replaced with a shiny new 9-speed unit that's quicker at shifting and more fuel efficient. Now why the old Frontier is getting a new engine and gearbox might seem strange at first. After all, if there's a whole new Frontier in the works, why bother? I think the answer is likely because Nissan had fuel economy and emissions goals it had to hit for 2020, and with the new model not ready yet, buyers of this year's Frontier get to enjoy a sneak preview of the new truck's drivetrain. With EPA mpg numbers of 18 city / 24 highway / 20 combined, the 2020 Frontier enjoys a 2 mpg better rating than the 2019 truck. I'd expect the 2021 model to do even better, as it's expected to be more aerodynamic and lighter weight.
Having spent time in the Frontier's biggest competitors, the Chevy Colorado, GMC Canyon, Ford Ranger, and Toyota Tacoma, I can tell you that the Frontier's new engine and transmission feels zipper than all of them. Whether it's better at towing, I can't tell you, because I haven't ever towed with any of these mid-size pickups. But in terms of every day driving, the new Frontier drivetrain feels nice and responsive. It's a comfortable truck to drive too, with a more car-like feel than I'm used to in pickups. The rugged PRO-4X trim has a substantial look to it, with off-road features like a locking rear differential, skid plates for the oil pan, fuel tank, and transfer case, 16″ off-road wheels, and Bilstein off-road shocks. This suspension did a good job soaking up the nasty potholes, speed bumps, and divots in the roads around Chicago, though I didn't get to put the Frontier through its paces off-road.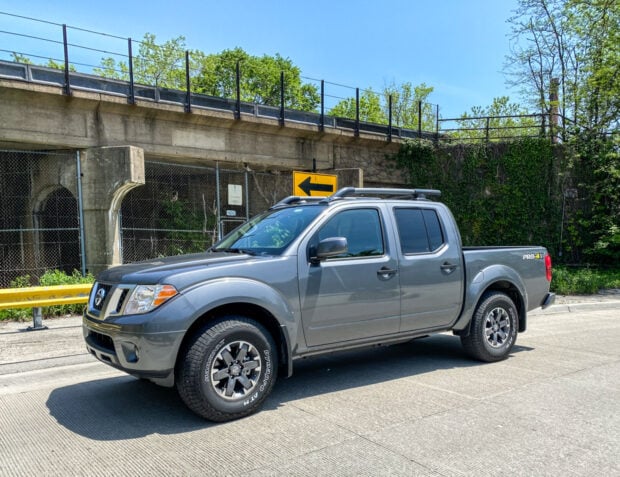 Beyond its drivetrain revamp, getting behind the wheel of the Frontier definitely feels like a step backwards through the time machine. The interior is loaded with inexpensive feeling plastic bits in varying textures, and the mix of backlit LCD indicators and analog gauges lacks cohesion for sure. Sure, it's a functional space, but it definitely can't keep up with the more modern, streamlined, and tech-forward dashboards of the competition.
There have been a few minor upgrades like standard push-button start, power windows and locks, an auto-down driver's side window and manual tilt steering, but these are pretty much expected bare-minimum features these days. The 7″ touchscreen and infotainment system feel tiny and dated, and don't offer support for Android Auto or Apple CarPlay. In terms of driver assistance and safety tech, there's not much more than old-school cruise control, airbags, and optional rear sonar, again putting the Frontier at a disadvantage.
On the plus side, the Frontier offers ample storage space, with a good size storage bin in the center console, a double-decker glove box, enough space for 1-liter bottles in the front doors, and storage bins under the second row seats. The short bed in my truck came with a set of four adjustable tie-down points which slide on metal rails, as well as bed lighting.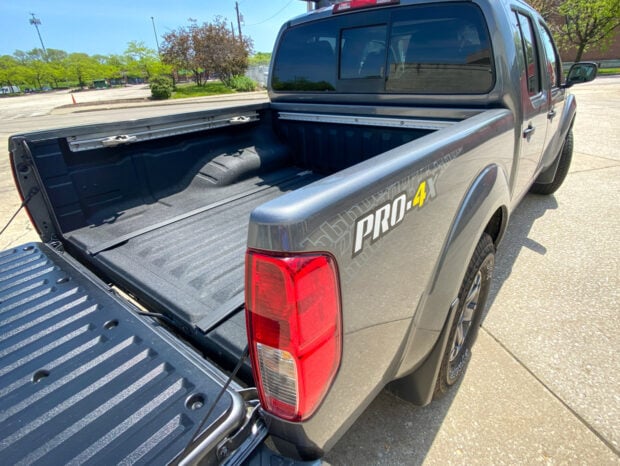 With prices for the new Frontier starting at $26,790 for the base V6 model, and $37,490 for the PRO-4X model I tested, it's reasonably priced, generally running about $500 to $1500 less than similar models from the competition. That said, you're also getting what amounts to an old truck with a new engine and transmission. It's a puzzling sort of release to be honest, and knowing a whole new truck is coming, I can't imagine running out to buy a 2020 Frontier just for these upgrades, unless maybe you were already in the market to replace an older Frontier and can't wait for the next model year.