2021 Ford Bronco: Specs, Features, and Pics Revealed
2021 | 4x4 | ford | ford bronco | off-road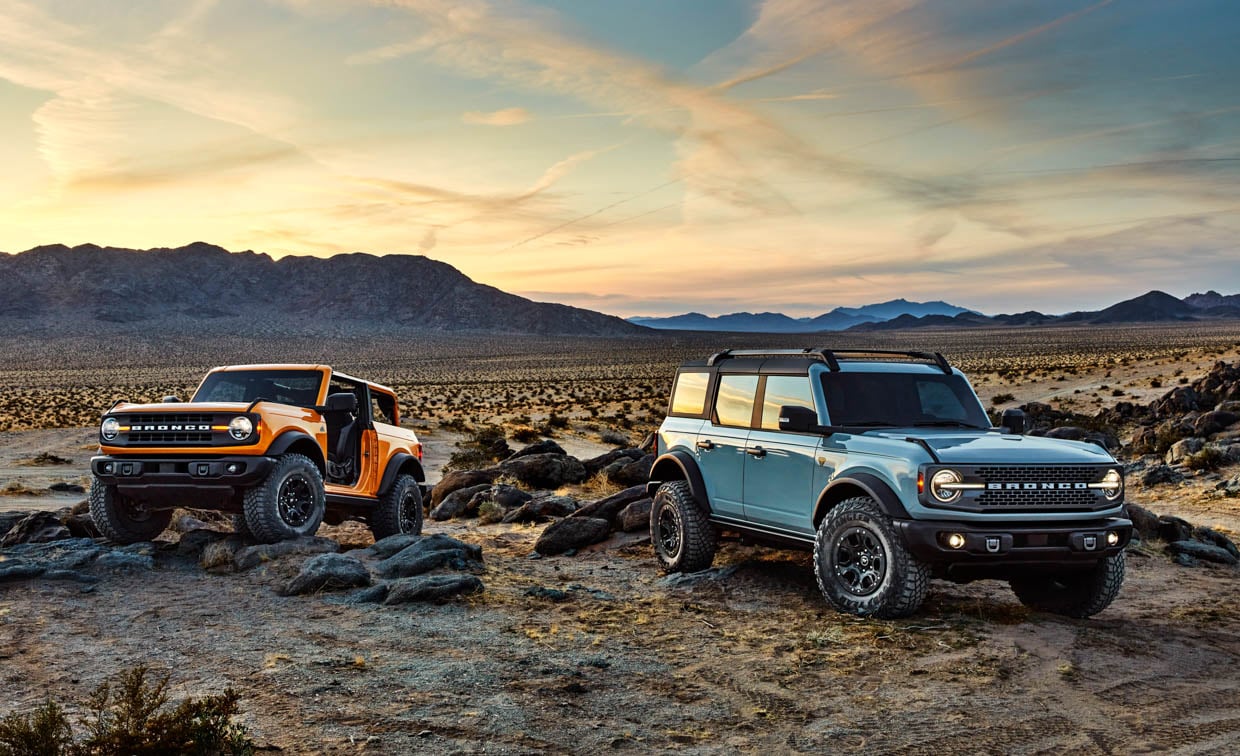 After years of anticipation, Ford has officially taken wraps off of the new 2021 Bronco, and it looks fantastic. The new SUV manages to capture the spirit of the classic, boxy Bronco, while embracing modern technology and demands for versatility.
The Bronco will come in both 2-door and 4-door versions, with seven different trim levels: Base, Big Bend, Black Diamond, Outer Banks, Wildtrak, Badlands and First Edition.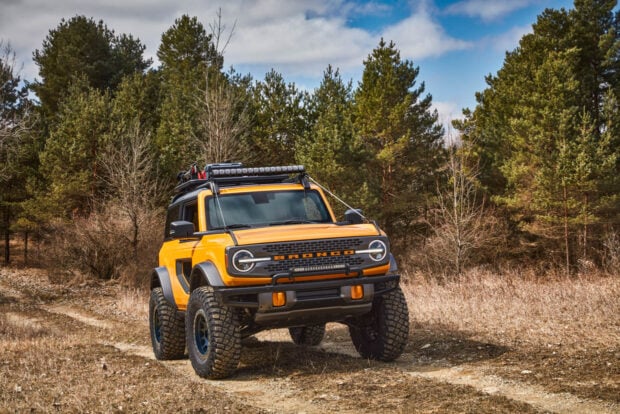 Two drivetrains will be offered, with a 2.3-liter turbocharged 4-cylinder engine that makes 270 horsepower and 310 lb-ft. of torque, along with an optional 2.7-liter turbocharged 6-cylinder that cranks out 310 horsepower and 400 lb-ft. of torque. A 7-speed Getrag manual is standard for the 4-cylinder, while a 10-speed automatic is optional. That transmission is the only one available with the 6-cylinder.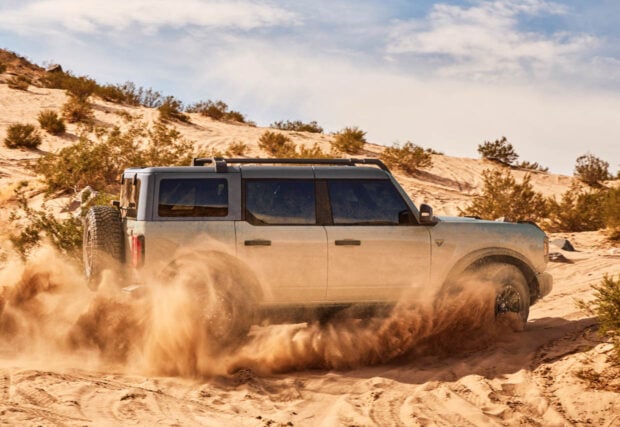 All Broncos come with standard 4-wheel drive, with either a two-speed electronic shift-on-the-fly transfer case, or an upgraded two-speed electro-mechanical transfer case. Ford's terrain management system, known as "G.O.A.T." (Go Over Any Terrain) offers a wide variety of driving modes: Baja, Rock-Crawl, Mud/Ruts, as well as Slippery, Sand, Sport, Eco, and Normal for daily driving.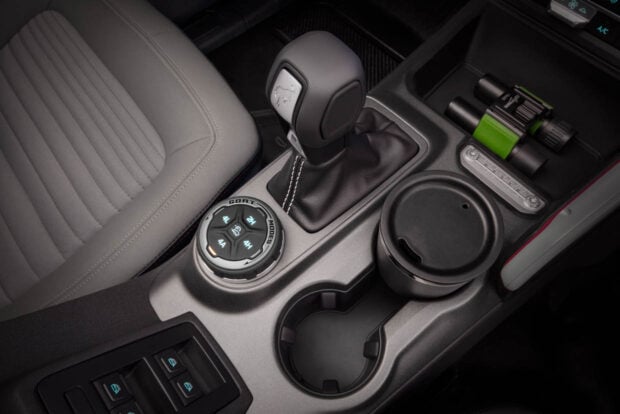 Ground clearance ranges from 8.3″/8.4″ (2-door/4-door) on the base models, up to 11.5″/11.6″ (2-door/4-door) in models with 35″ mud-terrain tires, which include the Sasquatch, Wildtrak, and First Edition. Breakover angles range from 20º to 29º, approach angles from 35.5º to 43.2º, departure angles from 29.7º to 37.2º, with a maximum fording depth of 33.5″ on the Sasquatch trim.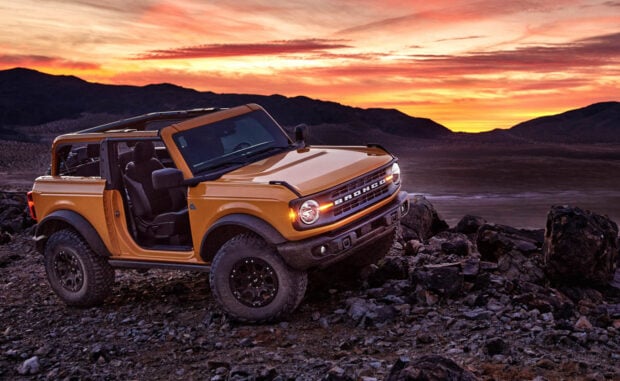 Among the many cool things about the new Bronco is its ability to remove its doors, roof sections, and body panels, offering a true open air experience. Ford says their system is easier to work with than the competition, using frameless doors, and providing enough storage space for all four doors and their storage bags in the back of the 4-door model.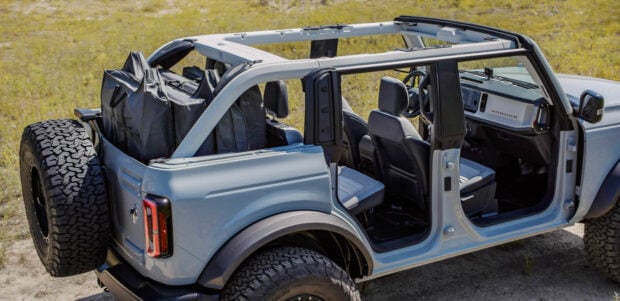 The 2-door Bronco has a three-section removable roof – with left, right, and rear panels, while the 4-door has four panels, left and right front, middle, and rear. Each panel is designed to be removed by a single person, and locked and unlocked using interior latches.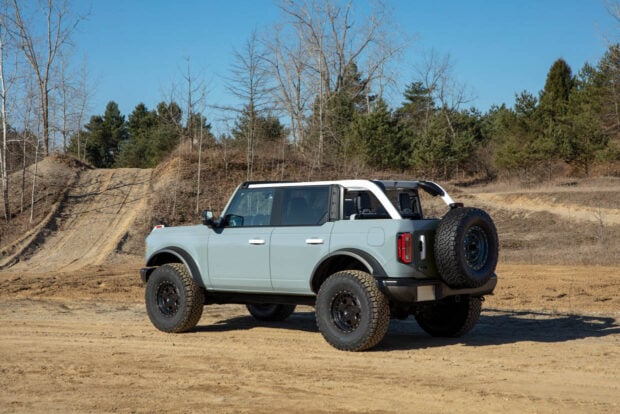 The Bronco's interior looks amazing, embracing the squared-off look of the classic Bronco, but upgrading it dramatically. There's a modern, digital information cluster, and an available 8″ or 12″ touchscreen with SYNC 4. Most impressive is the system's available trail mapping system, which offers over 1,000 trail maps from NeoTreks' AccuTerra mapping service.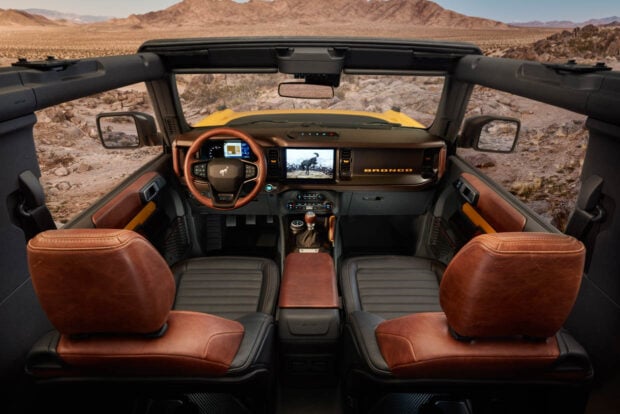 The base price for the two-door manual Bronco is $29,995, including destination and delivery, and if you're interested in placing a reservation, Ford is accepting $100 deposits starting tonight at 8pm EDT on Ford.com.