2020 Genesis G90 3.3T Premium Review: Grand Lux, Korean Style
2020 | genesis | genesis g90 | sedans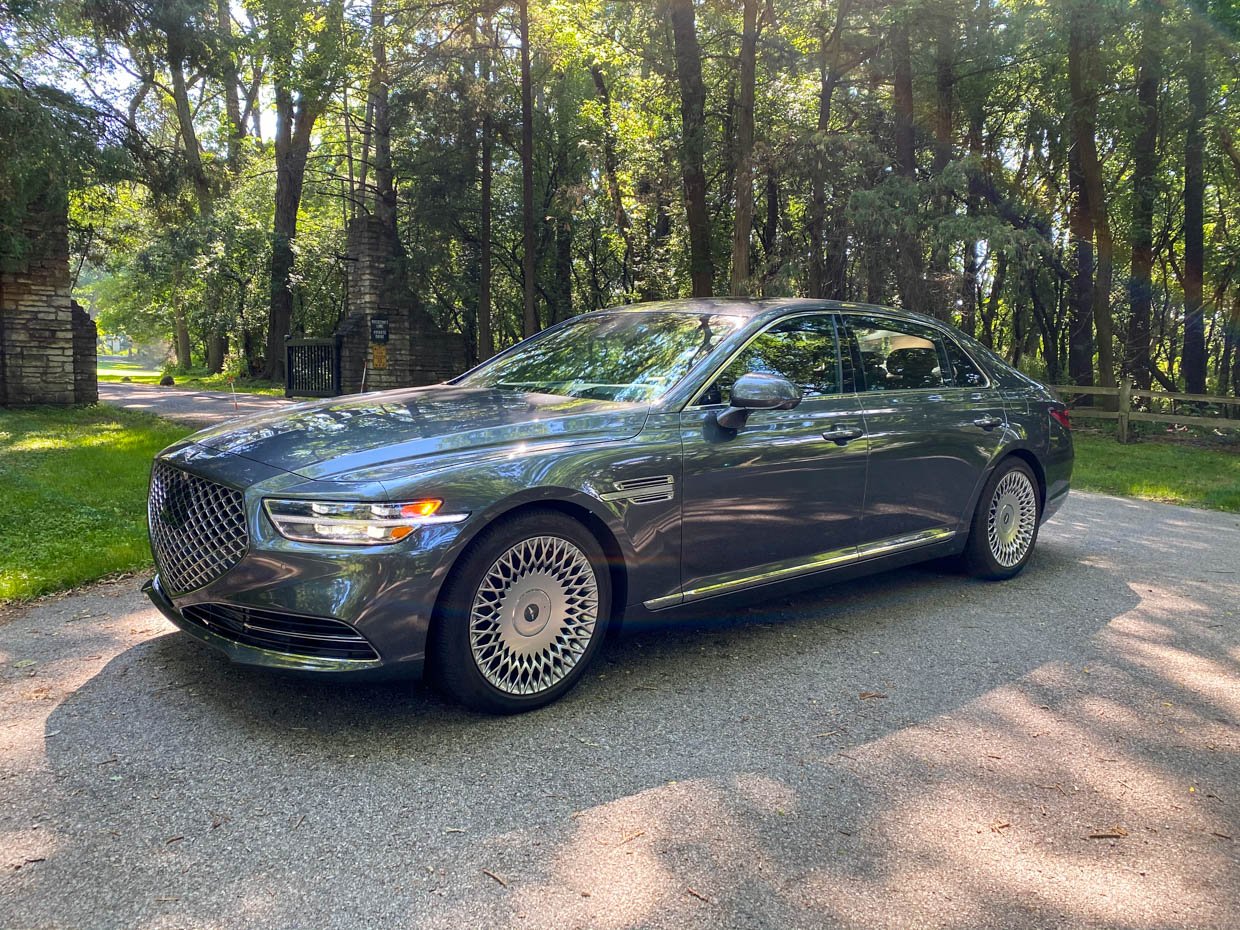 2020 Genesis G90

Engine: 3.3L twin-turbo V6 or 5.0L V8
Horsepower: 365 (T6) / 420 (V8)
Torque (lb-ft.): 376 (T6) / 383 (V8)
Transmission: 8-speed automatic
Drive Configuration: RWD or AWD
City/Hwy/Combined MPG: 17/25/20 (T6 RWD), 17/25/20 (T6 AWD), 16/24/19 (V8 RWD), 15/23/18 (V8 AWD)
Curb Weight (lb): 4663 (T6 RWD) / 4817 (V8 RWD) / 4806 (T6 AWD) / 4960 (V8 AWD)
Wheelbase (in): 124.4
Total Length (in): 204.9
Width (in): 75.4 (w/o mirrors)
Base Price (USD): $74,700
Price as Tested (USD): $75,695
When it comes to luxury cars, most people mention brands like Mercedes-Benz, Lexus, and BMW. Hyundai spin-off Genesis hopes to gain the same kind of brand cache in the minds of luxury buyers, and with excellent vehicles like the G70 and G80 to their name, I think they've got a good shot at just that. The largest and most luxurious of their vehicles is the G90, which hopes to steal away S-Class and 7 Series buyers with its fat cat looks, premium materials, and top-notch tech, for a significantly more modest sum.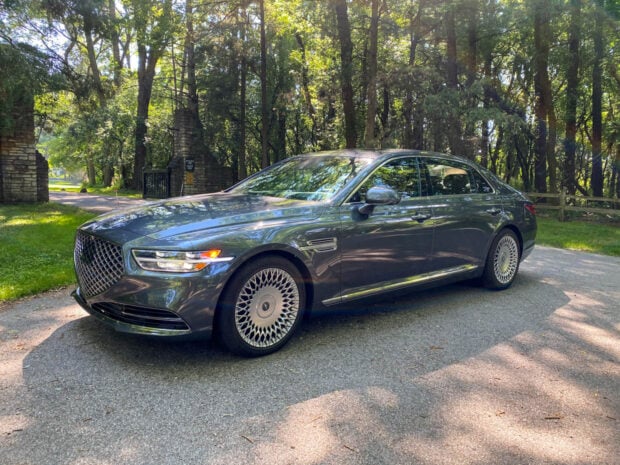 The minute you see the G90 coming down the street, you know it means business. From its ginormous new diamond-shaped mesh grille – which takes up the vast majority of the car's front – to its handsome 19″ full-face rims, the G90 exudes substance and class. With a massive 124.4″ wheelbase and an overall length of 204.9″, this is a serious full-size executive sedan.
The G90 looks just as good coming or going. I really like the wide LED tail lights that run the width of the trunk, which help to distinguish the Genesis as it heads down the road.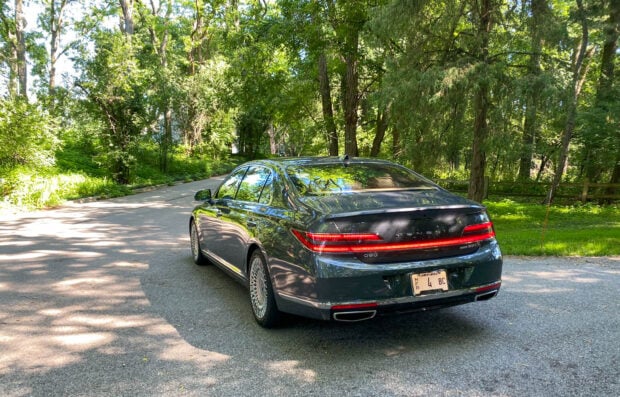 There are two engine options available for the G90, a 3.3-liter twin-turbo V6, the version in my review car, and a 5.0-liter naturally-aspirated V8. The V6 offers up an ample 365 hp and 376 lb-ft. of torque, while the V8 manages 420 hp, but only a few more lb-ft. of torque at 383. Working in concert with a smooth-shifting 8-speed automatic, I found the turbo-6 offered more than enough get up and go for a car of the G90's heft, and combined with the Hyundai/Genesis HTRAC intelligent all-wheel drive system, it gets out of its own way without any of the wheel slip that's typical in heavy, high torque rear-wheel drive cars. With a big 21.9 gallon fuel tank and a 25 mpg highway fuel rating, the G90 is great for road trips too, offering up to 547 miles of driving range between fill ups.
Now if you're looking for a sporty ride, I suggest you check out the G70. The G90's handling is anything but sharp and precise. This is a big car, with soft and cushy characteristics designed to provide its occupants with a quiet and isolated ride. While it does come standard with an adaptive suspension with electronic dampers, I found that even in Sport mode, it's a rather floaty ride, with lots of body roll into the corners.
When it comes to luxury sedans, the interior space is almost more important than what the car looks like on the outside, and it's here where Genesis delivers across their entire lineup. The G90 Premium has an impressive cabin loaded with upscale materials, like Nappa leather seats with quilted stitching, a leather-trimmed dashboard, real open-pore wood, and a soft microsuede headliner. However, I found the shade of brown they chose for the leather to be a bit much for my tastes, and I'd rather have the more understated black or beige leather that is also available.
The front seats offer both heat and ventilation, while the driver's seat has a whopping 22 different adjustments, including power lumbar, shoulder, and bolster settings. If you can't get comfortable in these seats, I'd be surprised. It's a truly pleasant place to be, especially thanks to the excellent insulation and vibration control that keeps the cabin whisper quiet even at highway speeds.
Of course, this is an executive sedan, so there's just as good of a chance that you're going to be a rear seat passenger in the G90 as you are to be its driver. While the spacious back row can hold three adults, it's clearly designed for two. Each of its outboard seats is every bit as luxurious as the front seats, minus some of the adjustments. The center armrest offers a full complement of controls for adjusting climate, seat heat, and for moving the front right seat out of the way if you really want to stretch out. The 5.0-liter Ultimate model also gets dual 10.3″ entertainment displays, and power adjustments and ventilation for both rear seats as well, so if you plan on chauffeuring people around, you might want to opt for the V8.
Technology abounds, starting with a great 12.3″ widescreen infotainment display that can be intuitively operated via touchscreen or a dial control. The center console houses a smartly-placed wireless phone charging dock, while the  7″ digital information display offers a variety of useful data, including video that automatically show what might be in your blind spot when turning or changing lanes. Apple CarPlay and Android Auto come standard too, as does a surround view monitor, which really comes in handy when negotiating tight parking spaces in a full-size sedan. There's also a heads-up display, which is always nice, though I found its bezel sometimes glared off of the windshield on sunny days.
Other tech features include Highway Driving Assist, which helps keep the car centered in its lane, while maintaining speed and distance from the cars in front of you. It automatically adjusts based on speed limits and reduces speeds in corners too. Unlike Cadillac's Super Cruise, you still need to keep your hands on the wheel, but very little driver input is required when cruising along with this feature enabled. Genesis is all about delivering luxury and value, so features like the awesome 17-speaker Lexicon audio system come standard, and this thing can truly rock. Plus it has those schmancy perforated metal speaker grilles, so what's not to like?
The Genesis G90 is a veritable bargain in the full-size luxury category, packing in just about every feature you could want for roughly $20,000 less than a base Mercedes S-Class, and about $10,000 less than a base BMW 7 Series. Never mind that those luxury brands will nickel and dime you for options that come standard on the G90. Add to all of this a 100,000-mile, 10-year powertrain warranty, complimentary scheduled maintenance for 3 years or 36,000 miles, free multimedia and navigation updates, and more, and the G90 is pretty unbeatable for its price. It's a luxurious, refined, and comfortable place for both its driver and passengers, and whether you're living the executive lifestyle, or are in the business of driving executives around, it's a worthy competitor to the European and Japanese luxury brands.