2021 Toyota Venza: A Fancy Pants RAV4 Hybrid (Not That There's Anything Wrong with That)
2021 | crossovers | hybrids | toyota | toyota venza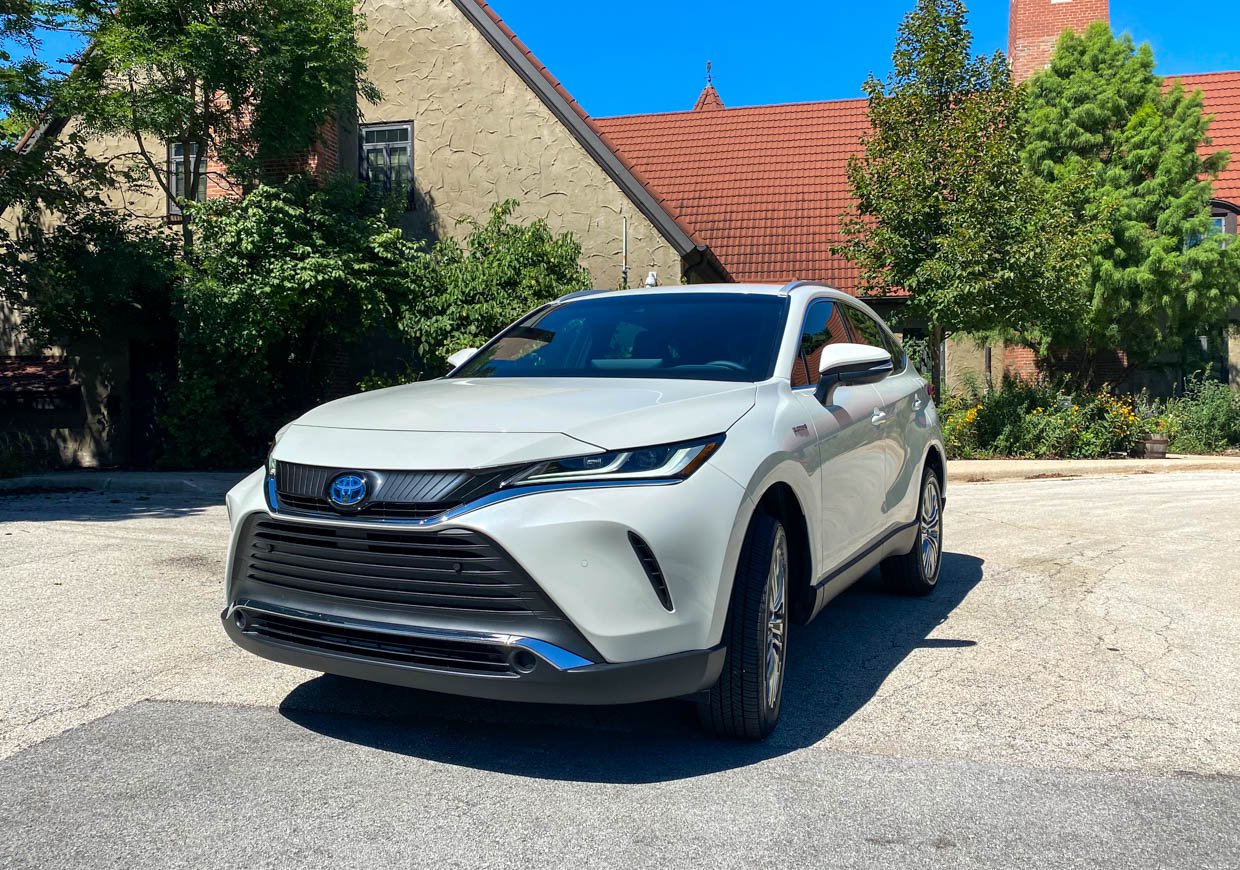 2021 Toyota Venza

Horsepower: 219
Transmission: Hybrid / Electronic CVT
Drive Configuration: AWD
City/Hwy/Combined MPG: 40/37/39
Curb Weight (lb): 3,847 (LE) / 3,891 (XLE) / 3,913 (Limited)
Wheelbase (in): 105.9
Total Length (in): 186.6
Width (in): 73.0
Ground Clearance (in): 7.8
Base Price (USD): $32,470 (LE) / $36,000 (XLE) / $39,800 (Limited)
Made from 2009 to 2015, the first-generation Toyota Venza established a small, but loyal following. But its squashed minivan styling limited its appeal in a market that was moving towards the car-like character of crossovers. Thus, the Venza went away back in 2015. Now, the five-passenger crossover is back with a whole new look and a bunch of other changes that breathe new life into the nameplate. Toyota execs call the new Venza "Smart and stylish," and I think they've achieved both.
I happen to have a neighbor who drives an older Venza, so I was able to park the 2021 model right behind theirs. The differences in design are pretty staggering. Gone is the frumpy old front end, replaced with a sleek and modern facade that shares more with the Mirai hydrogen-electric concept than its predecessor. Despite being taller, shorter, and skinnier than the prior Venza, smart design choices make it look leaner and sleeker overall. The old Venza was 189″ long, 75″ wide, and 63.4″ high, with a 109.3″ wheelbase. The new model is 186.6″ long, 73″ wide, and 65.9″ tall, with a 105.9″ wheelbase.
If those dimensions sound familiar, you're a stats nerd. They also have more in common with the current RAV4 than the old Venza. That's because the 2021 Venza shares a platform and drivetrain with the RAV4 Hybrid. It's a few inches longer overall, and about an inch shorter in height, but otherwise, it's similar in form factor.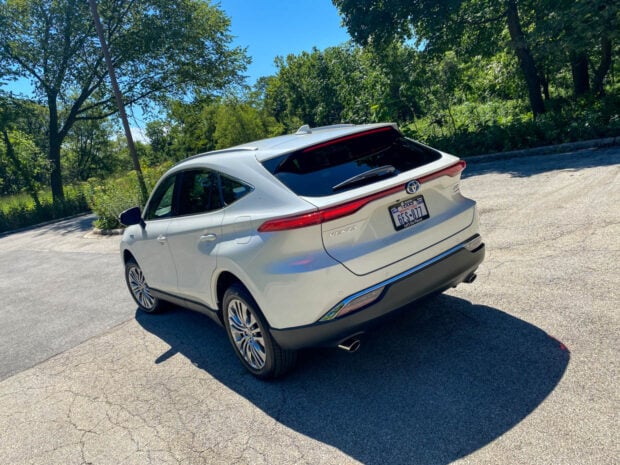 Gone are the old 2.7-liter I4 and 3.5-liter V6 engine options, replaced with a single, fuel-efficient drivetrain. Every 2021 Venza has a 2.5-liter "Dynamic Force" I4 engine, paired with two electric motors. Yep, the new Venza is ONLY a hybrid and ONLY all-wheel drive. Combined, the gas engine and motors produce 219 net horsepower. Packing a more upscale interior and a few extra inches of sheet metal, the Venza weighs about 150 pounds more than an equivalent RAV4, so it's not quite as zesty, but it never feels sluggish underfoot. Now, would I like to see a Venza Prime with the same 302 horsepower setup as the RAV4 Prime? Well, sure.
Like other Toyota hybrid eCVT systems, the transition between gas and electric power is buttery smooth, and you'd be hard-pressed to know when it's happening. The system is good for an EPA fuel economy rating of 40 mpg city /37 mph highway / 39 mpg combined. During my week with the Venza, I averaged 39.3 mpg, which is exceptional for a vehicle in this class. Overall ride quality is smooth and free of unwanted vibrations, and the Venza's suspension does a good job isolating the cabin from potholes and bumps along the road. The interior is well insulated, offering a pleasantly quiet environment. I found the Venza's steering and body control to be comfortable and sedan-like, which is what most consumers want in a crossover.
Overall, the Venza is a class act. Not only does its exterior look like the Mirai concept had a child with a Jaguar F-PACE, but its interior is also quite schmancy for a Toyota. All three of its trim levels come with a leather-wrapped steering wheel with chrome accents, and its XLE and Limited trims offer SofTex seating, which looks and feels just like leather to me.
Go for the Venza Limited, and you'll get both heat and ventilation for those front seats as standard, while you can upgrade to those on the XLE. The dashboard and door panels feature quality soft-touch materials throughout, while a unique material that resembles a dark woodgrain can be found on the center console pillars and the door armrests.
Since my review loaner was a prototype vehicle, it didn't have one of the niftier features that Toyota is touting. The Star Gaze is a fixed panoramic roof that offers an electronic sunshade. Instead of sliding a mechanical shade to block light or let it in, it's all done with an electrochromic dimming layer in the glass that switches between frosted and transparent modes. The only other car I've seen this feature in is the McLaren 720S – a $300,000+ sports car. Whether it's a gimmick or not, it does help to distinguish the Venza from other crossovers in its price range.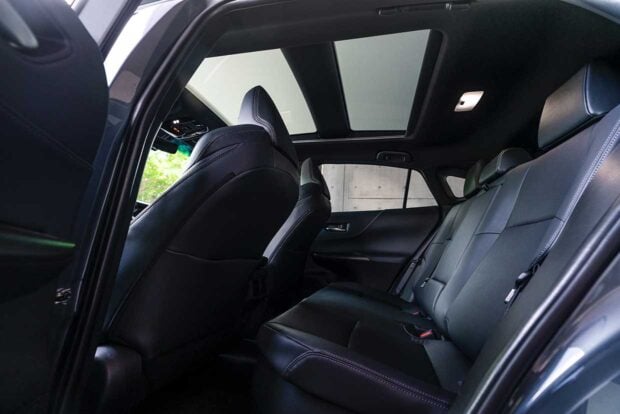 While the Venza comes standard with an 8″ touchscreen, higher-end models can be equipped with a much more satisfying 12.3″ widescreen that sits front and center atop the dashboard. While I prefer my displays to be more integrated, I think Toyota did an admirable job creating an aesthetic approach that keeps this screen looking like an afterthought or like someone accidentally left their iPad sitting on the dash. The 12.3″ display comes along with a great 9-speaker JBL audio system that can crank the volume without distortion. It also bundles navigation, though most people won't need that since Apple CarPlay and Android Auto come standard on every Venza. There's also support for Amazon Alexa, which lets you ask the digital assistant various questions or to control smart home functions from the comfort of your car. You can also get a 7″ digital instrument panel, and there's an available 10″ heads-up display.
If I have any complaint about the center stack, it's that Toyota chose to use touch-sensitive surfaces for the climate, radio, and screen mode controls. While this gives the center stack a sleek and modern look, we've been down this road before (I'm talking to you, Cadillac CUE). Suffice it to say, I much prefer tactile controls for these sorts of functions, and piano black is a notorious fingerprint magnet.
As we move from the front seat to the back, there's room for three actual adults in the second row. Headroom and legroom are both excellent, though you lose a little bit of that if you go for the panoramic roof. The aforementioned premium audio system adds a pair of USB charging ports for the back row as well.
The back row can fold in a 60/40 configuration, giving way to a maximum cargo capacity of 55.1 cubic feet, or 28.8 with the back row in use. Oddly, the Venza has less cargo space than the RAV4, despite being nearly 6 inches longer. I assume that's because the Venza is about 1.1″ shorter in height than its sibling and has a pretty aggressive slope to its roof over the cargo area. A power handsfree liftgate also comes standard for easy loading and unloading.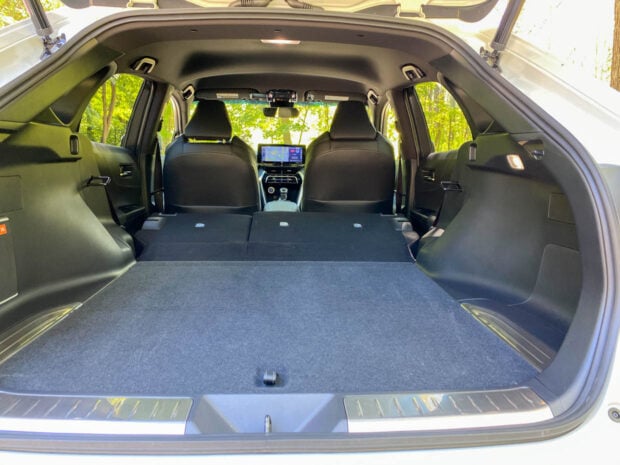 With the Venza sharing so much with the RAV4 Hybrid, and the Venza costing about $4,000 more, you might be wondering who the Venza is for. Well, seeing that the majority of car buying decisions are based on aesthetics, I'm thinking it's for a slightly older buyer looking for a more sophisticated and luxurious look, but who doesn't want to spring for a Lexus, or has strong Toyota brand loyalty. I do enjoy both the RAV4 and the Venza. However, I prefer power and practicality over style, so given a choice between a plug-in hybrid RAV4 Prime SE (starting at $38,100) and a Venza Limited (starting at $39,800), I'd take the speedier RAV, and skip the fancier trimmings of the Venza. But if your eye goes to the Venza, you'll be equally happy with your decision.