Jeep Wrangler 4xe Is a Plug-in Hybrid Off-Roader
2021 | 4x4 | jeep | Jeep Wrangler 4xe
What you're looking at is the first factory-made electrified Jeep Wrangler in the history of the venerable vehicle. While the off-roader is now greener and can drive up to 25 miles on electricity alone, it still features the same off-road Trail Rated capabilities as other Wrangler models. Key to the new Wrangler 4xe is plug-in electric hybrid powertrain promising an impressive 375 combined horsepower and 470 lb-ft. of torque to improve both on- and off-road performance.
The gasoline engine is a turbocharged 2.0-liter four-cylinder engine paired up with two electric motors and a TorqueFlite eight-speed automatic transmission. Jeep promises the 4xe will achieve 50 MPGe, which is significantly better than a standard Wrangler. All Wrangler 4xes will have unique blue design cues on the outside, signifying its hybrid nature.
The Wrangler 4xe has a 400-volt, 17 kWh, 96-cell battery pack mounted beneath the redesigned second-row seat. That protects the battery pack from the outside elements and helps to preserve the interior space. The battery uses a cooling loop to keep it operating at an ideal temperature.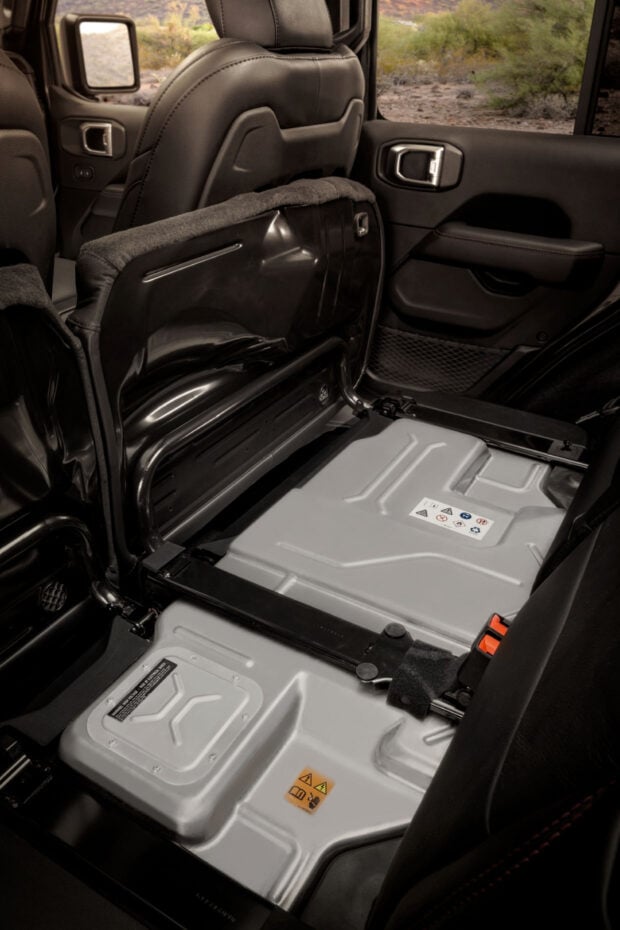 Jeep designed the vehicle to capture power from regenerative braking from all four wheels when 4×4 is engaged. Like other Wranglers, the 4xe features solid front and rear axles, a full-time 4×4 two-speed transfer case, fully articulating suspension, and 30-inches of water fording capability.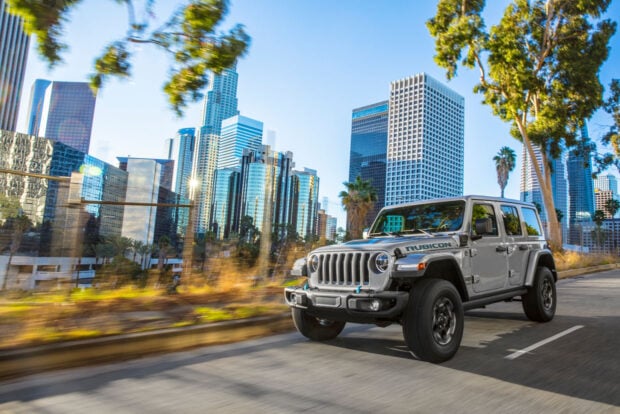 The vehicle shown in the images is a Rubicon 4xe, but it does sound as if the hybrid system will be available in other models. Jeep says that the Wrangler 4xe will land in Europe, China, and the United States by early 2021. It's unclear at this time exactly how much the Wrangler 4xe will cost. Considering your well-optioned Rubicon can easily run  $50,000, I suspect the vehicle will be expensive. We rather hope you can get the hybrid powertrain on all Wrangler versions. A Wrangler Sport 4xe would be impressive if they could offer it in the $30,000 to $35,000 range.