Hennessey's Production Venom F5 Hypercar Has 1817 Horsepower
hennessey performance | hennessey venom f5
After teasing for a time, Hennessey has finally unveiled the production version of its insane Venom F5 hypercar. The vehicle is powered by a "Fury" 6.6-liter twin-turbo V8 engine that makes 1817 horsepower and 1193 lb-ft. of torque. The car is made with a carbon fiber monocoque and carbon fiber body panels to minimize weight.
With a dry weight of just 2,998 pounds, those insane levels of power push the Venom F5 to 124 mph from a standstill in 4.7 seconds and on to a top speed of 311 mph. The interior is handcrafted and features a driver-focused cockpit with Formula 1 and fighter jet-inspired steering wheel and controls.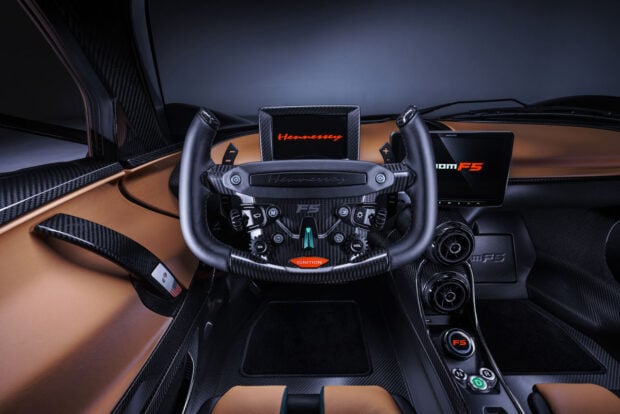 Hennessey intends to make only 24 units worldwide, starting at a base price of $2.1 million. The entire vehicle was designed and manufactured in the US. Driving dynamics were honed by John Heinricy, former Director of GM High-Performance Vehicles. Interestingly, the 311 mph claimed top speed is very close to the Category 5 hurricane wind speed of 318 mph. The car is incredible looking, and we can't wait to see if it will actually go that fast.