Fifteen Eleven Design Working on a Gorgeous Porsche 914/Cayman S Mashup
fifteen eleven design | porsche | Porsche 914 | porsche cayman | retro
Growing up like many car guys and gals, I had posters of Porsche, Ferrari, and Lamborghini models all over my room. While most children of the '80s preferred the 911, my favorite Porsche was always the 914. Someone in my hometown owned an orange one, and he was continually ripping around in the boxy little beast.
The design crew over at Fifteen Eleven Design has set out on a new project to take the iconic Porsche 914 and modernize it with the suspension and powertrain from a second-generation Cayman S. The 3.4-liter power plant will be a 300 horsepower flat-six paired with a six-speed manual transmission. The car is shown in renderings here.
The standard Cayman S suspension will be augmented with coil-overs and new dampers. The car also will get large Brembo brakes, lightweight stainless steel exhaust, carbon fiber body panels, LED headlights, and an adjustable rear spoiler. The modern 914 keeps its classic Targa roof but ditches the pop-up headlights. Instead, LED headlights will appear on the front fenders' uprights where the marker lights were on the original. Fifteen Eleven Design plans to sell these beauties in right or left-hand drive at an as-yet-undisclosed price.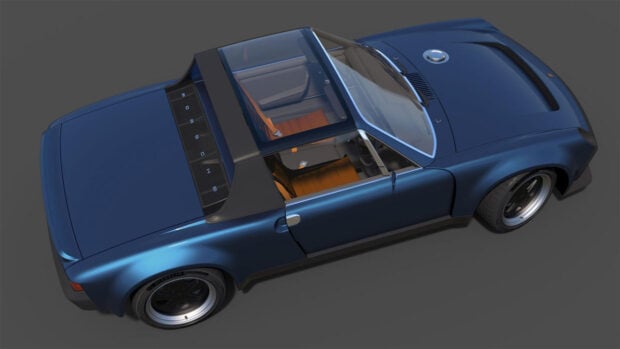 [via Top Gear]