2021 Nissan Kicks Review: We Got a Kick out of this Little Crossover
2021 | crossovers | nissan | nissan kicks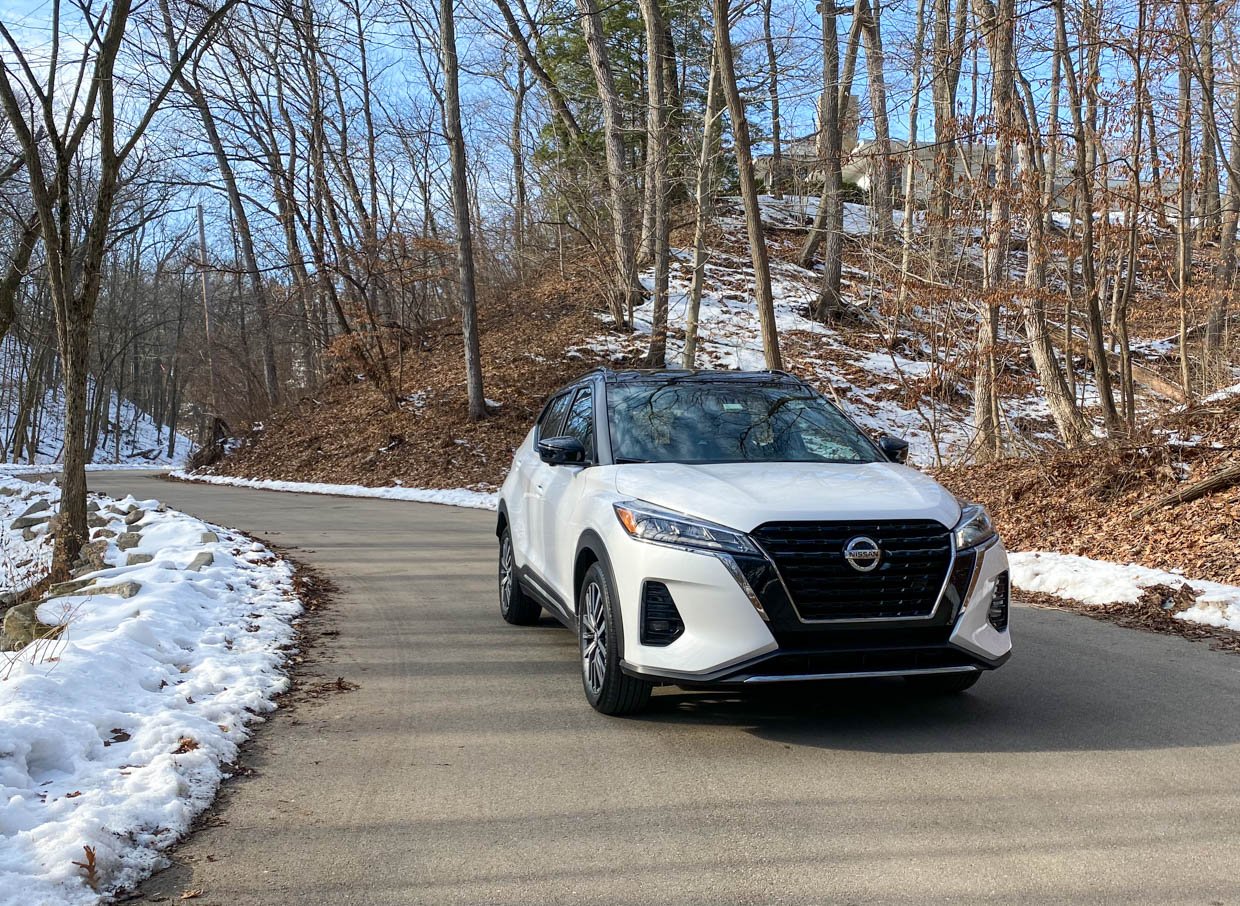 2021 Nissan Kicks

Engine: 1.6L 4-cylinder
Horsepower: 122
Torque (lb-ft.): 114
Transmission: Intelligent CVT
Drive Configuration: FWD
City/Hwy/Combined MPG: 31/36/33
Curb Weight (lb): 2,682 to 2,744
Wheelbase (in): 103.1
Total Length (in): 169.1
Width (in): 69.3
Ground Clearance (in): 7.0
Base Price (USD): $19,500
Price as Tested (USD): $24,290
I don't spend a whole lot of time in entry-level cars, but it's nice to see that there are some nice options out there for people without deep pockets or who are just starting in a career. One such vehicle is the 2021 Nissan Kicks. With a base price starting at just $19,500 and a fully-loaded price of around $24,000, this sub-compact crossover punches (and kicks) above its class in terms of style, technology, and overall driving experience.
The Kicks comes in three configurations – the base S model, the mid-line SV, and the top-of-the-line SR, the model I drove. All three trims share the same 1.6-liter 4-cylinder engine that makes 122 hp, connected to a CVT that drives only the front wheels. Thanks to its light weight and small size, the Kicks gets great gas mileage, with a 31 mpg rating in the city and 36 mpg on the highway.
The CVT is well executed here, offering smooth and quiet acceleration without any of the whiny sounds often associated with these gearless transmissions. In the city and on suburban roads, it offers a lively and youthful feel, though, on the highway, its engine sounds like it's working hard when accelerating or passing, with a 0-to-60 time that's probably not even worth measuring. If I had to guess, it's somewhere above 9 seconds. This is where I'd love to see a more powerful turbocharged option.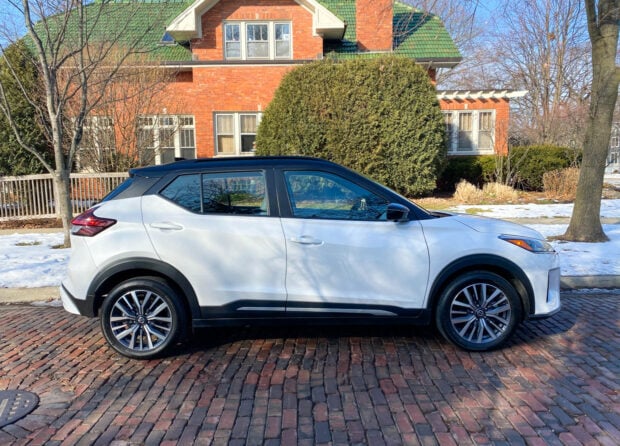 The Kicks' handling feels pleasant, and the suspension did a good job absorbing the bumps and lumps of the winter-weary roads in and around Chicago. Its steering feels direct and well-balanced, and thanks to its car-like height and size, body roll and twist aren't bad when cornering.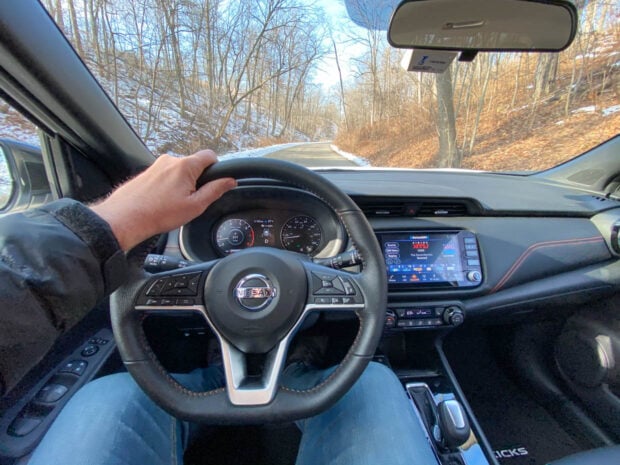 Nissan wins big points on styling both inside and out with the Kicks, giving the car a youthful appearance without ever looking cheap. The black roof and lower body cladding served as a nice contrast to the Aspen White tri-coat paint on my review car and gave it a slick, athletic look. The 2021 model gets a few meaningful changes from prior years, including a much more substantial "V-motion" grille, sharper headlights, and LED fog lamps, as well as tweaks to its rear end, including new LED taillamps. All of these add up to a bolder and more confident overall look.
All three trim levels come with cloth seats as standard, while the SR gets sport cloth with orange accents. If you can afford it, definitely opt for the $1200 Premium package, which upgrades those seats to a really nice faux leather called Prima-Tex. That package is a bargain, adding heated front seats, a heated steering wheel, a security system, and a Bose audio system worthy of lengthier attention.
The 8-speaker Bose Personal Plus system includes special "ultra-nearfield" speakers built into the driver's seat headrest and kicks out some truly awesome audio for a vehicle in this price range. The audio quality is crisp and punchy and offers up an amazingly spacious soundstage. It's definitely the best-sounding car audio system I've heard from Bose and is more satisfying than some of the pricey premium systems I've heard in luxury cars. It's certainly a driver-centric sound system but still sounds pretty darned good no matter where you sit in the Kicks.
There's lots of modern technology to like here too. All 2021 Kicks come with a suite of safety features, including forward collision warning, lane departure warning, blind-spot warning, rear cross-traffic alert, rear sonar, high beam assist, hill start assist, automatic emergency braking with pedestrian detection, and rear automatic braking.  The SV and SR trims add intelligent cruise control, automatic brake hold, and intelligent driver alertness monitoring.  The SR also gets a surround camera system, and an upgraded vehicle dynamics system that includes Intelligent Trace Control – a fancy name for torque vectoring by braking, which improves cornering.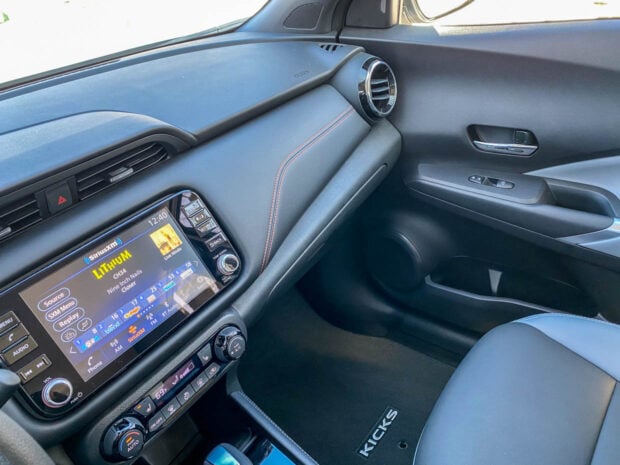 Like other current-generation Nissans I've driven, the front seats offer good support for long commutes, and I had no problem finding a comfortable seating position for my long legs and large frame when driving. I like the two-tone grey look of the Prima-Tex seats, along with the orange stitching that carries over from that on the soft-touch dashboard.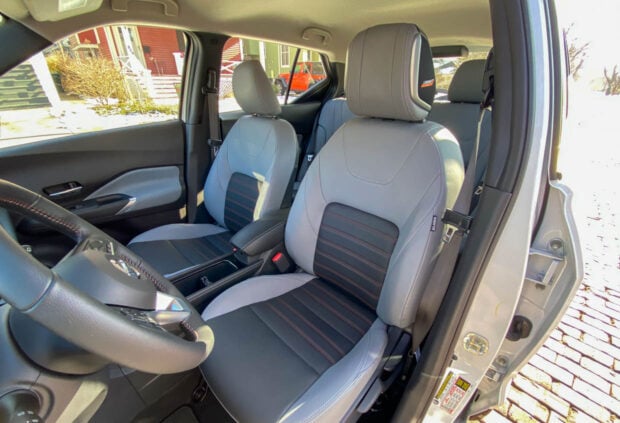 Rear seat legroom is definitely more limited, though, and if you've got tall passengers riding in front, you'll have a hard time comfortably seating anyone tall in the back. On the other hand, kids should be fine back there, and they can enjoy their devices while they ride thanks to the dual USB charging ports on the back of the center console.
With the rear seats in use, the Kicks offers an above-average cargo volume of 25.3 cubic feet, and an oddly small 35.3 cubic feet with the second row folded. Because the seats don't fold anywhere near flat, cargo-carrying versatility is limited for larger items, and you'd be hard-pressed to carry longer items that need to lie flat, like a television or a piece of furniture.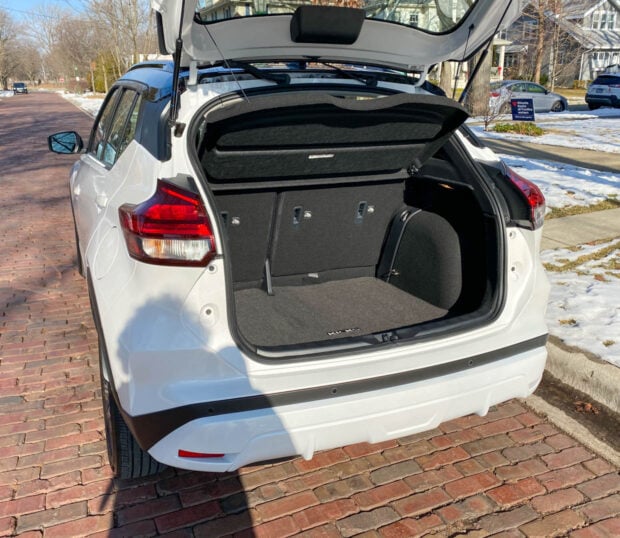 There's a lot to like about the Nissan Kicks. It looks really great – especially with the 2021 styling updates, and packs many features for the price. The interior space is comfortable, modern, and stylish, and there's a ton of safety and convenience tech here. It's not the quickest car, nor is its cargo space the most useful in its class, but it is a really nice little starter car that's packed with value. Plus, it offers the best sounding sound system you can buy in any car under $50,000.