2021 Hyundai Veloster N DCT Review: Power to the People
2021 | hot hatch | hyundai | hyundai veloster n | May 23, 2021
---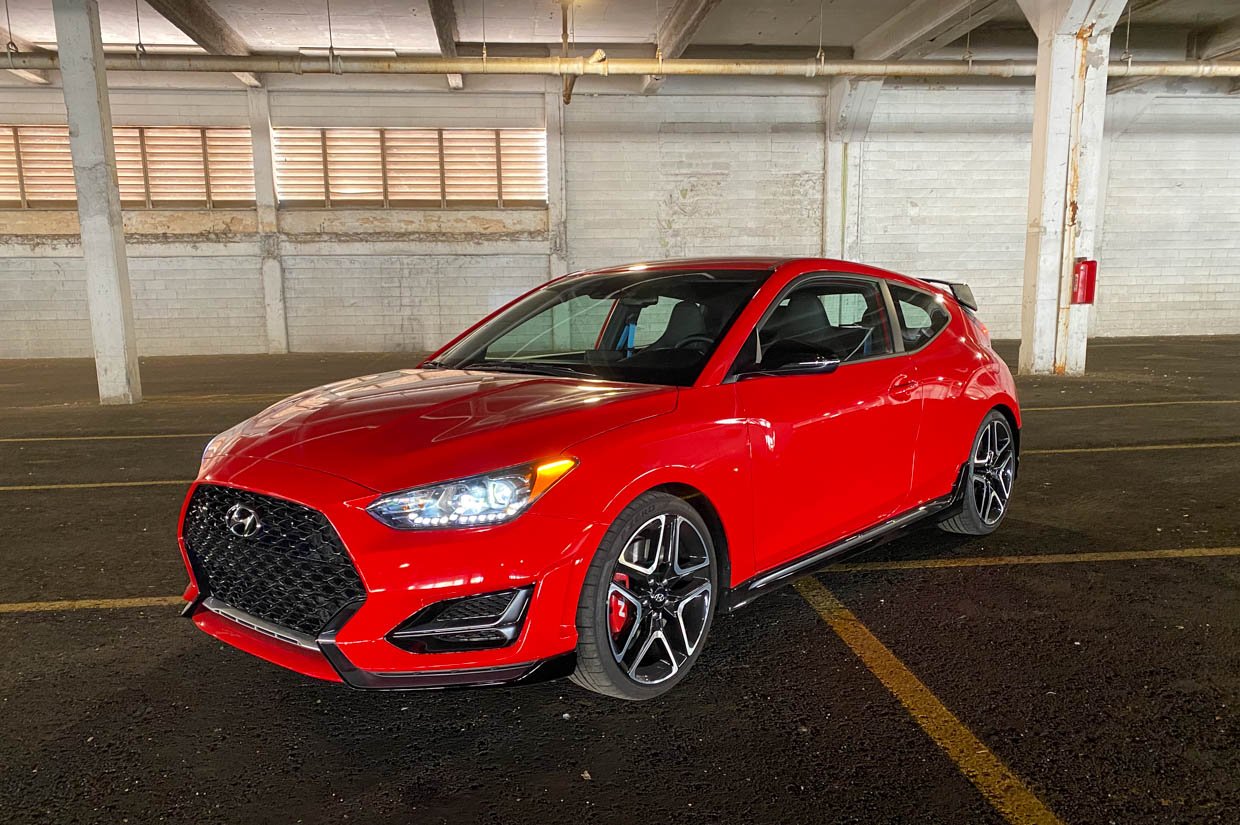 2021 Hyundai Veloster N DCT

Engine: 2.0L twin-turbo I4
Horsepower: 275
Torque (lb-ft.): 260 (278 in N Grin Shift)
Transmission: 8-speed dual-clutch automatic
Drive Configuration: FWD
0-to-60 Time (secs): 5.1
City/Hwy/Combined MPG: 20/27/22
Wheelbase (in): 104.3
Total Length (in): 167.9
Width (in): 71.3
Base Price (USD): $34,745
Price as Tested (USD): $34,745
Some of my favorites cars are of the hot hatch variety – and the Hyundai Veloster N is one of the best hot hatches you can buy today. I last drove the Veloster N back when it debuted in 2019 when it was only available with a 6-speed manual gearbox. Now the car can be equipped with an 8-speed dual-clutch automatic transmission too. While purists will almost certainly want a manual, Hyundai was smart to add the DCT as an option, as it dramatically expands the prospective buying audience – especially here in America where only a small percent of the population drives a stick shift.
The latest Veloster N comes completely tricked out, so everyone gets the 275 horsepower engine and corner-carving eLSD as standard now. The 2.0-liter 4-banger is a small wonder – cranking out 260 lb-ft. of torque at 1450 rpm, and offering a 0-to-60 time of just 5.1 seconds with the DCT, which is a couple of tenths better than most can achieve with the manual. Turbo lag is non-existent too, and pedal response is direct and immediate.
The quick-shifting wet-clutch DCT always seemed to be in the right gear at the right time, and I saw little need to fiddle with the paddle shifters. One of the niftier gimmicks in the Veloster N is the button that says "NGS" which stands for "N Grin Shift." When you flip that, you get an extra 18 lb-ft. of overboost torque. It only lasts for 20 seconds, but it's fun for putting a grin on your face and your passengers when you mash your foot down to the floor.
Drivers probably won't spend much time with N Grin Shift mode active, but the Veloster's N mode is a pretty happy place to be regularly. It changes throttle mapping for an aggressive shifting pattern that lets you go right up to the redline, tightens up the car's steering and handling, and reduces interference by the stability control systems. It's also the best way to show off the Veloster N's baritone exhaust note, which has a great burble to it as you bang through the gears. Thanks to the standard electronic limited-slip differential, cornering in the Veloster N is crisp and predictable and less prone to understeer than most front-wheel-drive cars.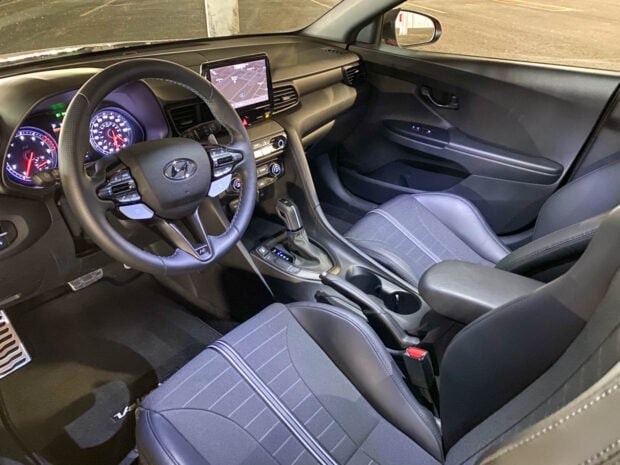 Hyundai's engineers did a great job keeping torque steer under control despite the large amounts of power headed to the front wheels. The electronically-controlled suspension lets you enjoy comfortable daily drives while stiffening up nicely under more aggressive maneuvers. While fuel economy probably isn't a top priority for performance enthusiasts, it's interesting to note that the DCT model gets slightly worse mileage than the manual. It's usually the other way around, but here you're looking at 22 city/28 highway/25 combined mpg for the manual and 20 city/27 highway/22 combined mpg for the DCT.
Like other Velosters, the N has a lovely quirk to its styling, most notably the three-door cabin, which gives the driver a longer door and only allows rear-seat passengers to enter on the right side of the car. The N model gets a honeycomb grille, sporty side sills, and rear diffuser which provides a home for the dual performance exhaust system. The 19″ alloy rims are the largest available on a Veloster and are wrapped in sporty Pirelli P Zero summer tires. The P Zeros aren't the stickiest in wet conditions either, though, with a front-wheel drivetrain, you're far more likely to understeer than oversteer. If you plan on owning a Veloster N in a place where it snows, you'll want to buy a set of winter tires to swap out when the temps drop below 40ºF.
Inside, you'll find a sporty but fairly uneventful interior design, though the most important things like seating position, control ergonomics, and seating support and comfort are all well executed. The sport bucket seats offer good side bolstering that's not as punishing as some sports cars for those of us wider frames. Plus, the illuminated "N" logos in the seatbacks is a neat design touch I haven't seen in any other vehicle I've driven.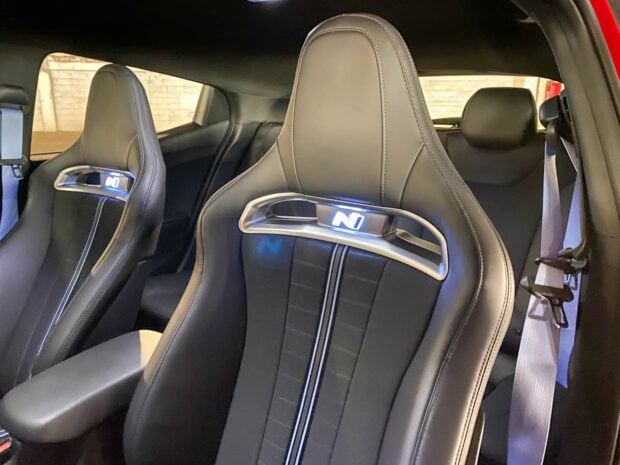 While the Veloster N is a 4-passenger car, the back seat is definitely cramped and best for kids or maybe a large dog. On the flip side, its hatchback design and fold-down seats mean that there's a good amount of cargo space for a car of its size. With the back seat in use, you get 19.9 cubic feet of carrying space, and that increases to an admirable 44.5 cubic feet with the seats folded down.
I really love this little car. It's a great hot hatch, offering great acceleration, adept handling, and loads of personality. It's more fun than most cars on the road today, and it won't break the bank, with a fully-loaded DCT Veloster N coming in at $34,945, including the $995 freight and handling fee. If you're good with a manual transmission, you can cut $1,500 from that price. Add to that Hyundai's exceptional 10-year, 100,000-mile powertrain, and 5-year, 60,000-mile limited warranties, and you're looking at an exceptional deal.