2022 Audi RS 3 Sportback and Sedan Look Fantastic
Audi has revealed its latest versions of its RS 3 Sportback and RS 3 Sedan. Both models can reach 62 mph in 3.8 seconds and have top speeds of up to 180 mph. The engine under their hoods is a 2.5-liter five-cylinder producing 395 hp and 369 lb-ft. of torque, paired with a seven-speed dual-clutch transmission.
In addition, RS 3 cars feature widened bodies compared to normal Audi models, sports exhaust systems, and cockpit displays similar to those found in racing cars.  Other features of the cars include a new RS Torque Splitter, semi-slick tires, and RS-specific driving modes.
Audi promises "incomparable sound" thanks to the engine's unique 1-2-4-5-3 ignition sequence. For the first time in RS 3 model, the exhaust system has a fully variable flap control system with intermediate positions. The new exhaust offers a wider range of sound characteristics and can be adjusted via the car's drive mode select system.
The RS Torque Splitter offers an electronically controlled multiple-disc clutch on each driveshaft to send just the right amount of torque to each wheel on the rear axle depending on conditions and to enhance cornering performance. One of the drive modes also focuses torque on the rear wheels to allow drifting.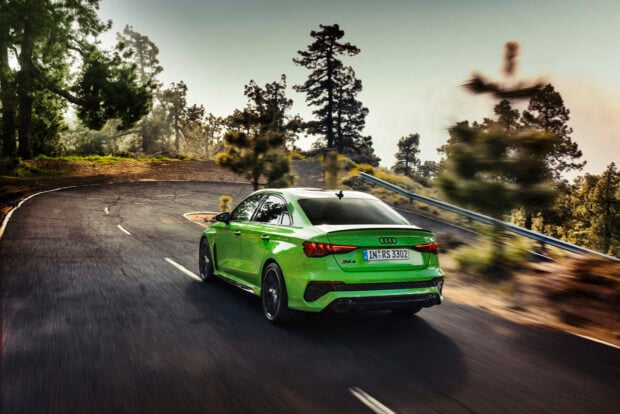 Both vehicles are available to order in Europe this month. Base pricing for the RS 3 Sportback is €60,000 (~$70861 USD), with the Sedan version starting at €62,000 (~$73,223 USD). Availability and pricing for other countries are unannounced.