Hands-on with the 2022 GMC Sierra 1500 Denali's Super Cruise Tech
2022 | cruise control | gmc | GMC sierra | super cruise | technology
With the advent of adaptive radar cruise control, driving over long distances has become much less tiresome than it once was. These systems can dynamically adjust the speed of your vehicle based on the distance between you and the cars in front of you so they're equally useful at high speeds and in rush hour highway traffic. While the holy grail for long-haul driving is full autonomy, we're still years away from that being truly viable. In the meantime, systems like Cadillac's Super Cruise help bridge the gap by providing hands-free steering, acceleration, and braking, assuming the conditions are safe to do so. GMC recently announced it's bringing its next-generation Super Cruise technology to its 2022 Sierra 1500 Denali pickups.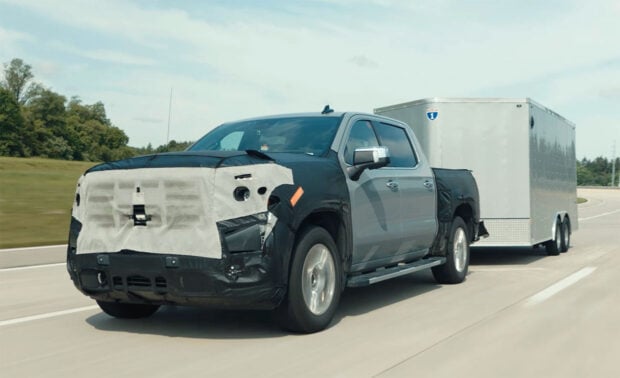 While visiting GM's Milford Proving Grounds, I was given the opportunity to test out Super Cruise on a closed track. At its core, Super Cruise offers hands-free driving on over 200,000 miles of LiDAR-mapped U.S. highways. It uses a combination of cameras, radar, GPS data, and powerful computers to work its magic. What's notable about the new version of Super Cruise is that it can also automatically change lanes. Super Cruise can also be used while pulling a trailer, which is a common use case for pickup truck drivers.
I spent my time behind the wheel of two prototype Sierra 1500s, each wrapped up in camouflage and their dashboards largely obscured from view since the truck has yet to be revealed. One truck was connected to a trailer, while the other was ready to drive without one. We headed out onto a high-speed test track which stood in for a highway, accompanied by a Cadillac who would play the role of another driver on the road. As I got up to highway speed and activated radar cruise control, the Super Cruise available indicator came on, and with the push of a single button on the steering wheel, it took over. Once engaged, a light bar on the steering wheel turns green, and you can let go of the wheel and the pedals. For added safety, there's a camera keeping an eye on you to make sure that you're paying attention to the road and ready to take over the controls at any time. Look away from the road for more than a couple of seconds, and the light turns blue. And if you're distracted, it will turn red and eventually disengage. That red light also kicks in if it becomes unsafe to use the system for any reason, or if you're exiting the highway.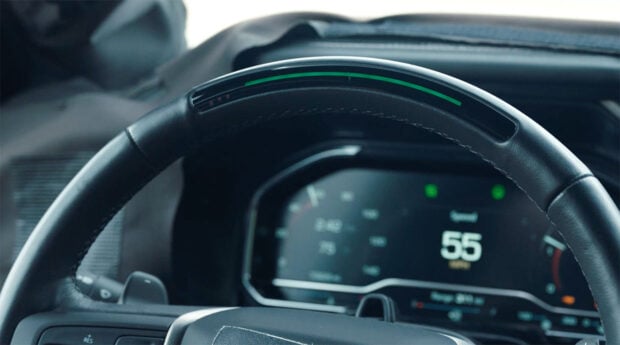 The hands-free driving felt smooth and effortless, and the lane-centering tech is impressive. There's none of that ping-ponging that I've experienced with other vehicles, and within the first few seconds, I felt confident enough to move my hands into my lap and away from the wheel. When the leading driver slowed down, the Sierra slowed and maintained a safe distance. Despite the added weight and length when towing a trailer, the centering and cruise provided the same confident feeling in that scenario as well. All of the Super Cruise features work in harmony with the driver so that you can take over at any time, and the system won't fight you for control.
One feature that isn't available when trailering is the automatic lane change. But if you're driving without a trailer, it's really the star of the show. This feature can detect when someone is slowing down in front of you. When it's safe to change lanes to pass, Super Cruise automatically steers into an available lane, passes, and resumes acceleration. The system checks the left lane first, but it will pass on the right if that's not an option. Lane Change on-demand lets you initiate a request for a lane change just by flicking the turn signal in the direction you want to move into, and the Sierra will take care of that if it's safe to do so.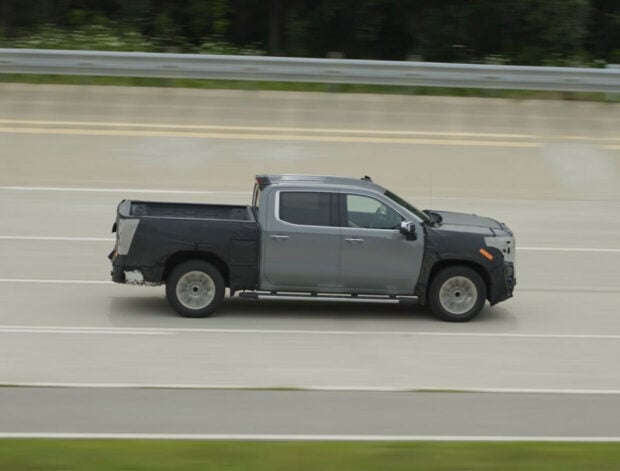 Overall, I was impressed with my brief experience with Super Cruise in the 2022 Sierra 1500. It seems like a great option for anyone who takes long road trips in their pickup. I'd love to see how it performs in real-world scenarios – with more traffic, construction, and inclement weather. I hope I'll get a chance to do that down the road once the new Sierra is revealed and a launch date is set.