GMC Canyon AT4 OVRLANDX Concept is Ready for the Great Outdoors
gmc | gmc canyon | GMC Canyon AT4 OVRLANDX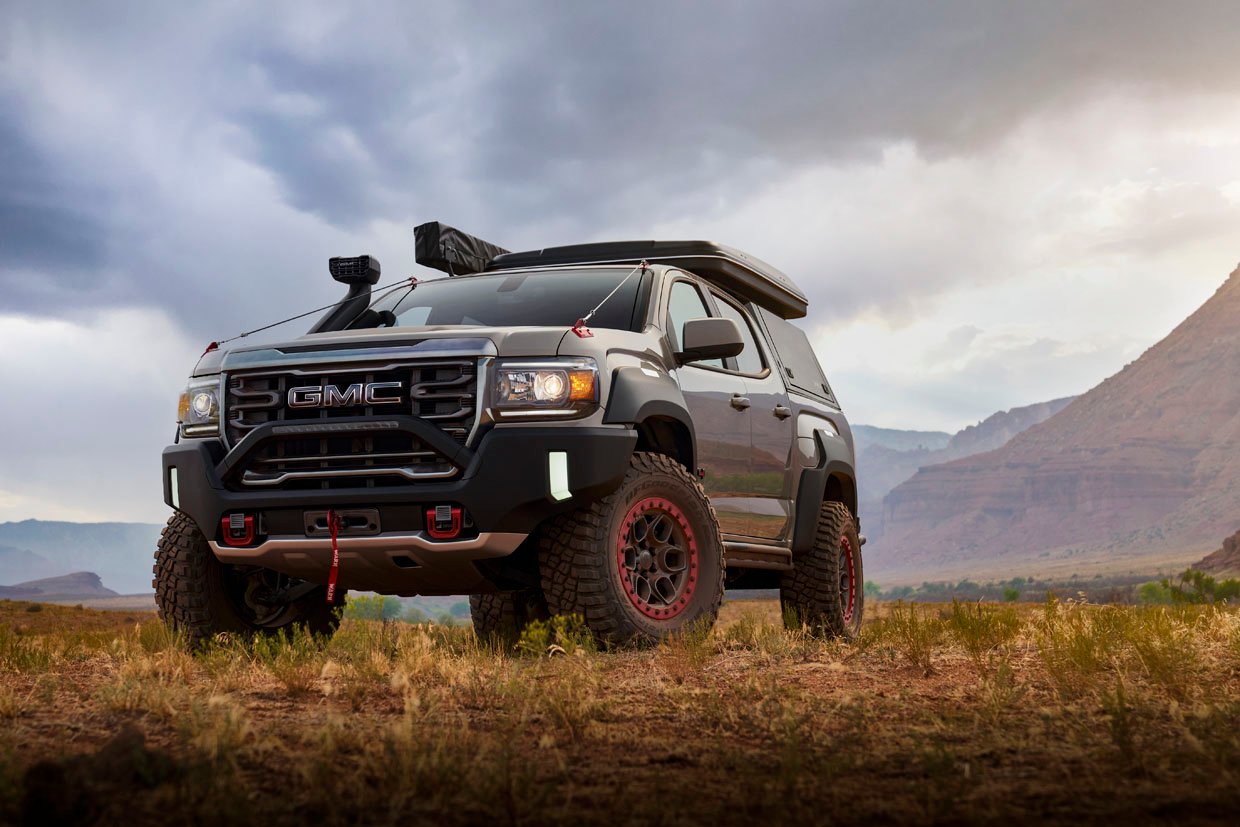 Overlanding is a popular pastime for people who enjoy spending time off the beaten path. Typically, it involves driving highly customized vehicles complete with sleeping arrangements and the ability to store and cook food for extended periods off-road. GMC has revealed a new concept pickup truck at the Overland Expo Mountain West 2021 show in Colorado.
The truck is called the Canyon AT4 OVRLANDX and it's been heavily modified for off-road and overland in use. The lifted truck rides on 33-inch BFGoodrich KM3 Mud-Terrain tires wrapped around 17-inch AEV Crestone wheels and can ford water up to 32.1 inches deep with the help of its custom snorkel.
Among the many modifications GMC made to the truck include:
Factory-lifted, wide off-road chassis with enhanced underbody coverage
Off-road rocker panel protectors
Cast-iron control arms
Heavy-duty front bumper with winch
Integrated front recovery points
Front and rear electronic locking differentials
Wheel flares with integrated task lamps
Multimatic DSSVTM dampers
Spare tire swivel mount so a spare tire can be kept on the back of the truck and swivel out of the way of the tailgate when bed access is needed
Guy lines for protecting the windshield from low-hanging branches
AEV rear off-road bumper
Stainless steel truck bed cap
Roof-mounted tent
270-degree awning
Jerry cans for gasoline and water
Traction boards
Off-road jack and mount
Cooler and kitchenette
Truck bed storage with drawer system
Solar panel
The extensive list of modifications has everything a driver and passenger would need to enjoy the great outdoors for a weekend or possibly even longer. Most of the modifications to the truck are to the body and numerous accessories have been added. Despite the modifications, the all-wheel-drive truck's drivetrain is powered by a standard 3.6-liter GMC V6 paired with an eight-speed automatic transmission.