The Munsters' Coffin Car Drag-u-la Is Up for Sale
auctions | for sale | george barris | the munsters | tv shows
From the 1960s to the 1980s, custom cars were commonplace in TV shows, from The Beverly Hillbillies to Batman to Knight Rider. One of my favorite TV cars of all time has to be the coffin-shaped Drag-u-la that Grandpa Munster raced in The Munsters. Now one of five Dragulas built by Barris Kustoms to promote the classic horror sitcom is going up for auction.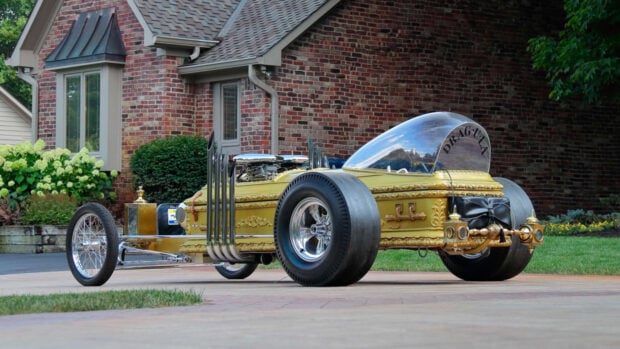 The skinny dragster features a golden coffin for its body, skinny bike wheels up front, racing slicks in back, and eight side-exit exhaust pipes which flank its front-mounted, 350hp V8 engine. A clear canopy surrounds its purple driver's seat and cockpit, and the vehicle has been autographed by its builder, designer, and cast members from The Munsters.
Mecum Auctions has listed the coffin car for sale at its 2022 Kissimmee, Florida auction, slated for January 6 to 15, 2022. There's no reserve on the car, but I bet it's going to fetch a pretty penny when it hits the auction block.
[via Silodrome]