Corvette Z06 Configurator Lets You Make Your Dream Car, Even If You Can't Buy One
2023 | chevrolet | chevrolet corvette z06 | chevy | configurators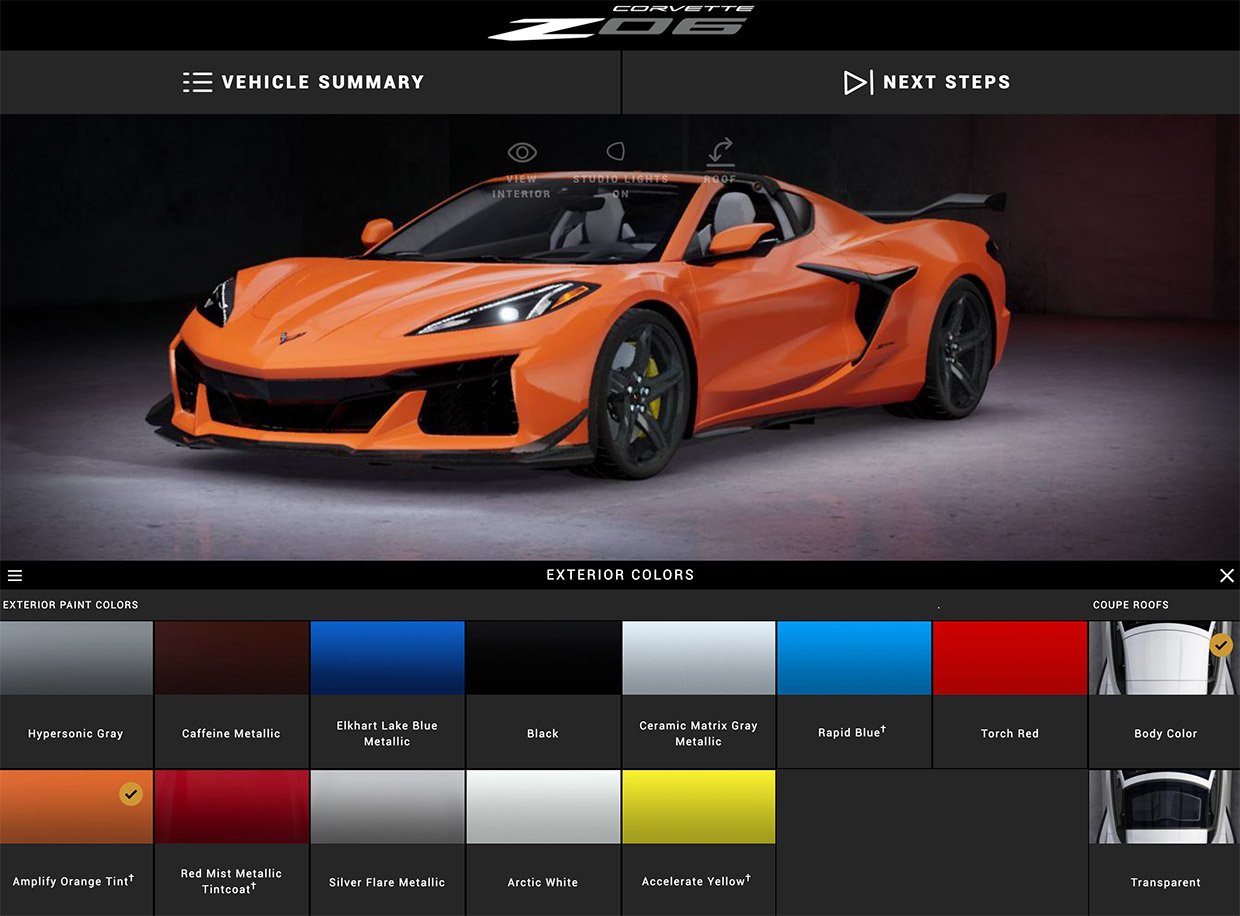 With Chevy showing off its 670 horsepower Corvette Z06 this week, demand has been incredibly strong, with at least one dealer reporting over 1000 people on their waitlist. So chances are that even if you have the money to buy one, you won't be able to get behind the wheel for until sometime in 2023. But we can dream, can't we? And for us dreamers, Chevrolet has unveiled a Z06 configurator that lets you play around and imagine what your Z06 could look like.
The online tool lets you view a 3D rendering of a standard Z06, and then customize it with your choice of body style, paint color, and other options to equip it to just your specifications. There are lots of vibrant colors to choose from, with my favorites being the Amplify Orange Tint and Rapid Blue shown here. There are also six varieties of wheel, including ultra-lightweight carbon fiber rims in either black or visible weave – the latter being my choice. Toss in the Z07 Performance Package to add a carbon fiber rear spoiler, carbon-ceramic brakes, and carbon fiber ground effects. And I really dig that Sky Cool Grey interior. Money is no object here, so why not add on some carbon fiber mirror caps, a carbon-fiber engine cover, and an engine appearance and lighting package to show off that 5.5-liter naturally-aspirated V8 powerhouse.
The configurator doesn't provide pricing information for the car or its options, and the images are very grainy and low resolution when moving around the car – though if you stop moving your mouse around, they eventually sharpen up a bit. Regardless, this is the closest I'll get to having my own Z06, so who am I to complain?