Rare Cizeta-Moroder V16T Supercar Could Be Yours
1988 | auctions | Cizeta-Moroder V16T | rm sotheby's
The 1980s gave us some extraordinarily sleek and expensive supercars. One such car that most people probably never heard of is the 1988 Cizeta-Moroder V16T. The vehicle was the brainchild of former Lamborghini test driver and development engineer Claudio Zampolli.
This particular example, chassis number 001, is going up for auction. The car is the prototype and show car that was on display at the 1989 LA and Geneva Motor shows. It received a complete mechanical restoration in 2018. The vehicle is fully functional but sports differences from the production models. One of the key differences is that the production vehicle lacked the Moroder name after investor and music producer Giorgio Moroder dropped out of the project before production began. A total of 10 cars were built, including nine production examples and this prototype.
With its quad pop-up headlights and sharp, wedge-shaped design, the Cizeta looks like a combination of a Lamborghini Diablo and Ferrari Testarossa. Its bodywork was designed by Marcelo Gandini, the man who designed the Lamborghini Countach and Miura, and the Lancia Stratos, some of the most beautiful and iconic supercars ever produced.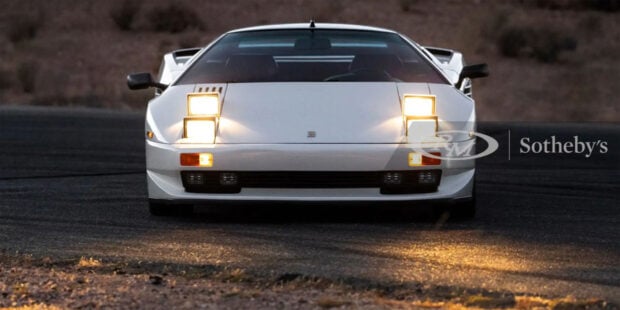 It's powered by a transverse-mounted 6.0-liter 16-cylinder engine with a 5-speed manual gearbox, and its interior is done up in bright red leather with black accents well-suited to a supercar from its era.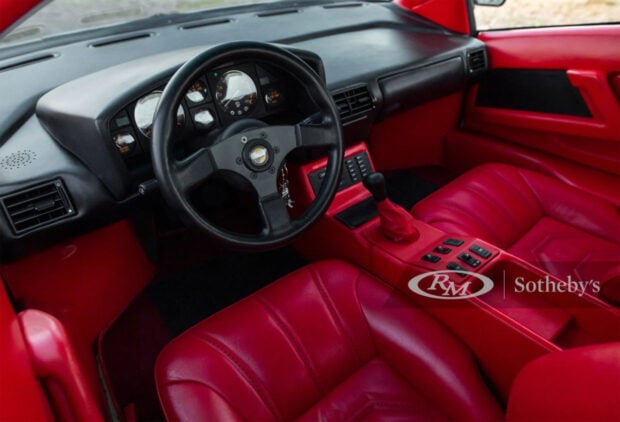 The Cizeta-Moroder V16T will hit the block at RM Sotheby's auction in Phoenix, Arizona, on January 27, 2022.