The Ram 1500 Revolution BEV Concept Teases 2024 Electric Pickup Truck
2024 | ces 2023 | ram | ram 1500 revolution concept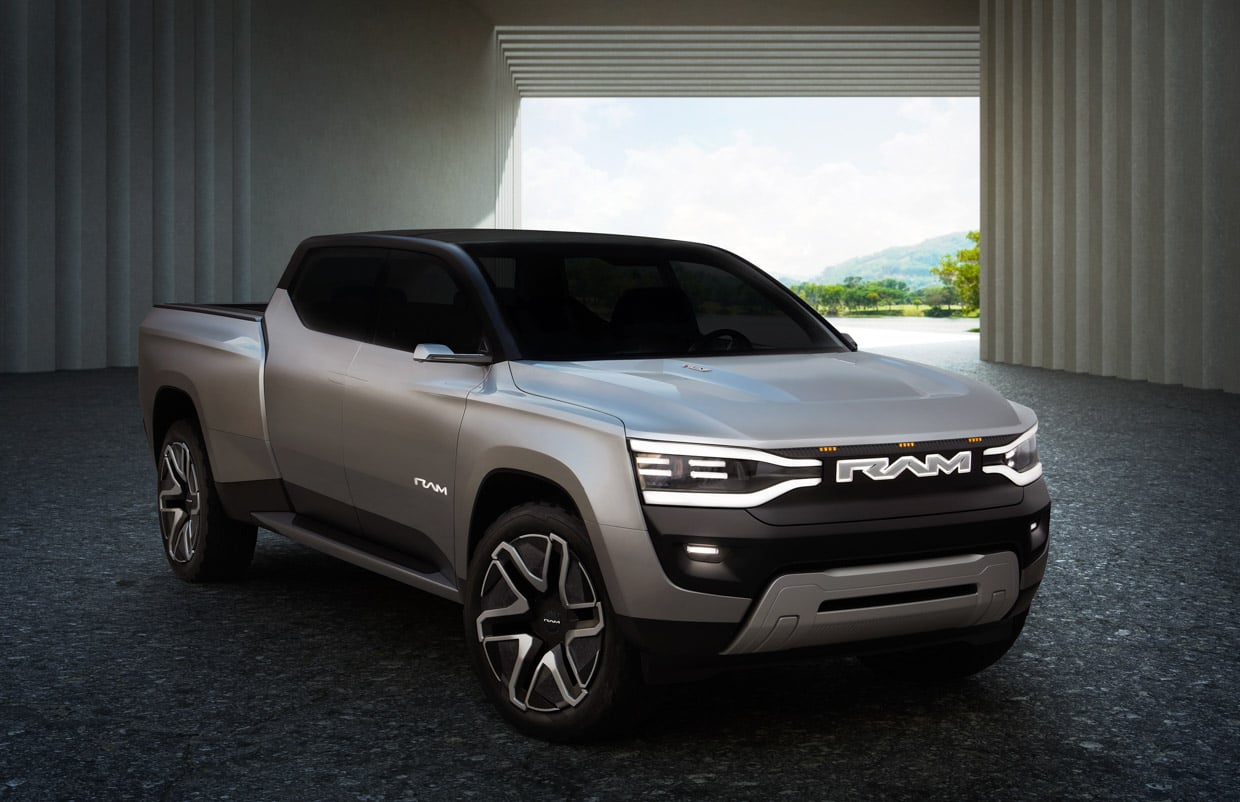 With battery-electric pickup trucks already announced or production from Ford, GMC, Chevrolet, Rivian, Tesla, and others, it's finally time for Ram to get into the EV game. During the 2023 Consumer Electronics Show, Stellantis' truck maker revealed the Ram 1500 Revolution BEV Concept. While the truck has many of the trademark features of concept vehicles (giant wheels, suicide doors, open cabins), Ram says that a production version will be revealed in just a few months, targeting production for the 2024 model year.
Rolling on enormous 24″ wheels and built on a new body-on-frame architecture, the Revolution has an elongated wheelbase to accommodate the truck's massive battery pack. Compared to the 2023 Ram 1500, you'll find four extra inches between the front and rear wheels. The sleek and futuristic looks of the Ram 1500 Revolution BEV Concept remind me of some of the recent designs coming out of Kia, and I can get behind that. However, the high beltline on the truck's sides takes a little getting used to.
While Ram isn't being specific with the battery or motor specs for the Revolution, they say it has front and rear motors and runs on an 800-volt DC architecture that can support 350kW fast charging. If you can find one of those super-speedy chargers, it'll add 100 miles of range in as little as 10 minutes. Ram also stole a page from GMC's Hummer EV book by including four-wheel steering, which can move the truck's rear wheels up to 15 degrees for maneuvering in tight places. We're assuming that GMC already trademarked "Crab Walk Mode," so Stellantis will have to come up with their own Ram-oriented moniker for the feature.
Like other recent Ram 1500 trucks, the Revolution features a convenient split rear tailgate, improving load floor access. But something unique among Rams is the storage under the hood, which has a power open-and-close feature. Aerodynamics are key in maximizing driving range, so the concept truck also has full underbody aero panels and a powered rear step with an active diffuser.
Like many concept vehicles, the Revolution's designers have attempted to downplay the side mirrors. In this case, they went with disproportionately small mirror pods, which house cameras and relay that information to a screen inside the cabin.
The concept truck has no "B" pillar, and its second-row doors open backward, giving the truck a wide-open look from the side. An integrated floor rail system provides flexibility for seating and interior cargo-carrying configuration. Those rails are also found in the bed and the frunk for attaching tie-downs and other storage accessories. It's hard to see in the photo, but there's also a third row with folding jump seats and a powered mid-gate that allows long objects to pass through to the bed.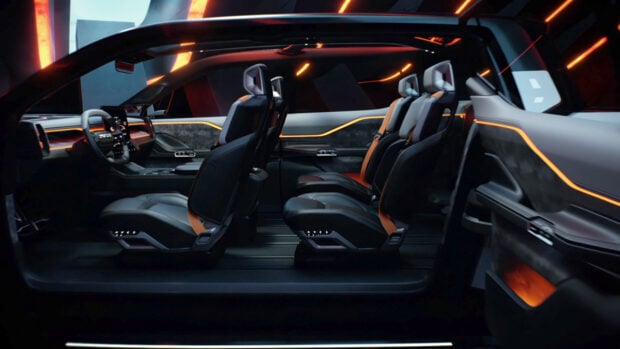 A pair of stacked touchscreens in the center of the dashboard provides access to various vehicle controls and the ability to slide the lower display on a track or detach and use it in different areas of the vehicle. Note the lack of tactile buttons and dials on the center stack, something I'm not a big fan of for frequently-used features.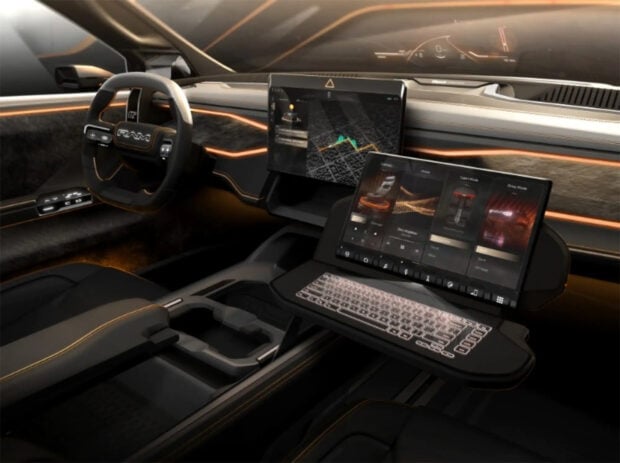 The design of the Ram 1500 Revolution BEV Concept is undoubtedly intriguing and appealing in many ways. But it's too soon to tell which features will make it into a production version and which are just to get people talking. I'm betting the "B" pillar will make a comeback, as will ordinary truck mirrors and at least a few more switches on the dash. We won't have to wait too long to find out, with Ram saying the production model of the Ram 1500 BEV will be introduced in "the coming months."