2024 Mazda CX-90 Brings Style, Luxury, and Horsepower
2024 | mazda | mazda cx-90 | February 1, 2023
Mazda's new full-size SUV takes aim at competitors like the Toyota Highlander and Honda Pilot while also making a statement towards more luxurious and powerful rides like the BMW X7 and Audi Q7. With the 2024 CX-90, Mazda hasn't strayed far from its effective and cohesive Kodo design language, which is a good thing. Too often, automakers think they need to completely reinvent their styling to be relevant and instead end up with monstrosities like BMW's hideous beaver-teeth grille.
Beyond its refined and dynamic exterior, what really sets the CX-90 apart from its Japanese competition is its available 3.3-liter inline-6 turbocharged engine, which cranks out an impressive 340 horsepower and 369 lb-ft. of torque.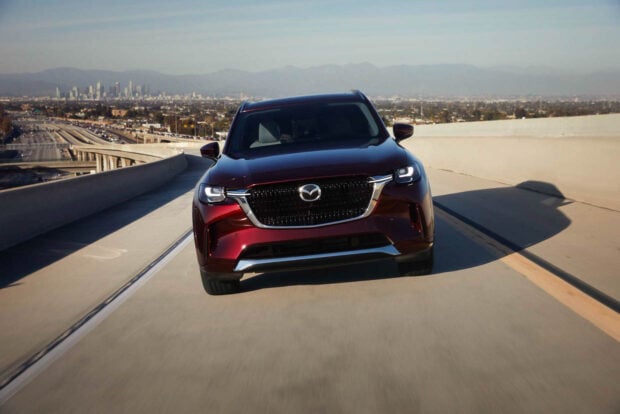 That brand-new engine has a mild hybrid system which helps provide additional low-end torque for smooth and quick acceleration. The CX-90's 8-speed automatic transmission is also new to Mazda. I'm excited to see they went with a rear-wheel-biased all-wheel-drive system, which will almost certainly provide a sportier feel than its closest competitors. This implementation of the iActive AWD system can send nearly 100% of power to the rear wheels, and in normal driving conditions, it sends 80% to the back. The Mazda has always been good at creating vehicles that are engaging and fun to drive, and this powertrain decision tells me that they're still aiming to deliver that with the CX-90, despite its ability to seat up to eight people.
Inside, the CX-90 has a clean and refined look with a sleek, linear dashboard design and the availability of premium materials like Nappa leather and real wood trim in the high-end Signature trim. There's a 12.3″ digital instrument panel and a dash-mounted ultrawide 12.3″ display for infotainment and vehicle controls. Mazda has yet to say what, if any, upgrades there are from their current infotainment systems.
Mazda will also make a plug-in hybrid (PHEV) version of the CX-90, which will integrate a 2.5-liter 4-cylinder engine with an electric motor and 17.8 kWh battery. This setup offers the same amount of torque as the inline-6 turbo but a slightly lower 323 horses. A significant advantage of the PHEV is the ability to drive short distances without using gasoline at all. Mazda hasn't revealed the driving range in electric mode, but the word on the street is that it's around 30 miles – enough to run local errands or maybe drive to work, but not enough for a road trip.
There's no word yet on pricing, fuel economy, or when the CX-90 will hit dealerships, but I'd expect we'll hear more from Mazda in the coming weeks and months. I'm looking forward to getting behind the wheel of one sometime later in the year.