2025 Ram 1500 REV Brings Electric Power and a Very Ram Design
2025 | ram | RAM 1500 REV | February 16, 2023
After teasing us with their Revolution BEV Concept, Ram is showing off a slightly more toned-down production version of its new battery-electric pickup truck. Slated for a late 2024 release, the Ram 1500 REV is the truck company's first foray into fully-electric vehicles. While it's certainly not as futuristic or stylized as the concept, the 1500 REV is as handsome and practical as other current RAM 1500 trucks. This electric model rides on a new platform called the STLA Frame, which will likely find its way into other Stellantis EVs in the near future – I'm guessing we'll see vehicles from Jeep and possibly Dodge taking advantage of it soon.
One big thing we don't know yet is how powerful the Ram 1500 REV will be or its driving range. I've heard range numbers as high as 500 miles, which I imagine would require a stripped-down truck with a very big battery pack – or, more likely, with the reported gas range extender option. What we do know is that it will run on an 800-volt architecture that supports quick charging up to 350kW. As for horsepower, if Ram expects to compete with the most powerful Ford Lightning, they'll need to beat 580 horses. All-wheel drive will be available with dual electric motors, and word has it that the dual-motor version will support four-wheel steering like the Hummer EV uses to improve its turning radius.
Like most other electric vehicles, there's no need for an engine compartment up front, so that space has been replaced with a sizeable "frunk" that can be used for dry, secure storage of everyday items. The compartment has tie-downs and a pocket with a mesh barrier to keep smaller items from sliding around.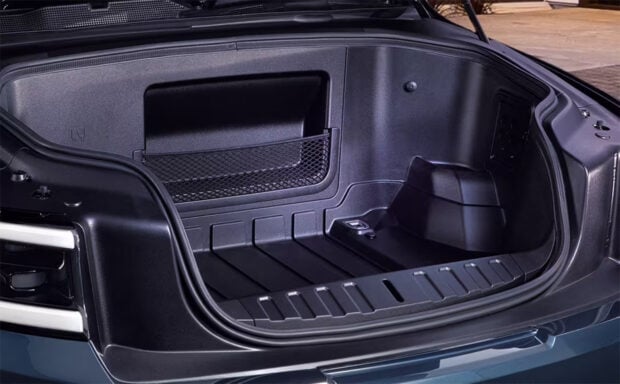 Like other Ram 1500 trucks, the REV will be available with Ram Box storage on the sides of its bed and a split multifunction tailgate option. Ram also says it will offer the ability to power your home with the REV in case of a power outage, a nifty feature that Ford offers on its F-150 Lightning and F-150 Hybrid.
With a release slated for late 2024, the first Ram 1500 REV will almost certainly get a 2025 model year designation. Expect more details in the coming months on the truck's specifications, capabilities, trim levels, and pricing. I'll keep my eyes peeled for more details and post an update when we have more information.