2023 Lexus RX 350 F SPORT Review: A Fine Ride, Refined
2023 | lexus | lexus rx | April 16, 2023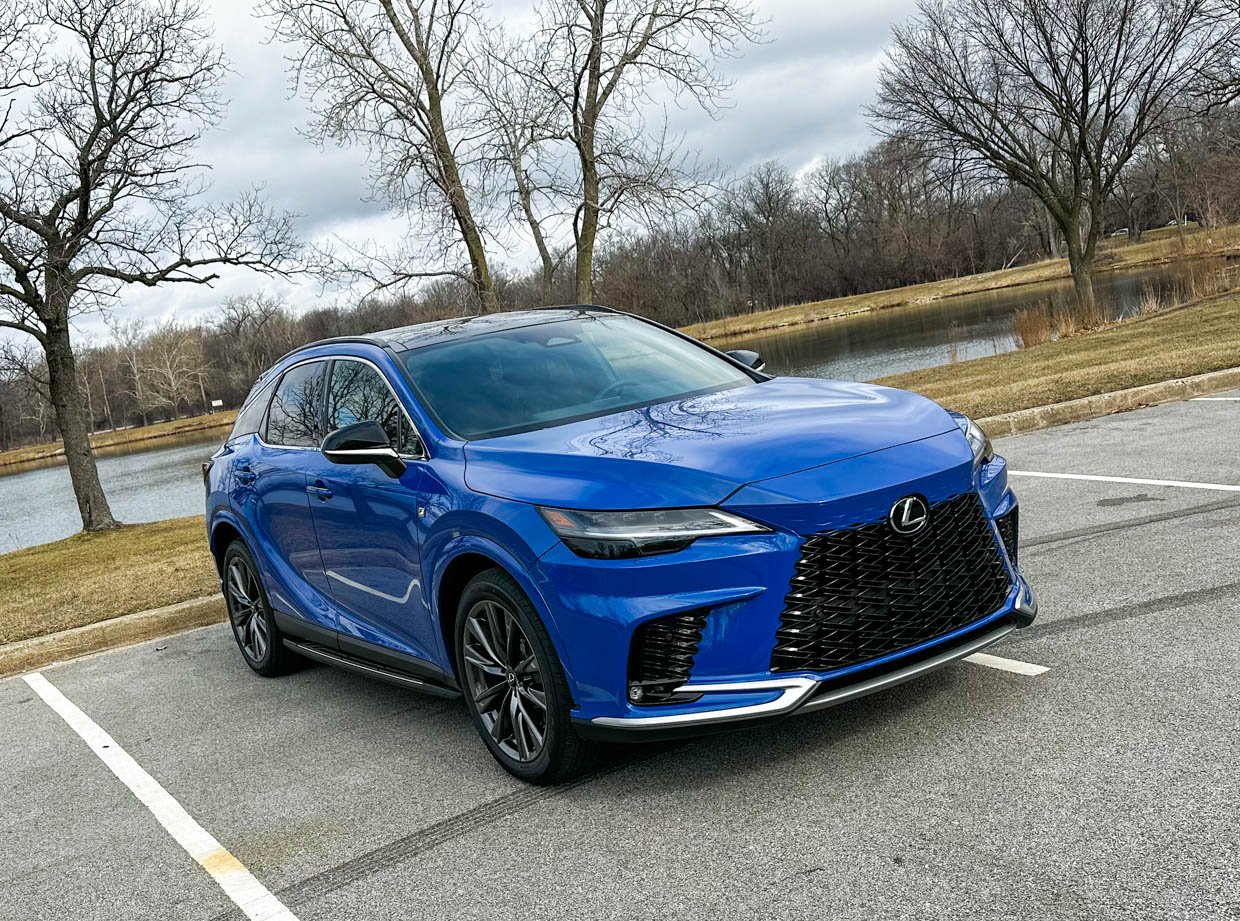 The Lexus RX has been the luxury automaker's best-selling vehicle in the U.S. for two decades. So it behooves them to maintain what buyers expect whenever it's time for a model redesign or refresh. At the same time, attracting new buyers with new styling, new features, and modern upgrades is important. Now that I've spent a few days driving the 2023 RX 350, Lexus seems to have achieved most of those goals. The new RX has a more dynamic look than the previous model, with a lower roofline and a dramatically redesigned front end that will divide opinions.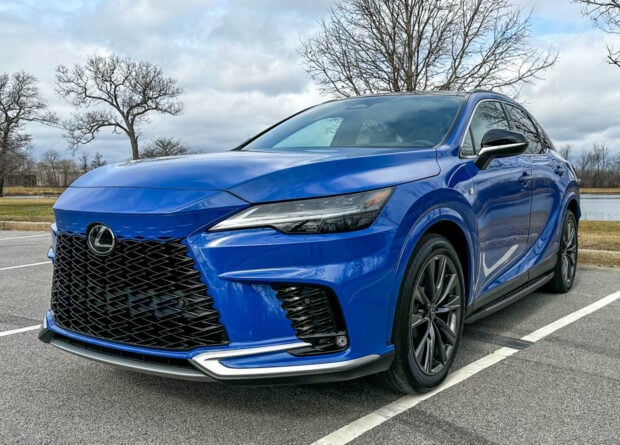 Lexus has struggled to find the right point to stop messing with its trademark spindle grille design. This time, I think they took things too far by shifting the notch on the spindle too high, resulting in an awkward snout that looks like someone took the front end of a sports car and stretched the bottom half of it downward in Photoshop. It's certainly distinctive, and I do like how they use the grid to create the illusion of a gradient from body color to the black of the grille. I just wish they had made it less bottom-heavy. The new RX brings back the swoopy floating roof design, and its side view is more smoothly sculpted and refined than the prior design. The F-Sport model rolls on 21″ alloy rims with a black chrome finish that's very sporty.
Under the hood, a 2.4-liter turbocharged 4-cylinder engine produces 275 horsepower and 317 lb-ft. of torque. That's a slight decrease in horsepower but a sizable bump in torque over the prior V6 engine. Lexus also shaved about 200 pounds from the RX 350's weight this year, so it feels quicker overall, and fuel economy improved slightly to 21 mpg in the city, 28 mpg on the highway, and 24 mpg combined. The 8-speed automatic transmission does a good job finding the right gear, and turbo lag is minimal. The F SPORT Handling trim gets an adaptive variable suspension that dynamically adjusts ride stiffness based on drive mode and other inputs. This suspension provides a better road feel than the standard setup, resulting in sportier overall handling. The electric power steering system is nicely balanced and provides good feedback without being tiring on long drives.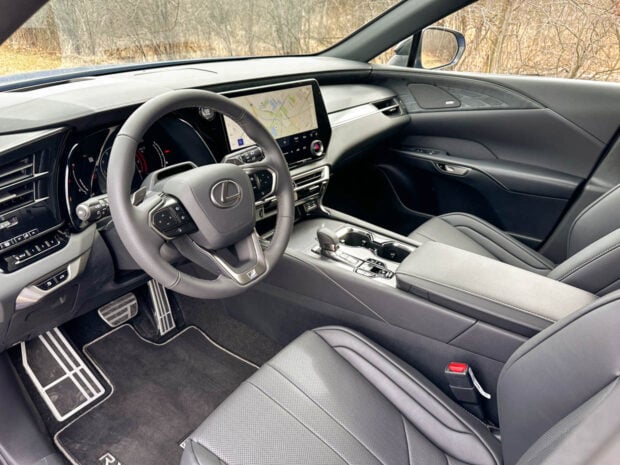 As you'd expect from a Lexus, the interior is tranquil and free from road noise and vibrations. It's got a cleaner and more cohesive design than the 2022 RX, with the most notable change being the available 14″ touchscreen in the center stack. It's nicely integrated into the dash this time and runs the vastly improved Lexus Multimedia system, which Toyota and Lexus proudly developed in-house to replace its aging infotainment system. Lexus has finally said goodbye to its miserable old trackpad input controller and gone all-in on touchscreen displays. Yay! That large touchscreen came bundled in a package with an excellent-sounding 21-speaker Mark Levinson audio system.
The F SPORT sport seating is fully wrapped in a convincing faux leather called Nuluxe and offers exceptional support. It looks very sporty, though I found the side bolstering to be tight for my wide frame. If this were a sports car, I'd understand the desire for narrow bolstering, but for a sport-trim SUV, something a little wider would be more comfortable for daily driving. They have both heat and cooling, making for happy backs and backsides.
There's lots of great technology on display here, with Lexus packing in version 3.0 of their Safety System+, which includes features like lane tracing assist, dynamic radar cruise control, road sign assist, intelligent high beams, and more. The traffic jam assist feature is a godsend for city dwellers stuck in highway traffic. It automatically maintains the pace at speeds below 25 mph and keeps you centered in the lane. It even lets you go hands-free as long as you're paying attention. A camera and sensors atop the steering yoke keep you honest and will shut off the system if your eyes drift or it has trouble detecting lane markers. Overall, the feature helps decrease stress and fatigue in stop-and-go traffic. I'm also a fan of the digital rearview mirror, which provides a crisp image and wider field of view than a conventional mirror. One downside is that there is a bit of lens flare when using the digital mirror at night.
The rear seat of the RX 350 is comfortable and offers good legroom and headroom, and the seating provides ample cushioning. There are independent climate controls back here, along with USB-C charging ports. The optional panoramic moonroof is a worthwhile investment for bringing added light into the whole cabin.
If you're driving an SUV, you're probably interested in cargo-hauling capabilities. With the second-row seats in use, you're looking at 29.6 cubic feet of space in the back. That's a better figure than many mid-size SUVs, but with the seats down, you only get 46.2 cubic feet, which is less than average. One advantage over other SUVs is that the back seats fold in a 40-20-40 configuration, so you can still carry long items like lumber or skis while only losing the middle seat.
Lexus has done a good job preserving what has made the RX successful while upgrading to a modern and fuel-efficient drivetrain, reducing weight, improving its driving dynamics, and modernizing its technology. If you're an RX fan, you'll love the new RX. The jury is still out on whether there's enough new to attract buyers from other brands. The 2023 Lexus RX 350 F Sport Handling starts at $57,750, including an $1150 delivery, processing, and handling fee. Our well-equipped test vehicle had a sticker price of $64,395.