2025 Volkswagen ID.Buzz 3-Row EV Makes Minivans Cool Again in America
2025 | volkswagen | volkswagen id.buzz | VW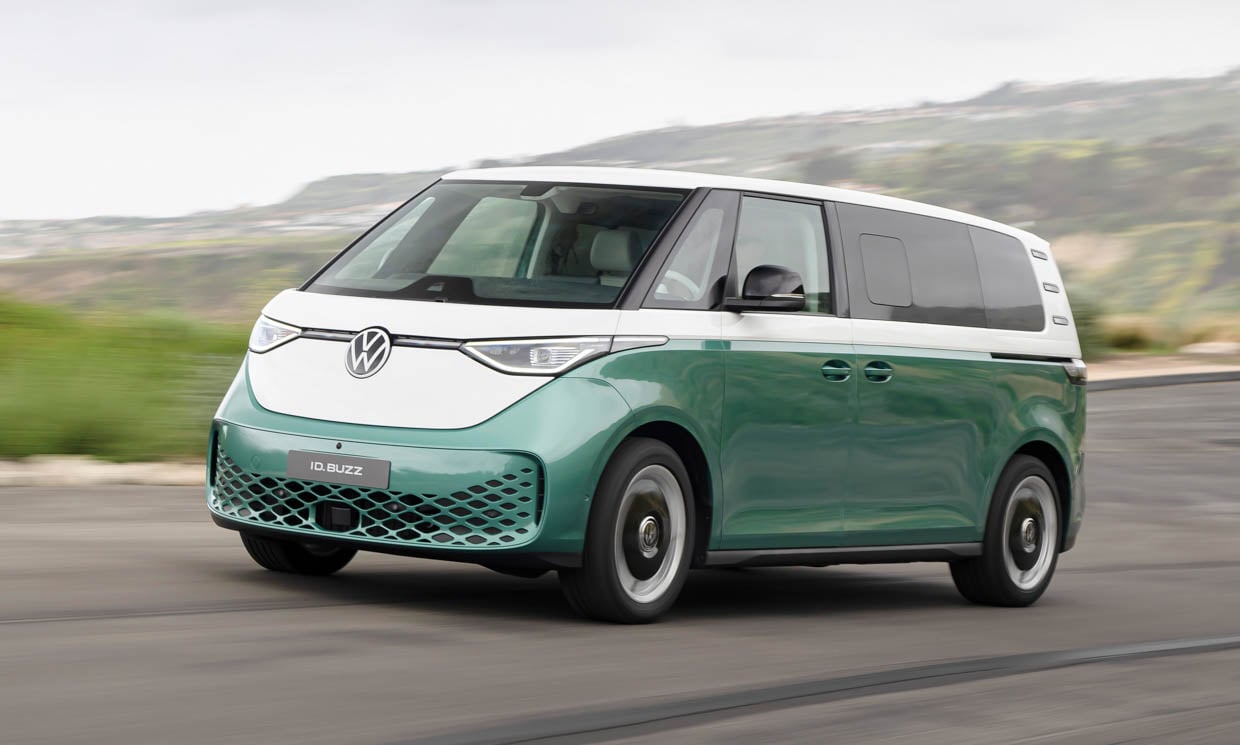 The Volkswagen Type 2 microbus (aka Kombi, aka Samba) is one of the most iconic vehicles ever made. Not long ago, the German automaker showed off the ID.Buzz – a modern, electric version of the van that's available in Europe. Now, those of use in the U.S. and Canada will be getting a long-wheelbase version of the ID.Buzz that can transport up to seven passengers. It looks great with its boxy, upright styling and throwback nods to the original.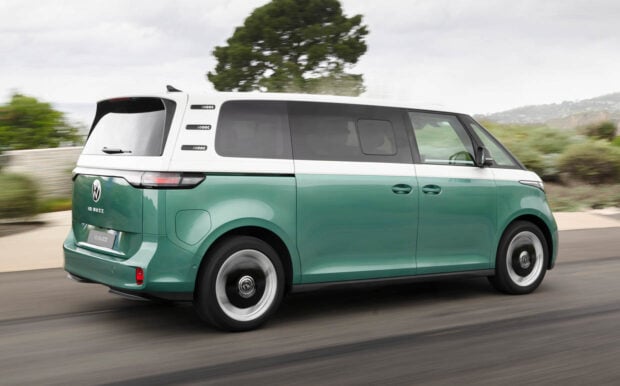 Available in playful two-tone color schemes, the 3-row ID.Buzz has an 85 kWh battery pack and will come in a rear-wheel drive version that makes 286 horsepower and 406 lb-ft. of torque and an all-wheel drive GTX model with 339 horsepower. VW is mum on torque ratings for the dual-motor model. There's no word on the driving range yet, but it'll likely be somewhere between 250 and 300 miles to remain competitive.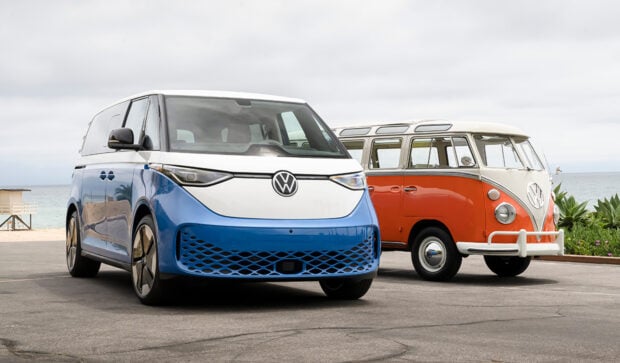 It's quite a bit longer than the classic Type 2 bus, measuring 195″ long versus the original's 174″ length. And at 75″ high, it's more than 6″ taller. VW will offer the electric minivan in both 6-seat and 7-seat configurations, both with a small amount of storage space behind the back seat. All models will come with power sliding doors on both sides of the cabin.
The interior of the ID.Buzz 3-row has an appealingly light and airy design, highlighted in part thanks to a large panoramic moonroof over the first two rows of the cabin. That moonroof is offered with an electro-chromatic layer that allows its tint to be darkened with the push of a button. It may not look as cool as the 21-window VW Bus, but it lets more light in.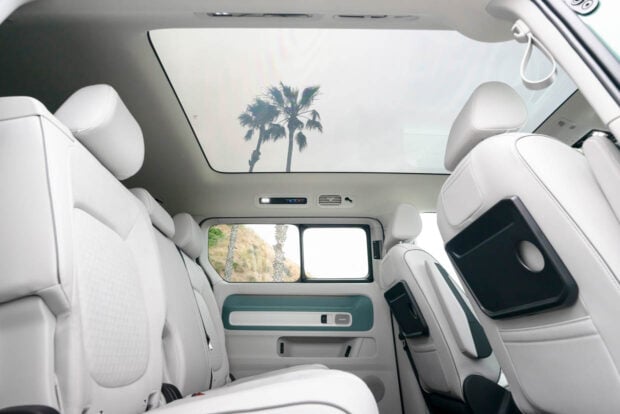 Up front, there's a small digital instrument panel that floats off the steering column and a 12.9-inch touchscreen to control the multimedia system. There's lots of space between the front seats, thanks to the lack of a transmission tunnel, and the dashboard has a large built-in storage tray for the passenger side. The standard leatherette seats come with both heat and ventilation too.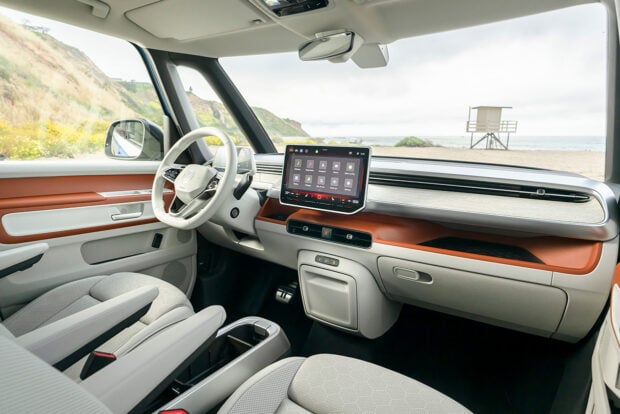 Tech features include standard wireless charging, eight USB-C charging ports, a 110-volt outlet, and a 12-volt outlet in the cargo area. VW will also offer a head-up display, adaptive cruise control, and park assist features. The front seats also have flip-down tray tables, much like the ones you'd find on an airplane. Each one has a drink holder as well.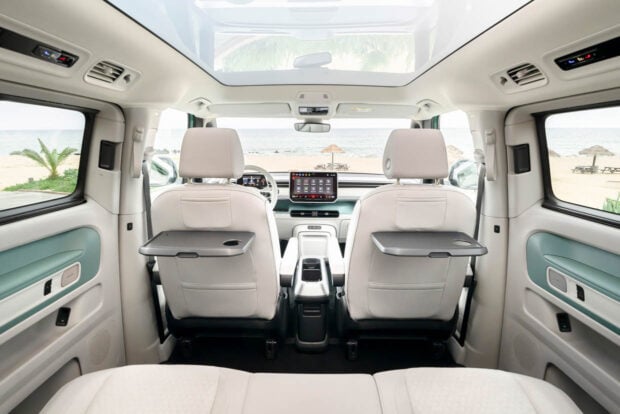 Word on the street is that the third row is actually quite roomy, thanks to the high ceiling and good legroom between those seats and the sliding second row.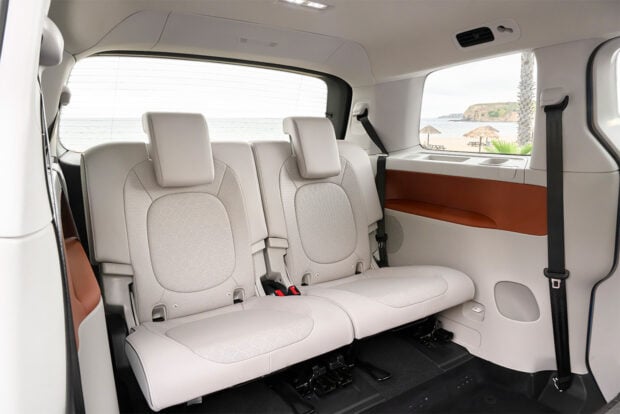 Volkswagen has yet to announce pricing or a release date for the 2025 ID.Buzz 3-row. However, they've indicated it will arrive at dealerships in the third quarter of 2024. You can register your interest in one of these modern microbuses on the VW website, where you can also grab some cool ID.Buzz wallpapers for your computer.