1969 Lamborghini Miura S 'Jota' up for Auction
May 6, 2014
---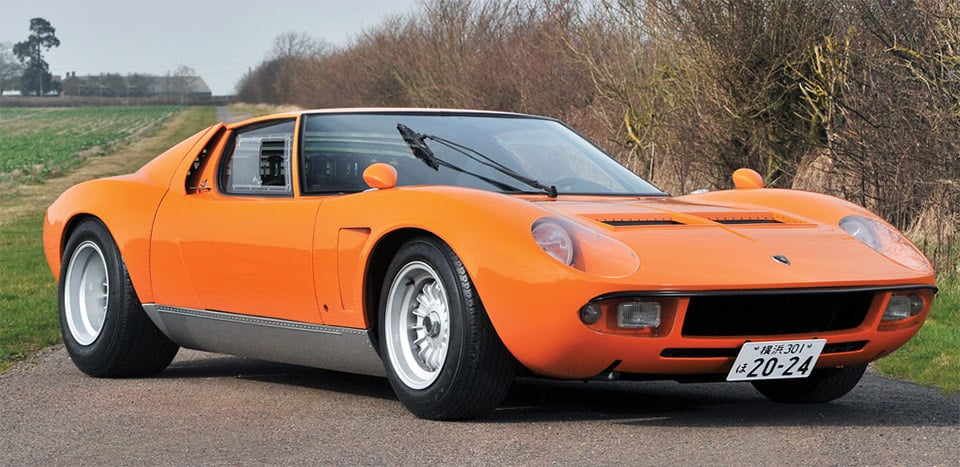 The Lamborghini Miura is arguably one of the most beautiful and iconic supercars ever designed. They're exceptionally rare and prized by collectors, thanks to their amazing styling and designation as "the world's first supercar."
This particular specimen is painted in an eye-catching and fiery orange, with grey and black trim. It's been fitted with an original 4-liter DOHC V-12 Miura SV engine, which pushes out an ample 390 horsepower. While the original Miura was built primarily for street use, one Lamborghini test driver thought more of it, and stripped down the vehicle to reduce weight for the track. Driver Bob Wallace also had the fuel tanks and spare tires moved to improve weight distribution. The track-built Miura also incorporated the rigid chassis from the 1971 SV, and a wider rear track and improved suspension.
Unfortunately, the so-called "Jota" spec car was destroyed in a wreck in 1972, so the car that's up for auction was built out by Lamborghini experts to match these specs as a tribute to the original.
The car is going up for auction this Saturday, May 10 during RM Auctions' Monaco sale, and is expected to fetch between €450.000 to €550.000 (~$625,000 to $763,000 USD).