Australian Team Breaks Solar Car Speed Record
solar | world record | July 26, 2014
Sunswift took on the challenge of setting the record for the fastest electric vehicle over a distance of 500 kilometers. The team of students from the University of New South Wales in Australia is Australia's premier solar car team, having competed in the biennial World Solar Challenge for many years.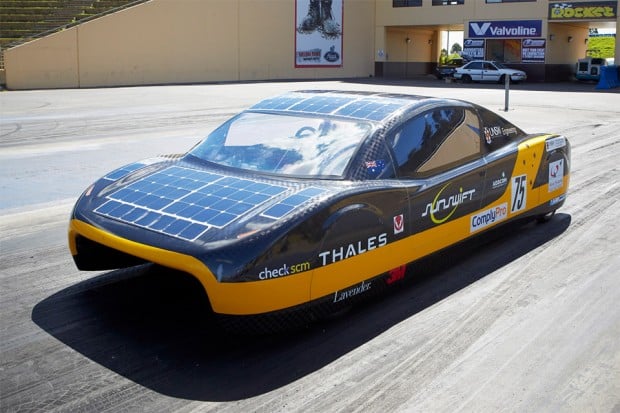 The team already holds several world records and this year they set out to establish a new record for the fastest time by a solar-powered car over a 500 kilometer (~310 mile) distance. The previous record was set more than 26 years ago with an average speed of 45 mph. The Sunswift team recorded a record speed of over 62 miles per hour in their record-breaking run.
The record drive was done in the Sunswift eVe, a carbon fiber vehicle weighing just 660 pounds and which is powered solely by solar panels laid out on the roof and hood used to charge a 130 pound battery. The solar cells can delivery up to 800 watts of power under sunny skies, but they were switched off for this run and the eVe relied only on its batteries.
All that remains is confirmation by the governing board to confirm the team's record.