Review: 2015 Ford Mustang EcoBoost Premium Fastback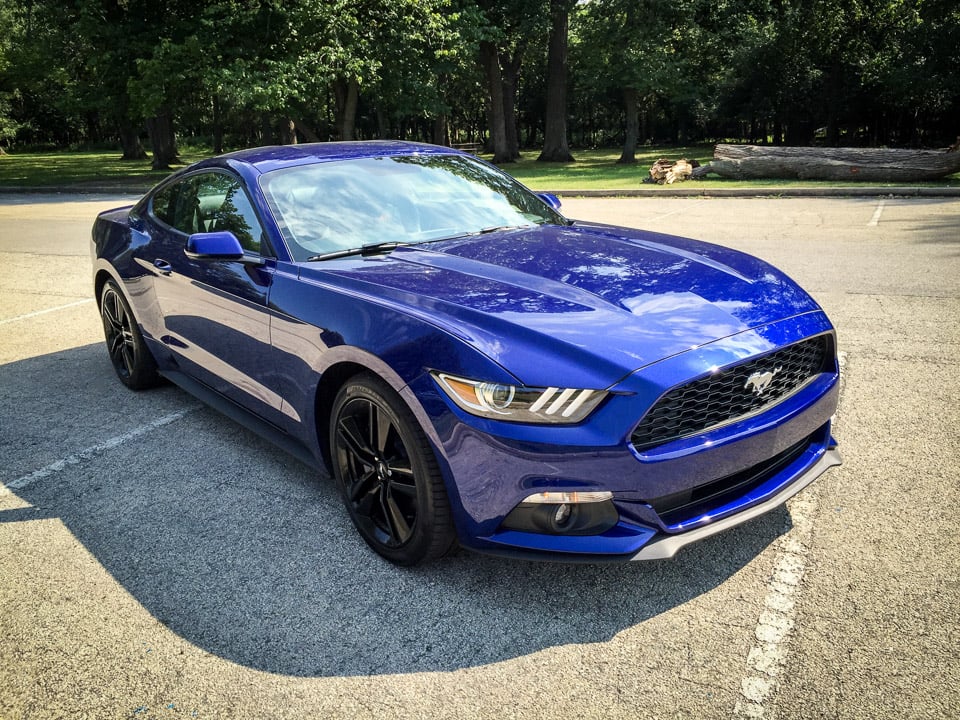 2015 Ford Mustang EcoBoost Premium Fastback

Engine: 2.3-liter turbocharged 4-cylinder
Horsepower: 310
Torque (lb-ft.): 320
Transmission: 6-speed manual (6-speed automatic available)
Drive Configuration: RWD
0-to-60 Time (secs): ~5.3
Top Speed (mph): 149
City/Hwy/Combined MPG: 22/31/26
Curb Weight (lb): 3532
Wheelbase (in): 107.1
Total Length (in): 188.3
Width (in): 75.4 (w/o mirrors) / 81.9 (w/mirrors)
Base Price (USD): $29,300
Price as Tested (USD): $38,585
When Ford first announced that it was redesigning the Mustang for 2015, it dropped the bomb that it would be the first version of the pony car to offer a 4-cylinder engine option in decades. But unlike the underpowered engines of days gone by, the 2.3-liter EcoBoost-4 under the hood of the latest generation Mustang is a powerhouse. Sure, it's not a 5.0, but the fact is that this turbo four is actually more powerful than the V8s that came with the Mustang until 2010.
We've all been looking at beauty shots of the 2015 Mustang for over a year now, and I've had a couple of brief drives in the car, but this is the first extended period of time I've spent with one. Having been a big fan of the retro-styled 5th-gen Mustang, I was concerned that it would take me some time to get used to the modern looks of the 6th-gen. Well, it took me all of an afternoon before I realized just how much better I like the latest design.
Like all proper Mustangs, the 2015 is pure muscle, with a low, wide and powerful stance. It not only looks more aerodynamic than its predecessor, drag has been dramatically improved, which only stands to reason as the new Mustang underwent significantly more aerodynamic testing this time around. From the front splitter to the rear diffuser, every bit of trim on the car serves both aesthetics and function. The front end incorporates the geometry of Ford's latest trademark grille, but with a black honeycomb pattern with active grille shutters. These provide cooling as needed, and reduce drag when closed. Flanking the grille are sculpted, modern HID headlamps. The tri-bar detail on the daytime running lights is also found on the iconic LED taillights, which preserve the past model's cool sequential turn signal design.
Adding to both the visual appeal and sportiness of my review vehicle were a set of 19″ ebony aluminum rims, wrapped in sticky Pirelli P-Zero summer tires.
I actually owned a 2011 Mustang, and it was immediately apparent that the latest model handles much better. For starters, the move to an independent rear suspension from a solid axle all but eliminated the tail-happiness and loss of grip in corners that was a fairly common occurrence in past Mustangs.
Then there's the engine. Ford did a brilliant job taking a small 2.3-liter 4-cylinder power plant, and souping it up with turbocharging and intercooling to push out 310 horses and 320 lb-ft. of torque. Keep in mind that you'll need to use premium fuel to get the most out of this engine. Startup is quick, with not the slightest bit of turbo lag in sight. In fact, this little EcoBoost can launch the 3500+ lb. Mustang from a standstill to 60 mph in just north of 5 seconds. The 6-speed manual offers confident shifting with a comfortable and reassuring clutch feel, and a nearly effortless shift lever. The EcoBoost model weighs nearly 200 pounds less than the V8 model, and can get up to 31 mpg on the highway – assuming you're shifting economically.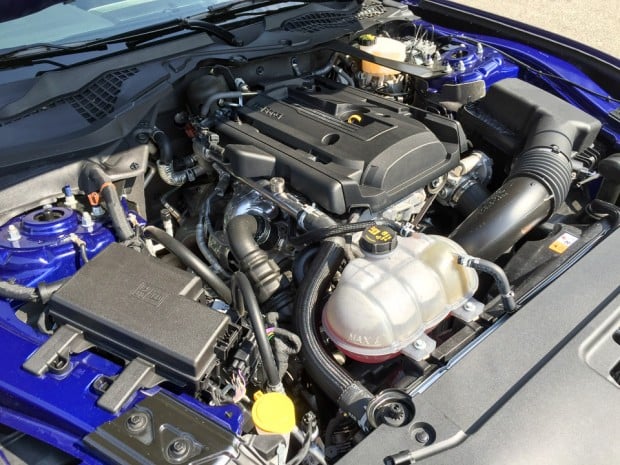 The electric power steering system offers normal, sport and comfort modes. Like most things, I preferred the added weight and of the sport mode, though to be honest, I didn't feel a dramatic difference between the modes. Overall steering feel across all modes is well connected and precise, without ever feeling too light or too heavy. With big 19″ wheels and a sport suspension, the ride is firm but not harsh, and cabin noise is very well controlled.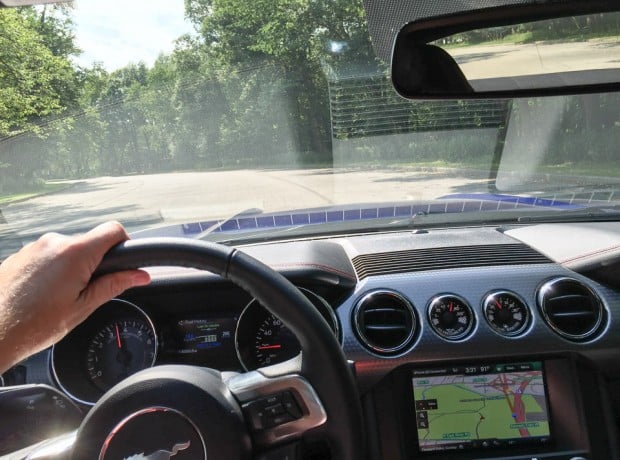 The only noise you'll hear inside is the aircraft-inspired vroom of the exhaust note. Much ado has been made of the electronic wizardry that Ford did to augment the exhaust note of the EcoBoost engine, but the sound is really quite satisfying, and doesn't sound artificial or out of place at all. Just don't think about it, and enjoy the car, I say. If amplifying the exhaust note is good enough for BMW's latest turbos, it's good enough for me.
Ford carried across its aeronautical theme to the interior of the Mustang, with a true cockpit feel about everything. Round gauges for tachometer, speedometer, oil pressure and turbo boost are flanked by round air vents, and the center console packs a set of shiny chrome toggle switches for controlling drive and steering modes, among other things.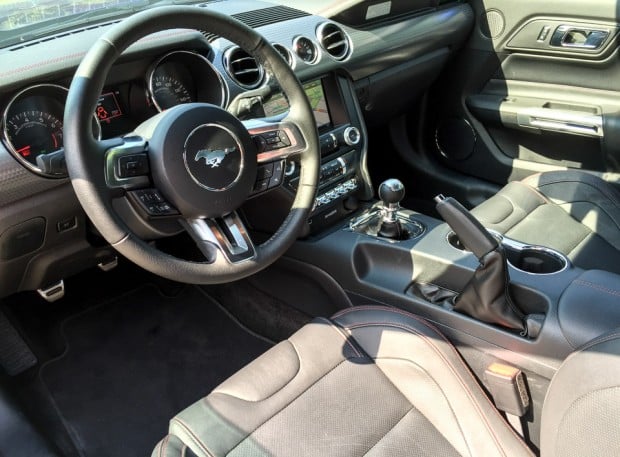 While the dashboard and center stack design is a little bit busy, there's a great contrast between dark surfaces and shiny bits, and I especially like the diamond plate-esque finish around the air vents and above the glove box. The dash is finished with a well defined brow with accent stitching, which gives it a very premium look. There's a great attention to detail – even small things like placing the cup holders at an offset so you don't bump your elbow into them when shifting.
Drivers will definitely want to consider the upgraded Recaro leather sport seats, which add $1595 to the sticker, but provide excellent support and side bolstering so you don't go sliding out of your seat taking corners at speed. The only downside to them is that they only offer manual adjustment.
I'd be remiss not to remind you that the Mustang is a proper 2+2, so it does have a small back seat, but it's best left to kids, golf clubs or the family dog. Trunk space is better than you'd think, and you'll have no problem packing for a weekend trip for two, as is often a problem with sports cars.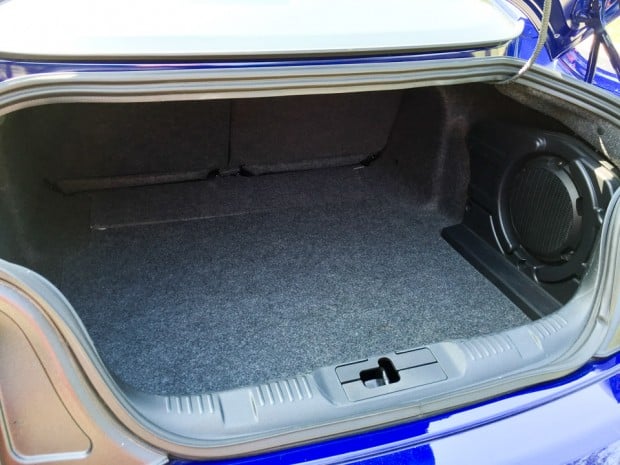 High tech bells and whistles abound in the Mustang, including a 7″ touchscreen infotainment system with Ford Sync (2016 models get Sync 3), a rearview camera, as well as upgrades including navigation, reverse parking assist, blind-spot monitors, adaptive cruise control, and front-collision warning, which flashes a bright LED light and sounds an alert if you're following too closely to stop at a safe distance. One of my favorite carry-over features from the 5th-gen model is the ambient LED lighting system, which can illuminate both the cabin and the gauges in a color of your choice.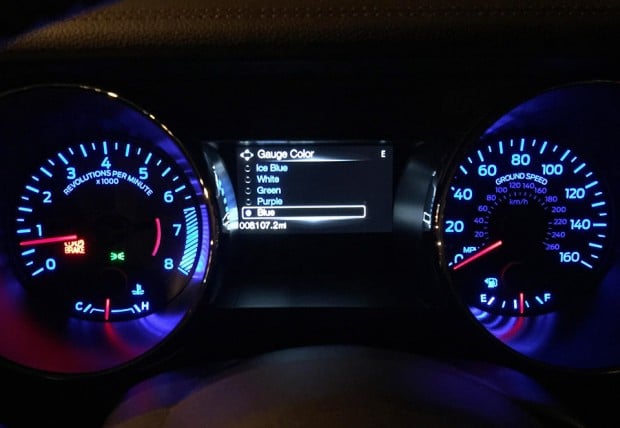 Ford has done a great job with the new Mustang. Not only does it preserve the elements that make a great muscle car, but they've added a level of refinement and modern tech to the vehicle that help take it to a new level. While sports car purists will want to spend a little extra and go for the 5.0-liter V8 model, the 2.3-liter EcoBoost engine is shockingly good, and should be more than sufficient unless you plan on taking your Mustang to the track or the drag strip.