Review: 2015 Lexus GS 350 F-Sport
lexus | August 27, 2015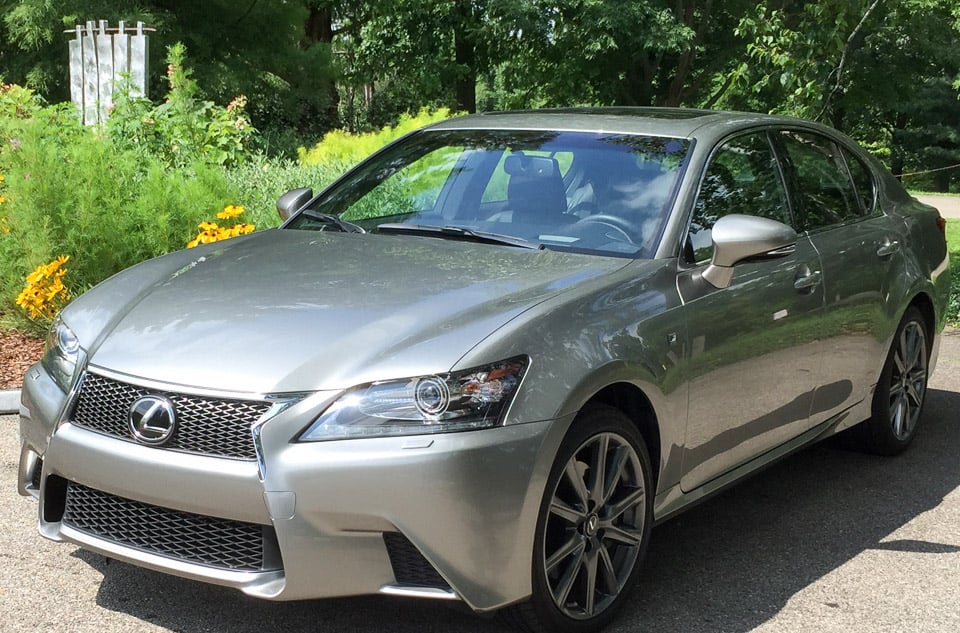 2015 Lexus GS 350 F-Sport

Engine: 3.5-liter V6
Horsepower: 306
Torque (lb-ft.): 277
Transmission: 6-speed automatic
Drive Configuration: RWD or AWD
Top Speed (mph): 130 mph
City/Hwy/Combined MPG: 19/26
Curb Weight (lb): 3,970
Wheelbase (in): 112.2
Total Length (in): 190.7
Width (in): 72.4
Base Price (USD): $50,850
Price as Tested (USD): $55,425
I'll start out by saying the Lexus GS 350 F-Sport is a paradigm in contradiction. It's a car that is both conservative, but bold. Its looks are both brash but simple. The engine is both controlled and yet sporty. With a Lexus badge on the front, you expect all the conservative comparisons, and with the F-Sport plate you also won't be surprised to learn that the 2015 Lexus GS350 has its wild side. Coming off an impressive redesign a few years ago, the GS has been a major player in the midsize luxury sport sedan segment. And that's a segment full of powerhouses. So it's vital that Lexus breaks out of its comfort zone of playing it safe, and continue a bolder approach with the GS. Despite very few significant changes this model year, the GS350 is still pushing the envelope far enough to keep itself viable and exciting. Those last two words are not always associated with Toyota's luxury brand, so kudos to Lexus for making the GS350 an exciting car in all regards.
The GS350 clearly belongs in the Lexus family. It shares many of the same ho-hum features of its more conservative (i.e. boring) siblings, but there's also a great deal of distinct enthusiasm with the GS350 that make it quite appealing. The angular top-to-bottom split grille and front end, with chiseled air vents give it an aggressive and sporty look. Both the headlights and tail lights have sexy LED accents that let you know this is a higher-end vehicle. It doesn't have the low profile looks of a sports car, but overall, the GS350 has a European vibe. This is quite evident in the back end which has a gentle, subtle slope from the roofline toward the trunk.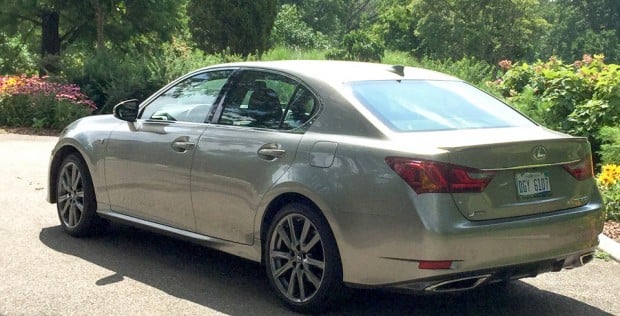 For this model year, little has changed for the powertrain. There's still a 3.5-liter V6 engine, that puts out 306 horsepower and 277 lb-ft. of torque. Like other cars I've driven, the GS feels and drives more powerfully than its output numbers indicate. Driving the GS350 you take note of how spry the engine is – both off the line, and in the higher RPMs. An 8-speed automatic transmission is standard for the GS, however my tester had a six-speed automatic (standard for the F-sport and all-wheel drive models). Despite the fewer gears, the transmission kept the power flowing with quick and calm shifts. It'd be phenomenal to see how the GS350 with F-Sport performed with that newer 8-speed transmission. Make it happen Lexus!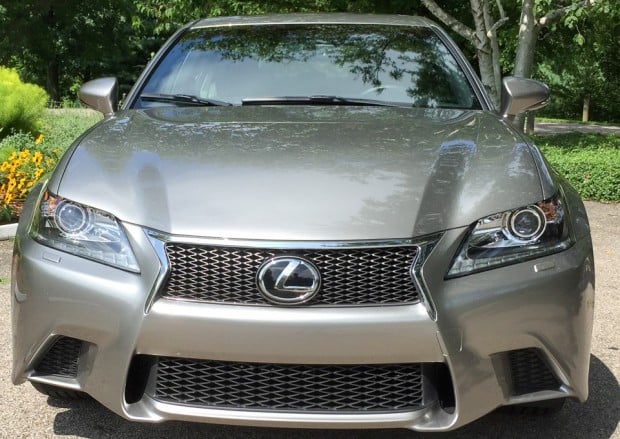 Rear-wheel drive is standard for this sedan, but my tester had all-wheel drive, which unsurprisingly makes it handle fantastically. Generally, AWD makes most vehicles better. The way the entire powertrain is tuned is what makes this sedan so special. The engine is powerful, yet refined. Cornering and handling resemble a sports car, yet the interior ride comfort is the opposite of that, as you hardly feel the road at all. It truly does have many contradictory qualities!
Inside, the GS350 is everything you expect from a Lexus and a luxury vehicle. Some feel that many Lexus vehicles aren't luxurious and are just glorified Toyotas. That is not the case at all with the GS350. It has high-quality materials throughout. Soft leather covers all the seats and are incredibly comfortable. If you're comparing apples to apples to some of the German luxury sedans, the luxury is comparable, but the Lexus does luxury in a more conservative, subtle way. If BMW or Mercedes-Benz hit you over the head with their interiors, this Lexus just offers up amazing quality, nice wood, and metal trim, and does so without being so obvious. The interior can be summed up with two words: subtle luxury.
Rear passengers will enjoy ample headroom thanks to the exterior styling I mentioned earlier. The gentle slope of the C-pillar allows adults to fit quite comfortably in the back seat, and thanks to the ample cabin space, legroom is not an issue either. Two adults, and even one child could occupy the back seat with ease.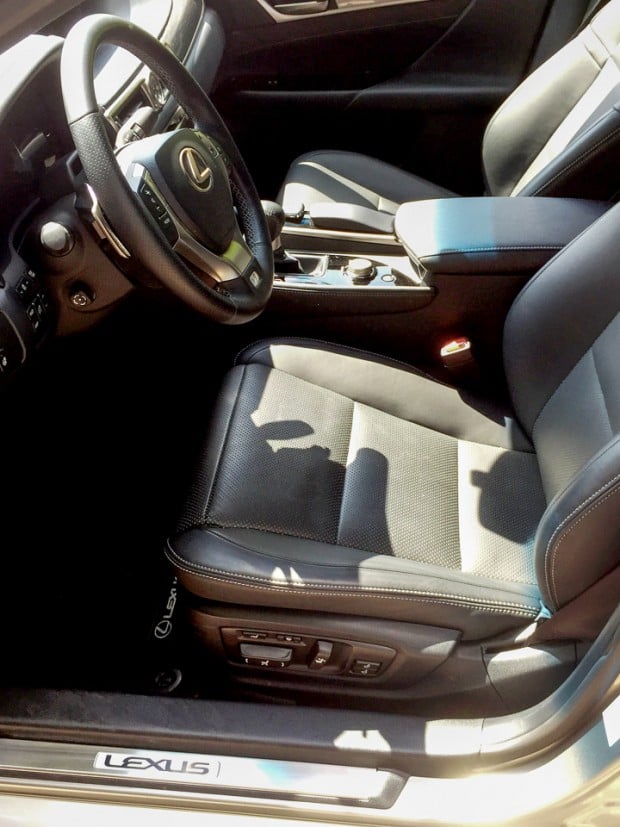 When it comes to the infotainment systems of Lexus vehicles, I'm a broken record. Lexus' Remote Touch Interface is awkward and cumbersome. Driven by a joystick, which is quite sensitive, the entire interface is clumsy for even a passenger, who's not focused on driving, to maneuver. Now imagine how difficult it is for the driver to try to do simple tasks like change the temperature of the car or switch from FM to satellite radio. There are very few shortcuts to bypass this system either. These issues are not exclusive to the GS350, as unfortunately almost every Lexus uses the awful Remote Touch Interface.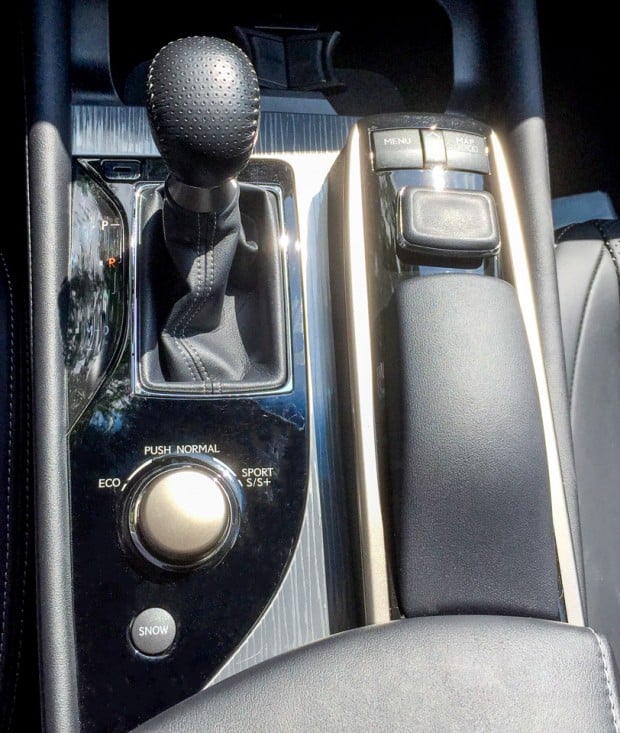 As mentioned, my tester had the F-Sport package. This adds sportiness, but not additional power, to the GS line. The F-Sport brings 19-inch wheels, a rear spoiler, sport-tuned suspension and sport-tuned steering system. I appreciate the simplicity in the pricing structure and trims that Lexus offers for this sedan. It's easy to understand and allows you to "bundle" certain packages, like the F-Sport to the GS.
A number of sensor-based safety features are available for the GS350. My tester had lane departure warning, front-collision warning and vehicle preparation system (which applies the brakes if you approach a stopped object) as well as adaptive cruise control. These features are technologically advanced, and rather than just function as added money or gimmicks, actually help give the GS additional safety precautions.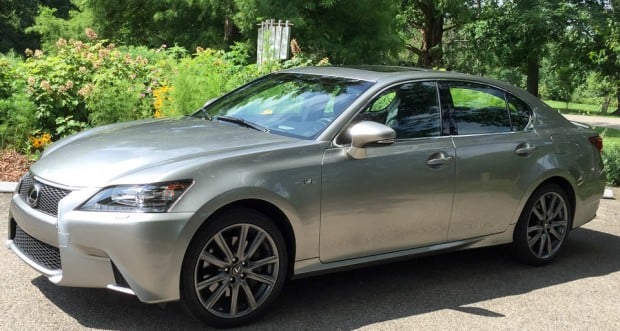 The GS350 also has start/stop technology, which is supposed to help conserve fuel. The RWD GS350 has an EPA rating of 19 mpg/city and 29 mpg/highway. My tester with all-wheel drive had a slightly lower fuel economy with a rating of 19 city and 26 highway. In a week's worth of heavy-footed driving I averaged 21 mpg. The GS350 does require premium fuel, per manufacturer's recommendations.
Lexus makes quality luxury vehicles. Sometimes they play it a little too safe and conservatively for my tastes. But with the GS350 they hit the mark. This is a luxury sedan that is both comfortable and quiet (what Lexus is known for), but also has exciting styling and sport-minded performance. The GS350 can compete with other luxury brands, including the German stalwarts. A surprisingly powerful engine yields to amazing handling with quiet luxury. It's a real sleeper in the segment.