Review: 2016 Nissan Altima 2.5 SL
nissan | nissan altima | May 17, 2016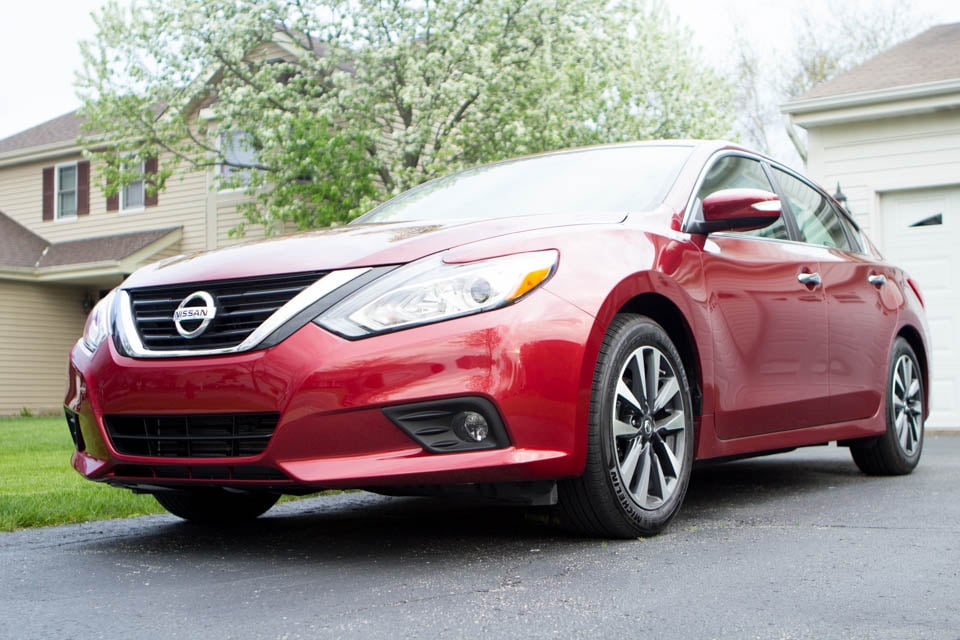 2016 Nissan Altima 2.5 SL

Engine: 2.5 liter 4-cylinder
Horsepower: 182
Torque (lb-ft.): 180
Transmission: Xtronic CVT
Drive Configuration: FWD
City/Hwy/Combined MPG: 27/39/31
Curb Weight (lb): 3254
Wheelbase (in): 109.3
Total Length (in): 191.9
Width (in): 72.0
Base Price (USD): $28,570
Price as Tested (USD): $32,115
Magnetic name tags are useful. They let you know the names of the suspiciously knowledgeable staff at your local shoe store. They let angry restaurant goers know who to complain about on Yelp. They are a form of identification for those who would otherwise blend into the world of retail. The Nissan Altima, is, in many ways similar to a magnetic name tag. Ask anyone who's in retail if they use their name tag anywhere outside of retail hours and I'm going to assume they say "no." As with the Altima, it's quite unlikely that someone will just go out for a drive, revel in the joys of a responsive throttle, or enjoy a late night of successful go-fast parts installation.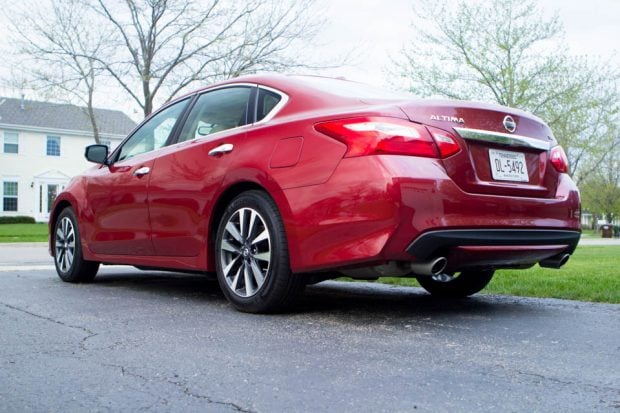 The Altima is great at being a car. It even provided impressive fuel economy in my time with it, but, like a name tag, I never felt the urge to use it beyond what was necessary. Unlike those in retail, I didn't quite wish the experience was over before it began, but there wasn't much in the way of thrills. Thankfully they haven't plastered "sport" all over the car, as this one is the 2.5 liter 4-cylinder motor. If you're looking for something a bit more spritely, the V6 is still thankfully available.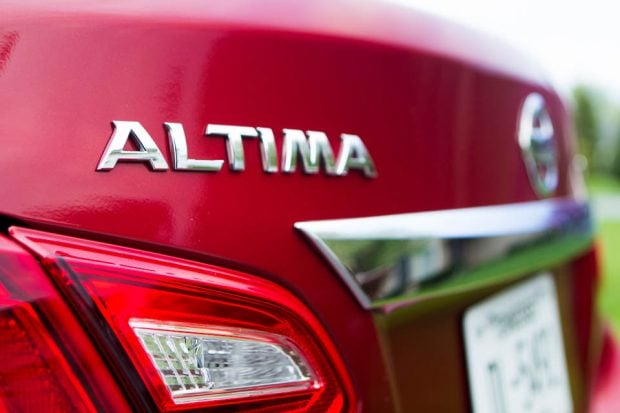 Given the engine under the hood, the chassis is a bit of a surprise. It has what's called "Active Understeer Control" which applies brakes on the inside wheels during a turn to increase sharpness. Think of it in theory of dropping a rudder in a canoe to track one way or another. It's unique to have this tech on a car that is unapologetic in it's purpose of being transportation first, and fun later. That said, it did add a speckle of joy.
Since there's not really much else to talk about in terms of dynamics, I may as well focus on the rest of how the car performs as a point A-to-B set of wheels. If you're looking for puns, quips or otherwise amusing similes, feel free to switch to another article because I'm strictly talking consumer information here. Base retail for the Altima SV starts at the skinny side of $22,500. Upgrade to the SL seen here, and you get a bit more standard equipment, some upgraded looks, leather, and wheels made of aluminum. Both have the 182 horsepower 2.5 liter, 4 banger, which is enough for a commute. Mated to the CVT, it's enough to keep up with traffic, and even with my slightly heavy foot, it's good enough for an average of over 31 MPG. In that regard it's got something going for it.
Outside, Cayenne Red is splashed over mostly black accents but chrome is mixed in as well. Black paint also fills the insides of the spokes of the rims. It looks pretty good, and the grille is a bit more approachable with love as opposed to the more interesting design direction that was offered to the Maxima.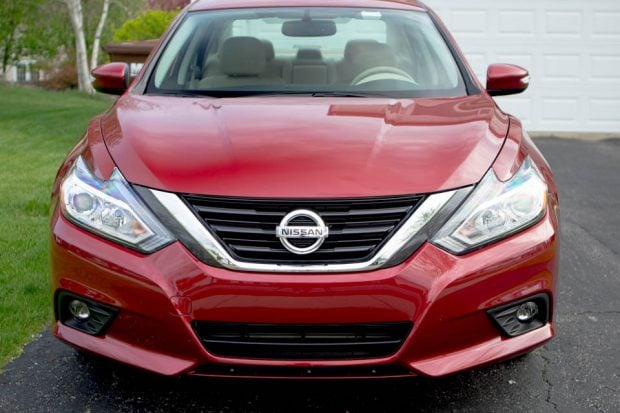 On the inside of my loaner, tan leather covers the seating surfaces and tan covers most of the rest of the inside as well. This one's equipped with with the $1,700 technology package which includes collision warning, radar cruise control, emergency braking assist, and the NissanConnect system which includes a nice 7-inch touchscreen that houses all of the apps and connectivity you'd ever need to have inside of a car. Despite my criticisms of the performance, the inside is a genuinely nice place to be.
When cars like this Altima come along, they are always the most challenging for me to write about. I know that you, my audience, isn't particularly interested in shoulder room or how many gallons of gas the tank holds. I could tell you those things, but you'd be bored faster than an 8 year-old in a school classroom. I also purposely avoid talking about stuff that you can find in a brochure, because they are far more accurate than I am, except when it comes to how they drive at the limit. This is why 95octane is a good home for me. I know ahead of time what you, as a reader, want from an article. I may nitpick now and then, but when something is a glaring issue to driving for pleasure or taking a turn fast for the sake of fun, I'll say so. That's because you will know that I'll bring it up is it's a sore point in the car.
For the Altima, there really aren't any sore points. But then again if you're looking for driving dynamics, there aren't too many strong ones either. That's OK because it is a good car. Much like a name tag is good at displaying someone's name, I wouldn't read too much into the personality of someone that has an Altima. After all, they might be the manager at the restaurant you wrote about on Yelp.