Review: 2016 Dodge Durango Citadel AWD
dodge | dodge durango | July 5, 2016
2016 Dodge Durango Citadel AWD

Engine: 3.6 liter V6 24-valve VVT engine
Horsepower: 290
Torque (lb-ft.): 260
Transmission: 8-speed automatic
Drive Configuration: AWD
City/Hwy/Combined MPG: 18/25/21
Curb Weight (lb): 4905
Wheelbase (in): 119.8
Width (in): 75.8
Ground Clearance (in): 199.8
Base Price (USD): $43,895
Price as Tested (USD): $50,670
There's a delightfully entertaining thing on YouTube that I'd stumbled across called the Tough Truck Challenge from the Clark County Fair in Ridgefield WA. As you can imagine, it involves putting a truck through the paces on an offroad course, but there's one stand out video that features an older Durango being beaten to the point of limping away. There's no finesse or fine art involved here, so it's both awe inspiring and entertaining on a primal level.
And that perfectly describes the old Durango. No finesse or fine art. It was crude; half of the ones you see on the road in the midwest have a sprinkling of rust on every body panel; it drank fuel faster than you could pour it out of a bucket, and the interiors were… not a highlight. In every regard then, the new Durango Citadel is completely the opposite. It's quite nice; the interior is a delightful place to spend time; I observed 29.1 mpg on the highway (4 mpg higher than the window sticker), but you do get a sense that it is a bit more fragile. Well not fragile, but probably won't do quite as well in a Tough Truck Challenge.
The Durango DNA is still unmistakable in the looks, with a broad crosshair grille and a chrome accents that work well with the "Maximum Steel Metallic" paint color and polished 20 inch polished aluminum wheels. LED strip lights in the back sit on the power tailgate and exhaust tips are finished in more bright chrome. It has the typical macho look that Dodge is quite good at, but with a bit of refinement infused.
This one is the Citadel package, which adds some niceties over the base model, and this particular SUV has added niceties over the base Citadel, bringing the total MSRP to $50,670. Going upscale with the Durango is not a bad move on FCA's part either. More and more buyers are springing the extra cash for something that's nice. If you still want a rugged and tough Chrysler product you can get dirty, the Wrangler is your best bet.
The latest Durango drives quite unlike a truck. Electric power steering doesn't really have much to do with that, although it does make the steering on the light side. Its ride is smooth and composed, with minimal tire noise. I didn't drive it with a full load of passengers or anything that would test the payload, but I can only imagine it would smooth things out even further.
I mentioned the impressive fuel economy above, and I'd like to touch on that. The whole thing played out during a 35 or so mile trip into downtown Chicago, with a fair bit of highway driving, and a whole lot of stop-and-go. I wasn't even attempting any hyper-mile tricks or my usual "how good can it actually do" test, where I restrain my right foot. It was just fuel sipping on its own. Three things helped with that: Chrysler's newly-revamped-for-2016 Pentastar 3.6 V6, the 8-speed automatic gearbox, and engine start/stop technology.
The new V6 sees some upgrades in its variable valve timing that increases the power on the top end, and increases fuel economy with light loads. A different style intake also increases torque, which helps to keep RPM's down and increase fuel economy even more. RPMs are kept low with the 8-speed gearbox and matched with the higher torque numbers low in the rev range is still feels peppy despite being a smaller V6. And of course the engine start/stop technology is great for preventing wasted fuel with idling in traffic. So there you have it. A Dodge Durango that gets just under 30 mpg.
It's not just the engine that's impressive, either. $50K gives you a lot of car for the money. For safety, you get things like forward collision prevention systems, adaptive cruise control, and blind spot monitoring, which also monitors your flanks if you're backing out from a spot.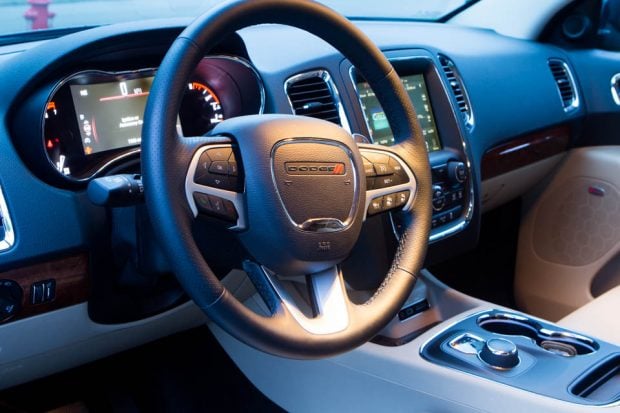 For technology you get a Beats audio system, Dodge's Uconnect infotainment with 8.4 inch touchscreen, dual-screen video for the back seat passengers (the second row is comprised of very comfy captain's chairs) and all of the connectivity you could possibly want.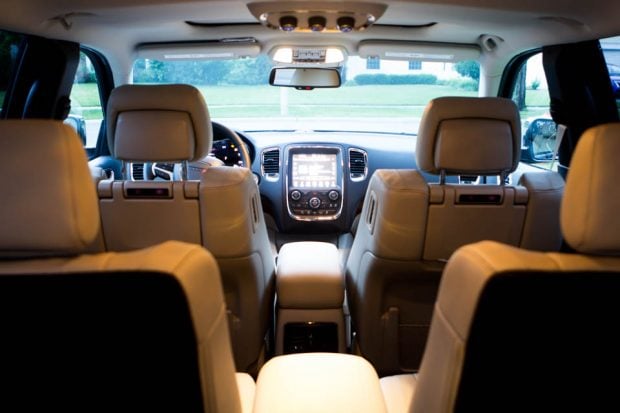 In the Citadel, Dodge has made a Durango that you can be proud to own.