2017 Dodge Challenger SRT Hellcat Review: Stung by a Yellow Jacket
2017 | dodge | dodge challenger | dodge challenger hellcat | srt | August 10, 2017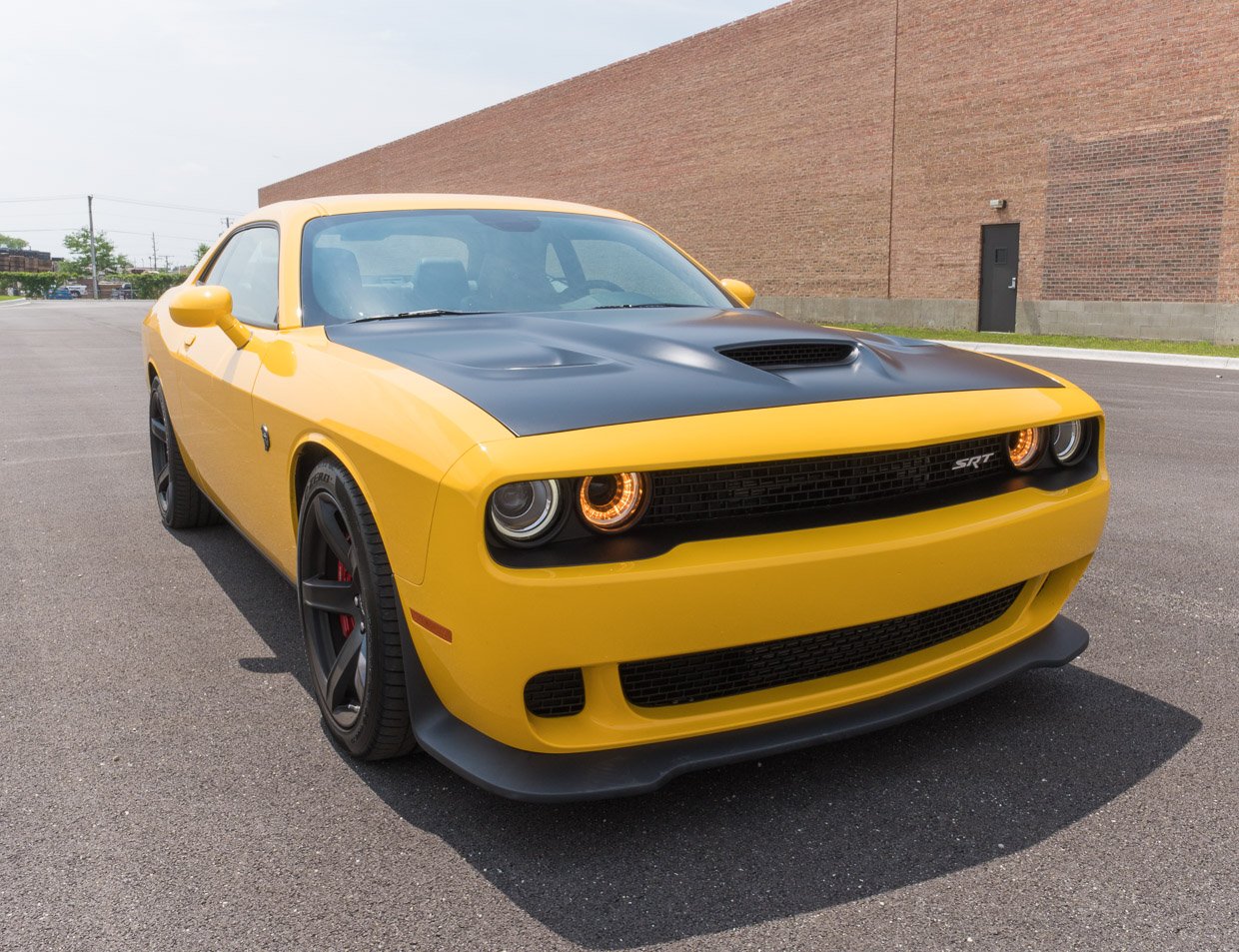 2017 Dodge Challenger SRT Hellcat

Engine: 6.2L supercharged V8 Hemi
Horsepower: 707
Torque (lb-ft.): 650
Transmission: 8-speed automatic (tested) or 6-speed manual
Drive Configuration: RWD
0-to-60 Time (secs): 3.6
1/4 Mile Time (secs): 11.2 (stock tires) / 10.8 (drag radials)
Top Speed (mph): 204 (est)
City/Hwy/Combined MPG: 13/22/16
Curb Weight (lb): 4408
Base Price (USD): $62,495
Price as Tested (USD): $70,975
The Dodge Challenger we know and love has been on the market for nearly a decade. While some manufacturers might phone it in the twilight years of any particular vehicle's platform, Dodge has done the opposite -continuing to push the limits of what a muscle car can be, offering up a barrage of knockout Challenger releases in the past couple of years, including the Scat Pack, Daytona, and the SRT Hellcat and Demon.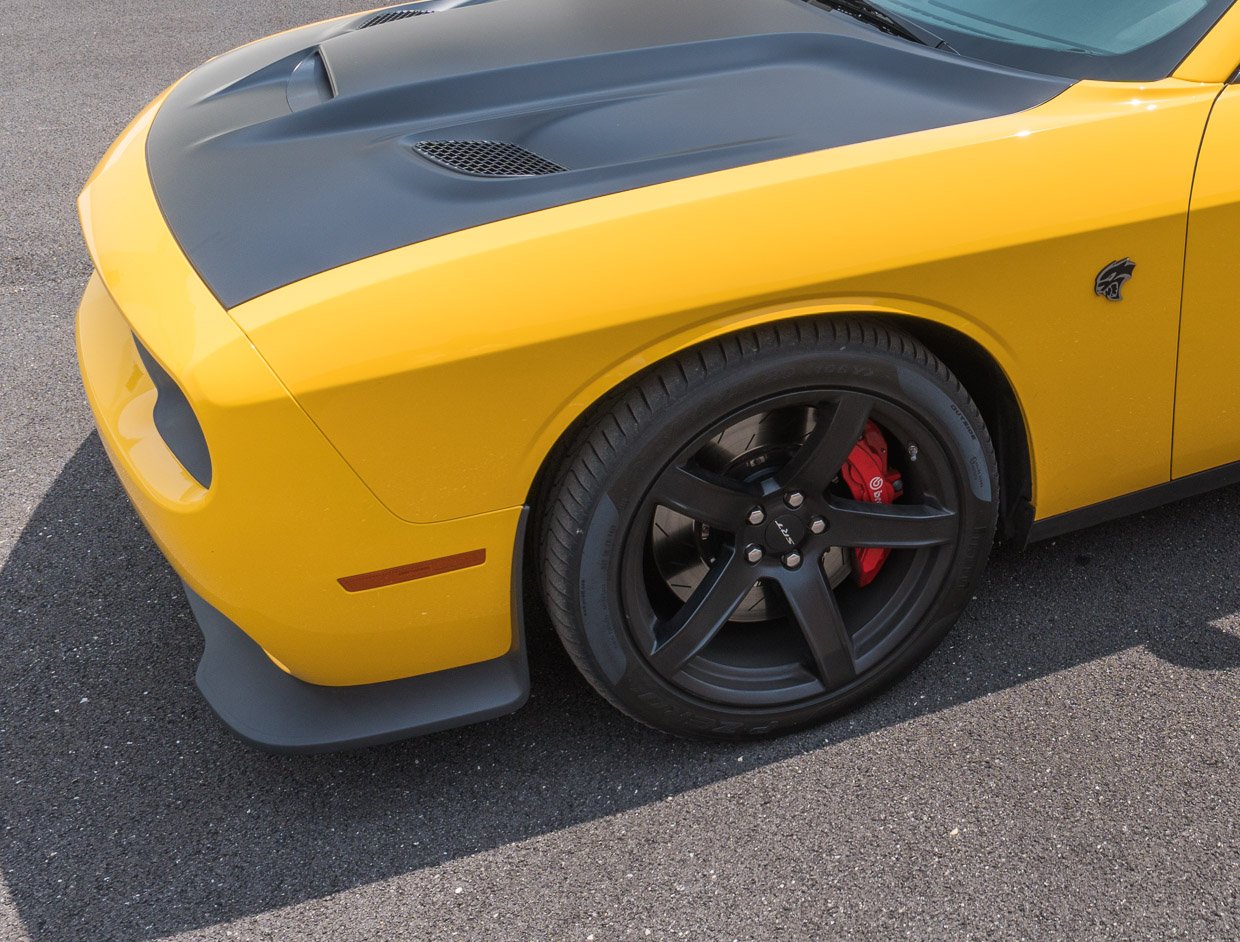 Perhaps the most desireable of the bunch for serious gearheads is the Hellcat, offering up monstrous power, while still being a surprisingly good road car. Sure, the Demon has even more horses, but it's clearly being sold as a drag racer first and foremost, with features like a trackside tool kit, and options like deleting the passenger seat, and skinny front tires. The Hellcat, on the other hand is still stupid fast, but a car you really might drive around town.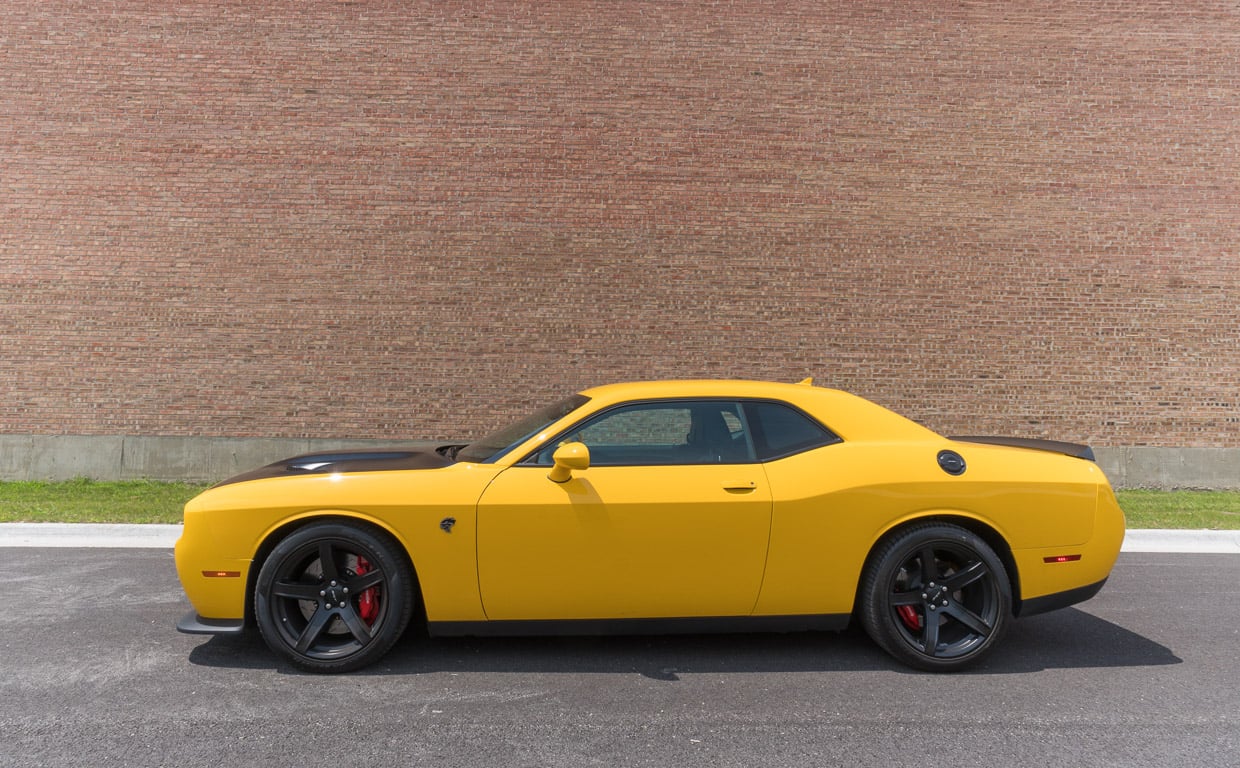 Bestowed with a bright Yellow Jacket and black-accented paint scheme, the Challenger SRT Hellcat I drove wasn't exactly subtle. It shouts from the highest hilltop that it's a monster, and wants people to notice it. And that it did. During the week that I had the car, I got approached by more than my fair share of guys drooling over its its presence. It looks especially badass with the matte black painted hood, which draws your eye into an enormous hood scoop that helps provide airflow for its hungry 707 horsepower supercharged 6.4-liter HEMI.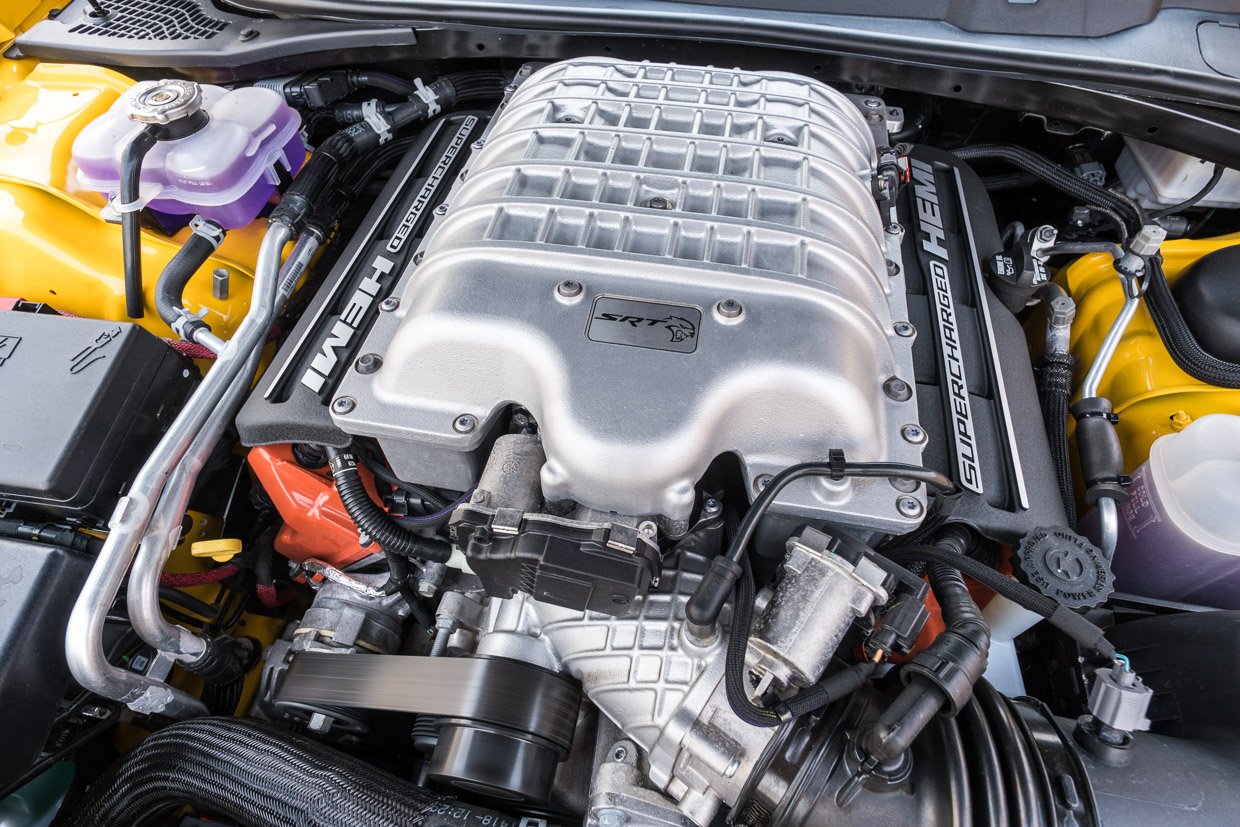 On startup, the Hellcat roars to life with a deep baritone exhaust note that crescendos into the roar of an angry T. Rex as the pedal goes down. Inside the cabin, there's an awesomely satisfying supercharger whirr as it gulps in air. It'll even offer up some bonus crackles and pops if you stick to manual shifting mode and let the revs climb past about 2,500.
The Hellcat accelerates like few other cars on the road, with instantaneous response, and whip-smart shifting from its ZF-sourced 8-speed automatic transmission (a 6-speed manual is also available.) There's zero lag off the line, and just the slightest touch of the gas pedal produces bucket loads of torque. The Hellcat comes with all-season performance tires by default, though my car was upgraded with super sticky Pirelli P-Zero summer tires, which helped to send as much of the car's power to the ground as possible.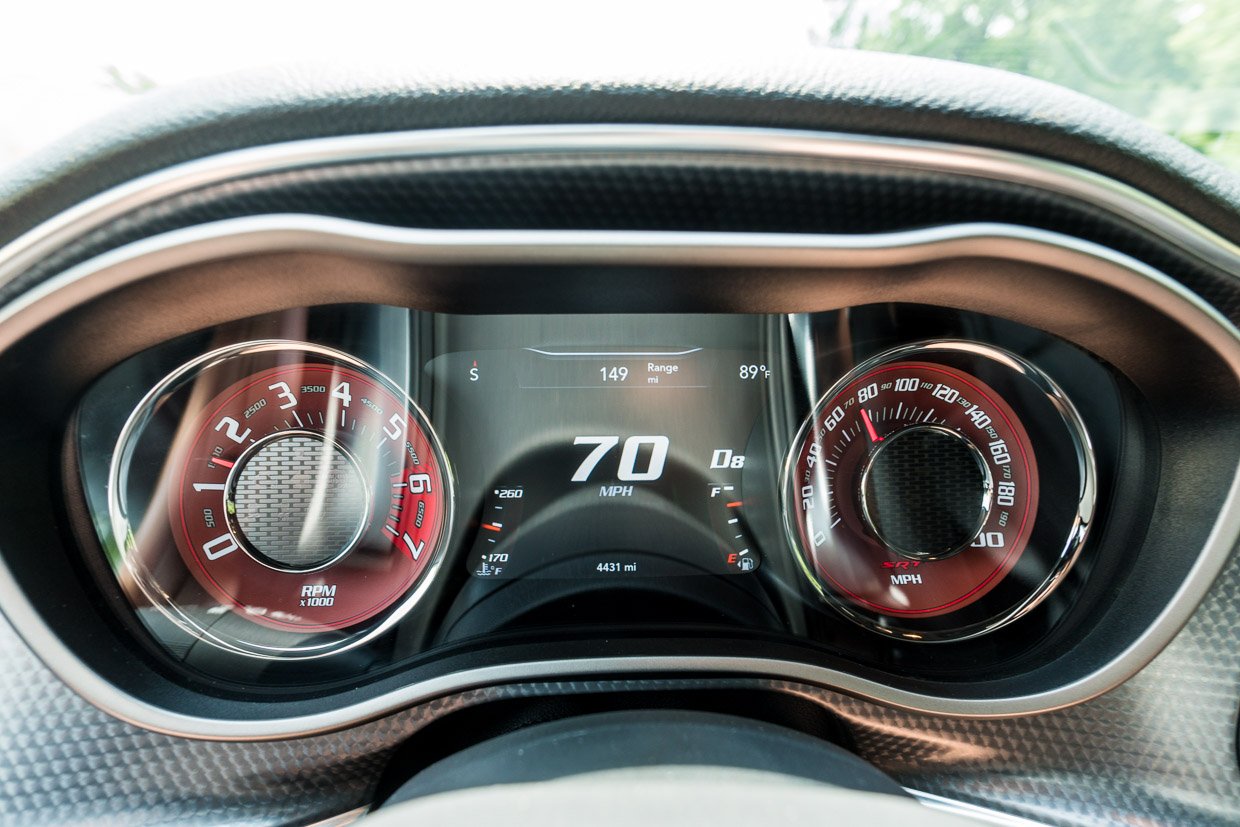 I've driven a number of Challengers and Chargers over the years, and they're not exactly known for their agility. But the SRT engineers worked some serious magic here with the Hellcat, banishing body roll, and offering impressive handling for a car that carries around more than 4,400 pounds of heft. In part thanks to an impressive Bilstein adaptive damping system, the Hellcat is shockingly good in the corners, and by no means just a straight line car.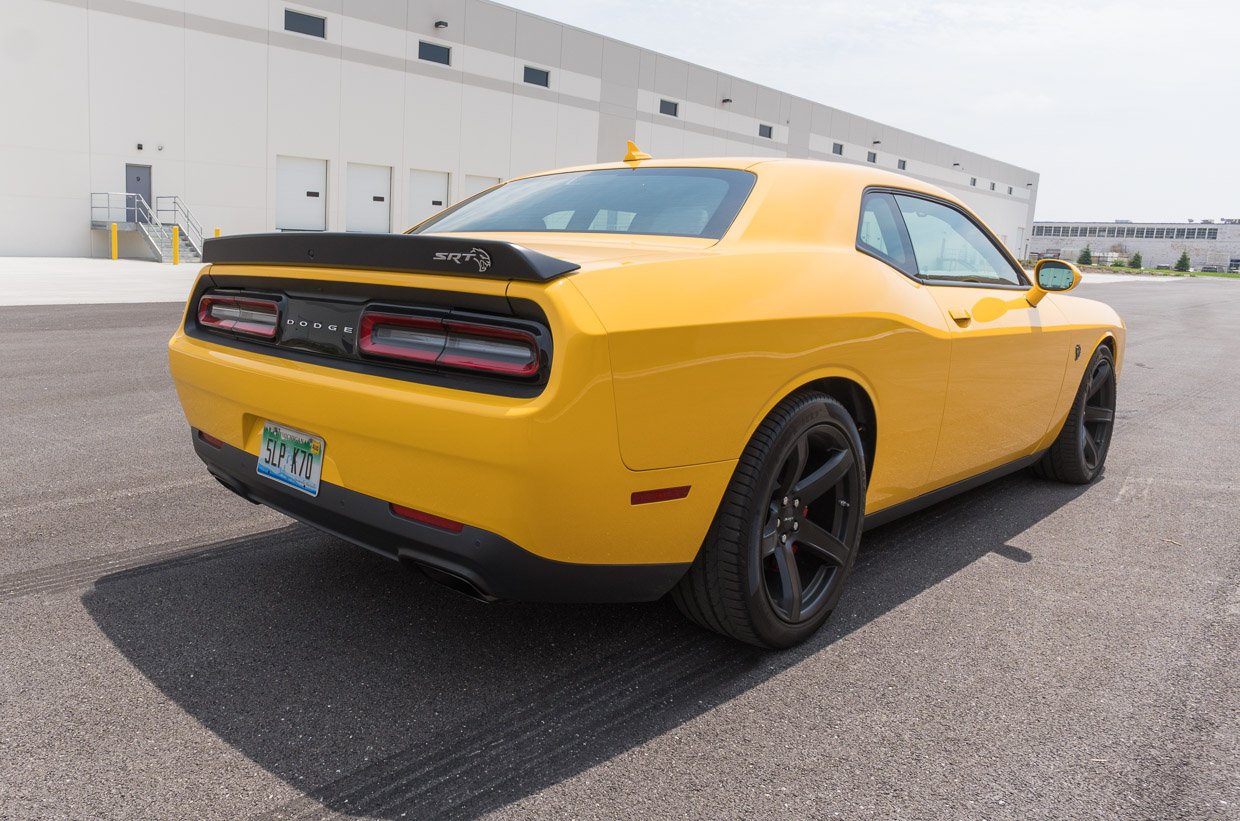 There's no question that it gobbles more fuel than most other sports cars. I saw an average of just 15.4 mpg during a week of mixed city and heavy-footed highway driving. Uncle Sam will reach into your pocket and take $1700 in Gas Guzzler tax as a result. That said, there are ways to get better mileage out of the Hellcat. You can drop the car into its 500 horsepower mode, which has the added benefit of quieting down the cabin a bit for those times when you're not in the mood for the car's ever-present exhaust note.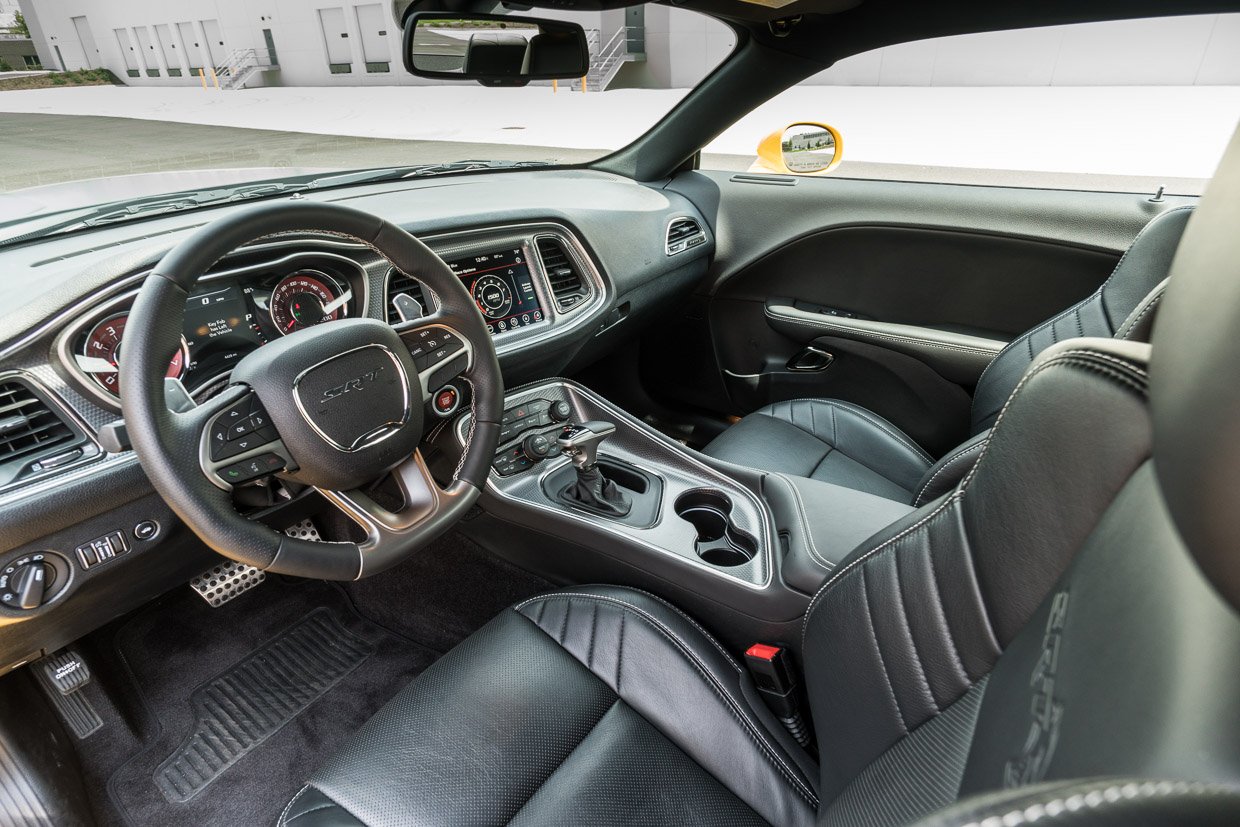 Speaking about cabins, the interior of the Hellcat is a very pleasant place to spend your day. If you've been in any recent Challenger or Charger, the bold and masculine styling will immediately be familiar to you. The materials aren't exactly high end, but they have a look of heft and substance that complement the car's muscular underpinnings. The performance leather seats are extremely comfortable, with great side bolstering for support, and both heating and ventilation.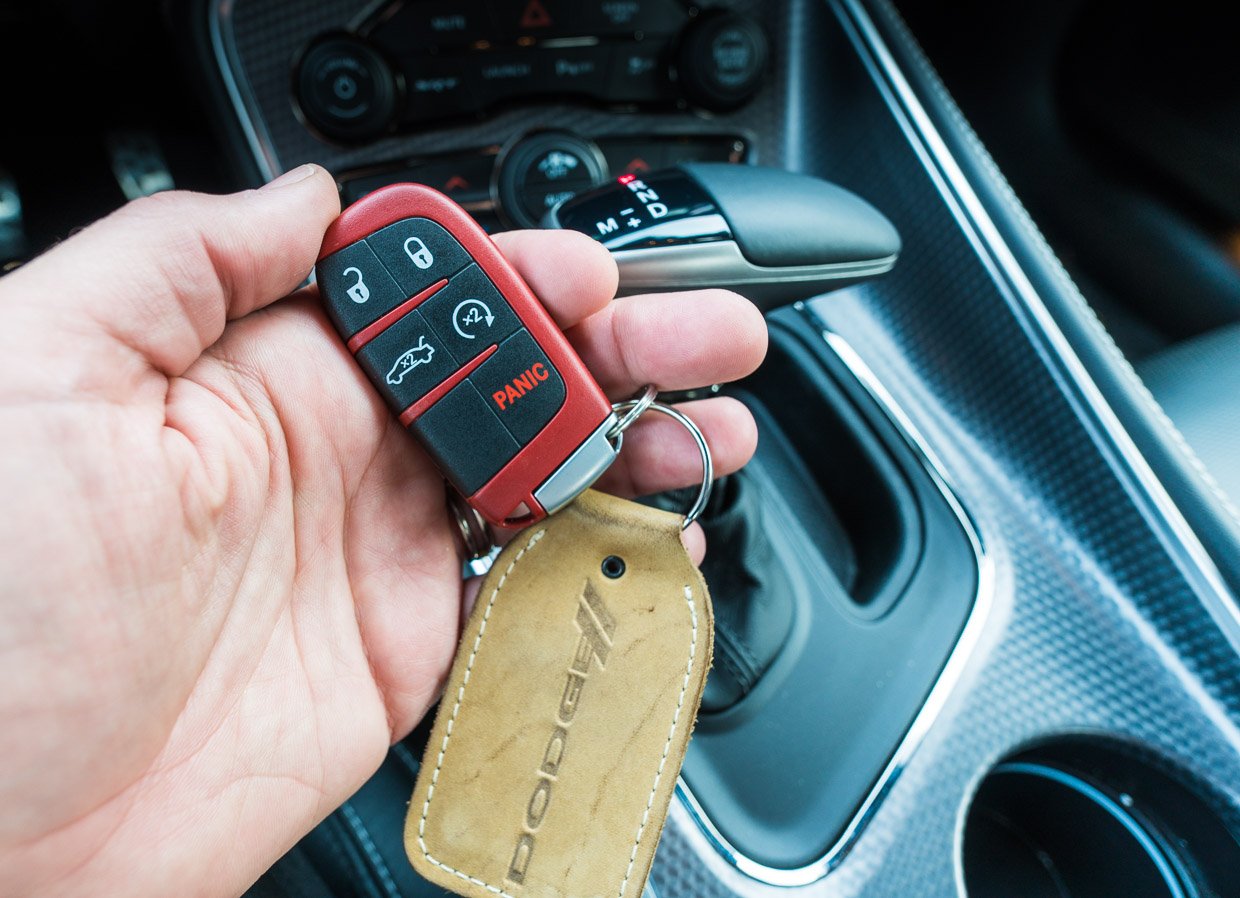 Also along for the ride is FCA's Uconnect system, which has consistently been one of the fastest, easiest to use, and well designed infotainment systems you can buy. It provides quick and easy access to media, climate, nav, and system controls, including the Hellcat's configurable driving modes, which let you fine-tune the car's power, shifting, traction control, and suspension. The 18-speaker Harmon Kardon sound system is excellent as well, belting out massive volume, and thick, punchy bass.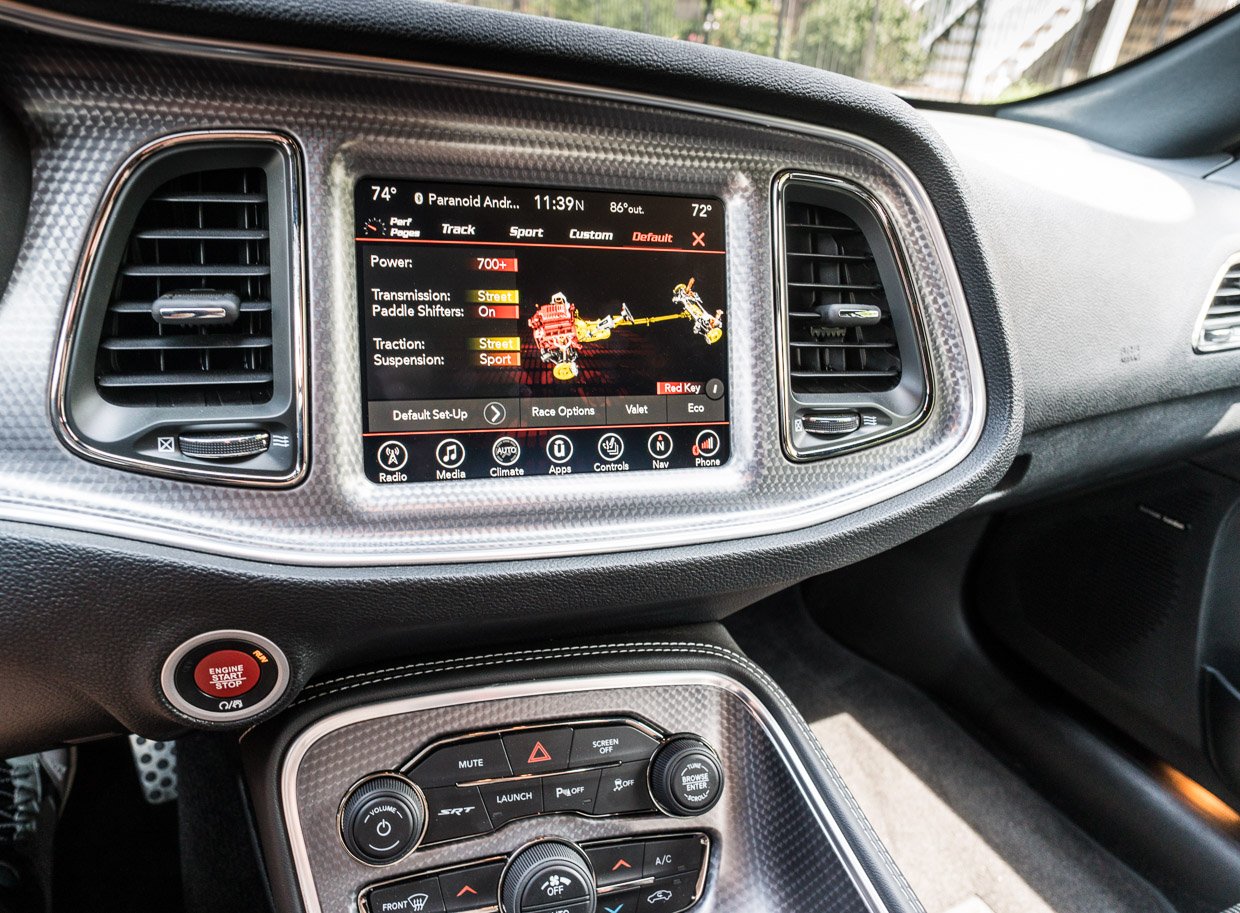 The touchscreen also provide access to pages which track the car's performance, with data such as 0-to-60 times, G-forces, horsepower, torque and other statistics. The car also offers a Launch Control mode which helps you optimize engine revs prior to taking off from a dead stop.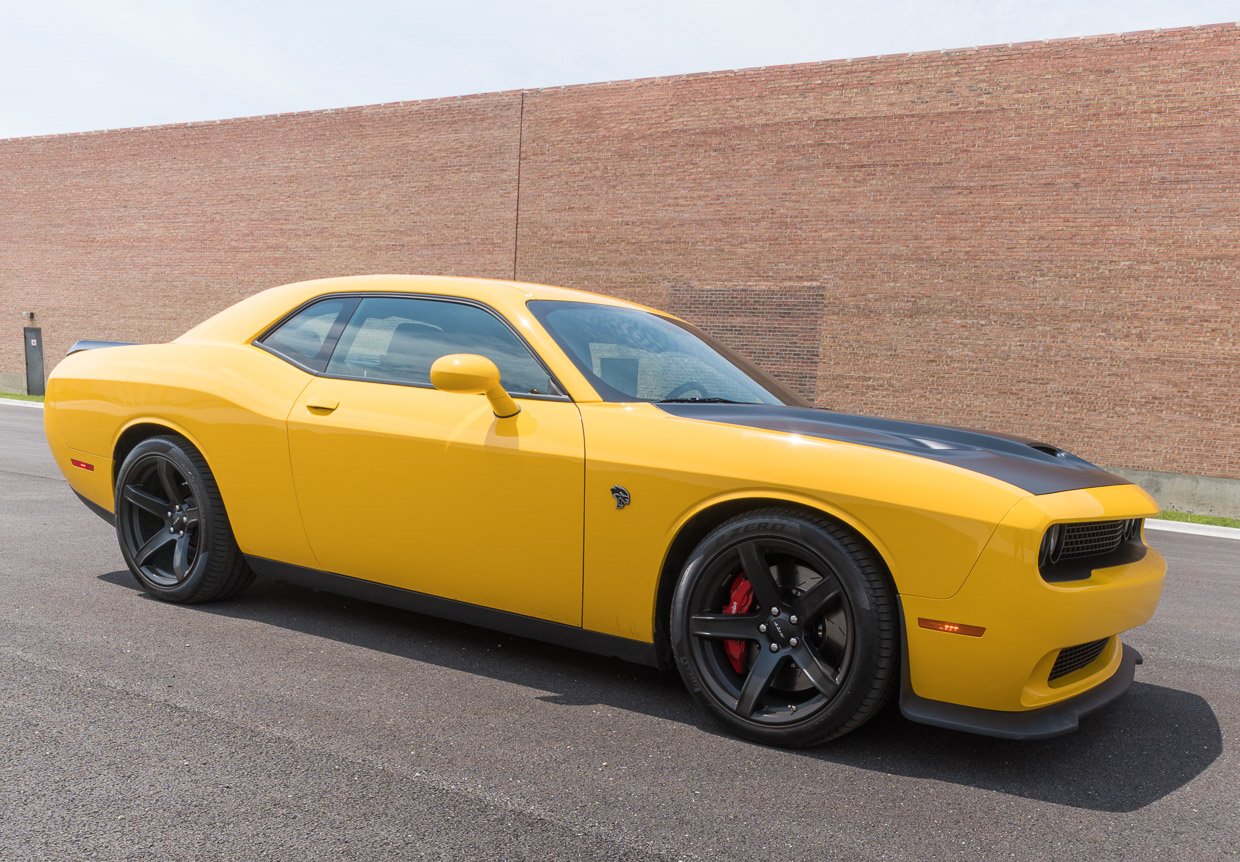 Beyond its tremendous power, the SRT Hellcat benefits from its daily driver underpinnings in other ways. Its rear seat offers more legroom and comfort than any other 2+2 coupe I've ever been in, and it's got a spacious 16.2 cubic foot trunk.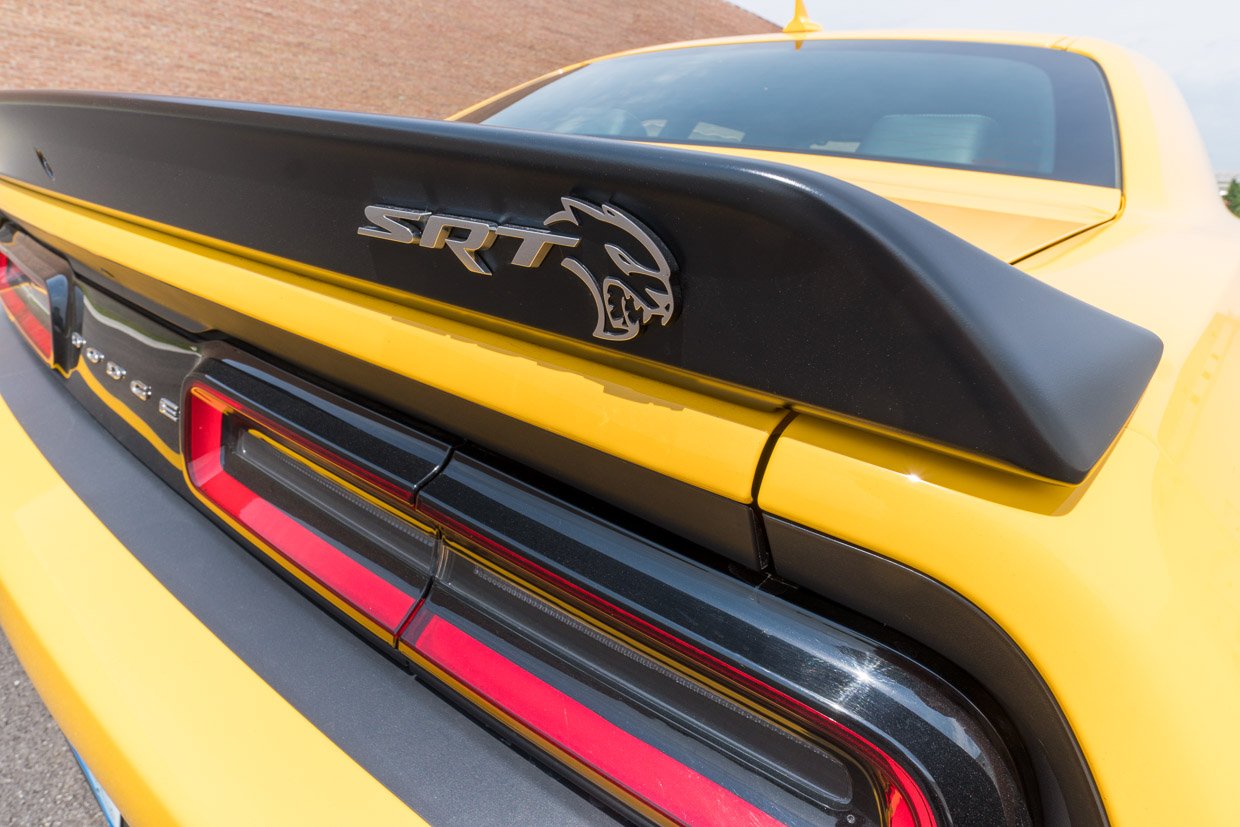 The average Hellcat buyer is likely to purchase it for the 707 ponies galloping under its hood, but it's nice to know that it's also a surprisingly good everyday car too, with plenty of space for passengers and cargo, solid tech features, and comfy seating. Sure, it's not exactly fuel efficient, but how many cars can you realistically take to the grocery store, and then to the drag strip?