World's Fastest Christmas Tree Does 174 mph
christmas | dodge | dodge challenger | dodge challenger hellcat | hennessey performance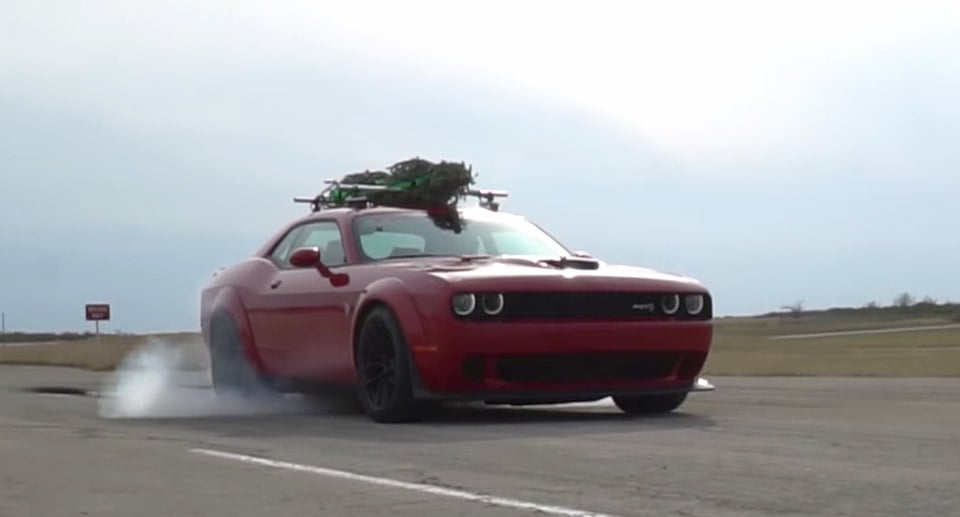 Getting the Christmas tree home can be a bit of a chore. A 6-foot-tall fir tree doesn't really fit into most cars, so many have to bum a truck or rent one to get your tree home. You can resort to strapping one to the roof, and then crawling home at 20 or 30 mph to make sure it doesn't fall off. Hennessey Performance had the same idea, but they don't have the time to be puttering along at such slow speeds.
These guys didn't just take their tree home on the roof of some boring Honda Accord. Instead, they got a Widebody Hellcat and a roof rack from a company called SeaSucker. Once the tree was loaded up, they mashed the pedal down, hitting a top speed of 174 mph with that tree strapped to the roof. Check out the stunt in the video below:
Now that's how you seriously haul some Christmas cheer. The roof rack held up great for such high speeds, but the tree was a bit worse for the wear.