2019 Acura RDX Review: Precision, Performance, and a Pleasing Price
2019 | acura | acura rdx | May 19, 2019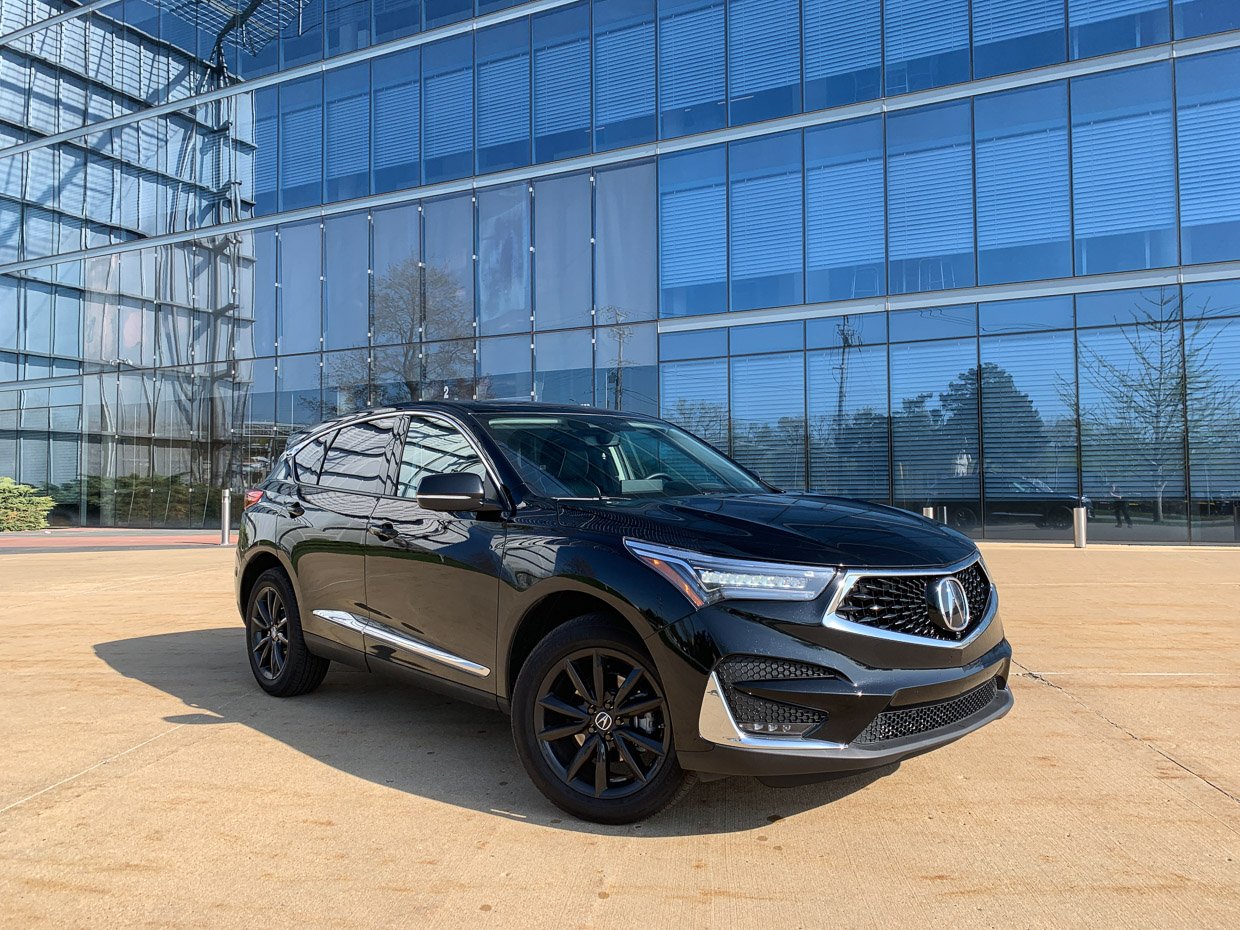 2019 Acura RDX SH-AWD Advance

Engine: 2.0L turbocharged 4-cylinder
Horsepower: 272
Torque (lb-ft.): 280
Transmission: 10-speed automatic w/paddles
Drive Configuration: AWD
City/Hwy/Combined MPG: 21/27/23
Curb Weight (lb): 4068
Wheelbase (in): 108.3
Total Length (in): 186.7
Width (in): 74.8 w/o mirrors
Base Price (USD): $47,500
Price as Tested (USD): $48,895
Acura plays in a very competitive sandbox vying for the premium crossover and SUV market. So with the release of the latest generation of its mid-size RDX crossover, it was dedicated to the notion that they would not just offer the same features as their challengers, but that they would outdo them on performance, technology, and luxury, all while beating them on price and overall value. And with little exception, the 2019 RDX delivers on these promises.
The latest RDX is soup-to-nuts a new vehicle, riding on an all-new Acura-exclusive platform (no longer sharing one with Honda's CR-V). It has a sharp and aggressive new look, and upgrades throughout. Everything about the styling of the RDX is a serious improvement from last year's model, from the appealing new faceted grille, to sculptural new body, giving it a much more dynamic look, and helping to distinguish it from the crowd.
As part of the redesign of the RDX, Acura stretched its wheelbase by more than 2.5 inches, and decreased its overhangs. The result not only is a sportier look, but combined with a structurally-enhanced new chassis, it handles very well. Under the hood, there's a new 2.0-liter VTEC turbo 4-cylinder engine which manages to crank out an impressive 272 hp and 280 lb-ft. of torque – that's better than the Mercedes-Benz GLC, the BMW X3, the Volvo XC60, and the Audi Q5.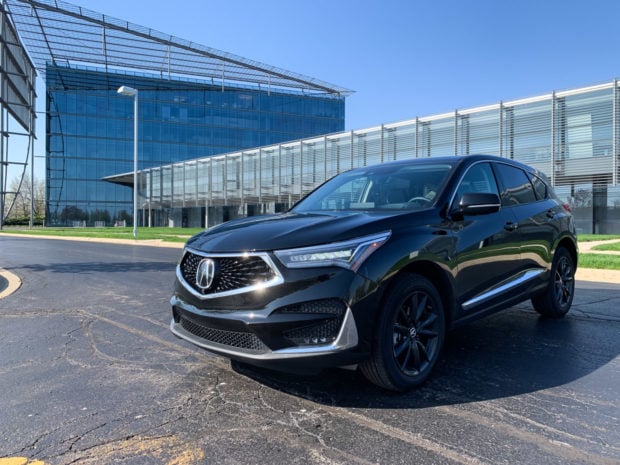 Combined with a smooth-shifting 10-speed automatic transmission and an excellent all-wheel drive system, it puts that power to the ground in a way that's extremely satisfying. There's lots of low-end power with all that torque hitting at just 1600 RPM. I noticed just a tiny bit of turbo lag under hard acceleration. But put the pedal down smoothly, and the feedback is immediate and direct. Acura says they managed to trim a full half-second off the 0-to-30 acceleration time compared to the prior-gen RDX.
The overall ride quality of the RDX is more car-like than you might expect, with cornering feeling quite precise, in part thanks to a true torque-vectoring system, which can independently send power to either of the rear wheels. This results in sharper turns, and a sportier feel overall.
Inside, the RDX is quiet and refined, and in its top of the line Advance package, it features such upscale touches as  leather-trimmed sport seats with 16-way adjustments, heat and ventilation, real olive ash wood trim with a modern, open-pore look, brushed aluminum trim, and more. The entire cabin has a very premium look and feel to it, and fit and finish is excellent throughout. A panoramic moonroof comes standard, and offers a tilt-and-slide capability for its front section.
There are thoughtful storage areas throughout the cabin as well, including a large area under the floating center console, and hidden storage under the cargo floor in back. Overall cargo space is also improved over the prior generation, and beats out a number of similarly-sized, higher-priced competitors.
The rear seats offers good kneeroom and headroom for three adults, and the seats can be folded in a 60/40 split for maximizing cargo flexibility. With the seats up, there's a generous 29.5 cubic feet of storage space, and that expands to 58.9 cubic feet.
I had to haul a bunch of boxes out of my mother-in-law's condo, and not only was there plenty of room in the back, but the power tailgate was a godsend for loading thanks to its hands-free sensor, which opens the tailgate when you wag your foot beneath the back bumper.
In terms of human-machine interface design, the center console takes a little getting used to with its unconventional push-button transmission, and large mode selector dial getting priority over just about everything, but I am glad they kept buttons and tactile controls for all of the frequently-used functions. One thing that Acura is really proud of is its new "True Touchpad" interface, and as trackpads go, it's much more successful than others on the market (yeah, I'm looking at you Lexus.)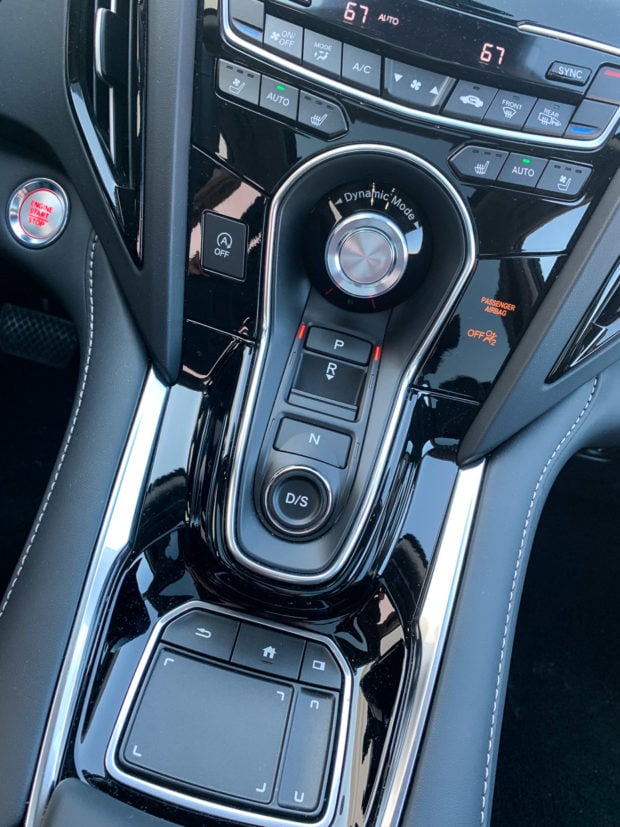 Rather than working like a trackpad on a laptop, this one uses absolute positioning – so the corners of the trackpad correspond to the corners on the 10.2″ infotainment display. The result is that it's much easier to aim for exactly what you'd like than with the relative positioning on the competition. Another neat trick is the mini trackpad on the right side, which lets you independently scroll through items on the right side of the display. Overall, the system works well, and is fast and responsive. It also packs Apple CarPlay functionality. One of the best features in the Advance package is the most excellent sounding ELS Studio sound system, which places 16 speakers throughout the cabin, creating a truly immersive soundstage when listening to music.
Acura also packs in a bunch of safety and driver convenience features on every RDX. The AcuraWatch system includes collision mitigation braking, forward collision warning, and road departure mitigation for improved safety, while its adaptive cruise control and lake keeping assist features are among the best in the business, acting seamlessly and non-intrusively. I'm especially impressed with how well the lane keep works, helping you to stay in the lane on the highway without the ping-pong effect that often plagues such technology. A heads-up display is also available on higher-end trims.
There's a whole lot to love about the 2019 Acura RDX. It's fun and engaging to drive, with a powerful turbocharged engine and sporty handling. It's also quite upscale inside, with premium materials, comfortable seating, and a great sound system. Add to that a voluminous cargo area, tons of standard technology, and very competitive pricing, it's one of the best premium crossovers you can buy today.