2021 Ford Mustang Mach-E Specs and Pricing
2021 | ford | ford mustang | ford mustang mach-e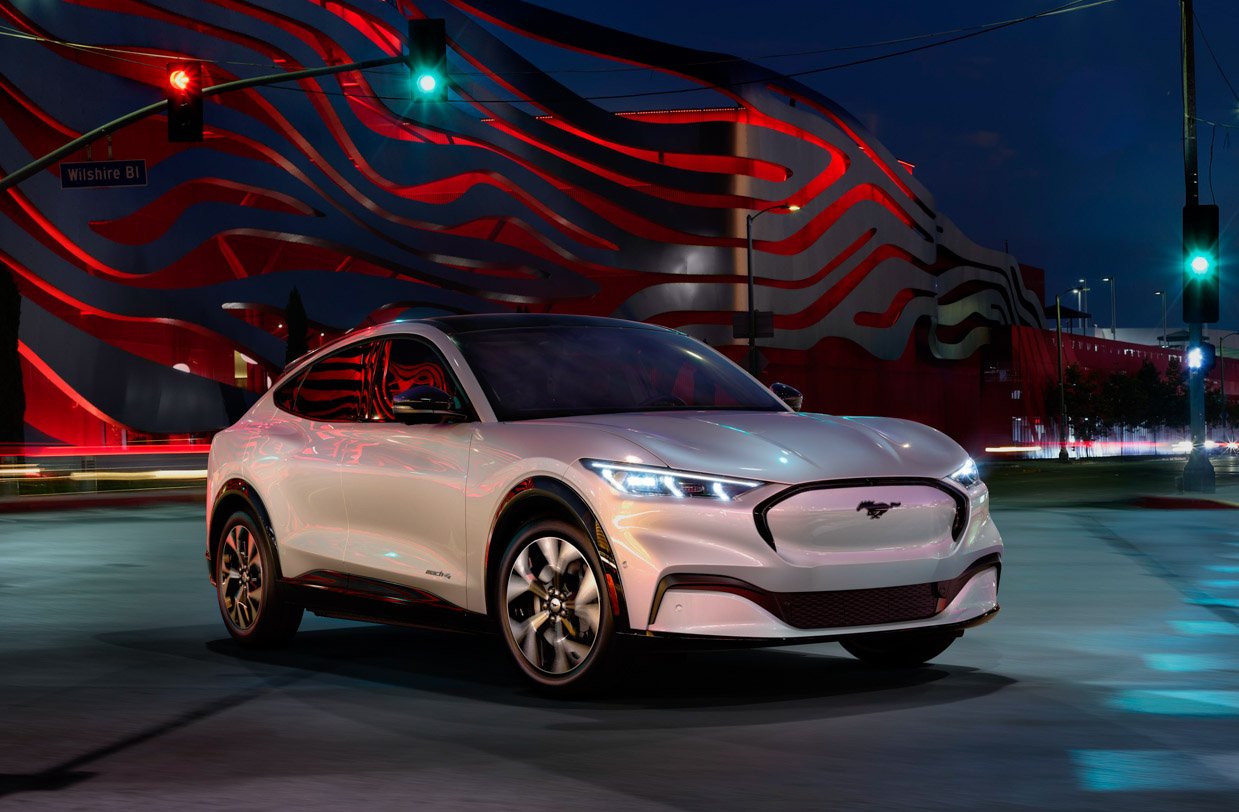 After months of hype, Ford has finally pulled back the covers on its pure electric crossover, the 2021 Mustang Mach-E. This EV may borrow its name from Ford's pony cars, but other than a couple of nods to the Mustang's design, the Mach-E is truly its own thing – more Jaguar I-Pace than American muscle car. But names aside, the Mach-E definitely will raise some eyebrows.
Designed to offer a spirited and balanced ride, the Mach-E will offer both rear-wheel and all-wheel drivetrain options. Both a base battery pack and an extended range pack will be available, offering a driving range between 230 miles and 300 miles. Measuring in at 186″ long and riding on a 117″ wheelbase, it's just a tad smaller than a Ford Edge, but decidedly more sporty looking.
Power output will start at 255hp and 306 lb-ft. of torque in standard range RWD and AWD models, with 282hp and 306 lb-ft. of torque in the extended range RWD. Those power levels rise significantly with the extended range AWD models, which make 332hp and 417 lb-ft. of torque. For those looking for the ultimate EV performance, the GT is the one to get, with its 459hp and 612 lb-ft. of torque, and an all-wheel drivetrain. 0-to-60 times will start out in the low-to-mid 6-second range for the RWD models, hit the mid 5-second range for AWD models, and the mid 3-second range for the GT.
The design of the Mach-E mimics elements of the modern Mustang, with its squinty headlights, and wide, hexagonal grille. But as an EV, there's little need for a ventilation in that spot, so the grille continues to be a challenge for designers. Depending on the model you go with, it's either a shiny body-colored panel, or in GT trim it gets a pattern that's more reminiscent of a traditional grille, so I find that version more appealing.
Inside, the Mach-E is definitely more Tesla than Ford, with its minimally styled space, and large 15.5″ center screen, running a next-generation version of Ford SYNC. The instrument panel is also fully digital, and there's a dearth of physical controls inside the car. Personally, I'm not a huge fan of displays that stick out of the dash like this, as I think they could be better integrated. That said, Ford promises an interface that will be easy and familiar to anyone who uses a smartphone or tablet.
There's seating for five adults, and the clever roof design gives the Mach-E a fastback look without sacrificing much headroom in the back. Opt for the fixed panoramic glass roof, and I'm sure the space feels even more spacious.
Cargo space is good for a vehicle like this as well, with 29 cubic feet behind the back seats, and 59.6 cubic feet with the rear seats dropped. That's in addition to the 4.8 cubic feet you get in the front trunk, which is enough space for a cooler or a couple of backpacks.
The Mustang Mach-E will initially come in five trims: Select ($43,895+), Premium ($50,600+), First Edition ($59,900+), California Route 1 ($52,400+), and GT ($60,500+). The Premium and First Edition will be first to market in late 2020, while the other models should hit in early 2021. You can download the full specs for all models here (PDF).
If you're sold, you can configure your own Mustang Mach-E now over on the Ford website, where a $500 deposit will secure your place in line for a vehicle when it's released.