2020 Volvo S60 T5 Momentum Review: A Swedish Delight
2020 | volvo | volvo s60 | May 10, 2020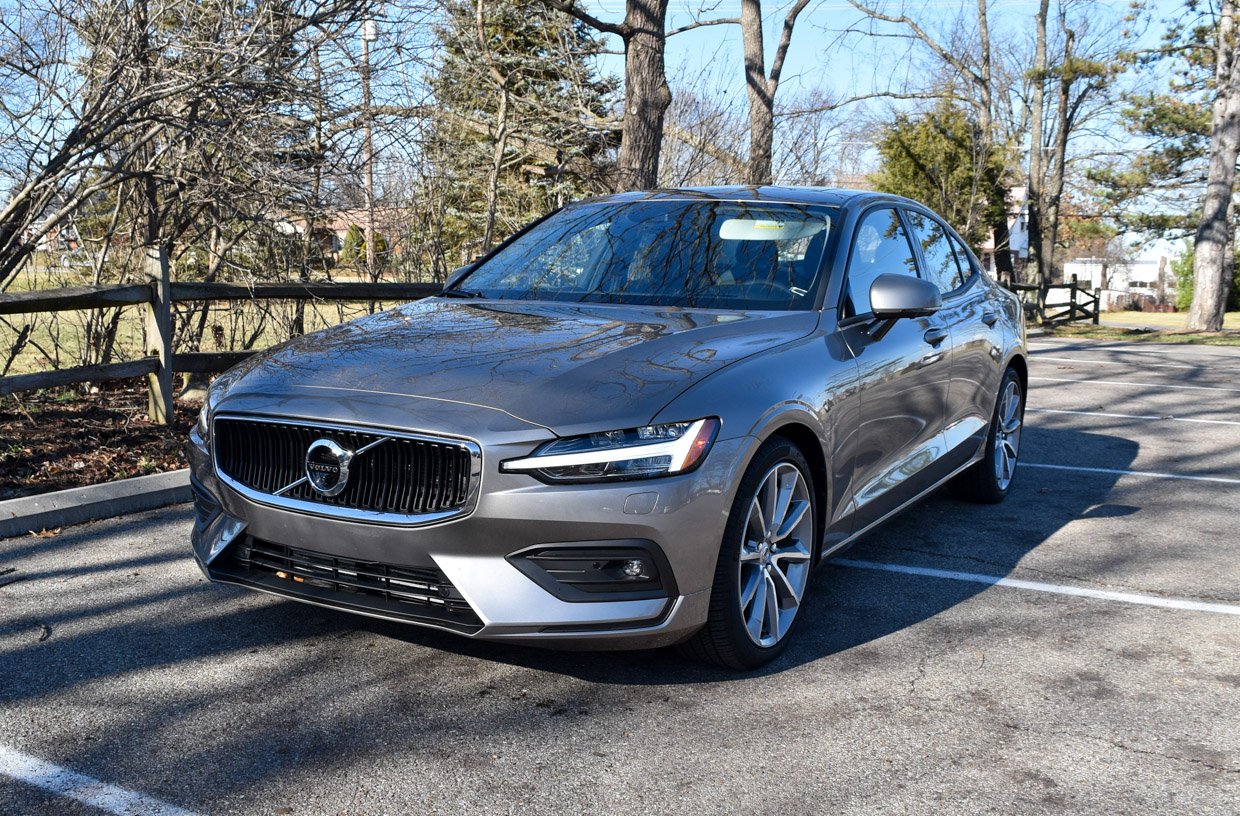 2020 Volvo S60 T5 Momentum

Engine: 2.0L, turbocharged 4-cylinder
Horsepower: 250
Torque (lb-ft.): 258
Transmission: 8-speed automatic
Drive Configuration: FWD
Top Speed (mph): 125
City/Hwy/Combined MPG: 23/34
Curb Weight (lb): 3657
Wheelbase (in): 113.1
Total Length (in): 187.4
Width (in): 72.8
Base Price (USD): $36,050
Price as Tested (USD): $46,240
When you review a lot of vehicles like I do, many start to blend together. So it's nice when something stands out. It makes it worthy of being written about here at 95Octane, where our motto is "Cars That Don't Suck." Well, the 2020 Volvo S60 certainly doesn't suck.
Beyond that, the S60 has many distinctive features as well distinctive looks. That's remarkable in and of itself these days, especially in this segment. There are a lot of small luxurious mid-size sedans. And when you start naming luxury brands, is Volvo on the tip of your tongue? Not likely. And really that's part of their charm. They aren't about garish amenities or bold controversial styling. Rather, the Swedish car manufacturer focuses on quality and consistency.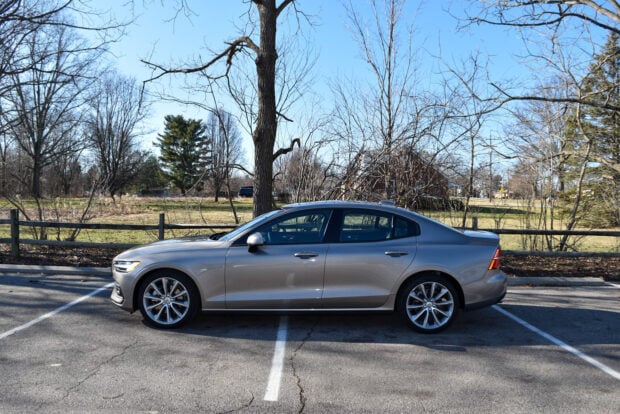 Rereading that last paragraph, it makes it sound like I don't like the looks of the S60. That's far from the truth. On profile the S60 is fairly nondescript and certainly this is where the car could have more the aforementioned boldness. But the front of the Volvo S60 is so classy. You could ask someone who knew nothing about cars and ask if this was a luxury car and they'd likely say yes, merely from the elegance portrayed on its front end.
The simplicity of the grille has its understated elegance. Yet, the styling of the daytime running lights with the self-described "Thor's Hammer" styling adds all the distinction this car needs. The same sharpness applies on the back side where the taillights have a stunning look. The shape and styling of these absolutely make this car special.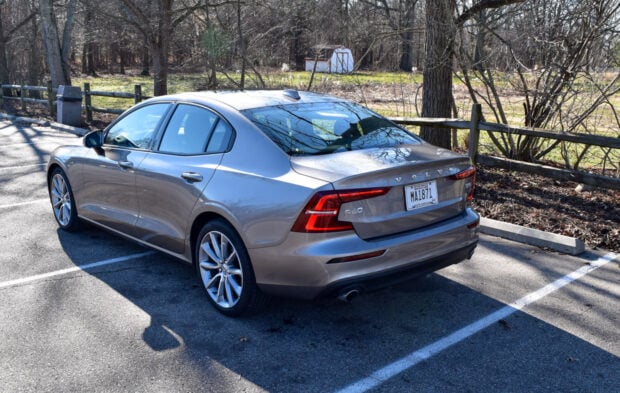 I also have an appreciation for vehicles that outperform their on-paper stats. Too often we get obsessed with horsepower or torque numbers. And those can often be deceiving. The S60 has a little 2.0-liter turbocharged four-cylinder engine, and there are many engines like this out there. Turbocharging four bangers is a popular trend right now. Combined with an 8-speed automatic transmission, it works so magnificently together. Behind the wheel, that 250 hp feels closer to 300 horses. And there's no turbo lag either, so off the line, its performance is felt immediately.
The EPA rating for the S6 with front-wheel drive is 23 mpg/city and 34 mpg/highway. In a week's worth of driving, I averaged 27 mpg. That was good enough for me, but for a sedan without the weight of all-wheel drive, I would hope to maybe achieve 30 mpg consistently.
For those looking for even more power, Volvo offers the S60 in a 316 hp AWD variant, as well as a 400 hp plug-in hybrid AWD version, for about $5,000 more and $13,000 more, respectively.
The interior is also elegant. When compared to some of the Japanese luxury sedans, the Volvo S60 looks and acts the part far more than its competitors. Soft touchpoints with real wood accents highlight the interior. The rear seats have good (not great) leg room. But the S60 is also a pretty small car, so you can't expect it to be cavernous.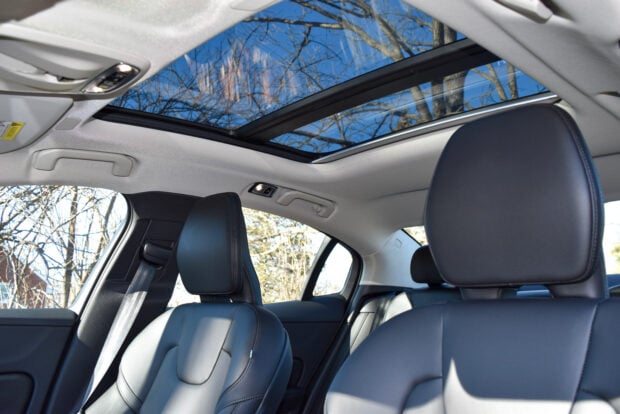 The laminated panoramic sunroof is a subtle, but nice feature, and its power sunshade is a small touch that differentiates it from cheaper interiors. The technology on the 12.3-inch digital instrument display is impressive. This bigger screen is a new feature for the 2020 model year. Some critics have found the Volvo's infotainment system to be confounding. I can understand. It's full of great features that you want, but sometimes it's hard to find what you're looking for. While the system could be more intuitive, I didn't find the learning curve to be that steep either.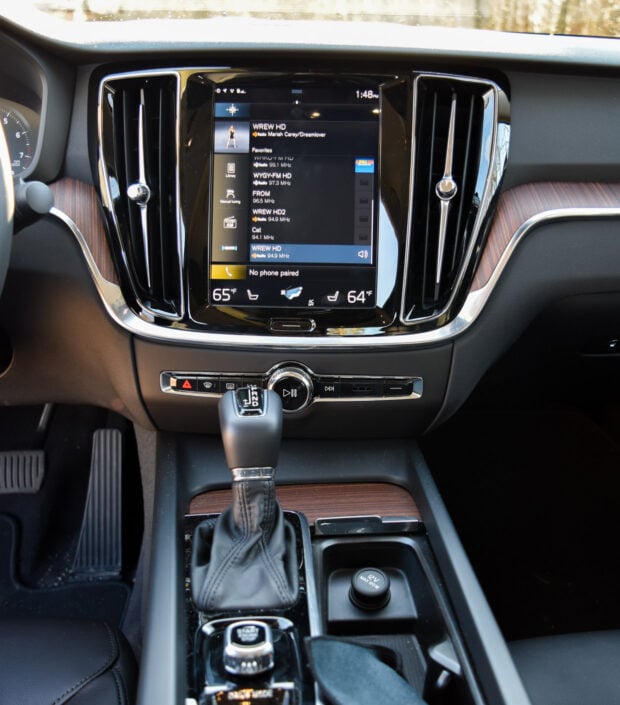 My tester was the base T5 Momentum trim – though quite well equipped. The base price of this front-wheel drive sedan is an impressive $36,050. With the Premium, Advanced and Multimedia packages added, my tester had a final MSRP of $46,240. I found that to be a good value for the amount of luxury you get along with the overall driving performance.
Volvo has always been outlier when it comes to luxury brands. It's always marched to its own beat. But I certainly like the beat of the drum of the 2020 Volvo S60.