2021 Ford Bronco Reservations Open July 13 for $100
2021 | ford | ford bronco | teasers | July 2, 2020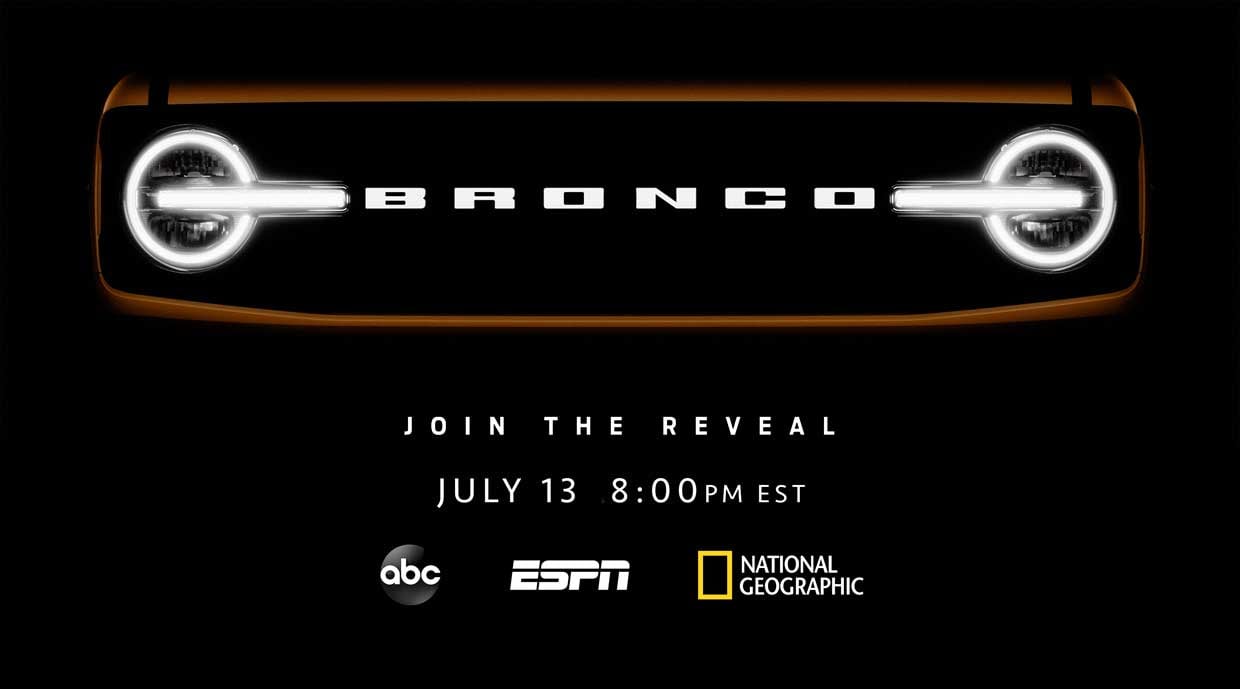 After a couple of delays, Ford will officially debut its highly anticipated new Bronco on July 13. The automaker has announced that on the same date at 8 pm ET, it will also open reservation books for the SUV. To reserve a Bronco will cost fans $100. It's unclear if the $100 is refundable if the buyers back out of the deal for any reason.
Ford also has announced that it has teamed up with Disney to reveal the Bronco line across the company's broadcast, cable, digital, and streaming properties. On July 13, a trio of custom three-minute films will air on ABC, ESPN, and National Geographic. Each of those networks will show a different film about the Bronco in their first commercial break in the 8:00 pm ET hour. All three of the films will be offered on Hulu the next day. Here's a summary of the promo films that will air on each network:
ABC

Bronco will be featured in a 3-minute film starring country music singer Kip Moore during "CMA Best of Fest," the Country Music Association's three-hour concert experience, airing Monday, July 13 (8:00–11:00 pm ET).

ESPN

Film featuring a different Bronco model and professional climber Brooke Raboutou will air during "SportsCenter."

National Geographic

Academy Award-winning director and acclaimed cinematographer, photographer and professional climber Jimmy Chin will spotlight another Bronco during "National Parks: Yosemite." Additionally, Chin will judge a hashtag challenge contest and appear in an Instagram Story featuring the Bronco on NatGeo's Instagram account.

Ford Channels

In addition to the films created for ABC, ESPN and National Geographic, Ford also will share additional special content with fans on its YouTube, Facebook, Instagram, and Twitter channels – including additional details on the performance strengths of each new Bronco model.
Ford initially planned to unveil the new Bronco in June at the revamped North American International Auto Show in Detroit. However, the coronavirus pandemic resulted in the show being canceled. By airing short movies about the Bronco, Ford says that it will pull in an even broader audience for the anticipated debut.