2020 Mazda CX-30 Premium Review: Small Crossover Goes Zoom Zoom
2020 | mazda | mazda cx-30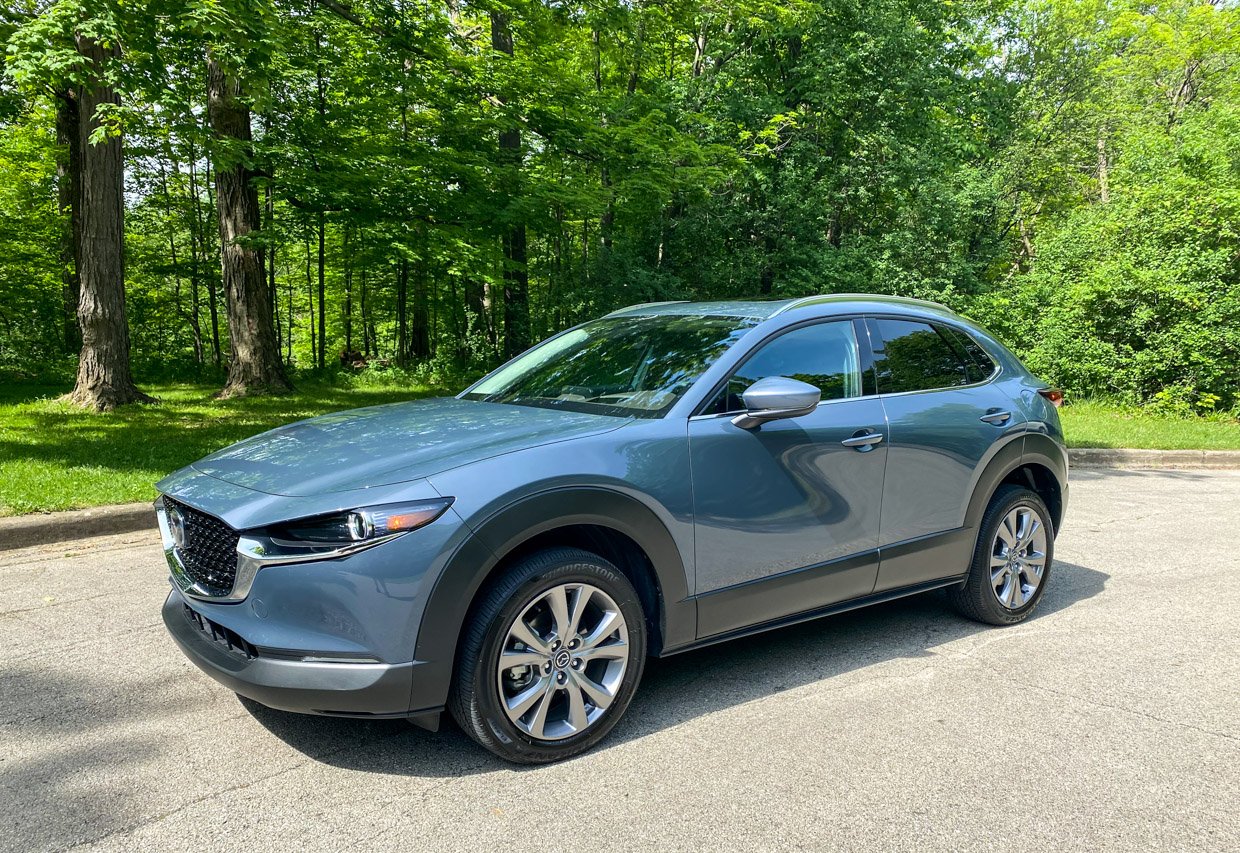 2020 Mazda CX-30 Premium

Engine: 2.5L 4-cylinder
Horsepower: 186
Torque (lb-ft.): 186
Transmission: 6-speed automatic
Drive Configuration: FWD or AWD
0-to-60 Time (secs): ~7.8
City/Hwy/Combined MPG: 25/33/28 (FWD) / 25/32/27 (AWD)
Curb Weight (lb): 3,252 (FWD) / 3,408 (AWD)
Wheelbase (in): 104.5
Total Length (in): 173.0
Width (in): 70.7
Ground Clearance (in): 8.0
Base Price (USD): $28,200 (Premium FWD)
If there are two underlying things I can say about every single Mazda you can buy today, it's that they all have a great, consistent design language, and they're all fun to drive. Now, not a single one is a horsepower beast, but they're all engaging, with a good connection between the driver and the vehicle. The 2020 CX-30 continues this tradition, offering a taste of Mazda's ethos in a compact package.
Nestled between the CX-3 and CX-5, the CX-30 is still small, but has a bit more cargo space than the CX-3, and better legroom for rear seat passengers. It's also more powerful, with a 2.5-liter 4-cylinder engine that makes 186 hp and 186 lb-ft. of torque – that's roughly 22% more get up and go than its smaller brother. Since it's a naturally-aspirated power plant, there's no lag when you mash the gas pedal, and it's definitely got a nice amount of zip for a vehicle in its class.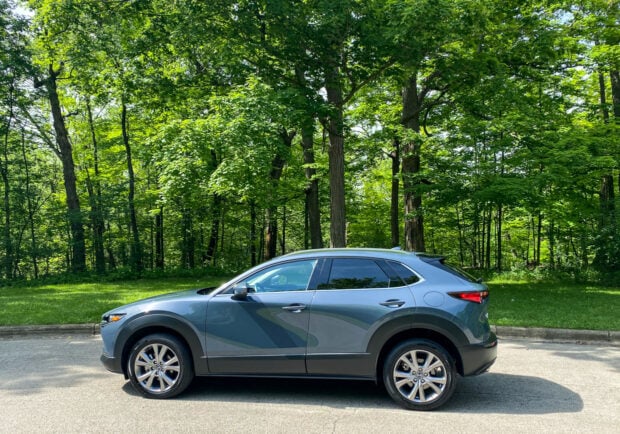 Officially regarded as a subcompact crossover by Mazda, the CX-30 is more like a large hatchback than a small SUV, and that's fine by me. While there's a time and a place for giant-sized vehicles, the CX-30 is just the right size for a couple or a starter family, while offering a reasonable amount of space for hauling stuff back home after a run to IKEA.
Mazda does a great job making cars fun, and the CX-30 is no exception. It handles nicely, with crisp and direct steering, and a suspension that keeps you connected to the road without being punishing. Equipped with Mazda's active full-time AWD system, its ride is stable and predictable, while a brake torque vectoring system helps it corner like an oversize go kart.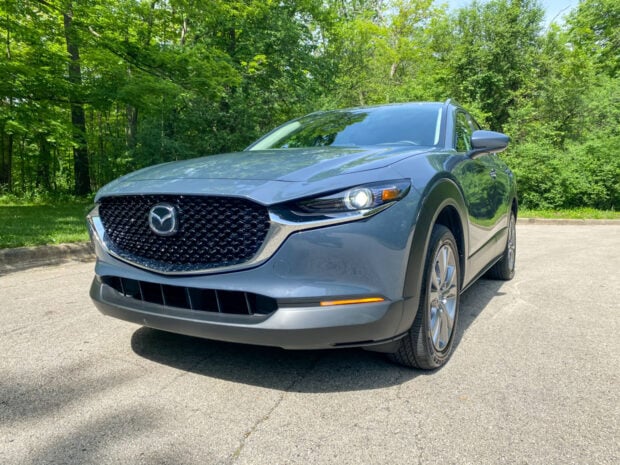 The interior of the CX-30 embraces Mazda's aesthetic of clean, driver-focused cockpits that don't overwhelm with superfluous buttons or knobs. At the center of the dash are only controls for the climate system and heated seats. Navigating the user interface for the infotainment system is done with a control wheel and a handful of buttons on the center console. I found this setup to be satisfactory for most things, though I wish the screen supported touch inputs too.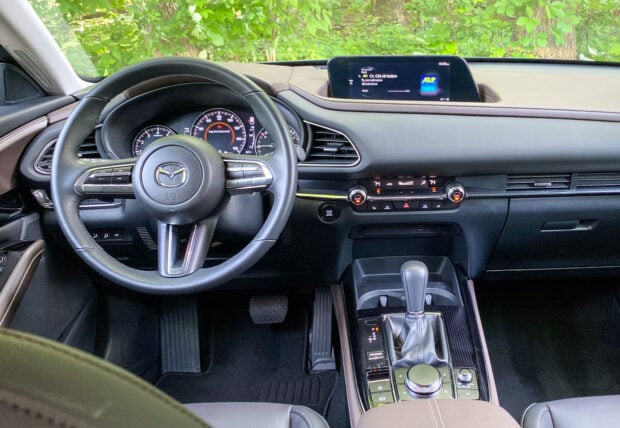 Navigating the interface with a scroll wheel takes longer than with a touchscreen, and can be a bit counterintuitive with Apple Carplay. I didn't get to test Android Auto, but that's supported too. One odd thing is that the backup camera only takes up the center of the 8.8″ widescreen display, leaving large black bars on either side. The 12-speaker Bose audio system sounds clean and crisp, though isn't the punchiest when it comes to low end. Up front, you'll find two USB charging ports which can also be used with the audio system. Sadly, there are no USB ports in the back row.
Available safety technology includes blind spot monitoring in the mirrors, rear cross-traffic alert, and adaptive LED front lighting. Lane departure warning, lane-keep assist, and radar cruise control comes standard on all trims, even the $21,900 base model. The latter was especially nice on longer road trips and when sitting in stop-start traffic on the highways around Chicago.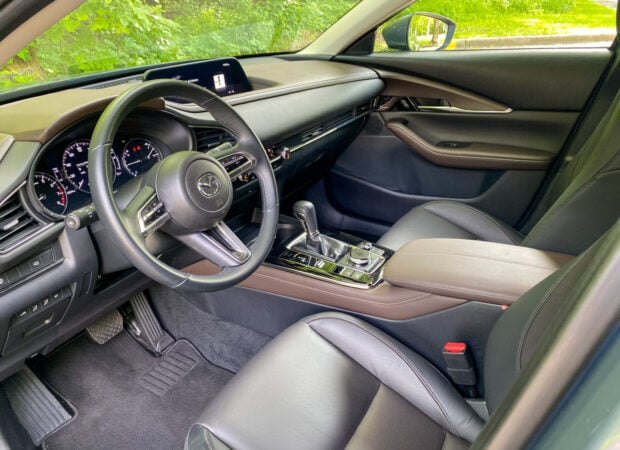 The Premium trim features leather-trimmed sport seats, along with leather on the steering wheel and shifter. It's a nice looking interior that looks more upscale than you might expect. In terms of seating space, the front seats offer good comfort, and while the rear seat is still a little tight for those with longer legs, though there's about an inch more legroom and headroom than the CX-3, and about 4 more inches of hip room. The rear seat also gets a center armrest with cupholders, and can fold down in a 60/40 split configuration.
Cargo space with the seats up is 20.2 cubic feet, and 45.2 cubic feet with the second row folded flat. The Premium trim also has a power rear liftgate for ease of access, and can be programmed to open to different degrees depending on the height of its user.
The CX-30 is a welcome addition to the Mazda lineup, offering a pleasant new crossover that's zippier than other similar offerings, and retaining the dynamic and nimble feel that Mazda's vehicles are known for. It's got a bit more usable space than the CX-3 too, and priced only $2,000 to $3,000 more than a similarly-equipped CX-3, I'd definitely lean towards the CX-30 if I were in the market for a subcompact crossover. Mazda continues to win a special place in my heart, keeping true to its spirit in every vehicle it creates, and making cars for people who love to drive, not just get from point A to point B.