Bronco and Bronco Sport Heritage Editions Celebrate Classic Bronco Style
2023 | ford | ford bronco | ford bronco sport | retro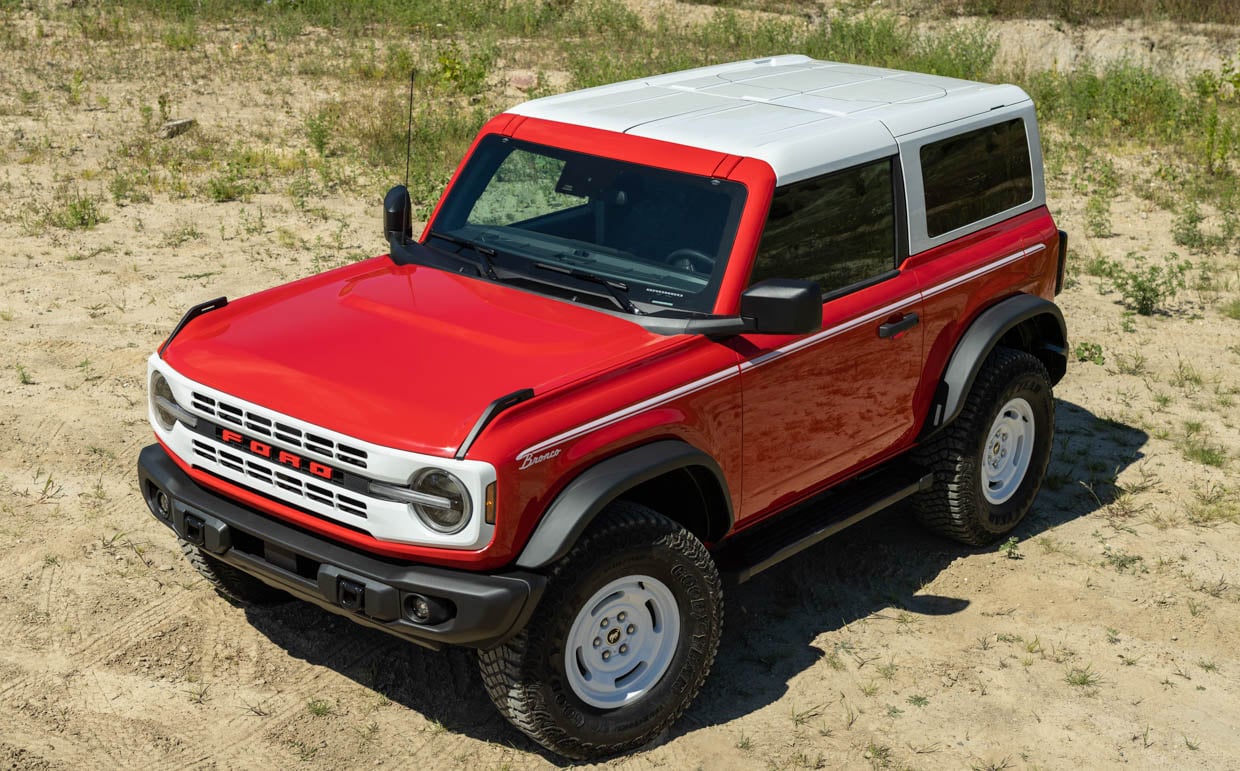 I love the design of the current Ford Bronco and its little brother, the Bronco Sport. Both SUVs have an appealing boxy design that harkens back to the first-generation Bronco that was produced in the late 1960s and into the 1970s. Now, Ford has introduced two special editions of each vehicle that takes the retro appeal and runs with it.
For the 2023 model year, Ford will offer the Bronco and Bronco Sport in both a Heritage Edition and Heritage Limited Edition. Like the original Bronco, these special SUVs get a two-tone paint job with an Oxford White hardtop contrasting with the body color. A special paint palette for Heritage Broncos includes Robin's Egg Blue – based on the 1966-only shade Arcadian Blue, and Yellowstone Metallic, inspired by the 1971 color Prairie Yellow. While those are the classic colors, I really want to own one of these in Race Red.
Bronco Heritage Edition vehicles are based on the Bronco Big Bend with a 2.3-liter EcoBoost engine that makes 300 horsepower and 325 lb-ft. of torque. It rides on Oxford White 17-inch aluminum heritage wheels, and all models get a white grille with red FORD badging and white double pinstripes. The Heritage Limited Edition gets classic "dog dish" wheel centers and Bronco script badging on the fenders.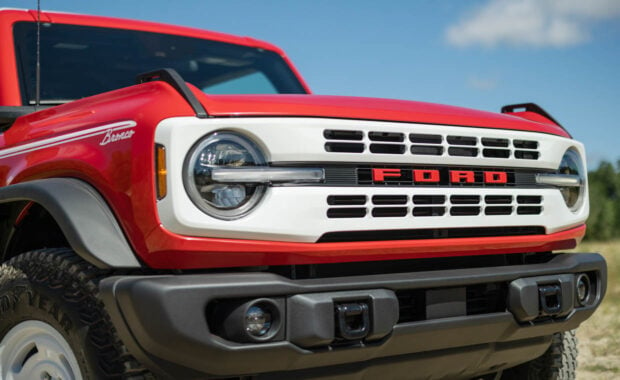 Upgrade to the Bronco Heritage Limited Edition, and you'll get the Bronco Badlands as your base model, running on a 2.7-liter EcoBoost V6 that cranks out 330 horsepower and 415 lb-ft. of torque. While the smaller engine comes with either a 10-speed automatic or a 7-speed manual, the V6 only has a 10-speed automatic. Both models can be ordered in 2-door or 4-door configurations.
Bronco Heritage models come with the Sasquatch package, which includes a high-performance suspension with Bilstein dampers, front, and rear axle lockers, and 35" Goodyear mud terrain tires. Inside, the Heritage Edition has plaid cloth seats and an Oxford White instrument panel, while the Heritage Limited Edition gets vinyl plaid seats with leather trim.
The baby Bronco Sport's Heritage configurations are similar – the Heritage Edition is based on the Bronco Sport Big Bend with a 1.5-liter EcoBoost engine that produces 181 horsepower and 190 lb-ft. of torque. The Heritage Limited Edition is based on the Bronco Sport Badlands, with its more powerful 2.0-liter EcoBoost engine that makes 250 horsepower and 277 lb-ft. of torque. Both models get an off-road-tuned suspension system with monotube rear shocks, along with ford's G.O.A.T. terrain management system.
Both Bronco Sport models get 17" Oxford White painted wheels as well, with the Heritage Limited Edition getting a bump up to larger 29" all-terrain tires. Like the Bronco Heritage models, the less expensive model has cloth seats, and the pricier Limited Edition has leather-trimmed seats.
Both Heritage Limited editions will be limited to just 1966 units each. All four models are available to order now, though current Bronco order holders get priority on pre-orders. The Bronco Heritage has a starting price of $44,305, while the Heritage Limited starts at $66,895. The Bronco Sport Heritage Edition starts at $34,245, with the Heritage Limited priced at $44,655.